PHORMIUM SEEDS
New Zealand Flax
Phormium tenax
PR07142
RAINBOW STRIPED HYBRIDS New Zealand Flax
Rainbow Striped Hybrids Phormiums are 6-9 ft. tall fan-shaped perennials, also known as New Zealand Flax. Rainbow Striped Hybrids deliver a wide variety of attractive colors; each leaf is striped pink, purple, yellow, cream or green. Seed raised Phormiums are fast growing, rugged plants for large garden beds or hillsides. These clean, low maintenance plants also look great near swimming pools and are well adapted to seaside plantings. Will also thrive in large containers.
Vertical stems up to 12 ft. tall carry branched clusters of red, or orange red tubular flowers in late spring or early summer. Hummingbirds love to feed on these nectar-rich blossoms. Winter hardy to zone 7. Rainbow Striped Hybrids Phormiums grow nicely with Chinese lantern plant.
---
How to Plant Phormium Seeds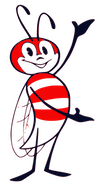 Sow Phormium: Sow Phormium seed in cell packs or flats, press into soil and lightly cover. Kept at 70° F., germination is uneven over 1-6 months. Transplant into 3 in. pots, and later into the garden 4 ft. apart.
Grow Phormium: Full or part sun. Thrives in a wide variety of soils, including dry, moist, or even wet. Excellent in hot or cool climates, tolerates high humidity. Salt tolerant, ideal for coastal plantings. Plants are clean, leaves are soft, Phormiums are frequently used near swimming pools and paths. Leaves are prized by florists for ability to add flair to flower arrangements.
Blooming stalks rise up to twice the height of foliage, carry red or reddish-orange tubular flowers in branched clusters in late spring or early summer. Hummingbirds feed on flowers, do not pollinate. Natural pollination is performed by New Zealand's Tui bird, using its unique curved beak. Plants are rabbit and deer resistant.