SWEET PEA SEEDS
Lathyrus odoratus
One of America's favorite annuals, sweet peas give you bright, fragrant flowers magnificent for cutting. While all sweet peas prefer cool weather, Old Spice and Mammoth Mix show remarkable resistance to heat.
Climbing sweet peas are supported by trellises, nets, or strings. We enjoy sweet peas most when vines are rambling over shrubs, which creates an authentic cottage garden look.
Dwarf sweet peas do not climb and are perfect for containers, beds and borders. Flowers are frequently held on stems long enough cutting.
CLIMBING SWEET PEAS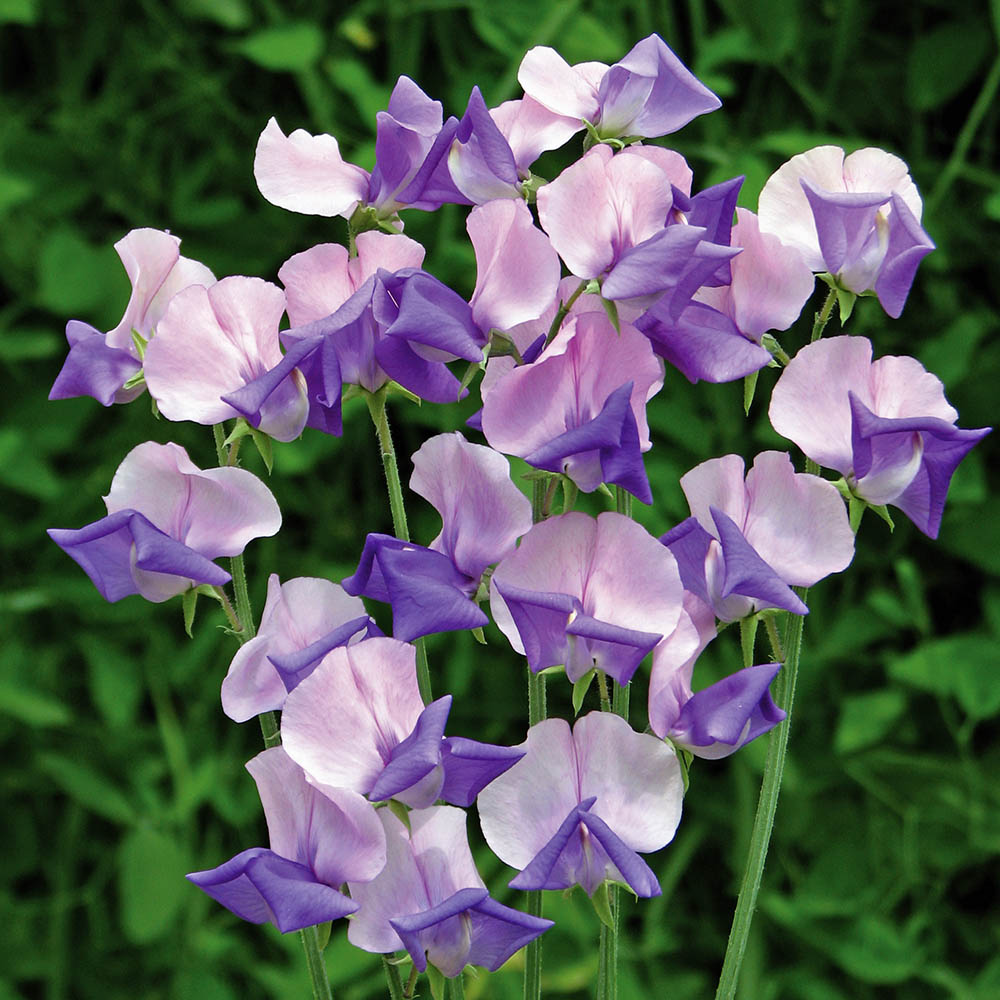 New for 2018
VN18001
ERE­WHON Sweet Pea Seeds
Bicolor sweet peas have always had darker upper petals than lower petals. Erewhon, a true reverse bicolor sweet pea, changes our notion of what a bicolor sweet pea can be. The deep lavender blue lower petals (wings) are darker than soft pink upper petals (standards).
The highly fragrant, colorful flowers are held on long, strong stems. Erewhon sweet peas make impressive sweetly scented bouquets. Plants grow 6-8 ft. tall.
Erewhon sweet pea is a cross of Lathyrus odoratus and the strongly fragrant L. belinensis, first discovered in Turkey 30 years ago.
---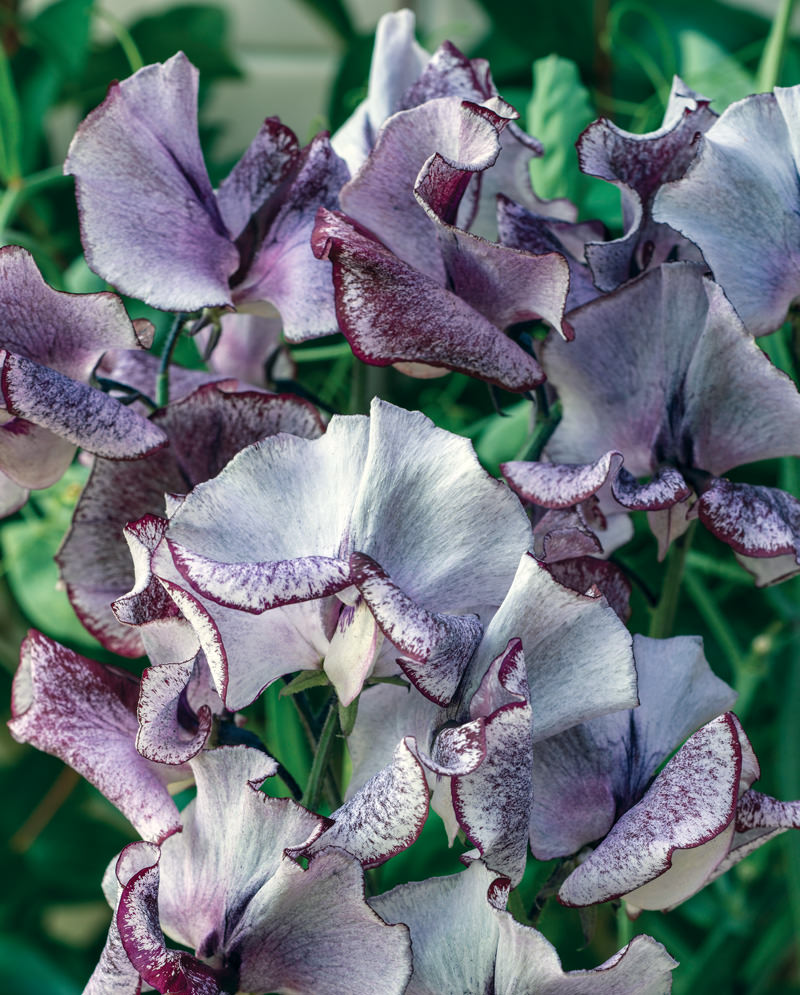 New for 2018
VN18003
NIMBUS Sweet Pea Seeds
Sweetly scented white flowers are generously adorned with fine speckles, streaks, and picotee edges in deep plum purple to ink blue. Long, straight flower stems make exquisite bouquets. Vigorous vines grow 6 to 8 ft. tall.
---
-->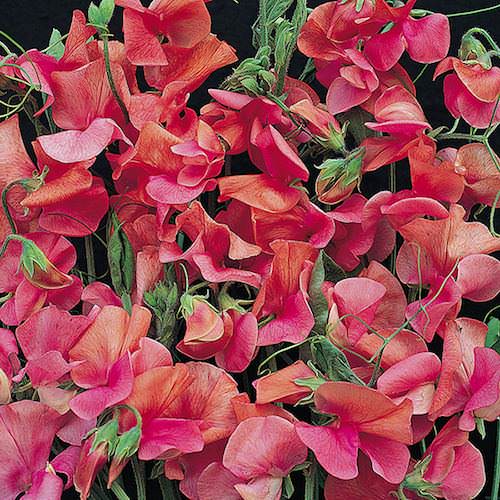 VN01730
AP­RICOT SPRITE Sweet Pea Seeds
Heavy-flowering 6 ft. tall vines covered in fragrant, long-stemmed apricot-salmon and pink-bicolor blooms. Apricot Sprite sweet pea is a stunning, long-lasting cut flower.
---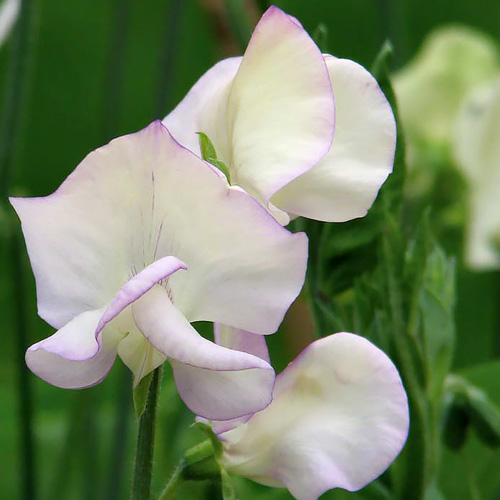 VN11269
KING'S HIGH SCENT Sweet Pea Seeds
The most fragrant sweet pea we know, King's High Scent sweet pea is a heavy producer of gorgeous, large-flowered cream blooms edged in violet. Superb cut, one bouquet of King's High Scent flowers scent an entire home. Plant where the extraordinarily-fragrant blooms can be best enjoyed, near porches, open windows, outdoor sitting areas. Enjoy the highly ornamental vines in containers or the landscape. Grows to 6 ft. tall.
---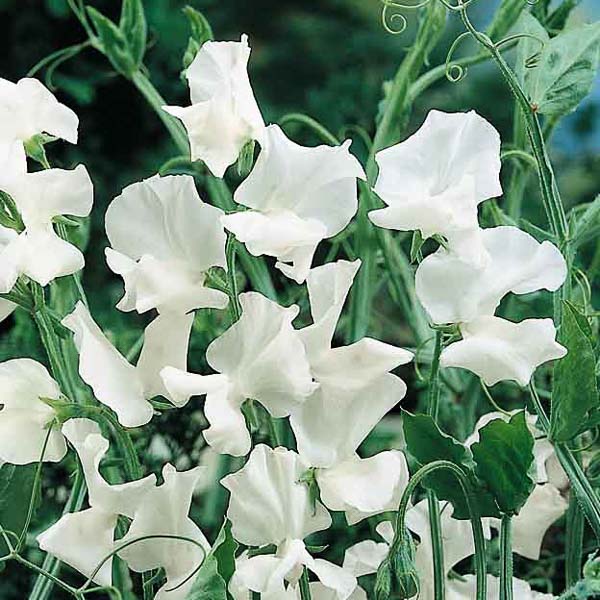 VN01197
SWAN LAKE Sweet Pea Seeds
Large pristine-white, frilled and fragrant Spencer-type blooms held on long, strong stems. Swan Lake is a superb sweet pea for cutting. Vigorous, heavy-blooming vines grow to 6 ft. tall.
---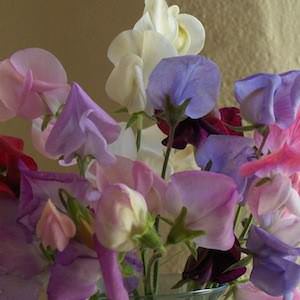 VN00091
OLD SPICE Sweet Pea Seeds
Old Spice is an extremely heat-resistant, intensely-fragrant collection of Italian heirloom sweet peas. Blooms appear in a wide range of colors. For planting in summer or in warm climates, Old Spice is the best there is.
---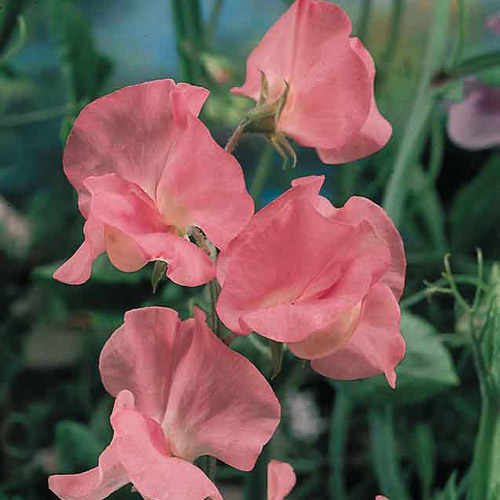 VN7805
MRS. R. BOLTON Sweet Pea Seeds
Large and ruffled almond-pink flowers display perfect form on long, sturdy stems. They are outstanding cut flowers. We find Mrs. R. Bolton to be especially beautiful when combined with the violet-blue tones of Noel Sutton. Vines grow 5-6 ft. tall.
---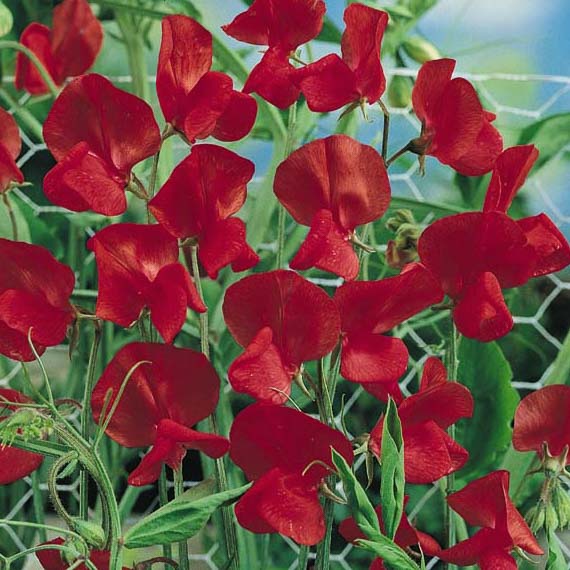 VN11268
AIR WARDEN Sweet Pea Seeds
The fragrant flowers are a brilliant cerise-scarlet. Spencer-type blooms are large and held on long, strong stems. Air Warden is an outstanding sweet pea for cutting. Vines are vigorous and heavy blooming, reaching 5-6 ft. tall.
---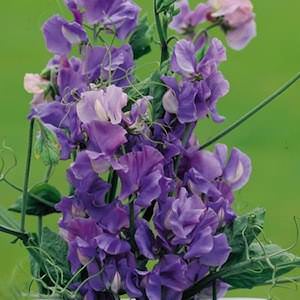 VN07806
NOEL SUTTON Sweet Pea Seeds
Ruffled, cool vivid violet-blue flowers displayed on long, strong stems. Blooms deliver a delicate, sweet scent, are excellent cut flowers.
---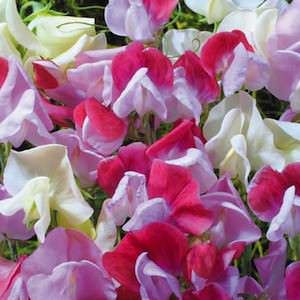 VN14302
STRAW­BERRY SUNDAE Sweet Pea Seeds
Strawberry Sundae sweet pea flowers are exceptionally fragrant. Blooms in pastel blends of pink, rosy bicolor, and white. They are exceptional cut flowers. Easy-to-grow, heat-resistant vines grow to 6 ft. tall.
---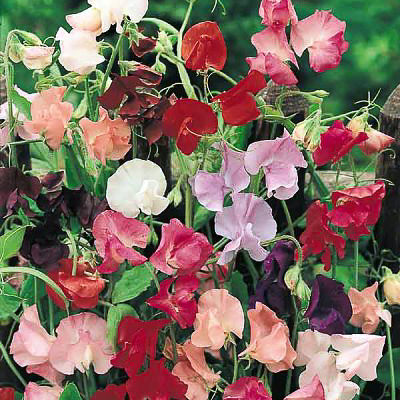 VN00108
MAM­MOTH MIX Sweet Pea Seeds
Large ruffled, fragrant flowers on vigorous, remarkably heat-resistant vines. Flower colors include shades of salmon, pink, rose, blue, lilac, and white. Train the vigorous 5-6 ft. tall vines on strings, nets or trellises.
---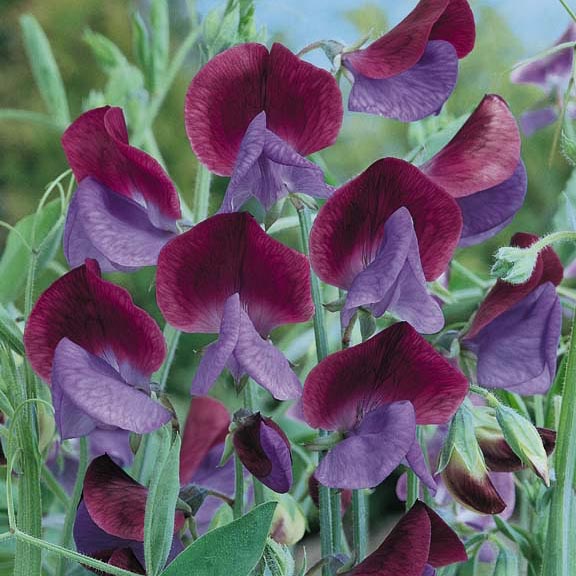 VN00083
MATU­CANA Sweet Pea Seeds
Unusual purple and deep-red bi-color blooms carry a particularly captivating scent. Flowers have delighted gardeners for decades. Matucana is similar to, and often confused with Cupani. Vigorous 6 ft. tall vines thrive on trellises, nets or strings.
---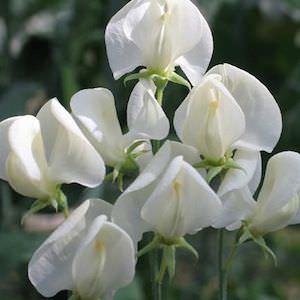 VN00087
MRS. COL­LIER Sweet Pea Seeds
Intensely-fragrant blooms three to a stem, age from lime to clear cream. Free-blooming vines grow 8-10 ft. tall. Introduced in 1907, Mrs. Collier is one of the most popular of all heirloom sweet peas.
---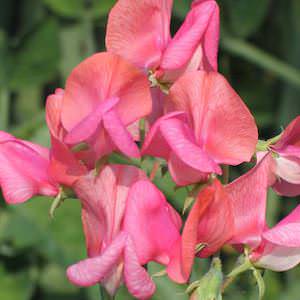 VN00085
MISS WILL­MOTT Sweet Pea Seeds
Deliciously fragrant flowers blended pink, orange, and apricot. An extraordinary heirloom sweet pea introduced in 1901. By 1906 Miss Willmott was the most popular sweet pea for cutting. A tribute to the famous garden writer Miss Ellen Willmott. Vines grow to 6 ft. tall.
---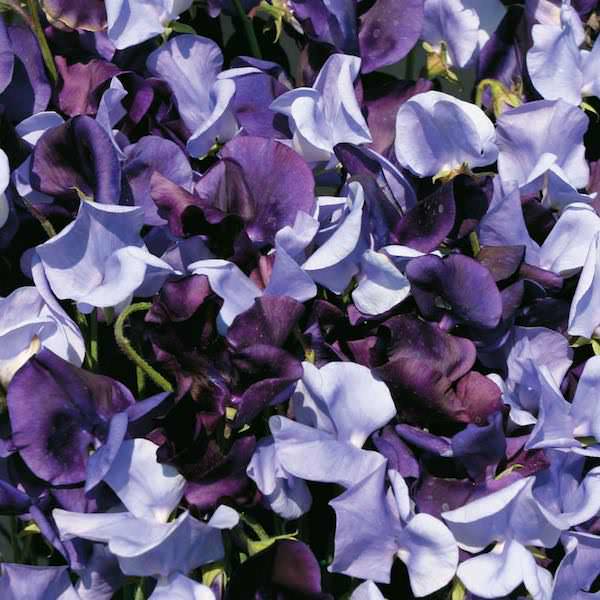 VN19079
OXFORD AND CAM­BRIDGE Sweet Pea Seeds
A gorgeous combination of two extremely fragrant heirloom sweet peas. Oxford is dark blue, Cambridge is sky blue. Vines grow 6-7 ft. tall.
---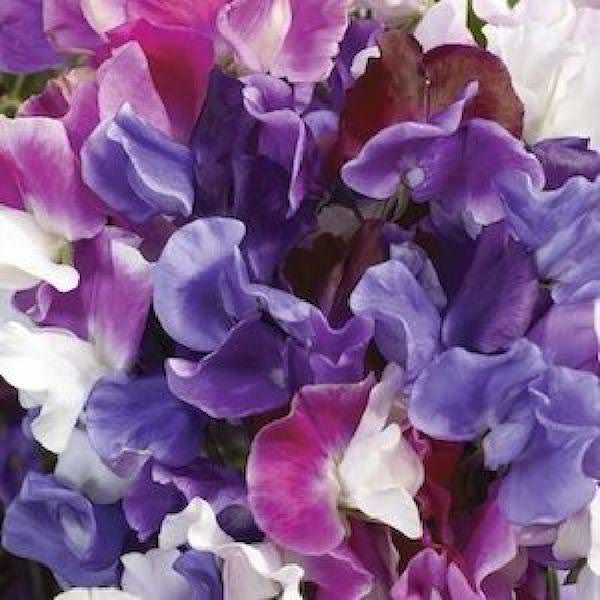 VN00081
MELODY MIX Sweet Pea Seeds
An intensely-fragrant collection of bicolor, long stemmed, large-flowered, ruffled sweet peas in 7 rich shades. Colors include maroon (deep maroon with mauve), rose (hot pink and white), red (cherry red and pink), pink (pink and white), lilac (lavender rose and white), lavender (lavender and rose), and violet (deep violet and blue). Perhaps the best sweet pea collection for sweetly-fragrant, long-lasting cut flowers.
---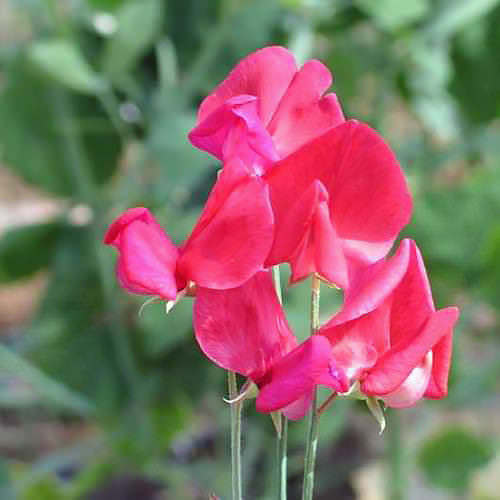 VN00088
QUEEN ALEX­ANDRA Sweet Pea Seeds
Wonderfully scented, vivid pink-scarlet blooms on 5-6 ft. tall vines. Growth is restrained, color is bright. Queen Alexandra is a particularly impressive sweet pea when rambling through roses or other shrubs. An English heirloom introduced in 1905.
---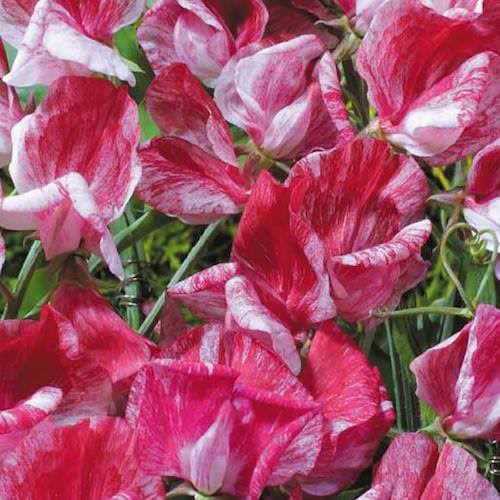 VN02354
AMER­ICA Sweet Pea Seeds
Stunning carmine-red flowers are streaked white. Blooms carry a particularly appealing sweet, fruity fragrance. They are held on long, airy stems. America is an English heirloom sweet pea introduced in 1896.
---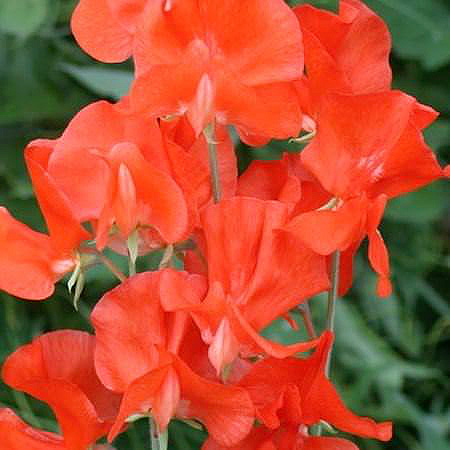 VN00082
HENRY ECKFORD Sweet Pea Seeds
Henry Eckford's strongly-scented flowers appear 4 to a stem. Their color is a bold, orange red, shading to salmon. Blooms shine brightest when plants receive afternoon shade. Forms stunning 6-8 ft. tall vines. Doubly striking when planted with Lord Nelson sweet pea. Henry Eckford sweet pea is an heirloom sweet pea introduced in 1904. Named for the most accomplished sweet pea breeder the world has yet known.
Sold out
---
DWARF SWEET PEAS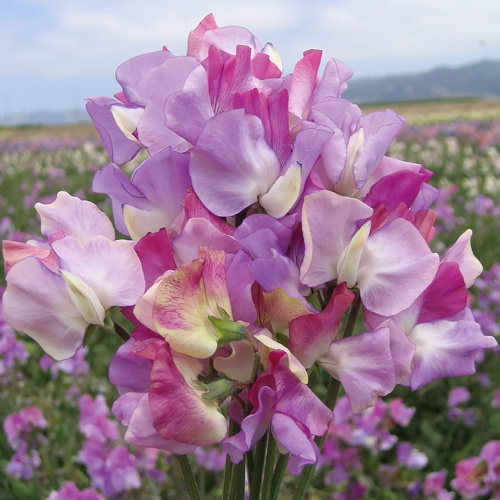 VN00002
PRIMA BALLER­INA TRI-­COLOR Dwarf Sweet Pea Seeds
Fragrant picotee flowers morph from rose-cream to lavender-white as blooms age. They are graceful, long-lasting cut flowers. Compact 24 to 32 in. tall plants.
---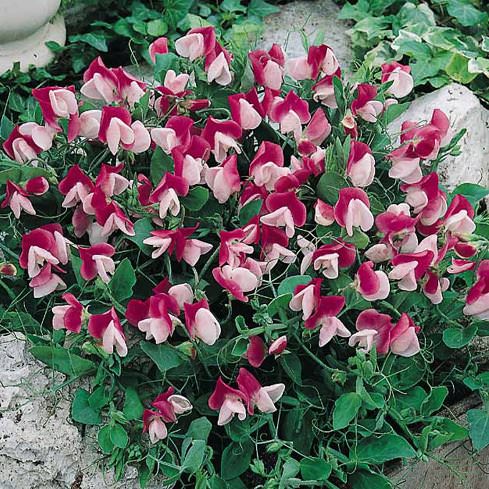 SWT0001
CUPID PINK Dwarf Sweet Pea Seeds
Cupid Pink is a bushy, heavy-flowering 2 ft. tall dwarf sweet pea topped in wonderfully fragrant 1 in. pink and white bicolor blooms. Plants are perfect for edging borders, or adding color and fragrance to your containers and hanging baskets.
---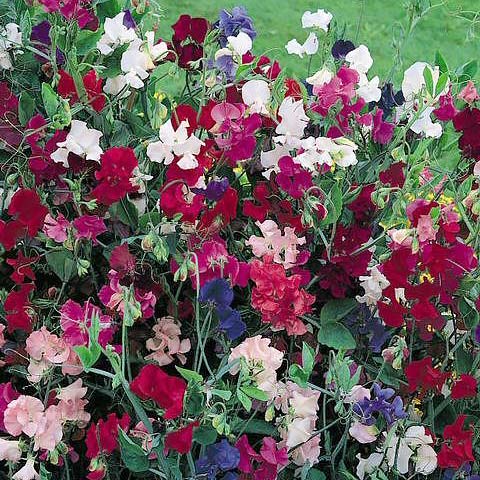 VN00101
KNEE HIGH IM­PROVED Semi-Dwarf Sweet Pea Seeds
Bushy, heavy-blooming plants produce large, fragrant flowers in a wide range of attractive colors. When massed without support, Knee High Improved sweet peas grow 24-30 in. tall. Growth is taller when vines are trained on a low trellis. The vigorous plants look terrific scrambling over low shrubs.
---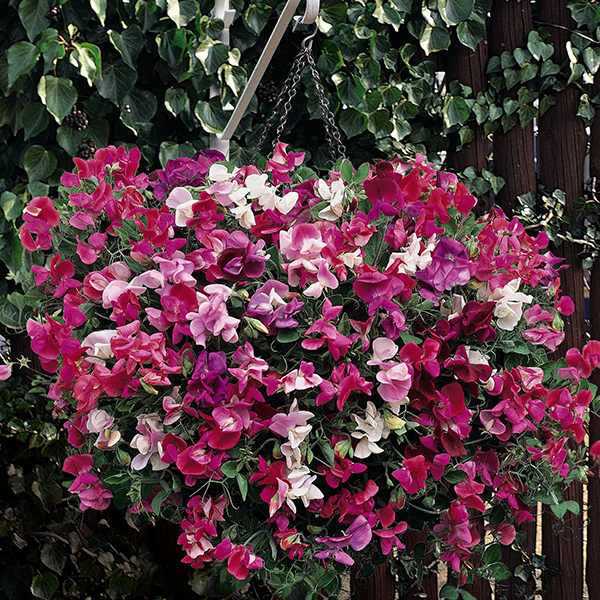 VN00076
SUGAR 'N SPICE Dwarf Sweet Pea Seeds
A wonderfully fragrant, dwarf sweet pea perfect for planting in containers or hanging baskets. Blooms form from each leaf node, create a brilliant ball of color in both solids and bicolors. Growth is naturally neat and compact, to 7 in. tall and wide. Pinching is not needed. Be sure to place Sugar n Spice near a window or sitting area to best enjoy the spicy perfume.
Available February 23rd.
---
Back to Top
How to Plant Sweet Pea Seeds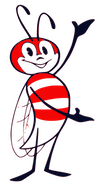 Soak sweet pea seeds in water 24 hours prior to sowing. Then, sow in cell packs, 2-3 seeds per cell. Needs darkness to germinate. Cover with newspaper and keep out of direct sun until germination occurs. Sweet pea seeds may be direct sown into the garden, ¼-½ in. deep. Thin seedlings to 6-12 in. apart.