Nicotiana Seeds
a.k.a. Flowering Tobacco
Nicotiana x sanderae, N. x hybrida, N. sylvesris, N. insterspecific Hybrids, N. mutabilis
How to plant Nicotiana seeds
Nicotiana produce marvelously fragrant flowers that bring hummingbirds and spectacular moths into your garden. The low maintenance plants tolerate both heat and humidity.
Perfume Series
Nicotiana x sanderae
Perfume series nicotianas produce eye-catching, upward-facing, 2 in. star-shaped flowers that fill summer evenings with intoxicating perfume. The 20 in. tall plants are heavy blooming, widely adapted, and easy to grow. Perfume series nicotianas grow beautifully in borders or containers.
How to Plant and Grow Nicotiana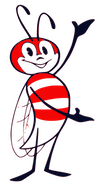 Plant Nicotiana Seeds: Sow seed in cell packs or flats, press into soil, but do not cover. Kept at 75° F., germination is in 10-20 days. Transplant into the garden 12-18 in. apart, after all danger of frost.
Grow Nicotiana: Full or part sun. Fertile, moist soil. Tolerates heat and humidity. Attracts butterflies, hummingbirds and spectacular moths. Deer and rabbit resistant. Fragrant flowers.