Heirloom Tomato Seeds
Solanum lycopersicum
How to plant Heirloom Tomato seeds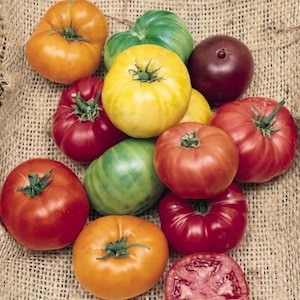 We get a kick out of growing tomatoes and it shows. Heirloom tomatoes in shades of red, pink, yellow, orange, green, mahogany and bicolors.
Fruits are lemon-shaped, heart-shaped, flattened, and fluted. Flavors are sweet, tart, fruity, spicy, rich and unforgettable. Giant Belgium can grow to 5 pounds.
We think of the following varieties not so much as a seed list, but as a playground. There is plenty of room to explore and many pleasant surprises along the way.
How to Plant and Grow Heirloom Tomato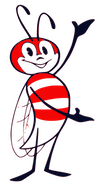 Sow seed in cell packs or flats, press into soil and lightly cover. Kept at 75-90°F., germination is in 8-15 days. Transplant into the garden 2-4 ft. apart after all danger of frost.
Heirloom tomatoes grow too large for the typical 3 foot tomato cage. Begin by tying each plant to one 6 foot stake. Then create a 2 foot square with 4 stakes around each plant. Wrap garden twine around the stakes at 6 inch intervals up the square, adding more rows of twine as your plants get taller.