How to Plant and Grow Pumpkin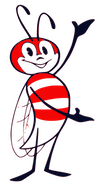 Plant Pumpkin Seeds: Direct sow after all danger of frost 9 in. apart in rows 6-8 ft. apart. Kept at 75-85°F., germination is in 5-10 days. Thin to 3-4 ft. apart. Can be started peat pots or cell packs 3-4 weeks before the last frost.
Grow Pumpkin: Pinch the vine tips once several fruits have formed to control vine size and encourage larger fruit. Fruits are harvested once the vine dies.