Basil Seeds
Ocimum basilicum
How to plant Basil seeds
Plant Basil because:
you enjoy cooking with fresh herbs
you are fond of Caprese salad and/or Thai stir fry
you want beautiful plants that are also deliciously edible
you garden in containers on a patio or sunny windowsill
How to Plant and Grow Basil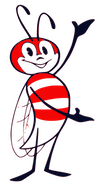 Plant Basil Seeds: Direct sow into the garden after all danger of frost. Plant seed ¼ in. deep, 2-3 seeds per inch, in rows 18 in. apart. Firm the soil well over the seeds. Thinning is not necessary. Can be started indoors in cell packs or flats 6 weeks prior to setting out. Kept at 70°F., germination is in 5-10 days.
Grow Basil: Basil prefers warm weather and is very sensitive to cold. Removing flowers and pinching taller stems will result in bushier plants that produce more leaves and better flavor. Removing leaves from basil plants helps promote growth. Some basils may die back after blooming. Basil is often companion planted with tomatoes.