BASIL SEEDS
Ocimum basilicum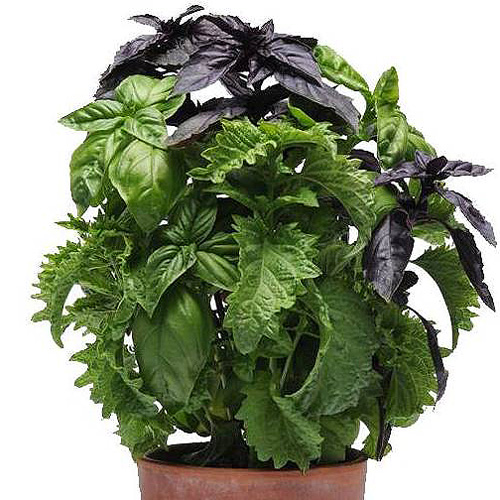 New
HR18001
TRY BASIL SIMPLYHERBS Basil Seeds
Each Try Basil multi-seed pellet includes three types of basil: large-leaf Genovese, purple-leaf, and lettuce-leaf. For gardeners short on planting space, Try Basil makes it easy to grow three types of basil in the space of one plant. Try Basils reach 24-30 in. tall, 12-16 in. wide, and are ready to for harvesting in as little as 2 months from seed.  Grow Try Basil in containers or in garden beds.
10 multi-seed pellets - $2.49
Qty:
---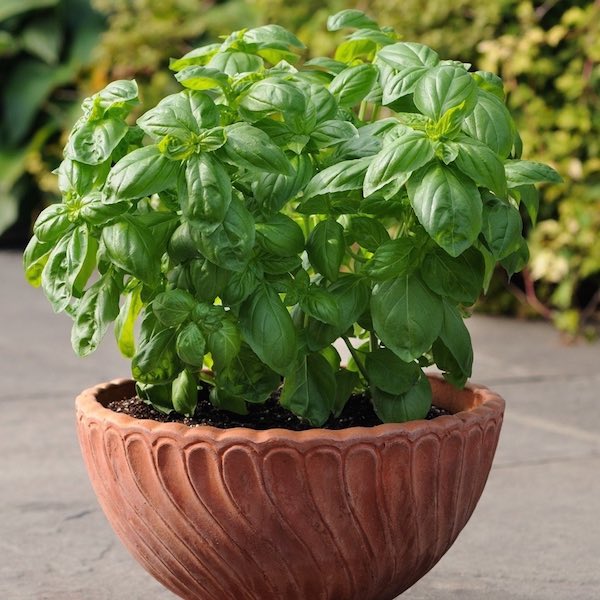 HR16001
DOLCE FRESCA Basil Seeds
The best large-leafed basil to grow in containers. Dolce Fresca combines the attractive dense round shape of bush basil with large sweetly spicy leaves of an Italian basil. Feel free to snip with a heavy hand, because Dolce Fresca rapidly grows fresh new leaves, yet keeps to a tidy, 12 to 14 in. mound. 2015 AAS Award Winner. Packet is ½ gram, about 300 seeds.
---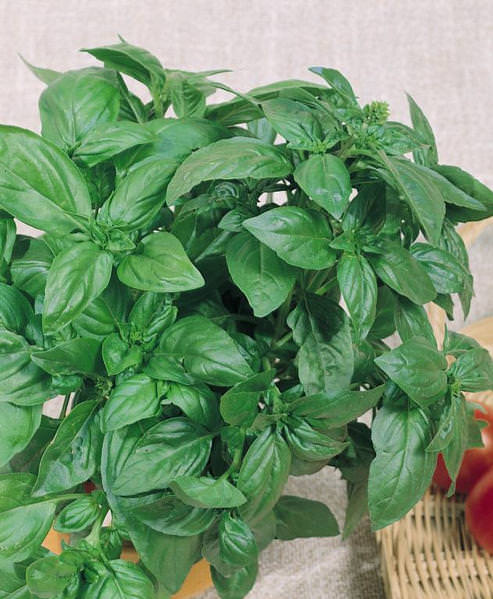 HR00009
GENO­VESE COM­PACT Basil Seeds
Thick and large, crinkled dark green leaves full of spicy flavor, superb for pesto sauces. Genovese has long been a favorite of fresh markets and gourmets, and Genovese Compact delivers same superior quality on much more neat, compact 1½ ft. tall plants. Great in containers. Packet is ¼ gram, about 150 seeds.
---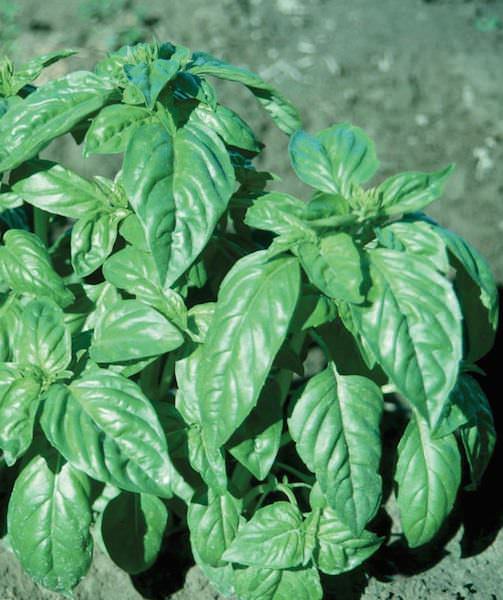 HR00011
ITAL­IAN LARGE LEAF Basil Seeds
Big high yielding plant with large 2-3 in. wrinkled leaves and a particularly sweet (and less clove-like) flavor some cooks prefer. Grows 2-2½ ft. tall. Packet is ½ gram, about 275 seeds.
---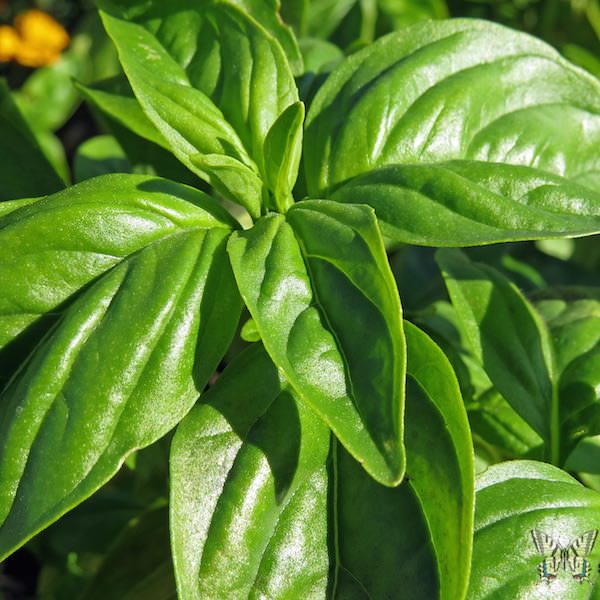 HR00004
GENO­VESE Basil Seeds
Organically grown. A classic Italian basil, ideal for pesto. The dark green leaves are succulent, mildly spicy and plentiful on 24 to 30 in. tall, bushy, slow-to-bolt plants. Packet is 1 gram, about 600 seeds.
Sold out
---
THAI/SOUTHEAST ASIAN BASIL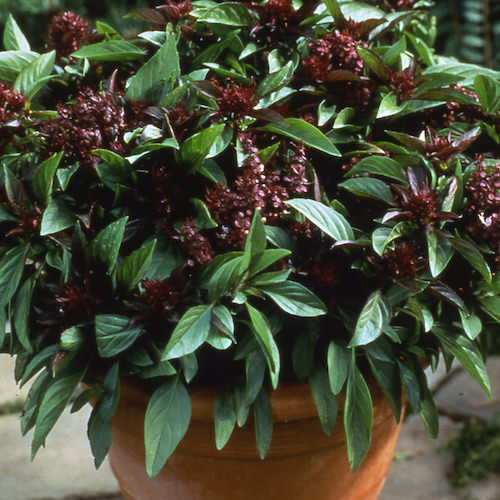 HR00023
SIAM QUEEN Thai Basil Seeds
Both an outstanding ornamental and top-quality culinary basil. Leaves green, stems purple, flowers pink-violet. This is the basil most often used in Vietnamese and Thai cooking. With mild overtones of anise, 'Siam Queen' adds the right touch of spice to soups, curries and beef dishes. Grows to 2 ft. tall. Packet is ¼ gram, about 175 seeds.
---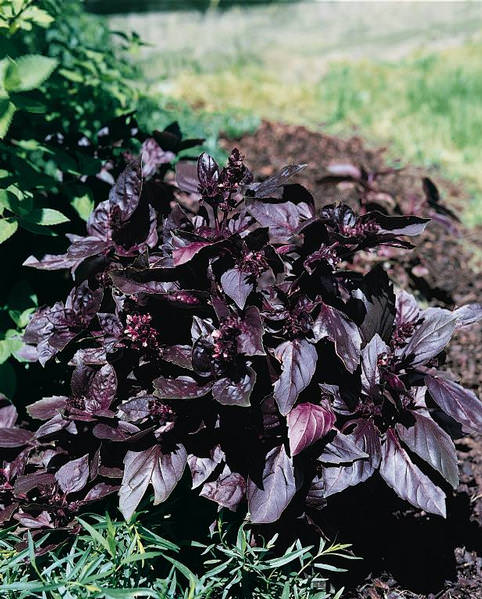 HR00020
RED RUBIN (PURPLE PASSION) Basil
Organically grown. Here is a purple variety that really is close to 100% purple. While it is true that Red Rubin is a superb ornamental variety for vegetable gardens or containers, it is also quite tasty. Delivers a gourmet quality flavor that adds zip to salads and pasta dishes. Packet is ¼ gram, about 175 seeds.
---
Back to Top
How to Plant and Grow Basil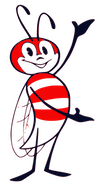 Plant Basil Seeds: Direct sow into the garden after all danger of frost. Plant seed ¼ in. deep, 2-3 seeds per inch, in rows 18 in. apart. Firm the soil well over the seeds. Thinning is not necessary. Can be started indoors in cell packs or flats 6 weeks prior to setting out. Kept at 70°F., germination is in 5-10 days.
Grow Basil: Basil prefers warm weather and is very sensitive to cold. Removing flowers and pinching taller stems will result in bushier plants that produce more leaves and better flavor. Removing leaves from basil plants helps promote growth. Some basils may die back after blooming. Basil is often companion planted with tomatoes.