Black-Eyed Susan Vine Seeds
Thunbergia alata
How to plant Black-Eyed Susan Vine seeds
Black-eyed Susan Vines are fast-growing, trailing or twining, heavy blooming annual vines with triangular leaves. Flowers are tubular, 1-2 in. across and are marked with a contrasting dark eye. Vines bloom from from summer until frost.
Whether planted in the ground or containers, trellises and strings are frequently used to train Black-eyed Susan Vines. Plants can also be used as highly ornamental seasonal ground covers. For an informal look allow Black-eyed Susan Vines to ramble and scramble over garden walls and shrubs. Enjoy their riotous color close up, when you plant the vines in hanging baskets.
How to Plant and Grow Black-Eyed Susan Vine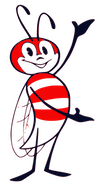 Soak Black-Eyed Susan Vine seed in water for 12 hours, then sow in 2 in. pots or cell packs, press into soil and completely cover. Kept at 75-80°F., germination is in 14-21 days. Transplant seedlings into the garden 12-18 in. apart, after all danger of frost.