AMARANTHUS SEEDS
Amaranth
Amaranthus caudatus, A. cruentus, A. hybridus, A. tricolor, A. gangeticus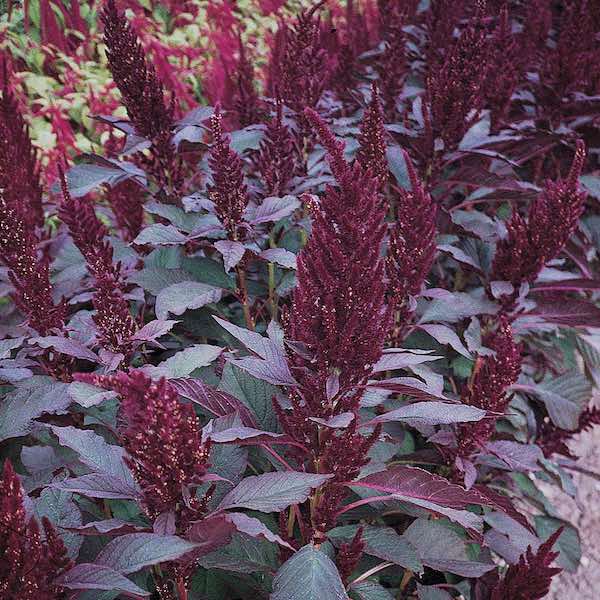 NEW FOR 2017
AMR0003
MARVEL BRONZE Amaranthus Amaranthus paniculatus
Deep burgundy foliage and brilliant purple feathery upright spikes grow 3-5 feet tall. Flowers are long lasting fresh cut or dried; foliage is edible and highly nutritious. Marvel Bronze provides a stunning contrast when combined with white and other light-colored flowers.
---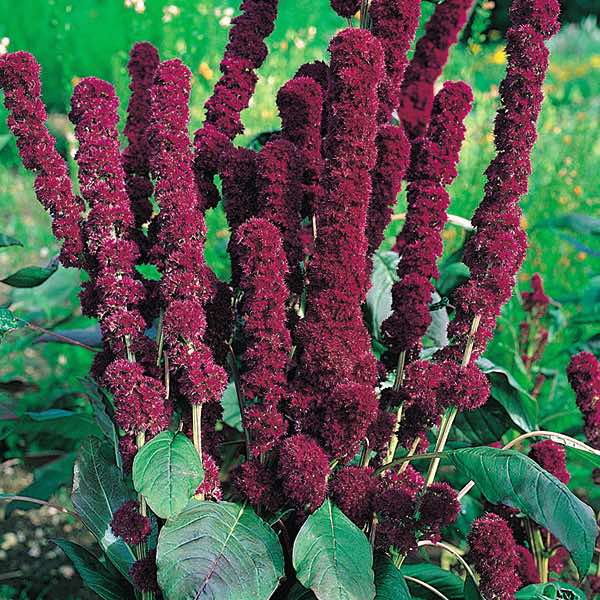 NEW FOR 2017
AMR0001
FAT SPIKE Amaranthus Amaranthus caudatus
Large, deep red-purple, 3 in. wide, tapered spikes stand 3 to 4 ft. tall. Medium green, edible foliage. Fat Spike creates an excellent vertical focal point in the garden and as a cut flower, fresh or dried.
---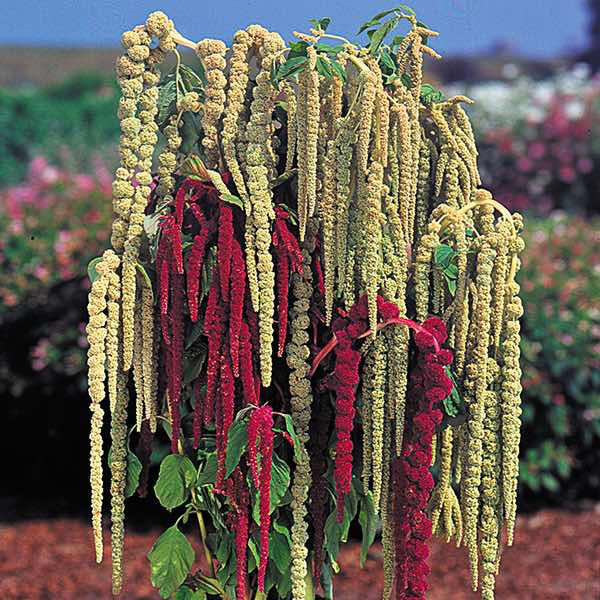 AN16031
PONY TAILS MIXED Amaranthus Amaranthus caudatus
This outstanding blend of Green Tails and Love-lies-bleeding amaranthus create a pleasing color contrast. Vigorous 3-5 ft. tall plants produce pendent, swinging bright-red and green tassels in summer and fall. Pony Tails Mixed amaranthus make great cut flowers, fresh or dried.
---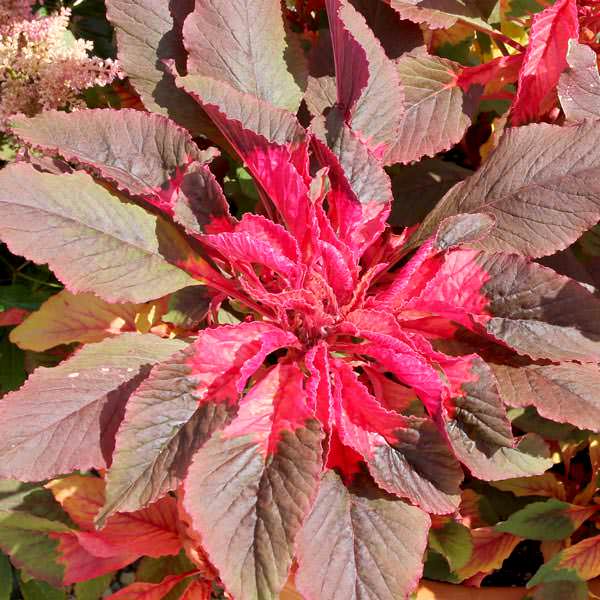 AN16362
CARNIVAL Amaranthus Amaranthus gangeticus
Get ready: the Carnival amaranthus show gets more and more uproarious as the season progresses. Early summer brings bronze and green foliage that morphs into warmer and brighter shades of yellow, orange, and pink, finishing the show with tall purple spiked flowers late summer into autumn. With some early season pruning, Carnival amaranthus plants grow round and bushy, to 3-4 ft. tall. Left alone, Carnival will grow more columnar, reaching 5 ft. or more tall.
---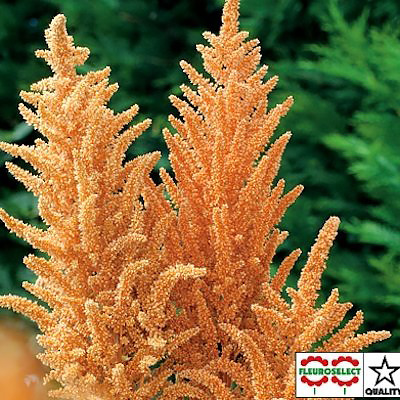 AN00006
HOT BISCUITS Amaranthus Amaranthus cruentus
Fast-growing 4-5 ft. tall plants produce gorgeous 2 ft. cinnamon-orange plumes over a long summer and fall season. An outstanding cut flower, Hot Biscuits amaranthus adds welcome spice to autumn bouquets. Plants are easy to grow.
---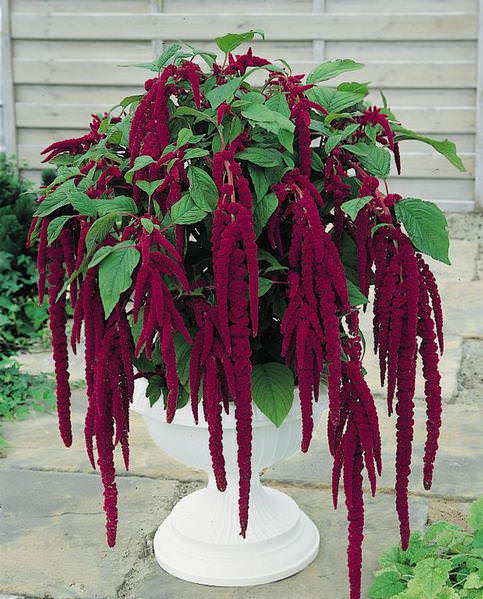 AN05651
LOVE-LIES-BLEEDING Amaranthus Amaranthus caudatus
This stunning accent plant is an ideal choice for beds, borders, or containers. Plants grow 3-5 ft. tall and produce rope-like bright red tassels over a long summer and fall season. Flowers are excellent for cutting or drying. The foliage is edible and highly nutritious. Packet is 3½ grams, about 5,000 seeds.
---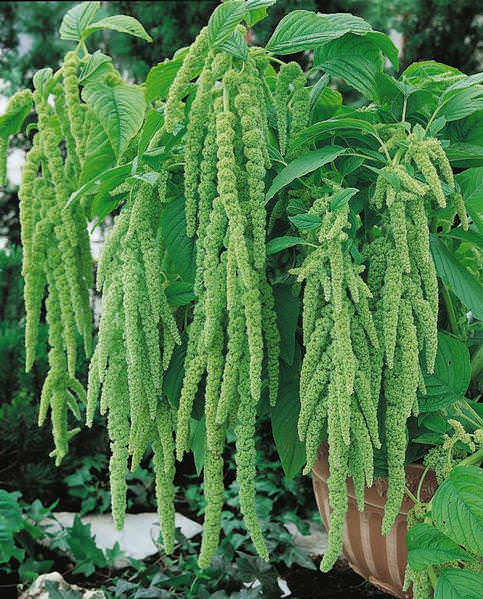 AN05652
GREEN TAILS Amaranthus Amaranthus caudatus 'Viridis'
Similar to Love-lies-bleeding, with drooping lime-green tassels which are superb fresh cut or dried. Plants grow 3-5 ft. tall. Packet is 3½ grams, about 5,000 seeds.
---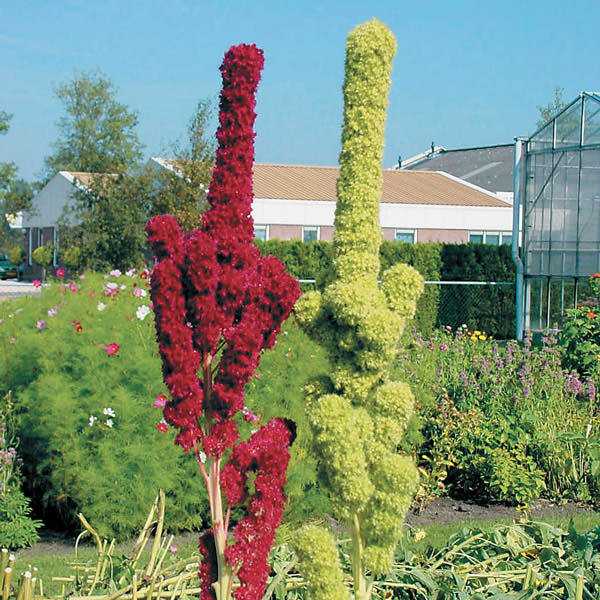 AN16072
TOWERS MIX Amaranthus Amaranthus cruentus
Highly uniform 40-48 in. tall plants produce a dramatic, colorful mix of chartreuse and red flower spikes. They combine beautifully with other flowers in mixed bouquets.
---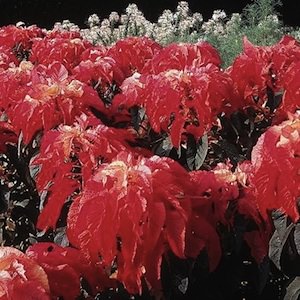 AN02863
ILLUMINATION Amaranthus Amaranthus tricolor
Stunning crimson and golden orange foliage tops sturdy columns of bright green leaves. These fast growing annuals reach 4 ft. tall. Leaves are edible and are excellent for cutting. Often referred to as 'summer poinsettia.'
---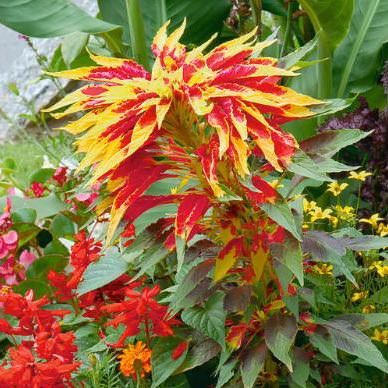 AN08002
PERFECTA Amaranthus Amaranthus tricolor
Perfecta amaranthus plants are topped in gorgeous scarlet and yellow leaves, reverses are chocolate-brown, yellow, and green. Plants grow to 4-5 ft. tall and are at home at the back of the border or planted among shrubs.
---
AN08001
MOLTEN FIRE Amaranthus Amaranthus tricolor
Glowing crimson-maroon foliage on stunning, fast-growing 3-4 ft. tall plants. The leaves are edible and are excellent for cutting.
---
AN06835
GREEN THUMB Amaranthus Amaranthus hypochondriacus
Long lasting, emerald-green flower spikes on well-branched, 18 in. tall plants. Blooms are superb for cutting. Green Thumb amaranthus is a beautiful plant for borders.
---
Back to Top
How to Plant and Grow Amaranthus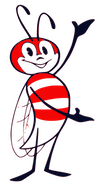 Plant Amaranthus Seeds: Direct sow amaranthus seeds into prepared seed beds after all danger of frost (and the soil has fully warmed) in groups of 4 seeds spaced 18-24 in. apart. Thin to the strongest plant. Or, scatter seed over ground that has had the top 1 in. of soil loosened. Rake seed in lightly, walk over area to firm soil. Keep moist until germination. Amaranthus seed is easy to germinate provided the soil is warm. Seed can also be started indoors in cell packs or 2 in. containers. Kept at 65-75°F., germination is in 10-21 days.
Grow Amaranthus: Full or part sun. Plants tolerate high heat, and any soil as long as drainage is good. Amaranthus will grow faster, produce more flowers with regular water; will tolerate some drought once established. Seed heads attract birds.