How to Plant and Grow Honeywort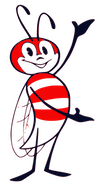 Plant Honeywort Seeds: Sow seeds in cell packs or flats, press into soil and barely cover. Kept at 70°F., germination is in 5-21 days. Transplant seedlings into the garden 10-12 in. apart after all danger of frost.
Grow Honeywort: Full or part sun. Plants tolerate heat. Will accept a wide variety of soils as long as drainage is good. Decidedly drought tolerant, plants grow larger, bloom heavier with average water. Location and soil impact ultimate size. Given full sun, rich soil, ample water, honeywort can reach 4 ft. high. In sun, lean soil, with little water, plants rarely top 2 ft. In shade, honeywort will be shorter still. Good cut flowers when stems are singed with a match or plunged into boiling water. Flowers attract bees and hummingbirds. Plants are deer resistant.