ASTILBE SEEDS
False Spirea, False Goat's Beard
Astilbe x arendsii
Astilbe plants produce plume-like flower clusters May to July that bring a light, airy quality into your shade garden.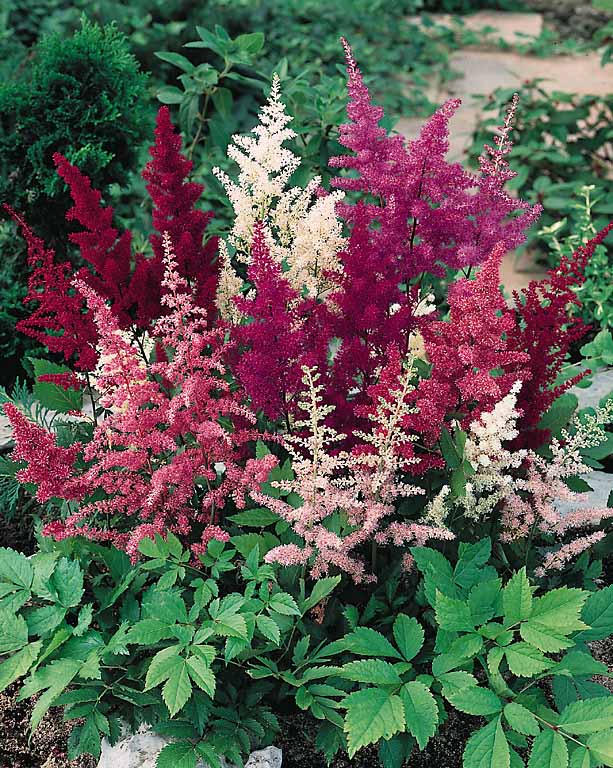 PR00712
SHOW­STAR Astilbe Seeds
Showstar astilbe produces red, pink, cream or white flowers on dwarf, 14 in. plants. Compact and bushy, use at the front of borders, at the edge of pools, or in containers. Outstanding winter hardy perennial to zone 4. Grows nicely with Marvelous Marble Coral Bells.
---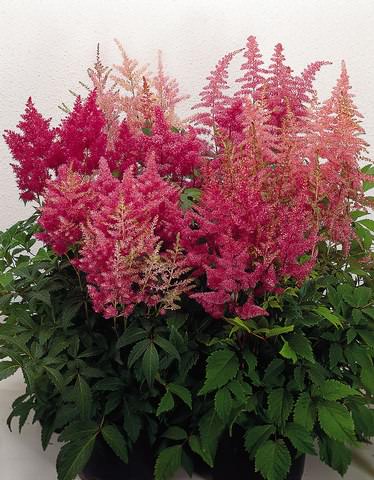 PR06205
BELLA Astilbe Seeds
Bella astilbe produces attractive panicles of red to rose flowers (with an occasional white) on 20 in. tall plants. At home in moist shady borders, or at the edge of pools or ponds. Winter hardy to zone 4.
---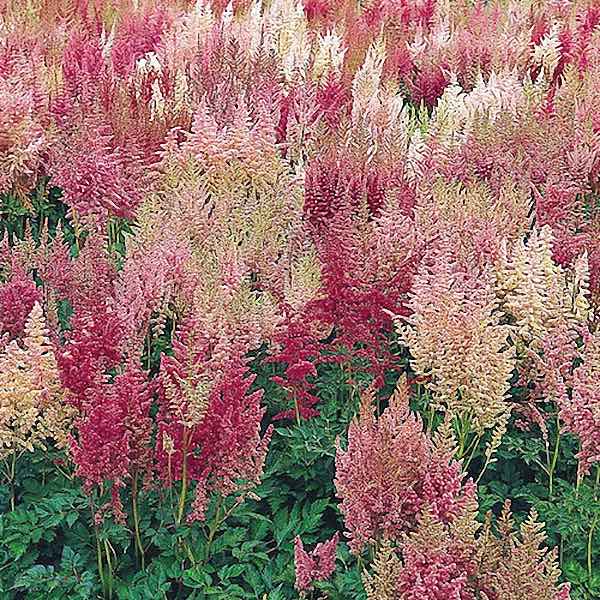 PR14018
GRANDE Astilbe Seeds
Long, slender 2 ft. plumes in intense shades of red, pink, carmine, and cream. Dramatic perennial for partly shaded borders, spectacular as cut flowers. Plants grow 30-34 in. tall. Quick germination, with no special treatment required. Winter hardy to zone 4.
Sold out
---
How to Plant and Grow Astilbe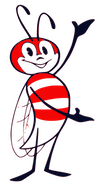 Plant Astilbe Seeds: Sow seeds in cell packs or flats, press into soil but do not cover. Astilbe seed needs light to germinate. Kept at 65-70°F., germination of Astilbe seed almost always occurs within 4-5 weeks. If not, put container inside a zip-lock bag and refrigerate for 4 weeks. Remove and germinate at 65-70°F.
Grow Astilbe: Plants prefer part sun to light shade and rich, moist soils. Will thrive in heavy soils with poor drainage. Beautiful nears ponds and other water features. Can grow astilbes in large containers. Astilbe blooms attract butterflies and make excellent cut flowers; cut stems when plumes half open. Plants are fire, rabbit, and deer resistant.