Radish Seeds
Raphanus sativus (Open pollinated)
How to plant Radish seeds
Direct sow Radish seeds into the garden in spring or late summer to mature in cool weather. When about 1 in. tall, thin to 2-3 in. apart. Harvest as soon as they reach the size you prefer. Successive sowings will ensure a steady supply.
How to Plant and Grow Radish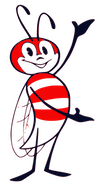 Sow seeds ½ in. deep and ½ in. apart, in rows at least 8 in. apart. Kept at 55-65°F., germination is in 4-11 days. Radish seeds do not germinate well in hot conditions. Thin to 2 to 3 in. apart.