CYPRESS VINE SEEDS
Ipomoea quamoclit syn. I. pennata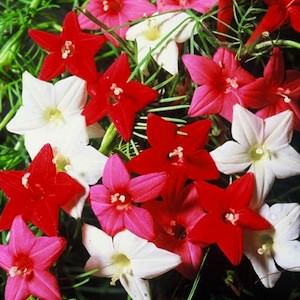 VN00027
CYPRESS VINE MIX Seeds
This fast growing morning glory relative features feathery, bright green foliage and brilliant red, pink or white trumpet shaped flowers that hummingbirds love. Blooms over a very long summer and fall season. The annual vines grow to 12 ft. or more tall and are perfect for pergolas, fences, trellises or posts.
Cypress Vine seeds cannot ship to AZ.
How to Plant and Grow Cypress Vine Seeds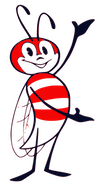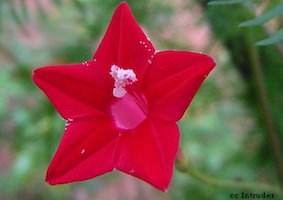 Plant Cypress Vine: To quicken germination, soak seed in lukewarm water for 2 hours, or nick with a knife or nail clippers. Then sow in 2 in. pots or cell packs, cover with ¼ in. soil. Kept at 70°F., germination averages 14-21 days. Can direct sow after all danger of frost, when the soil has warmed, 6-8 seeds per foot. Thin to 12 in. apart.
Grow Cypress Vine: Full sun or part shade. Not particular about soil as long as drainage is good. Tolerates drought once established, faster growth, heavier bloom with regular water. Fast growing, it will cover a trellis quickly, producing the first flower often within 30 days. Flowers are nectar-rich and firm favorites of hummingbirds and butterflies. Deer resistant.