VINCA SEEDS
Madagascar Periwinkle
Catharanthus roseus
COMPACT VINCA
Heat-loving annual flowers grow 8-16 in. tall. Long summer and fall bloom season. Bright colors for your containers and borders.
COBRA HEAT ELITE SERIES Vinca Seeds
Compact, 10-12 in. tall plants are well-branched, spreading to 12-16 in. wide. Large, round flowers begin blooming early and continue well into the fall. Cobra Heat Elites remain highly disease resistant through high heat, humidity, and cool temperatures. An excellent choice for garden beds and container plantings.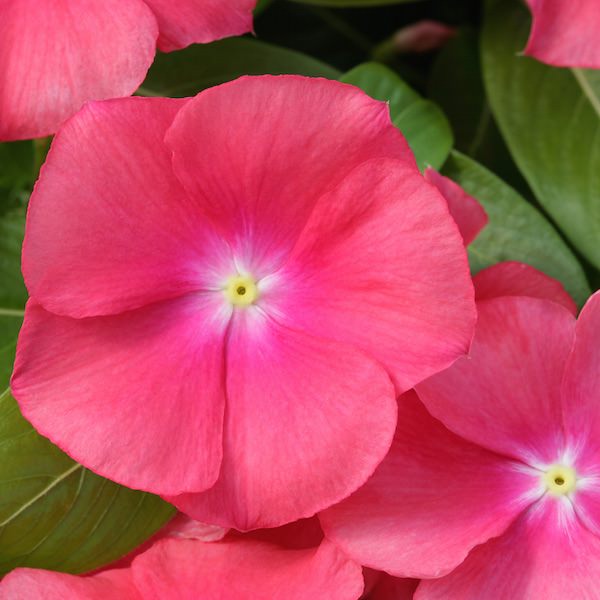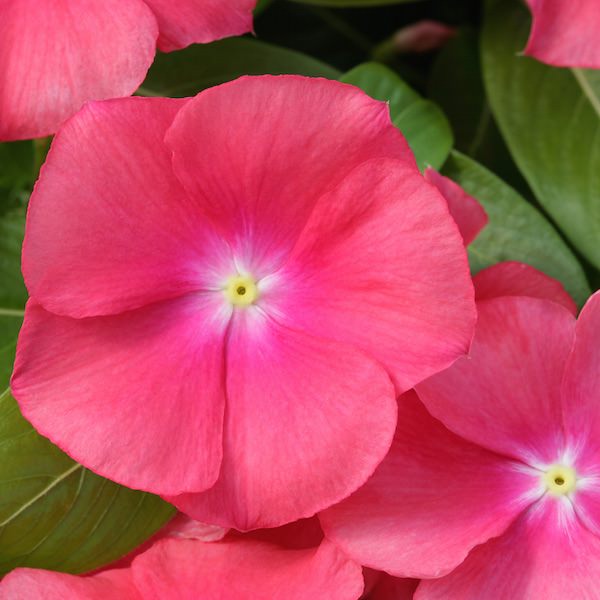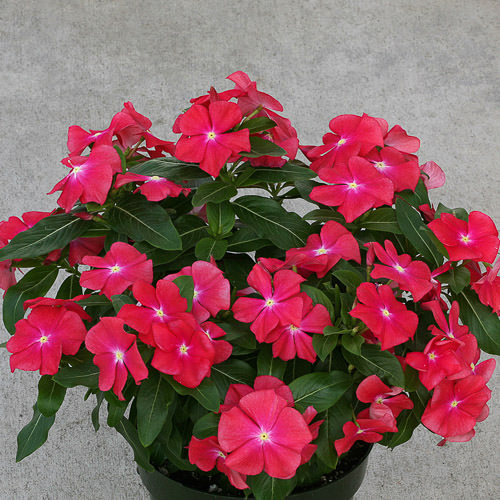 NEW FOR 2017
VN0001
COBRA HEAT ELITE PAS­SION FRUIT Vinca Seeds
Sizzling hot pink flowers.
---
NEW FOR 2017
VN0003
COBRA HEAT ELITE MIX Vinca Seeds
A vibrant blend of red, white, pink, rose, and apricot shades.
---
JAMS 'N JELLIES SERIES Vinca Seeds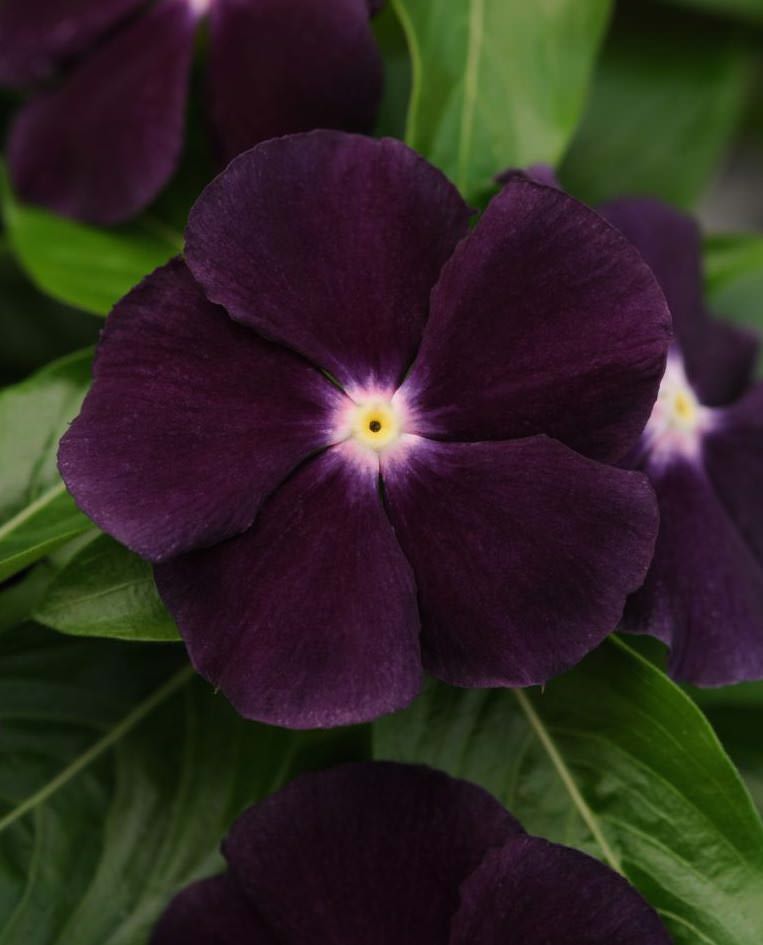 AN10789
JAMS 'N JELLIES BLACK­BERRY Vinca Seeds
2012 All-America Selections winner. Unique shades of velvety dark purple, will at times appear almost black, and the tiny white eyes provide the perfect contrast. Combines beautifully with blue, pink, white or lavender in the landscape.
Leaves are dark green, lush and glossy. Jams 'N Jellies Blackberry is an exceptionally vigorous grower to 10-14 in. tall, and is an ideal choice for planting in pots and borders, or along foundations and paths.
---
SUNSTORM SERIES Vinca Seeds
The richly colored flowers are large and round. SunStorm vincas bloom early, are extremely heavy flowering and thrive in both warm and cooler temperatures. The 8-10 in. tall, 10-12 in. wide plants are compact with amazing branching; they cover themselves in flowers from top to bottom. 'SunStorm' series vincas are consistently among the very highest rated vincas at independent trial grounds across the United States.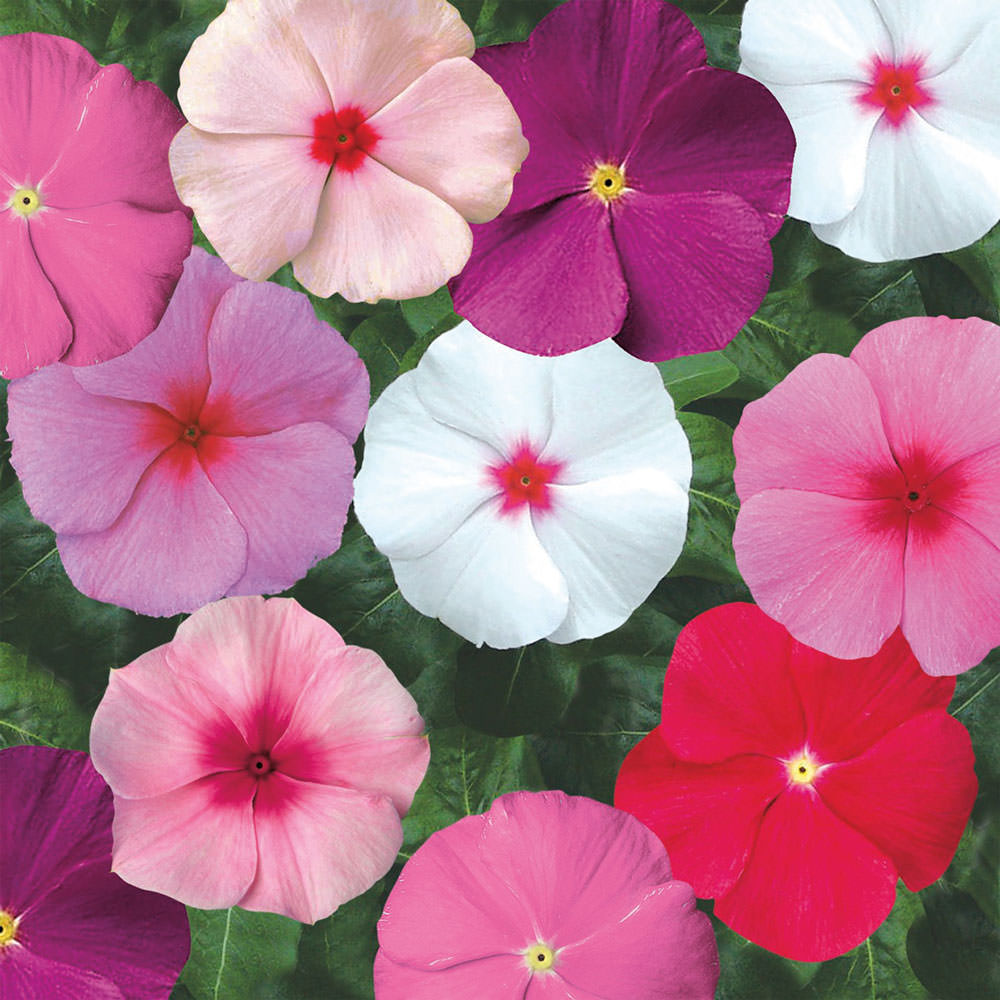 AN09527
SUN­STORM MIX Vinca Seeds
Formula mixture of all colors.
---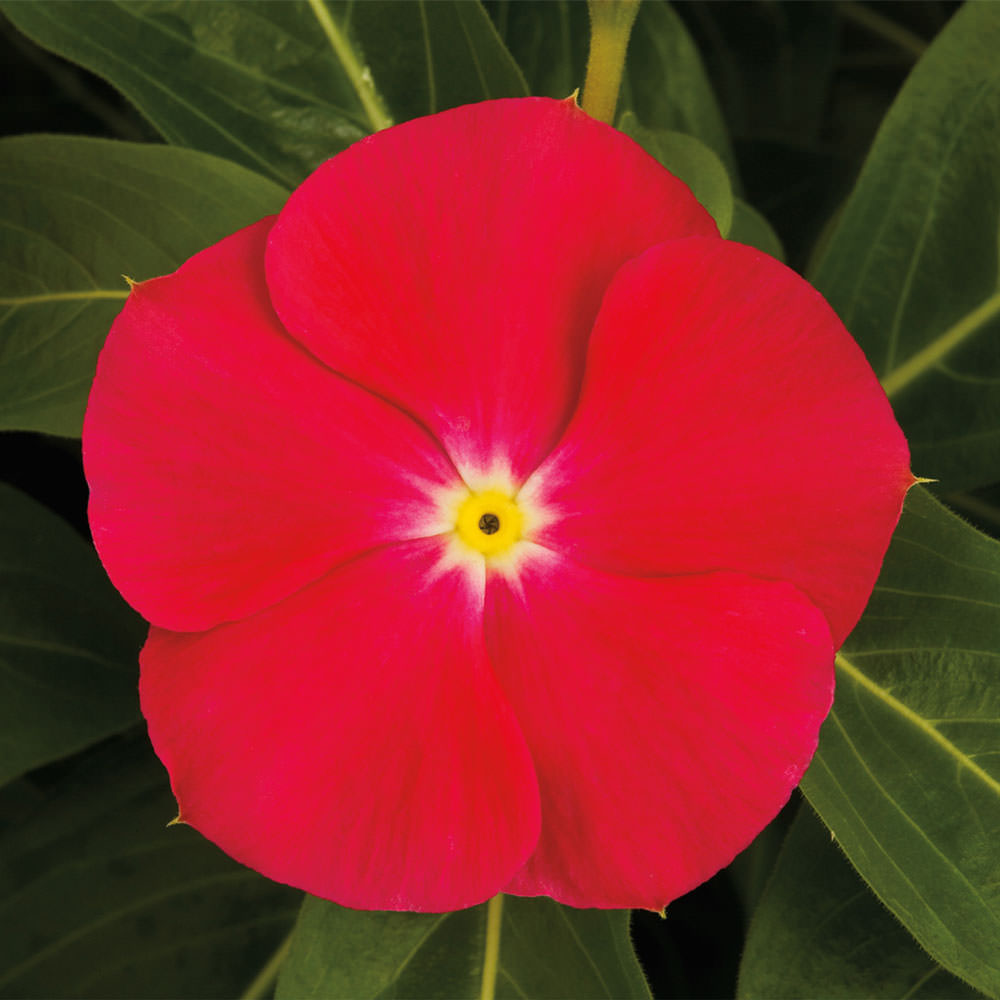 AN09528
SUN­STORM BRIGHT RED Vinca Seeds
Radiant red.
Sorry, out of stock
---
AN09532
SUN­STORM WHITE W/EYE Vinca Seeds
Bright white with small rose eye.
---
SOLAR HYBRID Vinca Seeds
The 'Solar' hybrid vincas flower up to two weeks earlier than most vinca series, producing large 2 in. flowers with overlapping petals. Disease resistant, 'Solar' hybrid vincas are among the very best varieties for extremely hot and humid conditions. The tough, easy to grow plants also tolerate cooler weather, which extends the season in which vincas can be grown. Growing 10-12 in. tall, the handsome, mounding plants flower continuously through the summer and into fall.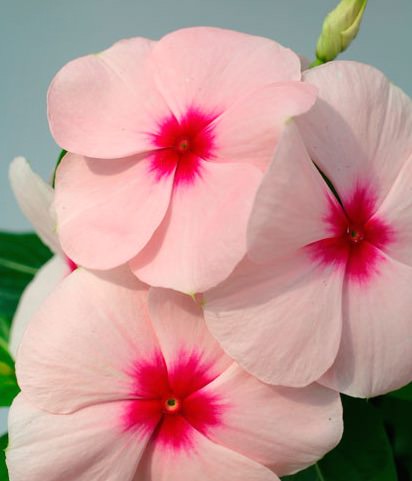 AN09119
SOLAR APRICOT Vinca Seeds
Apricot pink flowers with deep rose centers.
---
AN10796
SOLAR MIX Vinca Seeds
A formula mix producing flowers in shades of pink, lavender, lilac, red, raspberry, orchid, apricot and white, with or without central eyes.
---
HEAT­WAVE SERIES Vinca Seeds
Extremely heat tolerant, these 10 in. tall plants have also been bred to withstand cooler temperatures than most vincas. Easy to grow, with excellent branching and outstanding garden performance.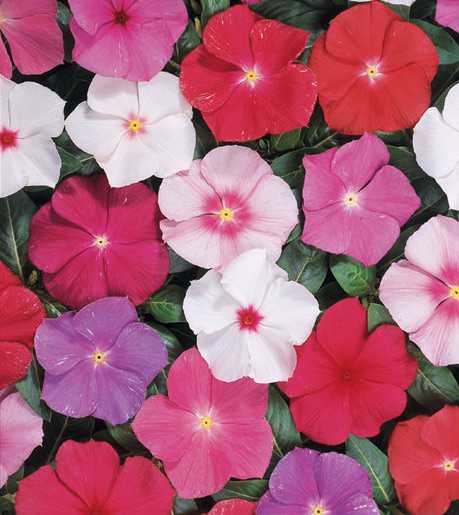 AN09125
HEAT­WAVE MIX Vinca Seeds
Formulated from all 12 Heatwave colors plus the variety Santa Fe.
Sorry, out of stock
---
PACIFICA SERIES Vinca Seeds
Large 2 in. flowers with overlapping petals on compact, 12 in. tall plants. 'Pacifica' vincas flower heavily, and tolerate weather, heat, and drought. They are outstanding performers perfect for planting in pots, and borders, or lining foundations and paths.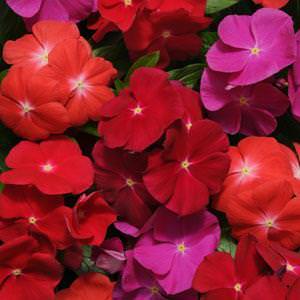 AN09522
PACIF­ICA BOLD MIX Vinca Seeds
A formula mix of these hot Pacifica series flower colors: Cranberry, Deep Orchid, Really Red, and Orange.
---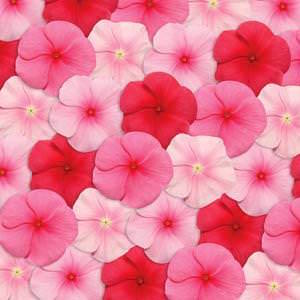 AN09132
PACIF­ICA LIP­STICK MIX Vinca Seeds
A peppy, formulated mix of icy pink, plum and red flowers.
---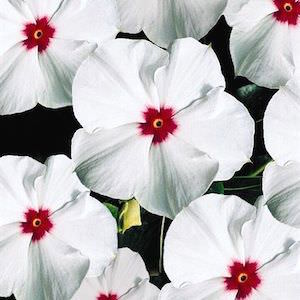 AN09133
PACIF­ICA POLKA DOT Vinca Seeds
White flower with a rose eye. Our favorite Pacifica series variety.
---
TRAILING VINCA
Bloom early in your garden and continue to flower until frost. Grow 5-8 in. tall, spread 2½-3 ft. across. Cascade from hanging baskets, and/or create sizzling carpets of color.
CORA CASCADE HYBRID Vinca Seeds
The Cora Cascade Series has all of the merits of the Cora Series, and spreads to an impressive 32-36 in. across. Flowers bloom in vivid, bold colors over a lengthy season, often lasting until frost. Plants grow 6-8 in. tall with dense, deep, shiny green foliage.
Making huge strides in disease resistance, the Cora Cascade series continues Cora's breeding innovation with an outstanding ability to endure and thrive in the presence of the 'sudden death' (aerial Phytophthora) that can strike vincas in hot, humid climates. Exceptional performance in Texas heat has convinced the Dallas Arboretum to add Cora Cascade vincas to the "Flameproof" Plants list.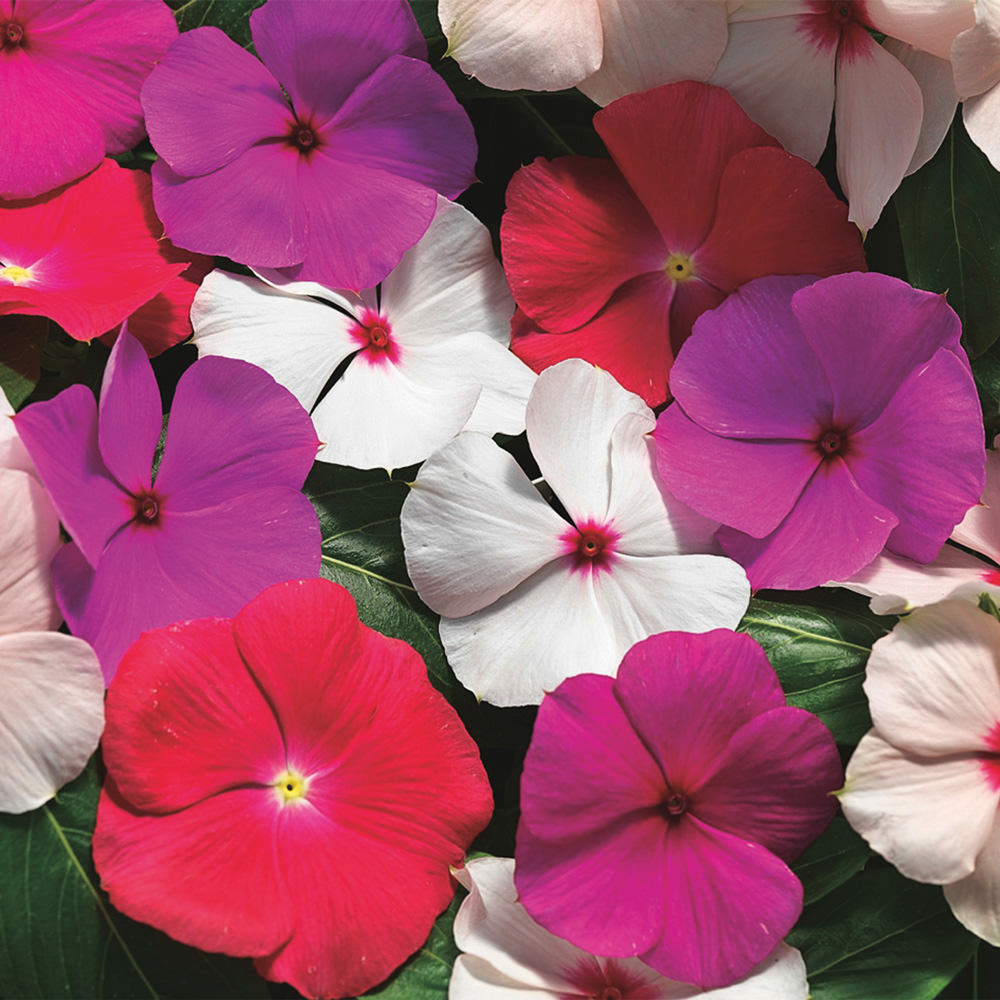 AN17512
CORA CASCADE MIX Vinca Seeds
Formula mixture of all colors.
---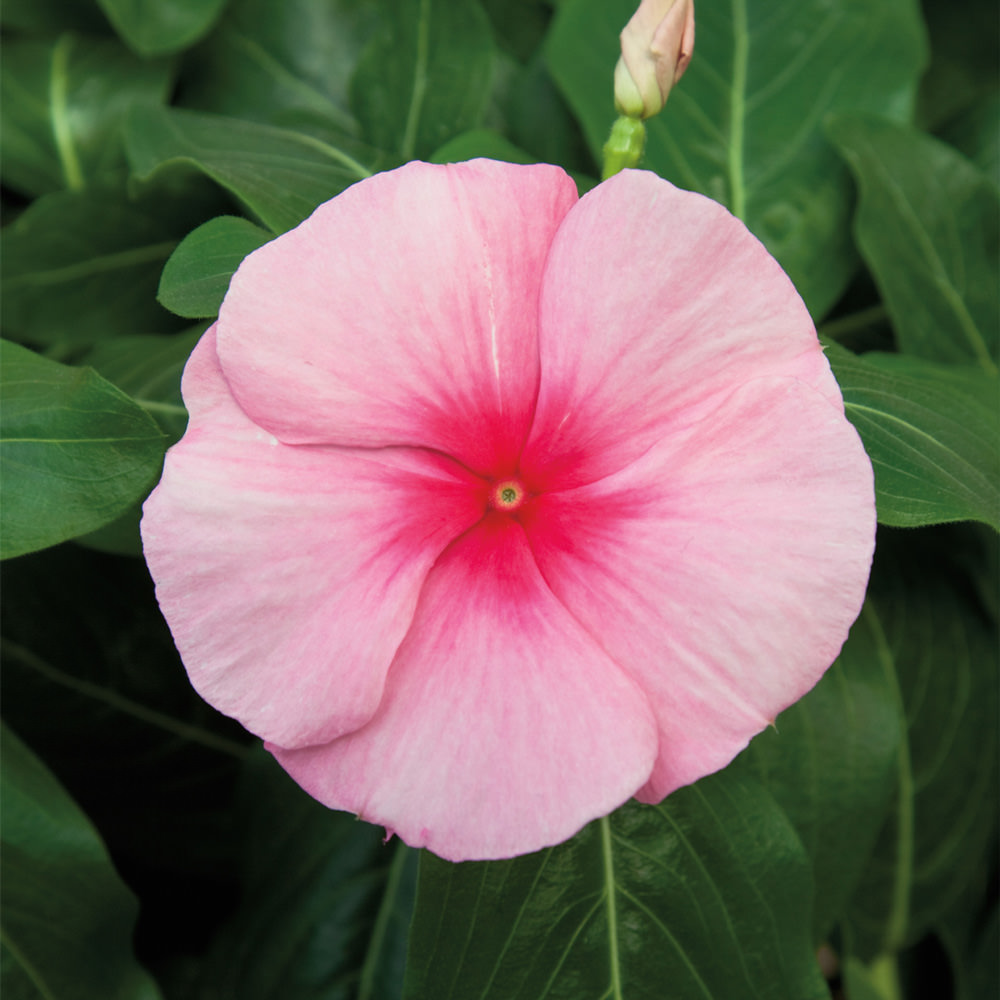 AN17513
CORA CASCADE STRAW­BERRY Vinca Seeds
Pink flowers with deep rose centers.
---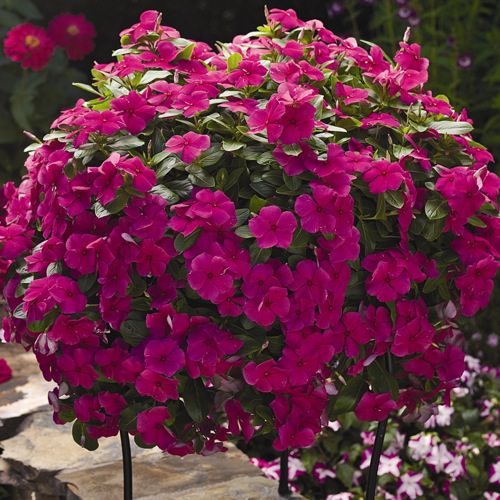 AN17511
CORA CASCADE MAGENTA Vinca Seeds
Huge fuchsia colored flowers.
---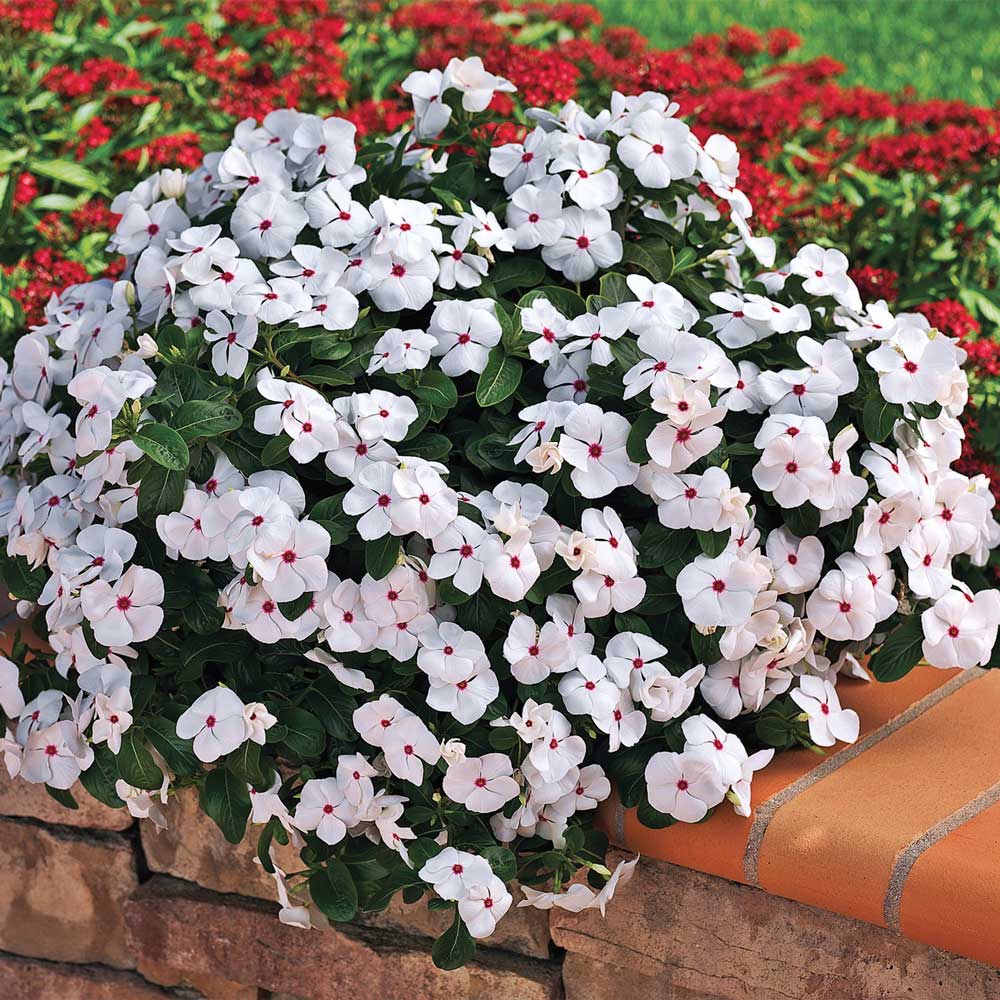 AN10888
CORA CASCADE POLKA DOT Vinca Seeds
Huge white flowers with red centers.
---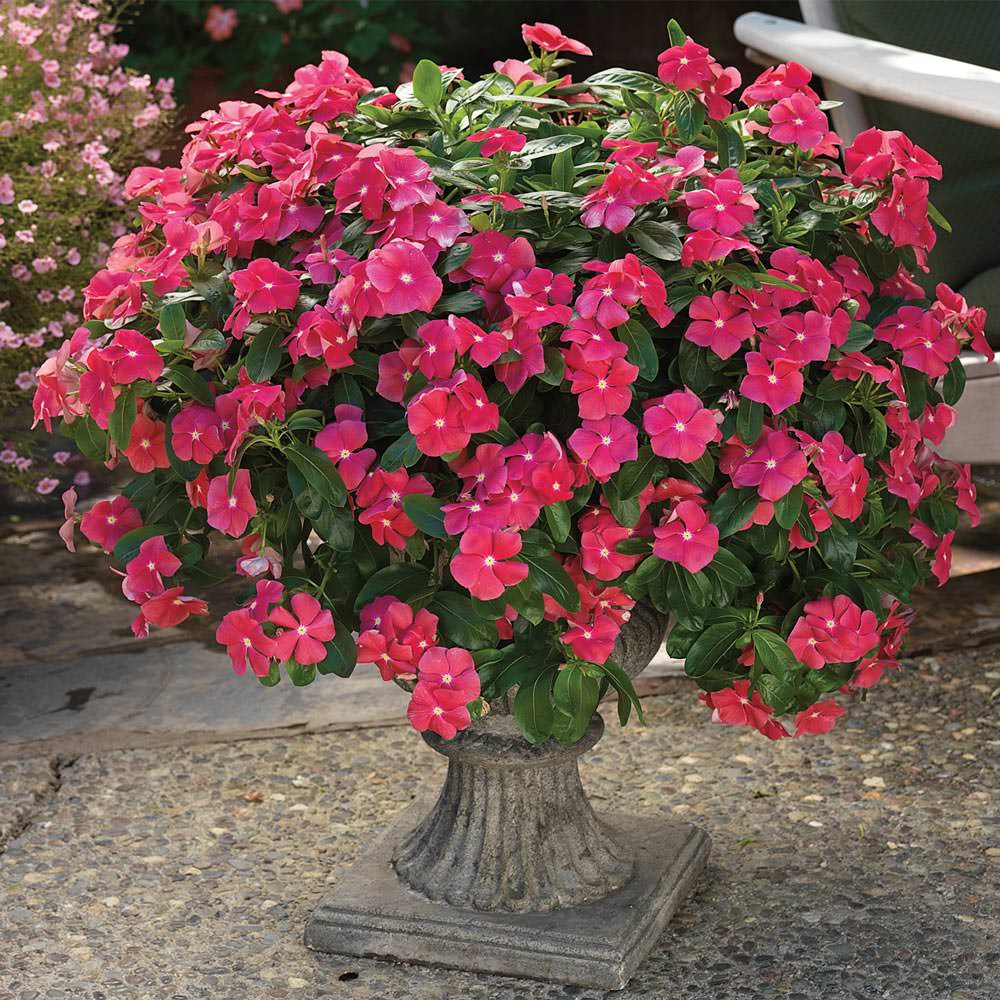 AN10760
CORA CASCADE CHERRY Vinca Seeds
Huge bright cherry-red flowers.
---
MEDITERRANEAN SERIES Vinca Seeds
Features a cascading habit and striking 2 in. flowers. Early and free blooming with excellent heat and drought tolerance. Perfect as a ground cover or use in hanging baskets and containers. Grows 5-6 in. tall and spreads to 2½ ft. wide.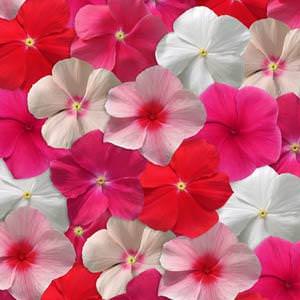 AN09127
MEDITER­RANEAN MIX XP Vinca Seeds
A jazzy formulated blend of the following Mediterranean XP varieties, Hot Rose, Lipstick, Peach Colada, Peach, Red, Dark Red, Rose, Strawberry, and White.
---
Back to Top
How to Plant and Grow Vinca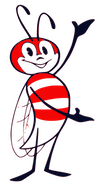 Plant Vinca Seeds: Sow Vinca seed indoors 10-12 weeks before your last frost. Starting your seeds later is fine. Use individual cells or flats. Press into soil and lightly cover. Vinca seeds need darkness to germinate. Cover flat with newspaper or place inside black plastic trash bag. Keep out of direct sun. Kept at 75-80°F., germination is in 10-21 days. After seeds germinate provide strong direct light. When plants have 3-4 true leaves transplant into 2-3 in. containers. Place Vinca seedlings into the garden 12 in. apart when soil and air temperatures are consistently above 65°F.
Grow Vinca: Direct sowing Vinca seeds is not recommended. Give plants full sun. In southwest desert climates and the hottest regions of the deep south, afternoon shade is preferred. Vinca plants grow best in well-drained soil with average to low fertility. and tolerate drought, and high heat. In hot, humid climates 'Cora,' and 'Solar' vincas perform best. Flowers drop cleanly, no deadheading needed. Vinca plants are deer and rabbit resistant. Vinca flowers attract butterflies.