Peony Poppy Seeds
& Pompom Poppy Seeds
Papaver paeoniflorum, P. laciniatum
Peony poppies are easy-to-grow flowers that cheer-up and add spark to even the most bland of gardens. They are planted in fall or early spring and produce huge, double 4-5 in. wide, deeply frilled flowers on sturdy, 2-3 ft. tall plants.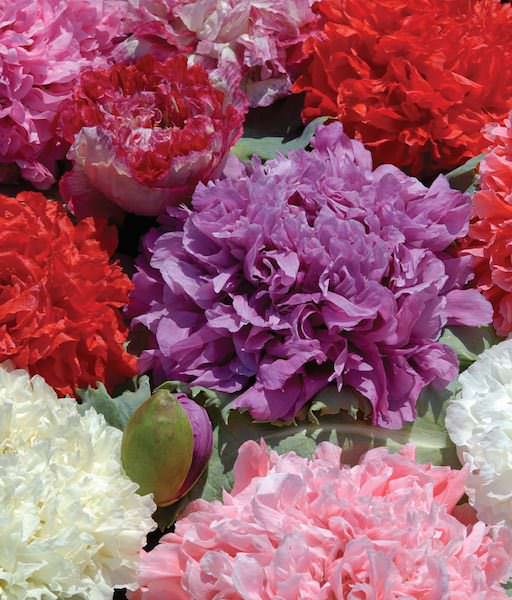 PNY1701
OOH LA LA Peony Poppy Seeds
Crisp 3-4 inch heads of brightly colored blooms in shades of pink, white, red, rose, and purple. Lettuce leaf foliage. Plants grow 2 to 3 feet tall.
---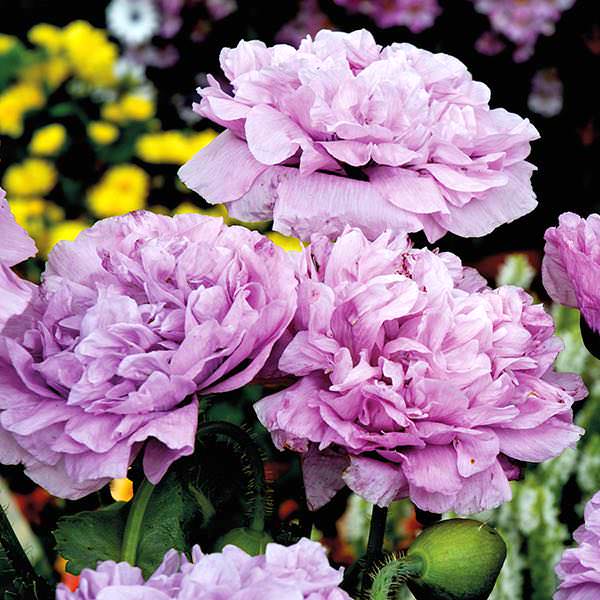 New
PPN0003
CANDY FLOSS Peony Poppy Seeds
Large and lovely fully double lilac-colored flowers. Plants are stunning when massed. Blooms hold their flower petals when cut, are excellent cut flowers. Seed heads can be used in dried flower arrangements. Plants grow 2-3 ft. tall.
---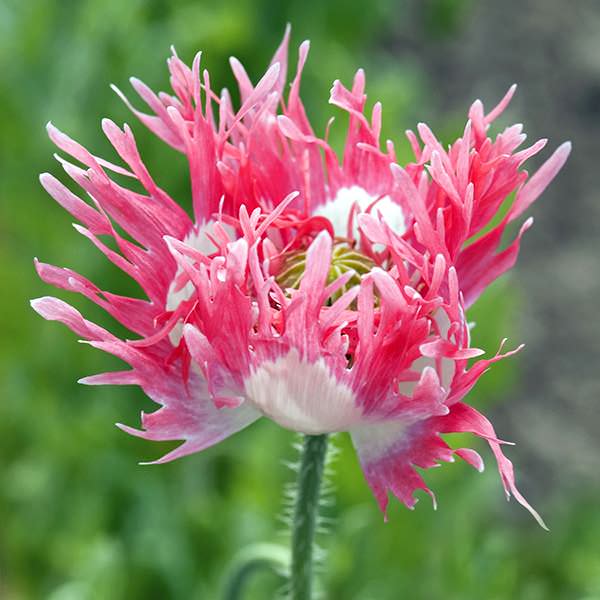 New
PPN0001
PINK FIZZ Peony Poppy Seeds
Sparkling shell-pink flowers with striking pure white centers. Flower petals are fringed, with lacy edges. Attractive lettuce-leaf type foliage is silver-green. Green-blue seed pods follow bloom, they make beautiful additions to dried flower arrangements.
---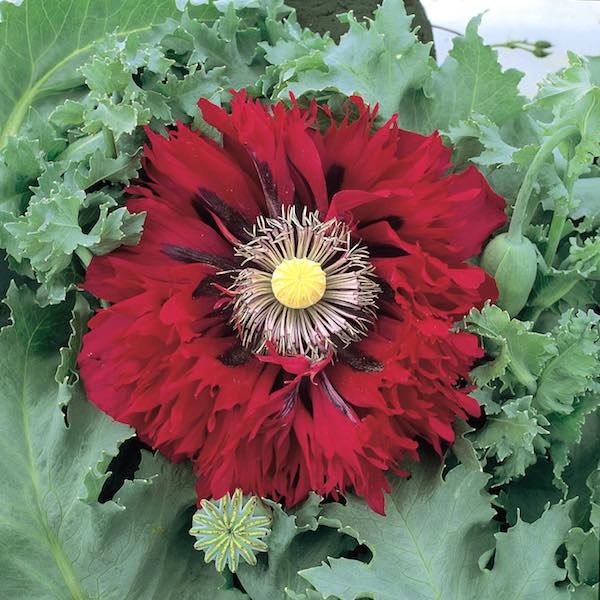 AN16778
SERIOUS­LY SCAR­LET Peony Poppy Seeds
A flaming red head with purple blue highlights. Outrageous, impossible to resist. Lettuce leaf foliage on 24-36 in. tall plants. Edible seeds.
---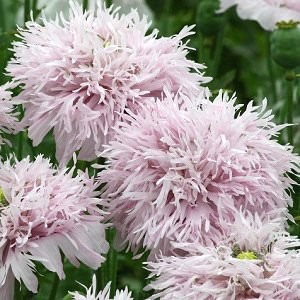 AN00388
LILAC POMPOM Pompom Poppy Seeds
The unusually captivating smoky lavender color of Lilac Pompom Poppy is somehow both bold and delicate; the frilled double pompoms waving atop strong, 2 ½ to 3 ½ ft. stems will have you cheering for the home team! Impressive in borders and mass plantings. Packet is ½ gram, about 1,200 seeds.
---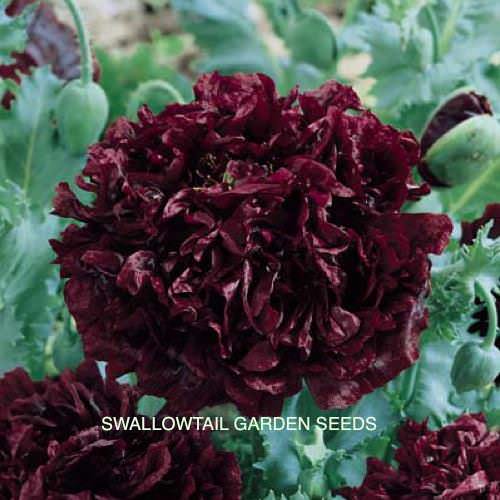 AN00362
GIANT DOUBLE BLACK Peony Poppy Seeds
Deep purple almost black flowers. Packet is ½ gram, about 1,200 seeds.
---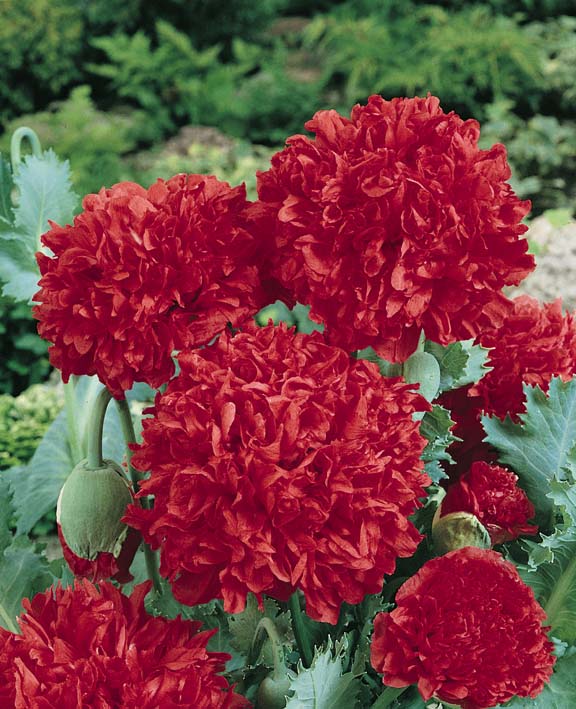 AN06103
GIANT DOUBLE RED Peony Poppy Seeds
Extra-large double, brilliant scarlet-red poppies. Packet is 1 gram, about 2,400 seeds.
---
AN00365
GIANT DOUBLE MIX Peony Poppy Seeds
These huge peony poppies come in a wide range of attractive colors including shades of purple, pink, rose, red, and white. Packet is 1 gram, about 2,400 seeds.
---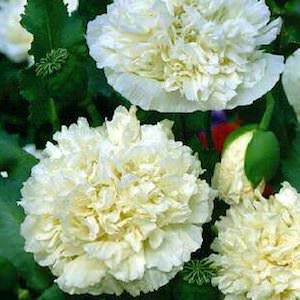 AN05113
GIANT DOUBLE CREAM Peony Poppy Seeds
The sturdy 2-3 ft. plants produce huge 4-5 in. wide, frilled double flowers in an unusual and attractive creamy (not quite yellow) shade. Packet is 1,000 seeds.
1,000 seeds - $ 2.49
Qty:
---
How to Plant Poppy Seeds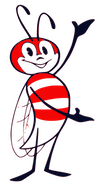 Sow seeds in peat pots or cell packs, press into soil but do not cover. Needs light to germinate. Kept at 65°F., germination is in 14-21 days. Can direct sow, onto ground that has had the top one in. of soil loosened. Rake seed in, press into soil by walking over the area. Thin to 12 in. apart.