VIOLA SEEDS
Horned Violet
Viola x cornuta, V. x williamsiana, V. x williamsii
24 Violas from 5 Top Series
Violas can't be beat for bringing cool season color to flower beds and patio containers. They are started indoors in winter for planting out in earliest spring. In relatively mild winter areas (zones 6 and above) they can also be started in summer and planted out in fall. Grows 6-8 in. tall.
SORBET SERIES Viola Seeds Viola cornuta
Compact, mound-shaped 6 in. plants produce an abundance of 1 in. flowers that combine the charm of violas with the amazing color range of pansies. Easy to grow, Sorbet violas are both heat and cold tolerant, will flower over an extremely long season, provide welcome color to borders, patios, or decks.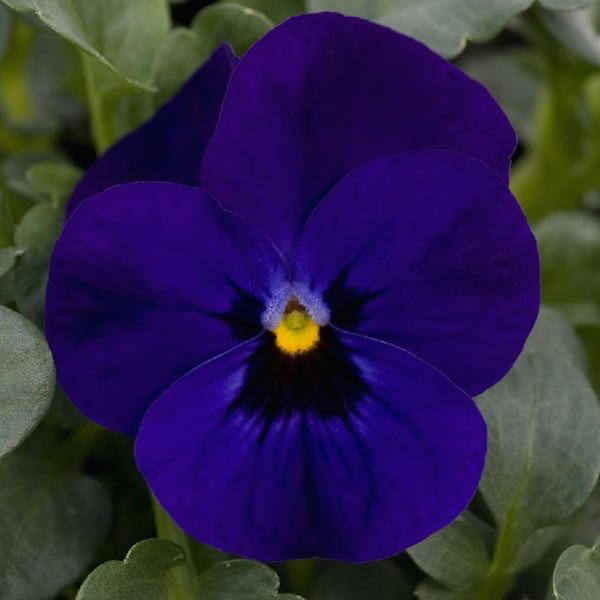 NEW FOR 2017
VL17001
SORBET BLUE BLOTCH Viola
Velvety blue flowers with black central blotches.
---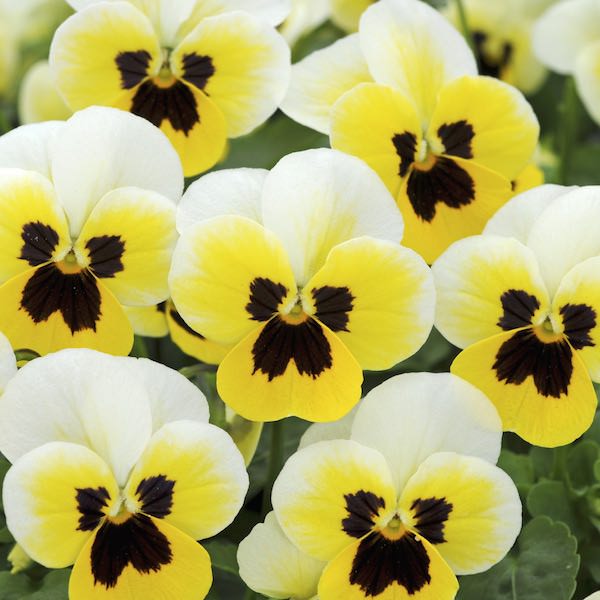 NEW FOR 2017
VL17003
SORBET LEMON ICE BLOTCH Viola
Cheery yellow and white flowers with dark central blotches.
---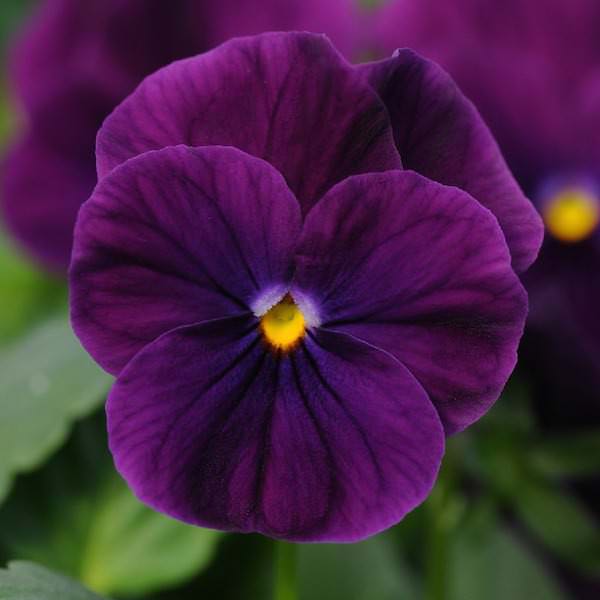 NEW FOR 2017
VL17005
SORBET PURPLE Viola
Royal purple flowers with dark veins.
---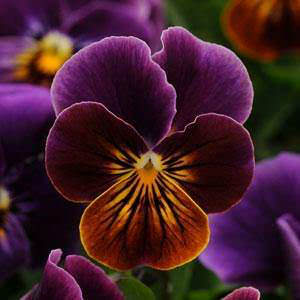 AN07089
SORBET ANTIQUE SHADES Viola
Deep purple shades.
---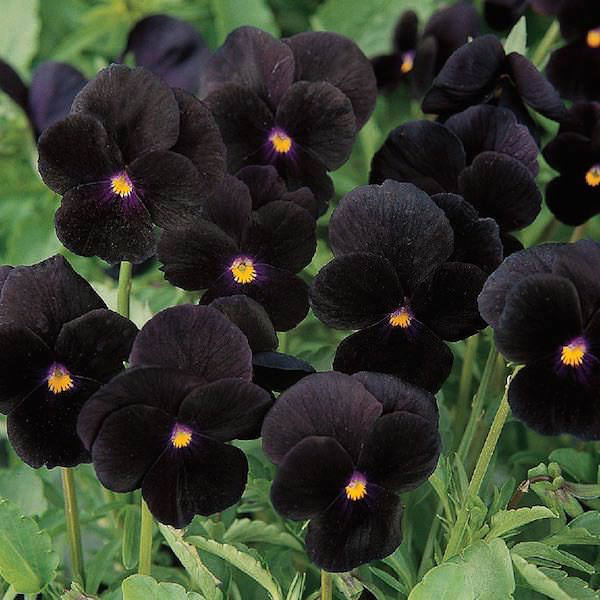 AN06140
SORBET BLACK DELIGHT Viola
Showy deep-purple (almost black) petals highlighted with a small gold eye.
---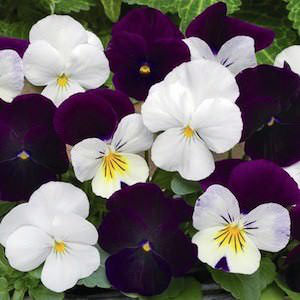 AN11299
SORBET BLACKBERRY SUNDAE MIX Viola
A designer blend of Sorbet Coconut Duet, White, Purple, and Purple Face violas.
---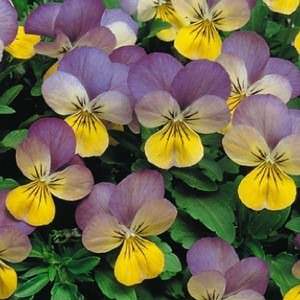 AN06145
SORBET YELLOW FROST Viola
Blooms are white with yellow faces.
---
AN00131
SORBET MIDNIGHT GLOW Viola
Deep purple wings and whiskers with blue–violet and yellow faces.
---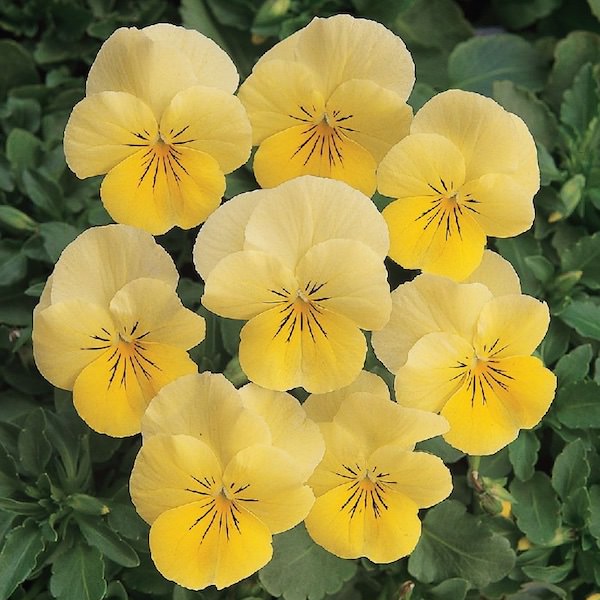 AN08113
SORBET LEMON CHIFFON Viola
Lemon and Yellow bicolor.
---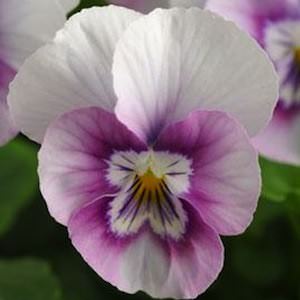 AN12098
SORBET PINK HALO Viola
Light pink with white halos around attractive, whiskered faces.
---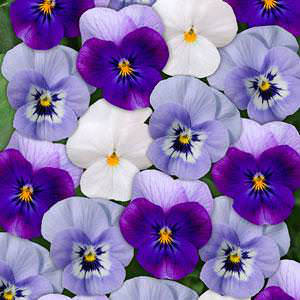 AN11605
SORBET BLUEBERRY FROST MIX Viola
A mix of violet, lavender, and white blotched blooms.
---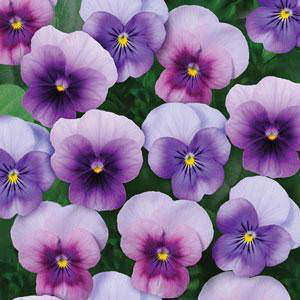 AN11219
SORBET BEACONBERRY MIX Viola
A beautiful formulated mix of Sorbet Beaconsfield, Violet Beacon, and Orchid Rose Beacon.
---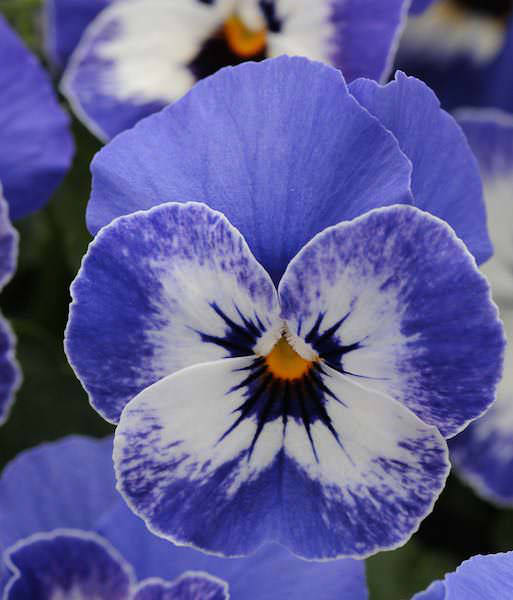 AN00031
SORBET DELFT BLUE Viola
Gorgeous, china blue flowers with white faces. A Fleuroselect Gold Medal winner (Europe's top prize).
---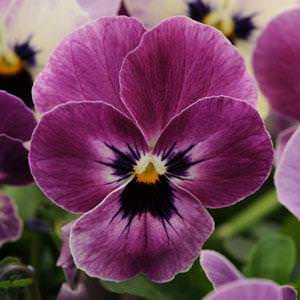 AN00132
SORBET RASPBERRY Viola
Flowers in rose pink and white shades.
---
CARAMEL SERIES Viola Seeds Viola cornuta
An exciting new tough, heat tolerant, Italian viola series with plenty of flare. The heavy blooming plants grow 4-6 in. tall.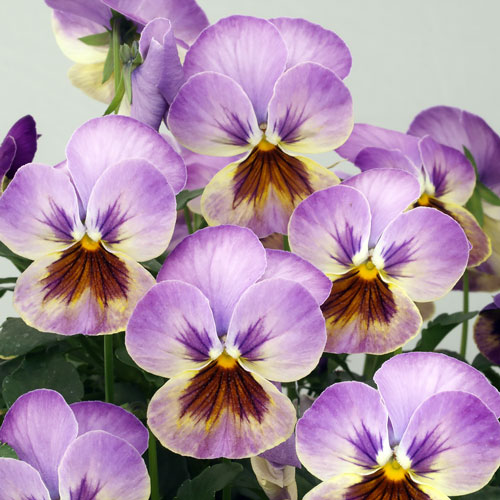 AN00139
CARAMEL PASTEL LILAC Viola
Light lilac shaded wings, deep purple whiskers, and creamy yellow and mahogany accents.
---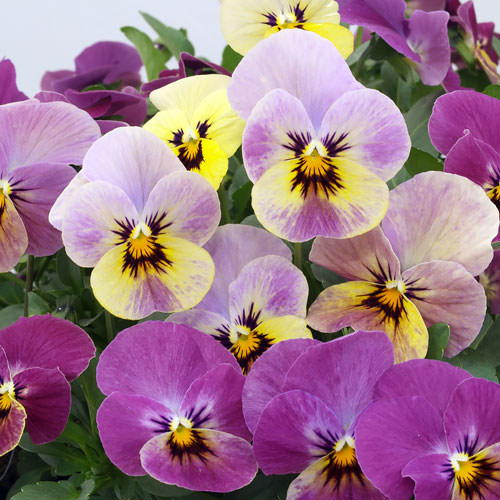 AN00451
CARAMEL ROSE SHADES Viola
Blended in shades of rose, pink, and yellow with explosive, wine red centers.
---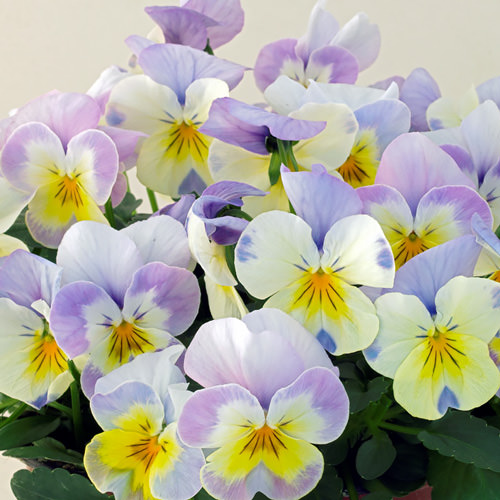 AN00450
CARAMEL ANGELO Viola
Flowers are white with bright yellow faces and striking, pink or blue highlights along the petal edges.
---
VELOUR SERIES Viola Seeds Viola x williamsii
A distinctive 'mini-pansy' that is early flowering, heat resistant and blooms heavily over a long season on 6 in. tall, neat, hardy, altogether charming plants.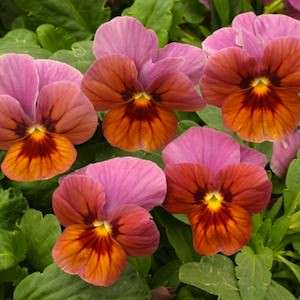 AN09186
VELOUR LILAC BRONZE Viola
Lavender-lilac, with a bronze face centered with a bright yellow eye.
---
ENDURIO SERIES Viola Seeds Viola cornuta
Vigorous, semi-trailing, heavy flowering plants grow to 4-6 in. tall with superb lateral branching, allowing Endurios to fill in containers, hanging baskets, or garden beds or borders faster than other violas. Day-light neutral, they produce their extraordinary 1 in. flowers during short and long light days, extending the bloom season far beyond other semi-trailing violas. Blooms in fall and spring in cold climates. In mild winter areas, Endurio violas will continue to bloom in winter, even through light snow cover.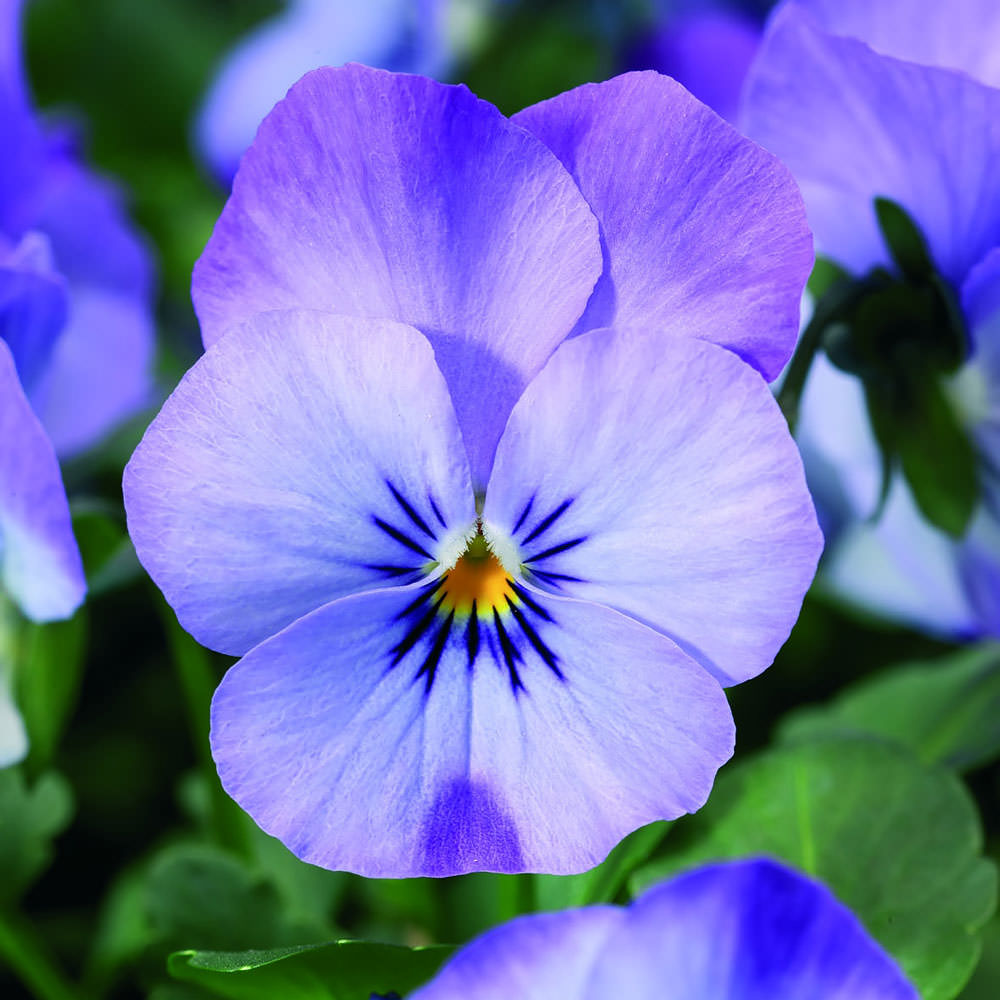 AN11599
ENDURIO SKY BLUE MARTIEN Viola
Clear sky-blue flowers shading darker at the upper petals. Named for breeder Martien Gutter. An All-America Selections Winner. Packet is 25 seeds.
---
PENNY SERIES Viola Seeds Viola cornuta
Hardy, heat tolerant, compact, vigorous, free-flowering 6 in. plants provide gorgeous, reliable autumn, winter and spring flowers, which are larger than most violas. Flowering time and plant growth is uniform across all colors.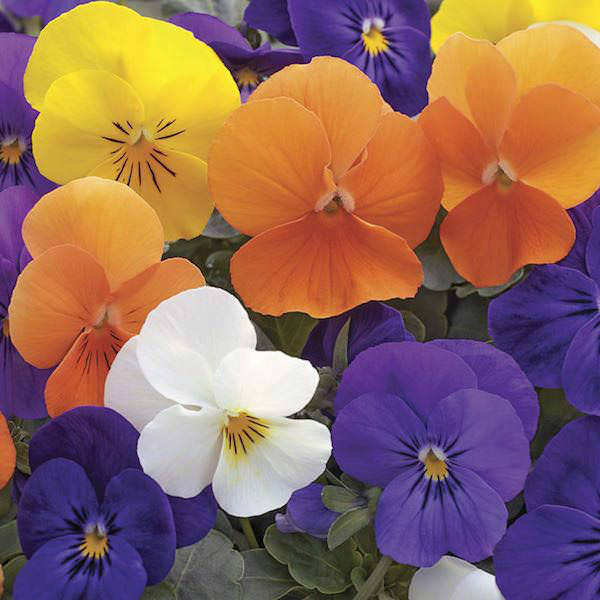 AN11613
PENNY ALL SEASONS MIX Viola
Designer mixture of Penny Deep Blue, Yellow, Orange, Blue, and Yellow Frost.
---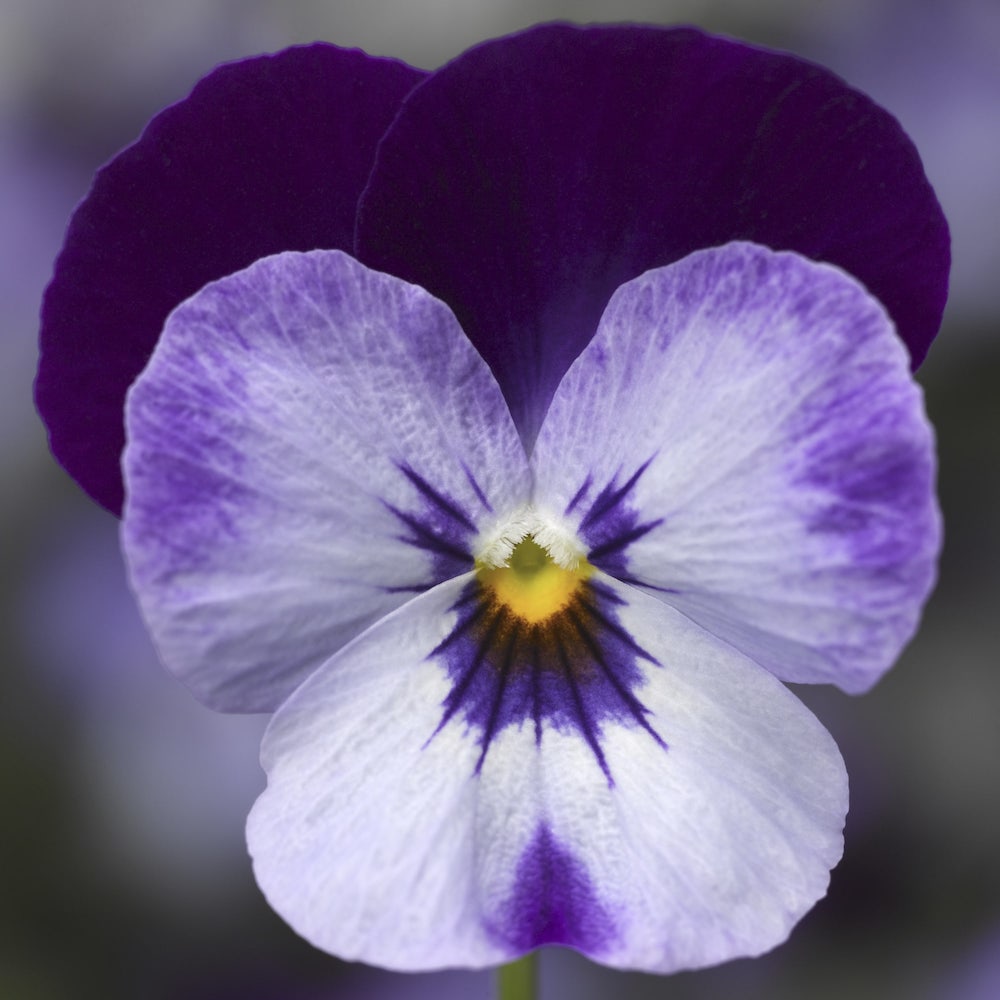 AN11612
PENNY DENIM JUMP-UP Viola
Blue with deep blue wings.
---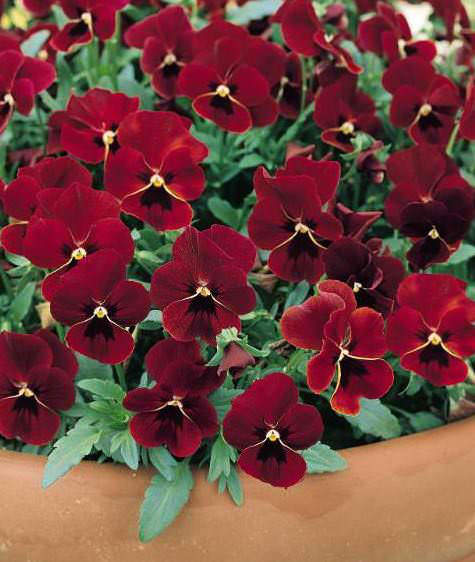 AN11608
PENNY RED BLOTCH Viola
Pale maroon with dark maroon blotches.
---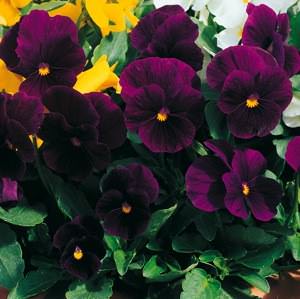 AN11607
PENNY VIOLET Viola
Velvety, violet-purple blooms.
---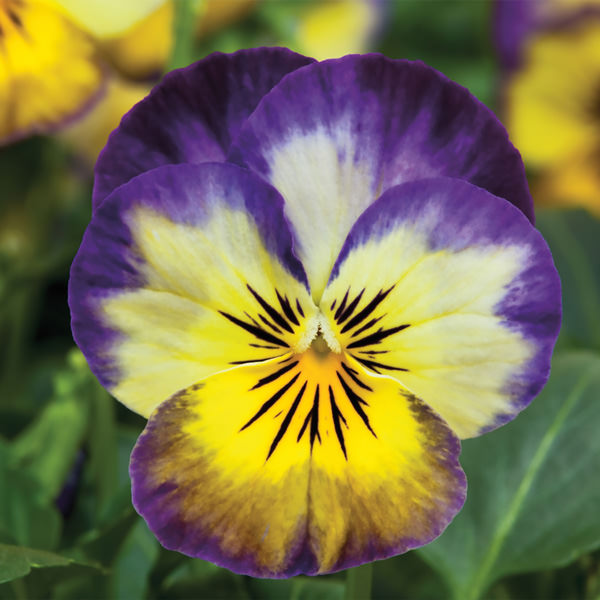 AN11609
PENNY PRIMROSE PICOTEE Viola
A striking primrose yellow with a purple picotee edge.
---
Back to Top
How to Plant Viola Seeds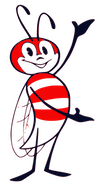 Sow in cell packs or flats, press into soil and barely cover. Needs darkness to germinate. Cover flat with newspaper and keep out of direct sun. Kept at 65-70°F., germination is in 14-21 days. Transplant into the garden 9-12 in. apart.