RUDBECKIA SEEDS
Black-Eyed Susan
Rudbeckia hirta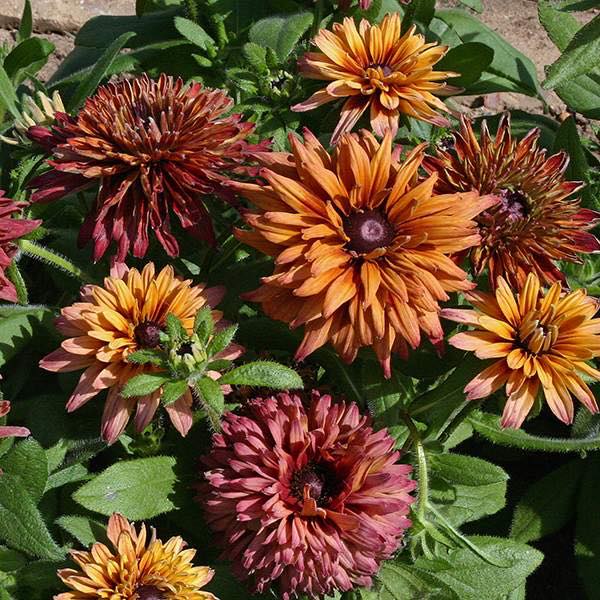 AN15054
SAHARA Rudbeckia Seeds
Semi-double and double flowers in unique shades of rusty rose, soft pink-red, amber, and copper. Bloom is in summer and fall, flowers are excellent for cutting. Compact, heat-tolerant plants grow to 20 in. tall.
---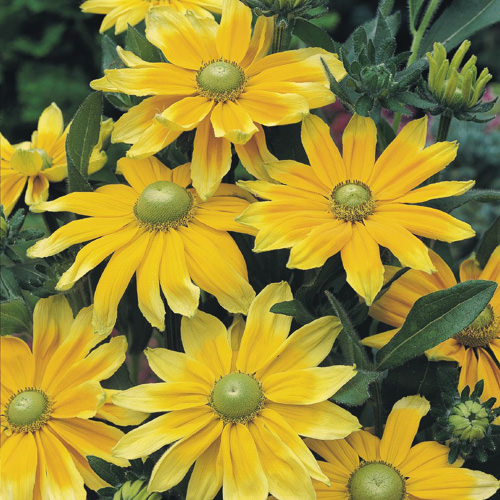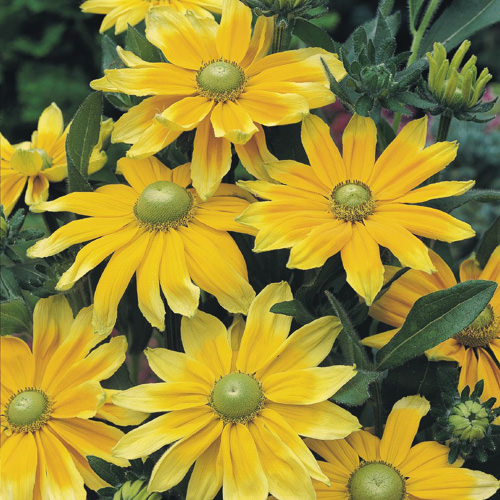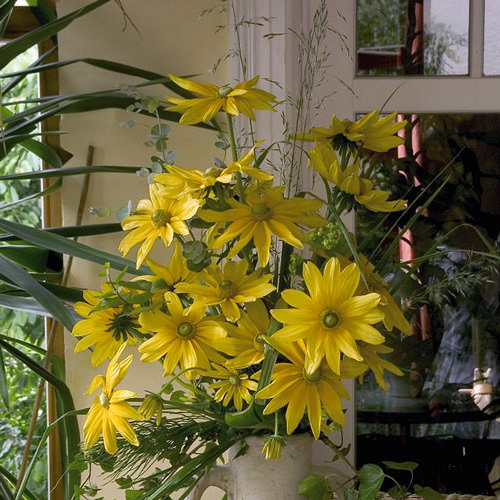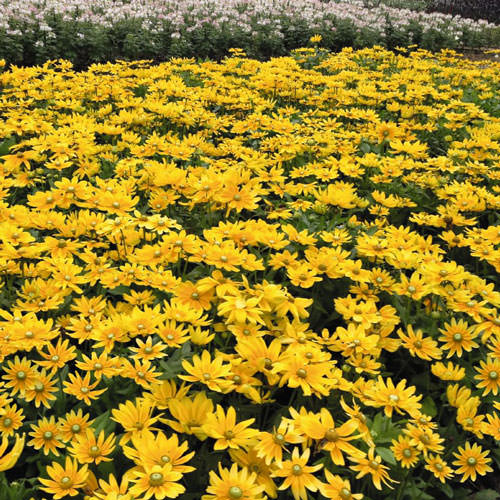 AN05119
PRAIRIE SUN Rudbeckia Seeds
Giant 5 in. wide yellow blooms with primrose tips and green eyes. Prairie Sun rudbeckia puts on a stunning display in the garden from early summer until frost. Both plants and flowers show incredible heat tolerance; they remain fresh and healthy even when temperatures reach well over 100° F. Prairie Sun will also thrive when grown in more moderate temperatures.
Prairie Sun rudbeckia is definitely high on our list of recommended flowers for your garden. Flowers attract butterflies and are excellent for cutting. The 3 ft. tall plants stand up to heat and are incredibly showy when massed. An All-America Selections Winner and a winner of the Fleuroselect Gold Medal (Europe's top prize).
---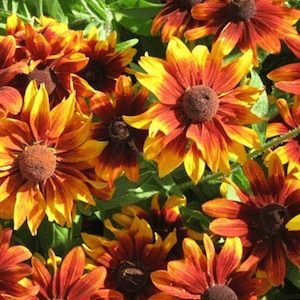 AN12012
ORANGE FUDGE Rudbeckia Seeds
A scrumptious summer to fall blooming rudbeckia. Plants produce generous quantities of lip-smacking, 4 in. wide chocolate-brown flowers; petal tips are orange, central cones are dark brown. The vigorous, 15-20 in. tall plants are heavy branching. Blooms are held at the end of long, strong stems. Orange Fudge rudbeckia is a stunning plant for your garden, and the cut flowers make particularly luscious bouquets.
---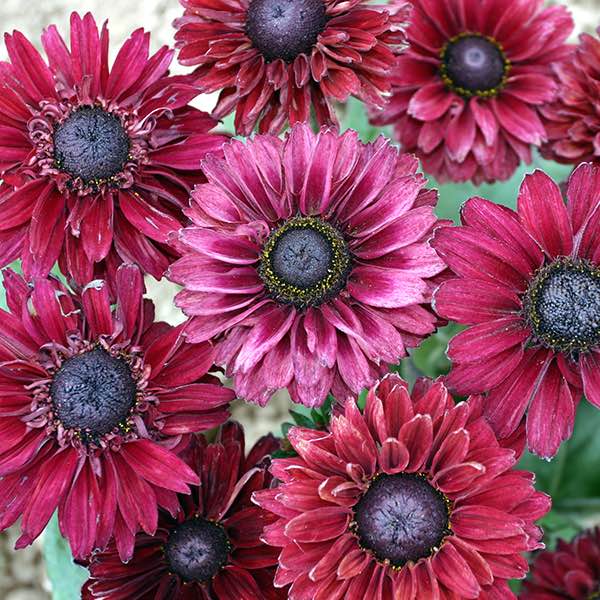 RDB0001
RUBY RUBY Rudbeckia Seeds
Sumptuous, ruby-red 3 to 4 in. double flowers have dark chocolate centers. Bushy plants grow 10 in. tall, and hold up very well to heat and rain. Ruby Ruby is an extraordinary new rudbeckia color to add elegance in containers, garden borders and cut flower bouquets all summer.
---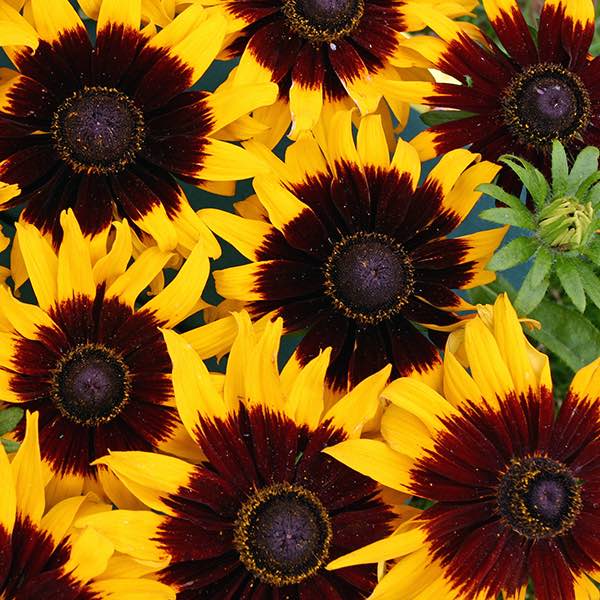 RDB0005
SOLAR ECLIPSE Rudbeckia Seeds
Vigorous 2 ft. tall, heat tolerant annual covered in 4 inch bicolor flowers. The base of each sunny yellow petal is splashed in mahogany around dark brown centers. Unlike the namesake, we do not need to wait every 18 months to see the event: Solar Eclipse rudbeckias bloom freely all summer and fall.
---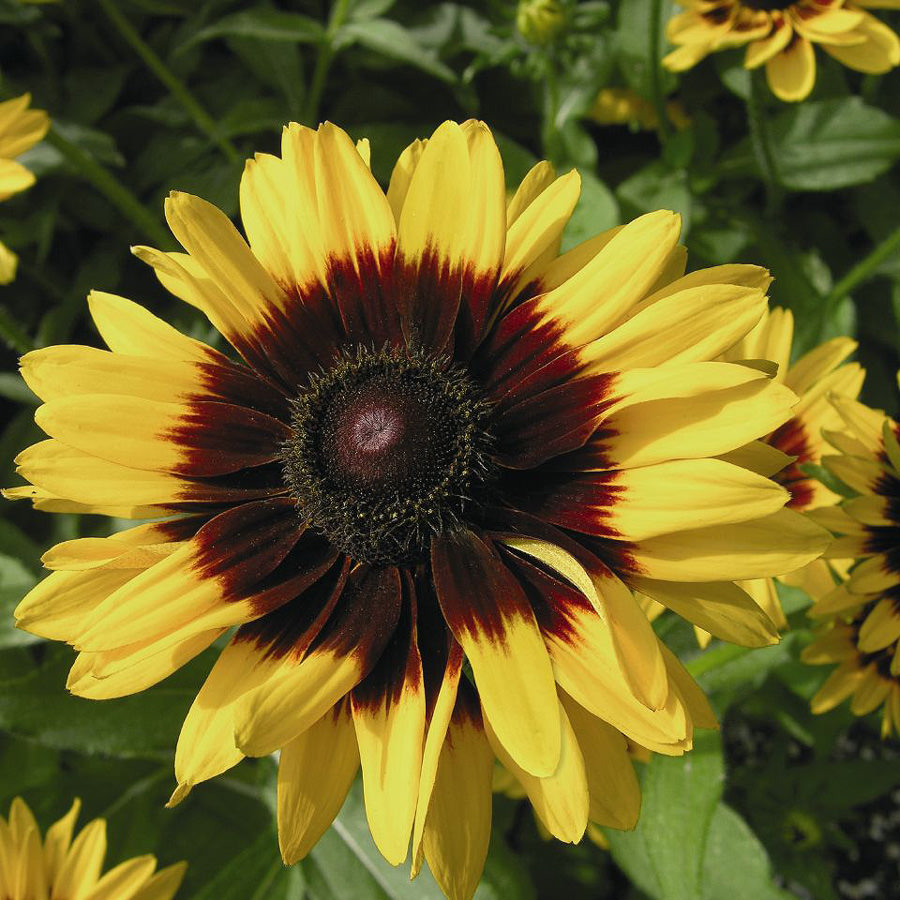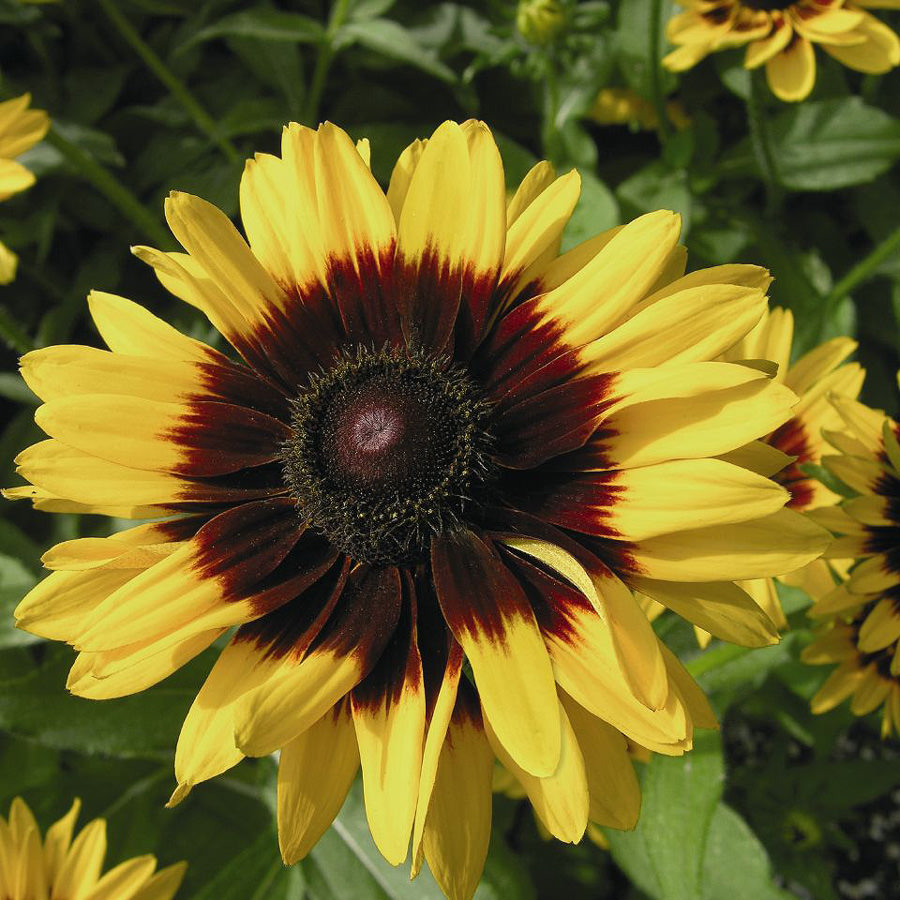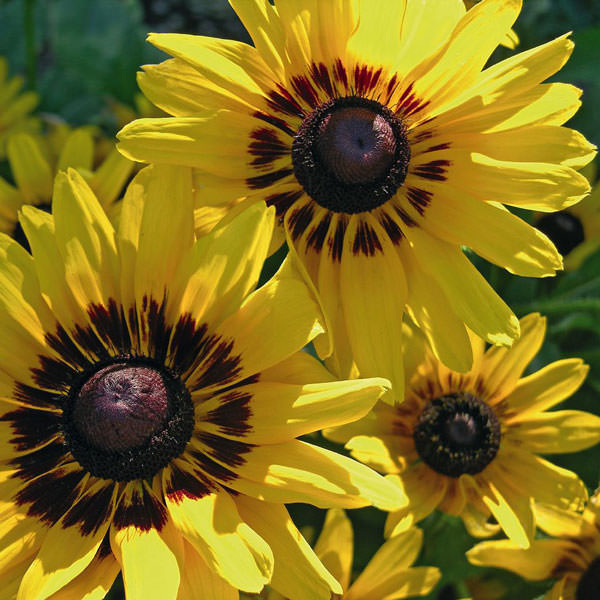 AN11750
DENVER DAISY Rudbeckia Seeds
Selected to honor the city of Denver's 150th anniversary, Denver Daisy rudbeckia is a one-of-a-kind flower. Plants produce masses of enormous, 6-8 in. golden blooms; each flower highlighted with a rusty-red ring and central brown cone. They are superb for cutting. Denver Daisy begins to flower in late spring and will continue to bloom until frost. A top performer at the Dallas Arboretum Plant Trials.
---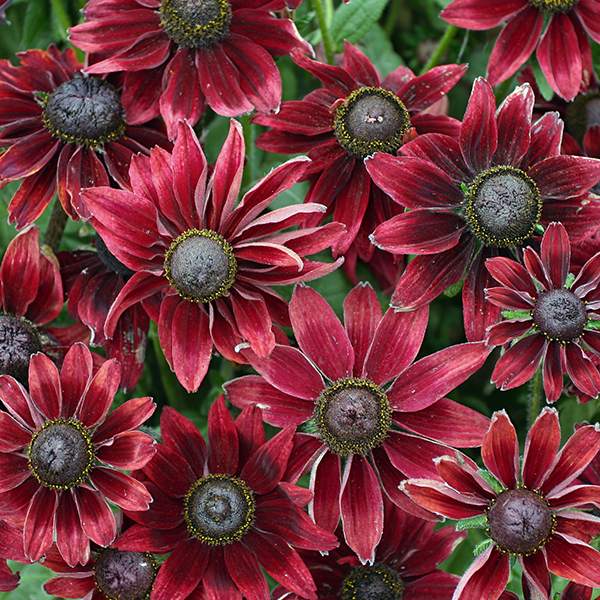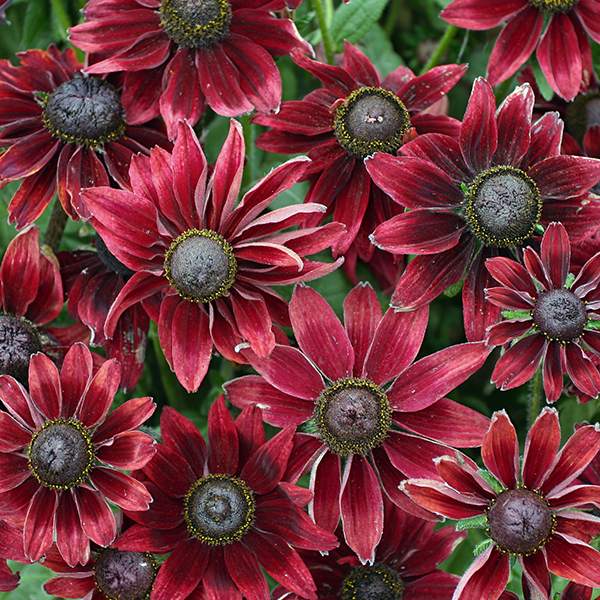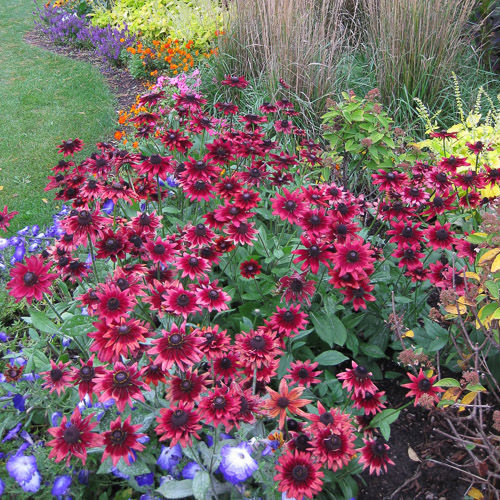 AN09176
CHERRY BRANDY Rudbeckia Seeds
The gorgeous 3-4 in. wide, soft cherry-red blooms of Cherry Brandy introduce a new flower color to rudbeckias. The 20-24 in. tall plants are rugged, heat tolerant and easy to grow. They produce numerous long, strong, blooming stems that are excellent for cutting. Cherry Brandy rudbeckia is stupendous when massed in beds, blended into mixed borders, or used as an accent plant in patio containers.
---
Back to Top
How to Plant Rudbeckia Seeds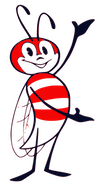 Sow rudbeckia seeds in cell packs or flats, press into soil, do not cover. Kept at 70°F., germination is in 2-3 weeks. Can direct sow into prepared seed beds after all danger of frost, in groups of 3-4 seeds, spaced 12-18 in. apart. Thin to the strongest plant.