CAMPANULA SEEDS
Campanula medium, C. persicifolia, C. punctata 'Rubriflora', C. pyramidalis
Campanula plants are elegant perennials and biennials more commonly known as Bellflowers. Campanulas are showy ground covers or dramatic vertical accents for partly shaded borders.
CUP AND SAUCER Campanula Seeds Campanula medium
Cup and Saucer campanulas produce a beautiful bell-shaped flower (cup) with a broad, colored calyx (saucer). A true biennial, Cup and Saucer campanulas flower in the spring of the second season. Flowers are superb for cutting. Cup and Saucer campanulas are a perfect addition to cottage gardens. Plants grow to 3 ft. tall, are winter hardy to zone 5.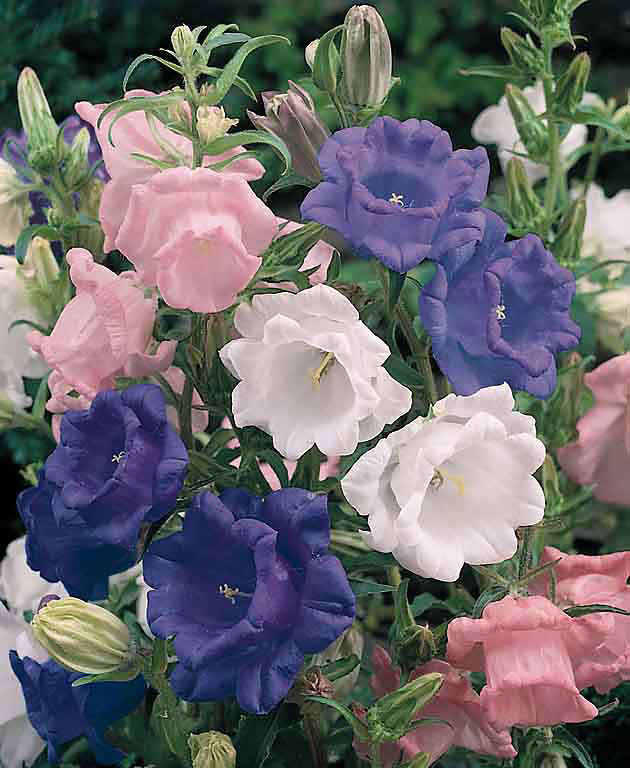 PR00765
CUP AND SAUCER MIX Campanula
Rose, violet, and white flowers. Packet is ½ gram, about 2,000 seeds.
---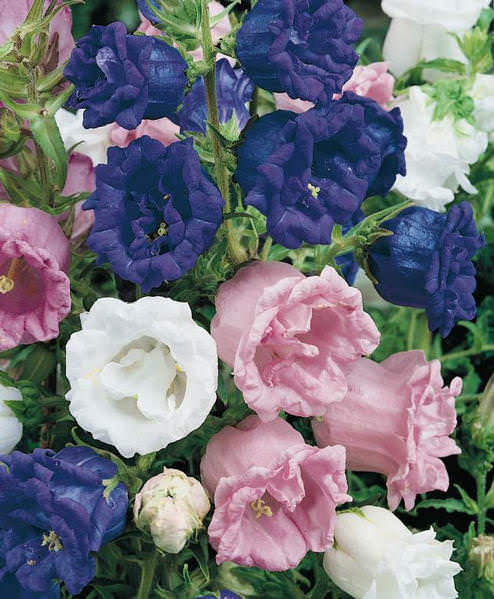 PR02429
DOUBLE MIXTURE
CUP AND SAUCER Campanula
This rare, heavy blooming selection features large and stunning, blue, pink, or white, double, dense flower balls. Packet is ¼ gram, about 1,000 seeds.
---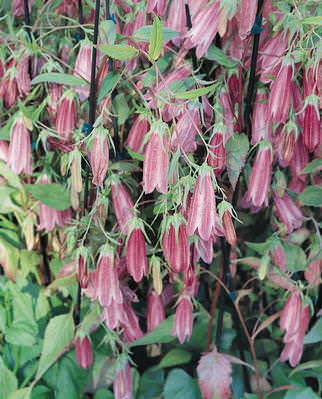 PR00760
CRIMSON SPOTTED Bellflower Campanula punctata 'Rubriflora'
Pendulous tubular, bell-shaped flowers vary in color from cream to purple, and are spotted or flecked with bright crimson. The clump forming perennial plants grow 12-18 in. tall, and flower freely throughout the summer. Winter hardy to zone 4. Grow Crimson Spotted Bellflower with Colorado Mix Yarrow, and Rose Crown Obedience Plant.
---
PEACH-LEAFED BELLFLOWER Campanula Seeds Campanula persicifolia
Peach-leafed Bellflowers are 2-3 ft. tall perennials with peach-like leaves and elegant blue or white, open cup-shaped flowers. Blooms are held on sturdy stems and the flowers are superb for cutting. Peach-leafed Bellflowers are easy to grow from seed. Winter hardy to zone 3.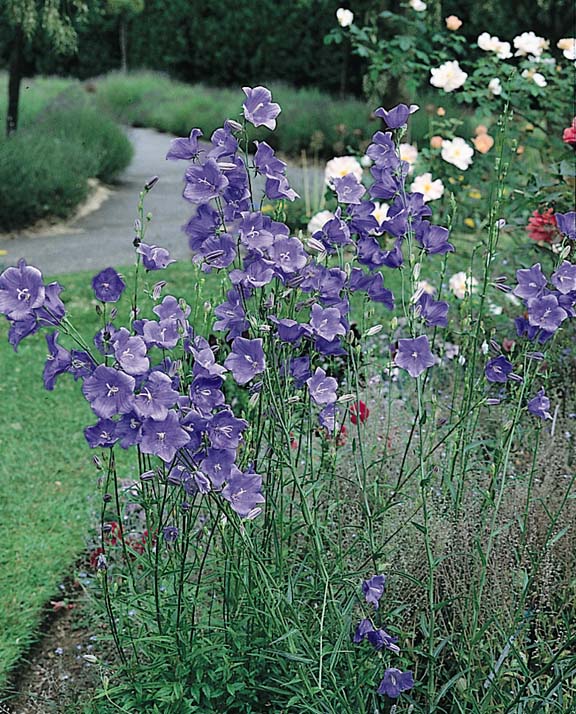 PR00767
TELHAM BEAUTY Peach-leafed Bellflower
Three in., soft china-blue flowers.
---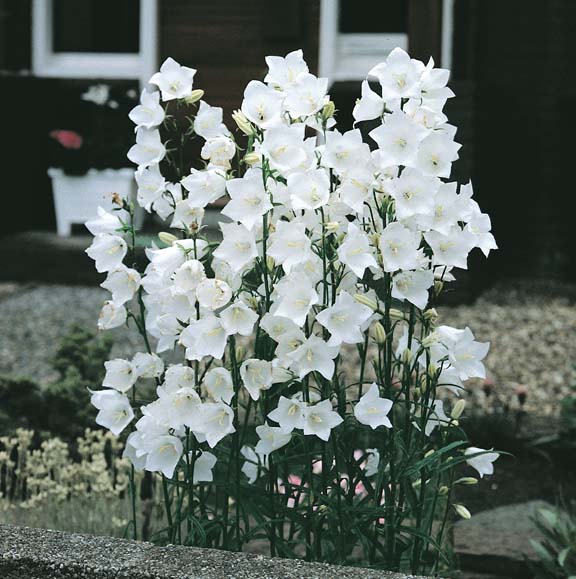 PR00770
WHITE BELLS Peach-leafed Bellflower
Pure-white 2 in. flowers.
---
CHIMNEY BELLFLOWER Campanula Seeds Campanula pyramidalis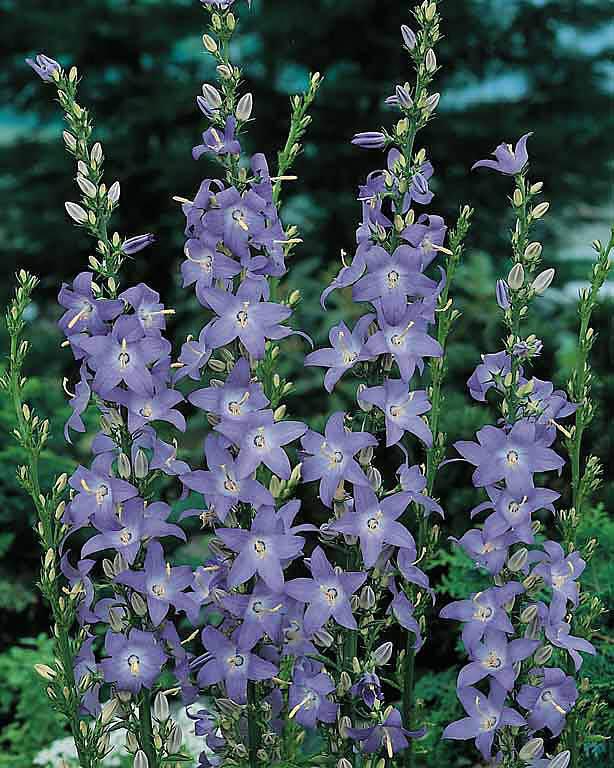 PR00771
BLUE Chimney Bellflower
Produces magnificent, pyramidal panicles of star-shaped blue flowers from July to September. Blooms are held on sturdy, upright stems which are excellent for cutting. Leaves are nearly heart-shaped, and about 2 in. long. Chimney Bellflower plants grow 4-6 ft. tall, especially beautiful when placed at the back of borders. Can also be grown in large containers. The biennial plants are winter hardy to zone 3. Seeds occasionally require chilling, instructions included.
The Blue Chimney Bellflower has long been a popular garden companion for hollyhocks. The flowers provide the true blue hue missing from the otherwise impressive hollyhock color wheel. Introduced into England from present day Slovenia in 1594.
---
Back to Top
How to Plant Campanula Seeds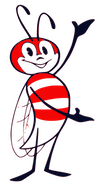 Sow seeds in cell packs or flats, press into soil but do not cover. Light aids germination. Kept at 70°F., germination is in 14-28 days. Plant taller campanulas 12-24 in. apart. Plant lower growing campanulas 6-12 in. apart. See starting your seeds for information about growing seedlings under lights.