BELLS OF IRELAND SEEDS
Shellflower
Moluccella laevis
AN02018
BELLS OF IRE­LANDSeeds
The 2-3 ft. tall plants produce showy apple green bell-shaped sheaths which surround small white flowers. The blossom spikes are attractive, long-lasting additions to fresh cut or dried arrangements. Widely adapted and heat tolerant, does not perform well in climates both hot and humid.
How to Plant Bells of Ireland Seeds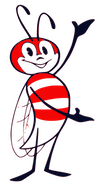 Place seed on an evenly moist paper towel, fold and place in zip-lock bag, then refrigerate for 2 weeks. Then sow in cell packs or flats, press into soil and barely cover. Needs light to germinate. Kept at 70-75° F., germination is in 14-28 days. Can direct sow in groups of 3 seeds spaced 1 ft. apart. Thin to the strongest plant.