Painted Daisy Seeds
a.k.a. Persian Chrysanthemum
Tanacetum coccineum syn. Pyrethrum coccineum
How to plant Painted Daisy seeds
Painted daisies produce 2 to 3 in., yellow-eyed flowers on top of 24 to 36 in. tall plants. Flowers are terrific for cutting. Bloom is in late spring and early summer and when cut back after bloom, plants repeat in late summer. Vivid green, finely divided foliage is attractive. Painted daisies are not for climates that are both hot and humid. Give painted daisies full sun where summers are mild, and part shade where summers are hot. Winter hardy to zone 3.
How to Plant and Grow Painted Daisy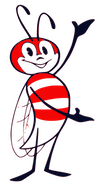 Sow painted daisy seeds in cell packs or flats, press into soil but do not cover. They will need light to germinate. Kept at 60-70° F., germination is in 14-21 days. Can direct sow painted daisy seeds in groups of 4 seeds, spaced 18-24 in. apart. Thin to the strongest plant.