ANGELONIA SEEDS
Summer Snapdragon
Angelonia angustifolia
4 Angelonias
Serenita and Serena series angelonias are easy-to-grow, well-branched plants that flower continuously through the summer and do not require dead-heading. Cut flowers last 10 or more days in the vase. Angelonias are the best performing flowering plants for climates that are both hot and humid. Grown as an annual in most locales, Serenita and Serena angelonias are perennial in zones 9 and 10.
SERENITA SERIES Angelonia Seeds
Serenita angelonia is a truly outstanding dwarf angelonia series. Plants grow to only 8-14 in. tall, are gorgeous when massed in the garden. The easy to grow, self-cleaning, low-maintenance plants add spice to the front of your beds and borders. Serenita series angelonias are also high-performing container plants.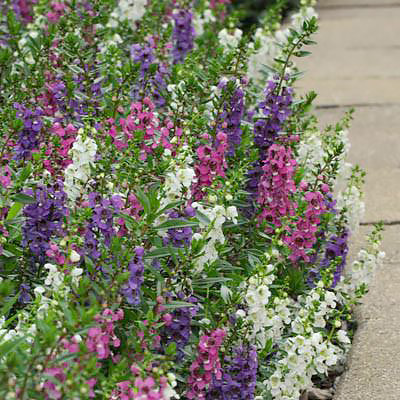 AN02843
SERE­NITA MIX Angelonia Seeds
A formulated blend of raspberry, purple, lavender pink, and white flowers. Plant Serenita Mix angelonia in masses to create a memorable show, or it to add long-lasting color to mixed borders, beds, and containers. Plants grow 8-14 in. tall.
10 pelleted seeds - $4.99
Qty:
---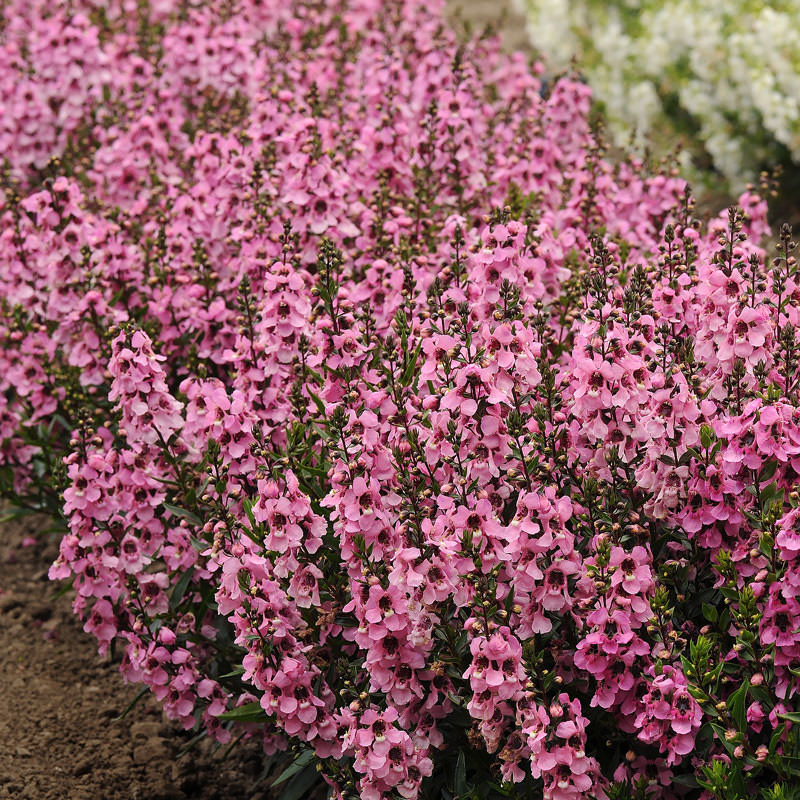 AN02844
SERE­NITA PINK Angelonia Seeds
Intense-pink flowers with dark centers on dwarf, 8-14 in. tall plants. Serenita Pink angelonia is an All America Selections Winner.
10 pelleted seeds - $4.99
Qty:
---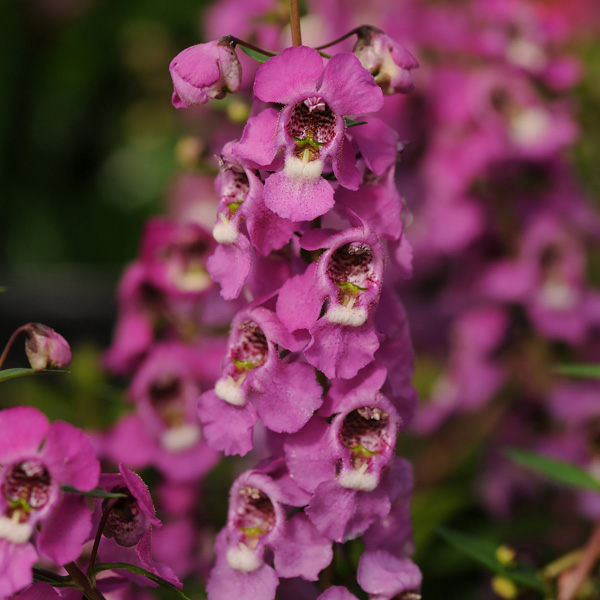 AN02357
SERE­NITA RASP­BERRY Angelonia Seeds
Serenita Raspberry angelonia flowers are deep-rose with dark interiors. The 8-12 in. tall plants are stunning when mass planted, and will provide color all summer long.
10 pelleted seeds - $4.99
Qty:
---
SERENA SERIES Angelonia Seeds
Serena series angelonia provide easy, self-cleaning, low-maintenance color in sunny borders or larger containers. Plants grow 16-20 in. tall, are striking backgrounds for petunia or vinca. Serena series angelonia are winners of Dallas Arboretum's 'Flameproof' award for outstanding performance in Texas heat.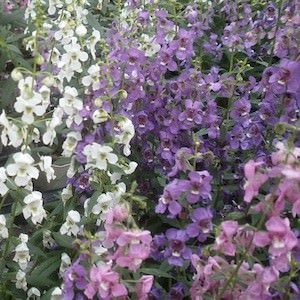 AN06016
SERENA MIX Angelonia Seeds
Serena Mix angelonia is a richly colored formulated mix of blue, lavender, pink, purple, and white flowers.
10 pelleted seeds - $4.99
Qty:
---
How to Plant and Grow Angelonia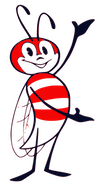 How to Plant Angelonia Seeds: Sow angelonia seed in cell packs or flats, press into soil but do not cover. Needs light to germinate. Kept at 70-75° F., germination is in 7-21 days. Transplant Serenita angelonia seedlings into the garden 8 in. apart. Transplant Serena angelonia 12 in. apart.
How to Grow Angelonia: Full sun. Angelonia thrives in dry soil (and moist soil with good drainage), tolerates extreme heat and humidity. Plants do not require dead heading. Cut angelonias back periodically, plants recover quickly with vigorous, bushy growth and loads of flowers. Blooms attract hummingbirds and butterflies, are long-lasting cut flowers. Angelonias are tough, self cleaning and deer resistant.