GAURA SEEDS
Gaura lindheimeri syn. Oenothera lindheimeri
Cool Breeze, Sparkle White and The Bride will demonstrate gauras to be tough, easy to grow perennials with flower power from late spring through mid-fall. Gaura plants are pest and disease free.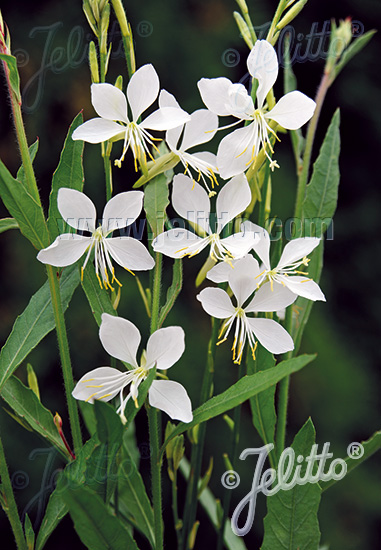 New for 2018
PR18155
COOL BREEZE Gaura Seeds
Cool Breeze gaura is a new perennial that produces pure white flowers with green stamens and buds from June to October. Plants are heavy blooming, long flowering, will tolerate heat, humidity and drought, require little maintenance and are disease and pest free. Cool Breeze gaura grows 3 to 4 ft. tall, is winter hardy to zone 6 and can be grown as an annual everywhere.
---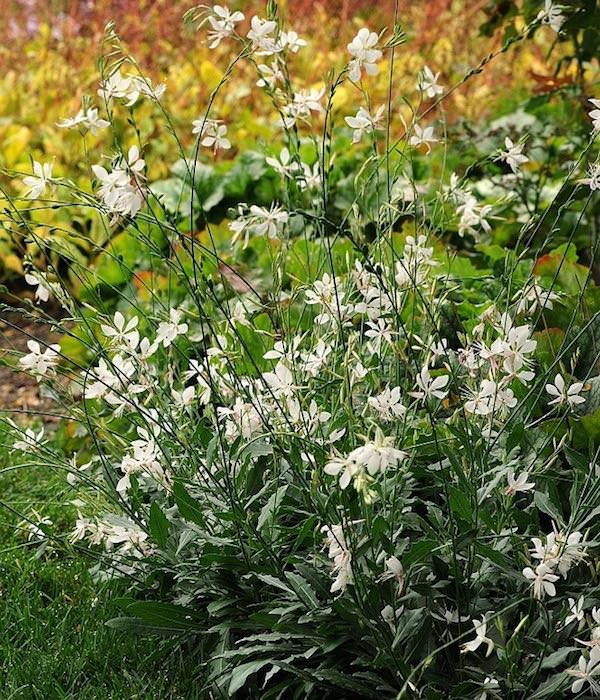 PR02868
SPARKLE WHITE Gaura Seeds
Winner of both the Fleuroselect Gold Medal and the AAS 2014 Bedding Plant Award, this highly praised new Gaura's delicate, airy charm will surely add a bright twinkle to your garden beds, borders and containers from late spring until frost. Quick to flower in the first year, Sparkle White is a perennial hardy to zone 6, is ideal for use as a warm season annual in any zone.
Count on masses of exceptionally well-branched, uniform flower stems covered in 1½ in. pink-kissed, star-shaped white flowers on compact, rounded, 24-30 in. plants, spreading to 30 in. wide. Like other Gauras, Sparkle White thrives in hot, sunny conditions and requires very little maintenance.
---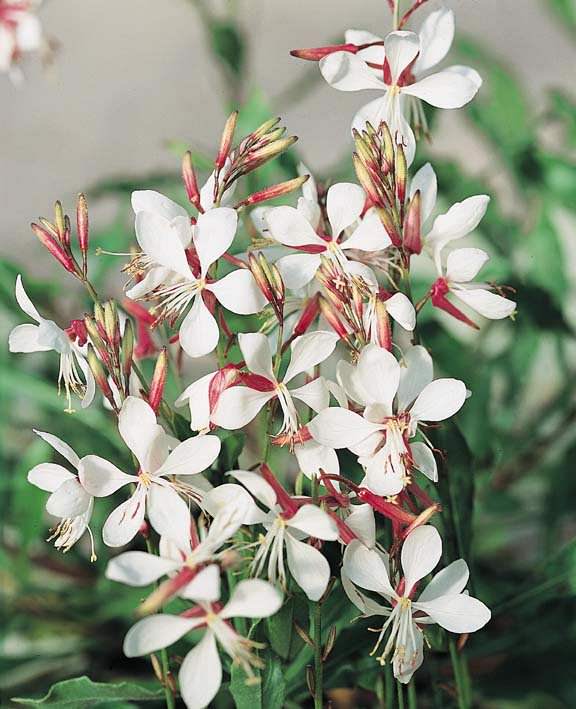 PR00868
THE BRIDE Gaura Seeds
The Bride guara is a tough, easy-to-grow 4 ft.tall perennial which freely produces long, thin branching spikes of 1 in. white flowers, tinged pink. Plants flower nonstop from June until frost. The Bride gaura is a widely adapted. A winter hardy perennial to zone 5.
---
How to Plant and Grow Gaura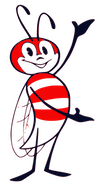 Plant Gaura Seeds: Sow Gaura seed in cell packs or flats, press into soil, do not cover. Kept at 70° F., germination is in 21 to 35 days. Direct sow in groups of 3-4 seeds spaced 24 in. apart. Thin to the strongest plant.
Grow Gaura: Full sun. Gaura loves hot weather and tolerates drought. Plants look better with some summer water. Flowers age to light rose, fall-off cleanly. Gauras are long-lived, do not need division. Flowers attract butterflies and hummingbirds. Gaura plants are rabbit and deer resistant.