Aster Seeds
a.k.a. China Aster, Annual Aster
Callistephus chinensis
How to plant Aster seeds
China Asters are easy to grow, showy annuals for summer and fall color. Flowers resemble powder puffs and are butterfly magnets. Annual asters prefer cool weather and are great choices for borders and containers.
How to Plant and Grow Aster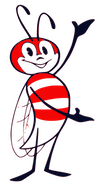 Plant Annual Aster Seeds: Sow seed in cell packs or flats, press into soil and lightly cover. Kept at 70° F., germination is in 5-15 days. Transplant into the garden 12-18 in. apart after all danger of frost.
Grow Annual Asters: Full sun, part sun in warm climates. Prefers cool weather and rich or sandy, well-drained soil. Provide regular moisture, do not overwater. Plant in different locations each year to avoid disease. Performance excellent in containers. Flowers attract butterflies and are outstanding for cutting.