(Go to Winter Squash)
SUMMER SQUASH SEEDS
Cucurbita pepo
Summer squash is one of the easiest and most productive vegetable crops you can grow. Harvest when fruits are still young and tender; plants will keep producing into late summer if squash is continuously picked.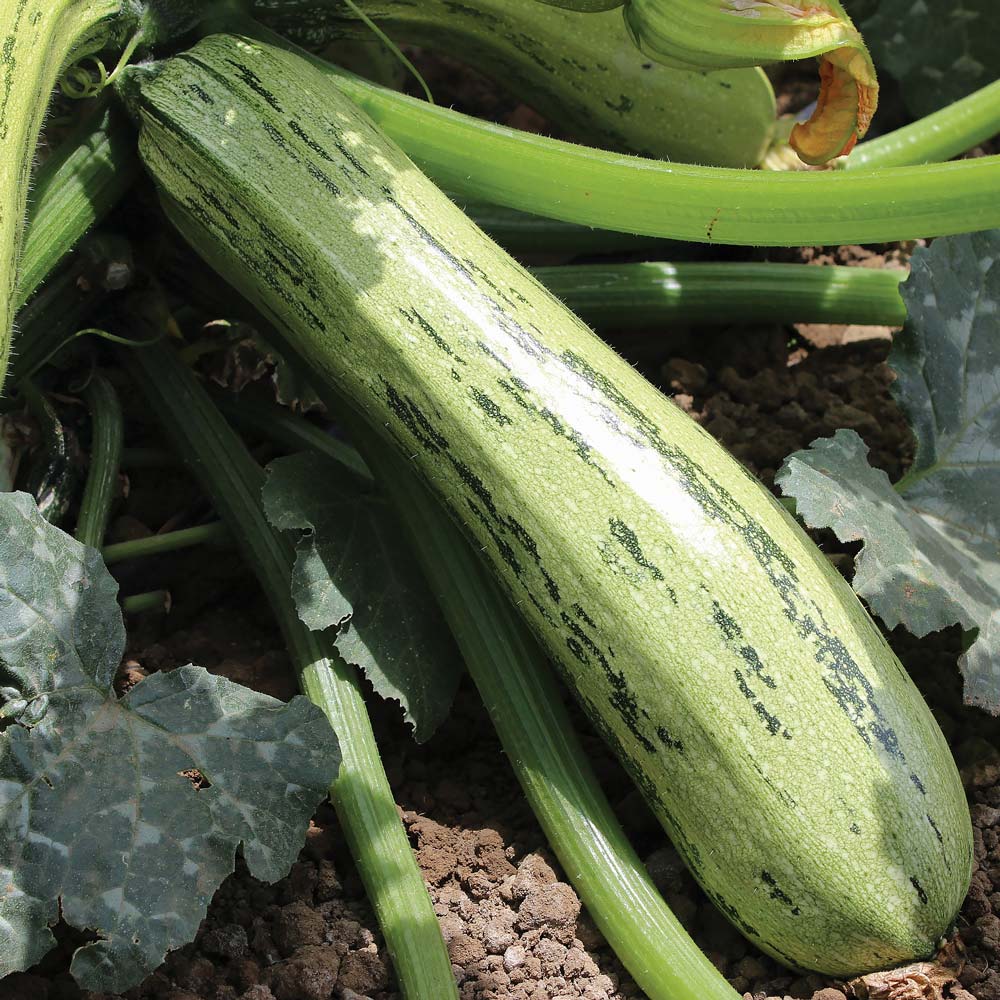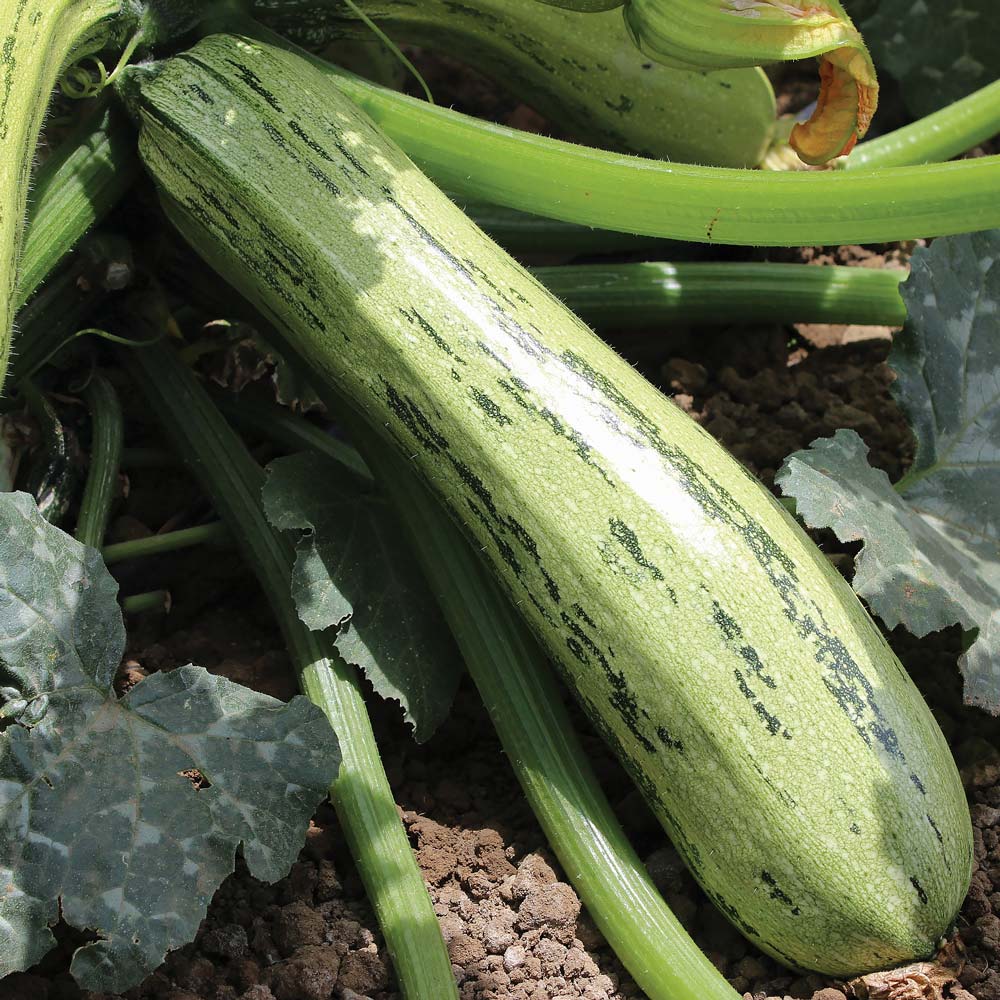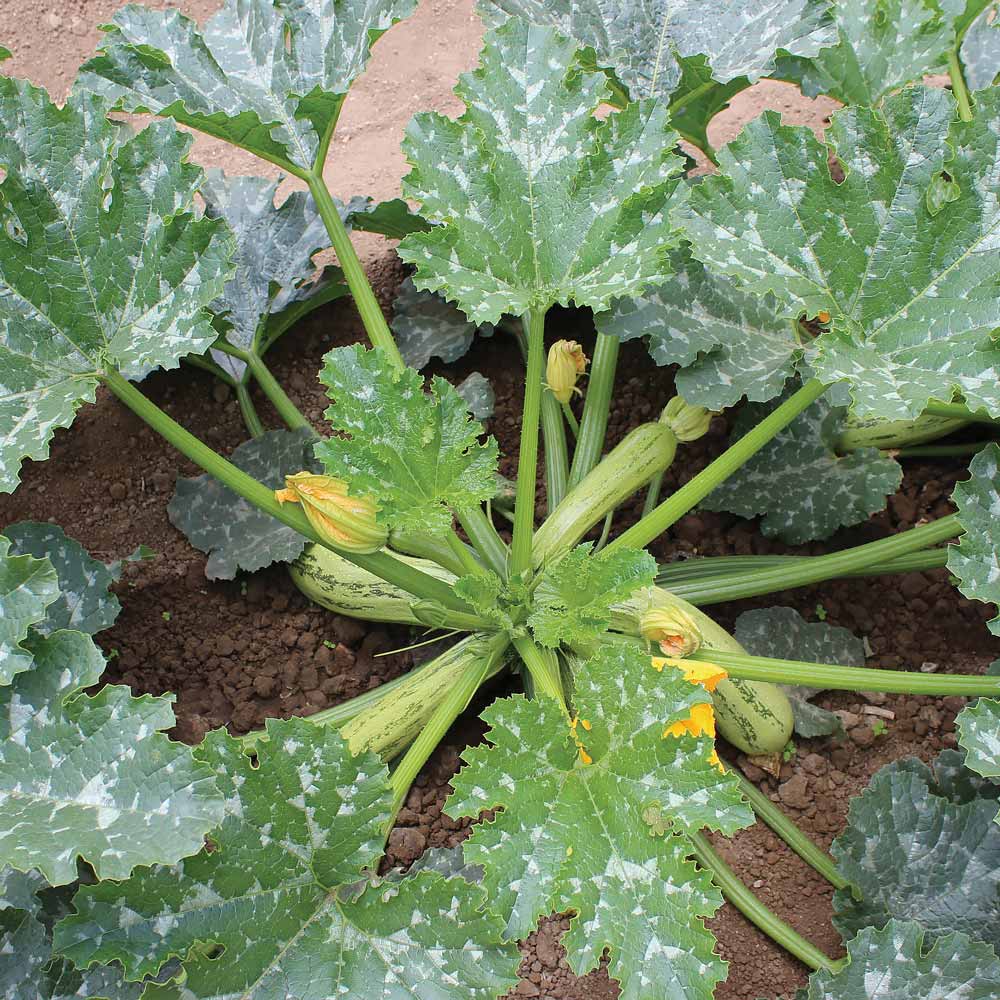 New for 2018
VG18139
BOSSA NOVA Zucchini Squash 25-40 days from transplant, 30-45 days direct sow
Light green fruit is beautifully mottled dark green. Texture of the flesh is smooth, flavor is sweet and mild, superior to other summer squash. Harvest fruit at 6-8 in. for best flavor. Bossa Nova begins producing delicious zucchinis up to 2 weeks earlier in the season, and finishes 3 weeks later compared to similar zucchini squash. Plants are compact growing to 4ft. across. A 2015 All-America Selections Winner.
---
New for 2018
VG18173
EASY PICK GOLD 2 Zucchini Squash 45-50 days
Flesh is smooth, and flavor is deliciously mild. Harvest small with a flower attached, or up to 10 inches long. Open growing plants, nearly spineless leaves, and glossy deep yellow fruit make spotting your zucchinis easier, and gently twisting them off the vine pain free. Plants are parthenocarpic—they do not require insects to set fruit. Highly disease resistant plants grow to 3-4½ ft. across.
---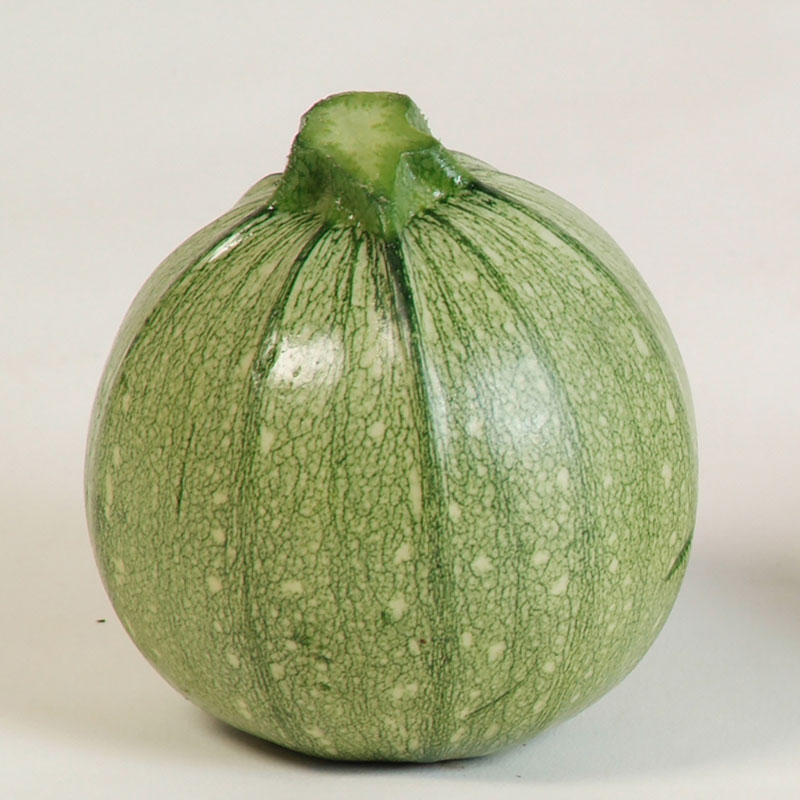 New for 2018
VG18141
BRICE Zucchini Squash 45 days
Three to five inch attractive round and delicious light green zucchinis with large white speckles. Plants are productive and easy to grow, the attractive silvery leaves are mottled with green flecks. Growth is compact to 1-2 ft. tall, and 3-4 ft. across. Fruit can be stuffed, sliced fresh for salads, or steamed, fried, and grilled.
---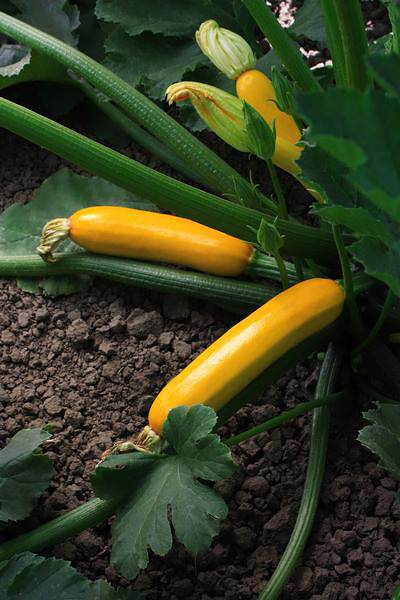 New for 2018
VG18151
Z'ORO Zucchini Squash 45 days
Remarkably straight cylindrical rich golden-yellow zucchinis with smooth flesh and a delectable mild, sweet flavor. Z'oro is widely adapted, thrives in cool climates or hot, and plants are reliable and productive.
---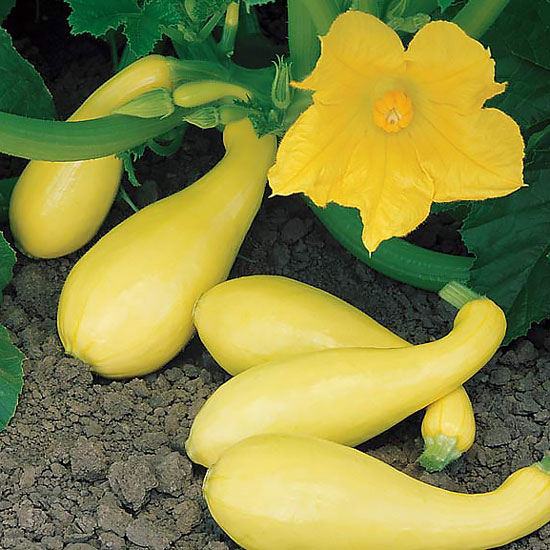 New for 2018
VG18149
GENTRY HYBRID Semi-crookneck Squash 44 days
High quality 4-6 in. long, smooth and tender, deep butter yellow semi-crookneck squash on highly productive, widely adapted bush-type plants.
---
VG01784
CONTEN­DER HYBRID Zucchini Squash 43 days
Open bushes make for easy picking of the spineless, 8-9 inch long, gold-flecked, dark green fruit. Their smooth and waxy skin covers crisp, tender white, rich-flavored flesh. Contender Hybrid is an impressive, early heavy-yielding zucchini, we highly recommend.
---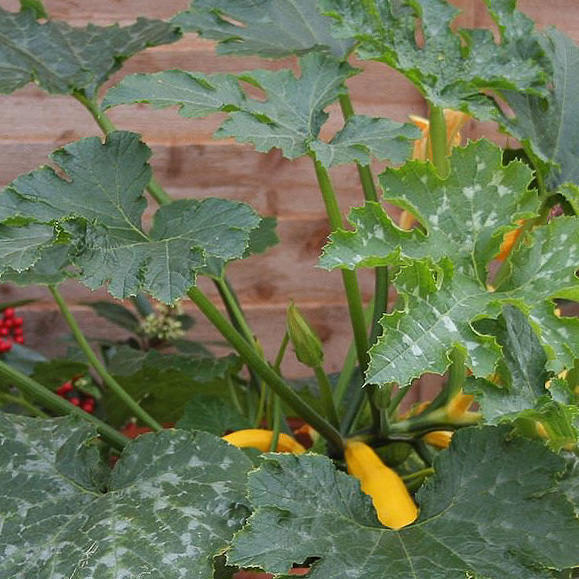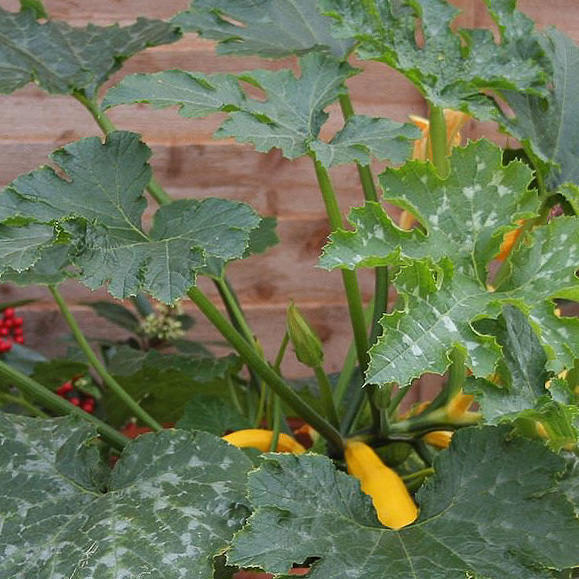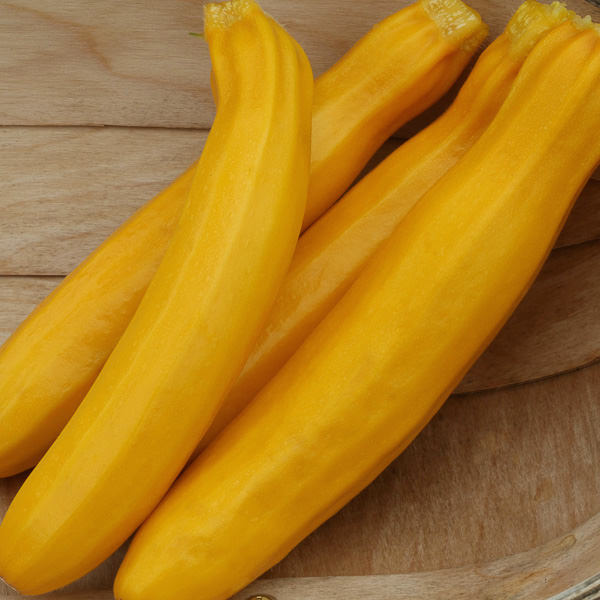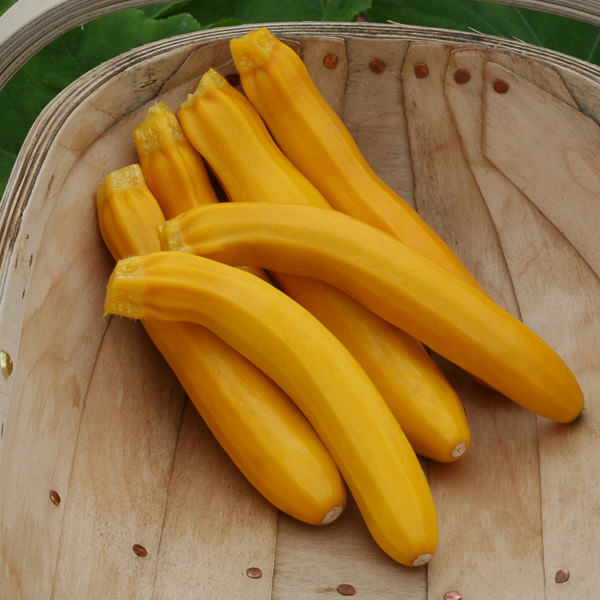 VG09803
BUCKINGHAM PATIO Zucchini Squash 70 days
A new dwarf bush zucchini with high yields of mild, sweet golden fruits on compact 18 inch tall plants. When planted in the ground, space 2 feet apart, they also thrive in patio containers. Best flavor when picked at 6-7 inches.
---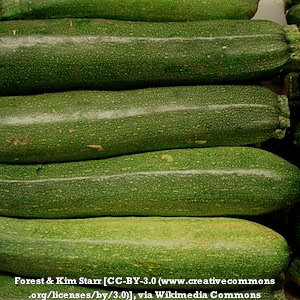 VG01709
DARK GREEN Zucchini Squash 50 days
Smooth, straight, dark green, mottled fruits, on vigorous, early producing, bushy plants. Excellent flavor, best picked at 6-8 inches long.
---
VG00188
AMBAS­SADOR HYBRID Zucchini Squash 50 days
Compact, open bushes make for easy picking of the 7-8 inch long gold-flecked dark green fruit. The smooth and waxy skin covers delicious, crisp and tender white flesh. Highly recommended.
---
VG00193
SUNBURST Squash Seeds 50 days
Sunburst is a high yielding vivid gold, patty pan type summer squash, which has an exceptional buttery, nutty flavor. The vigorous, bush-type plants save space and are highly ornamental. An All-America Selections Winner.
---
How to Plant Summer Squash Seeds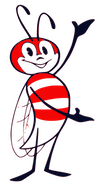 Direct sow when soil is at least 70°F., and weather has settled. Seeds will not germinate in cold soils. Sow 3 seeds per foot, cover about 1 inch in rows 3-4 feet apart. Thin to 1 foot apart. Can start squash seeds indoors in cell packs 3-4 weeks before the last frost.