CORAL BELLS SEEDS
Alumroot
Heuchera americana, H. x micrantha, H. sanguinea
Coral Bell plants produce brilliant tubular flowers that attract hummingbirds. Mass plant Coral Bells to form colorful ground covers, or use to edge paths, or add interest in containers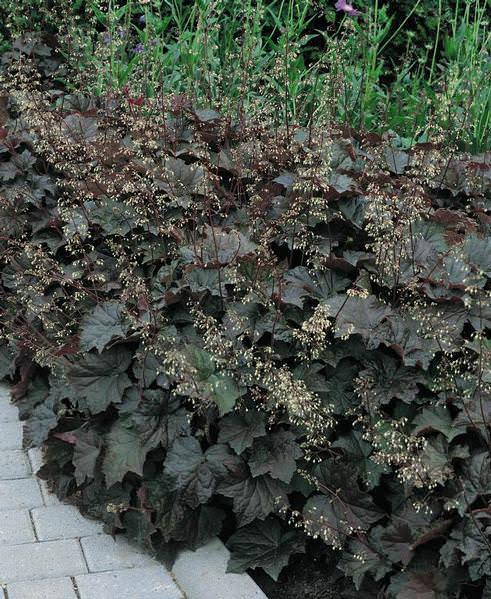 PR05028
PALACE PURPLE Coral Bells Seeds Heuchera x micrantha
Striking mahogany to maroon, ivy-shaped foliage supports 6 in. sprays of pure white bell-shaped flowers from June to August. Best leaf color in spring and fall. Plants are 18-24 in. tall and winter hardy to zone 4. Grow Palace Purple coral bells with Blue Carpet catmint, and Primula x pubescens.
---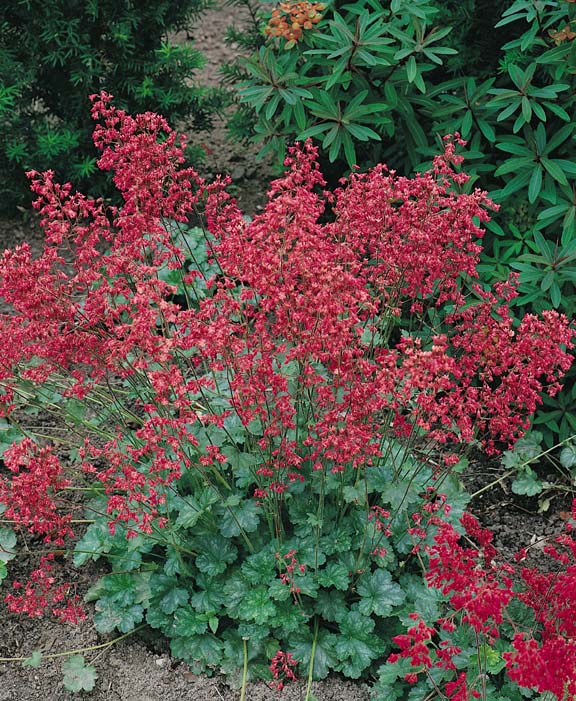 PR00820
FIREFLY Coral Bells Seeds Heuchera sanguinea splendens
This superb selection produces loads of brilliant dark scarlet bell-shaped flowers on 14-24 in. stems from May to July. Hummingbirds love them and they are long lasting cut flowers. Great for edging the front of borders or use as a small scale ground cover. Prefers full sun in the North and part Shade in the South. Winter hardy to zone 3.
---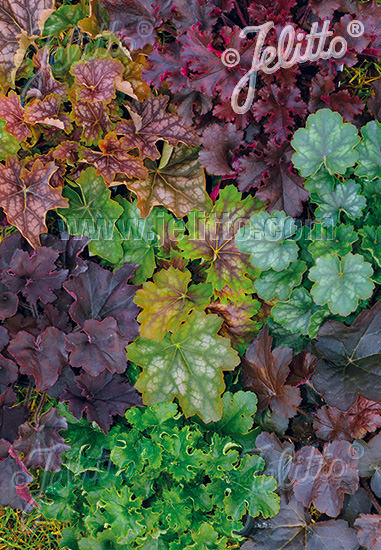 PR00822
NEWEST HYBRIDS Coral Bells Seeds Heuchera americana x micrantha
A remarkable mix of flower and foliage colors. Blooms are white, cream, pink or red and foliage can be green, bronze, marbled silver or veined red. Plants grow to 20 in. tall, and are winter hardy to zone 3.
---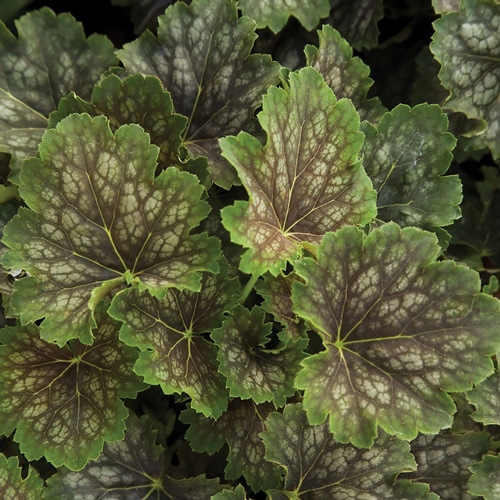 PR11280
MARVEL­OUS MARBLE Coral Bells Seeds Heuchera americana
Leaves emerge purple in spring, transition into bright green overlaid in silver, veined reddish-purple. Color and pattern rival vegetatively produced varieties. Creamy-white flowers on short stems appear early in the season. Growth is vigorous and mounding to 1 ft. tall, 1.5 ft. wide. Winter hardy to zone 4.
---
How to Plant and Grow Coral Bells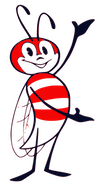 Plant Coral Bells Seeds: Sow seed in cell packs or flats, press into soil but do not cover. Needs light to germinate. Kept at 65-70° F., germination is in 21-30 days. Transplant into the garden 12 in. apart.
Grow Coral Bells: Full sun in mild summer areas, prefers afternoon shade in warm climates. Likes rich soil with good drainage, and moderate to regular water. The tubular flowers are excellent for cutting, hummingbirds love them. Plants are evergreen, deer resistant and low maintenance. Divide every 3 to 4 years.