SUNFLOWER SEEDS
Helianthus annuus
41 Sunflowers
Sunflowers belong in every garden where kids are present. It is marvelous to witness the amazement and sense of accomplishment children feel when watching the sunflower seeds grow in to 5-10 ft. tall traffic stopping giants.
For best results sow in spring (after the last frost) where they are to grow and provide plenty of water. Bloom season is from mid summer into fall. Excellent cut flowers.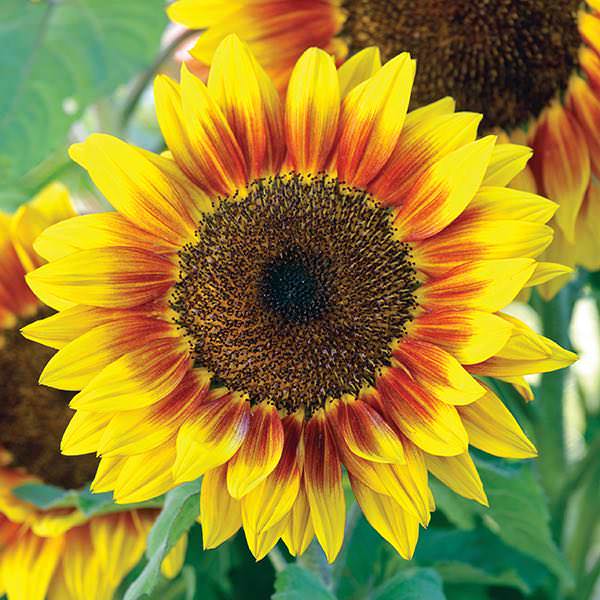 NEW FOR 2017
SNF0019
SOLAR FLASH Sunflower
Description coming soon
---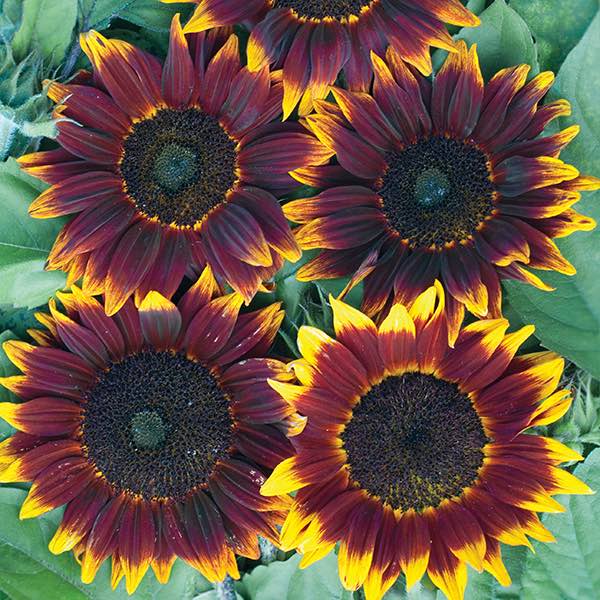 NEW FOR 2017
SNF0009
SHOCK O LOT Sunflower
Description coming soon
---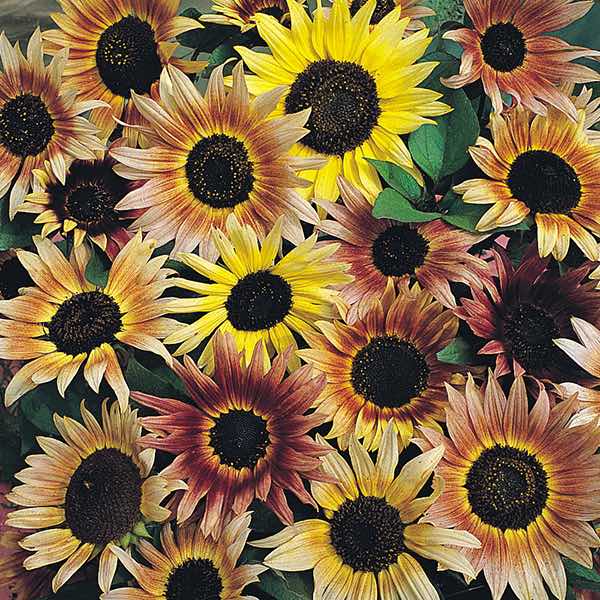 NEW FOR 2017
SNF0007
PASTICHE Sunflower
Description coming soon
---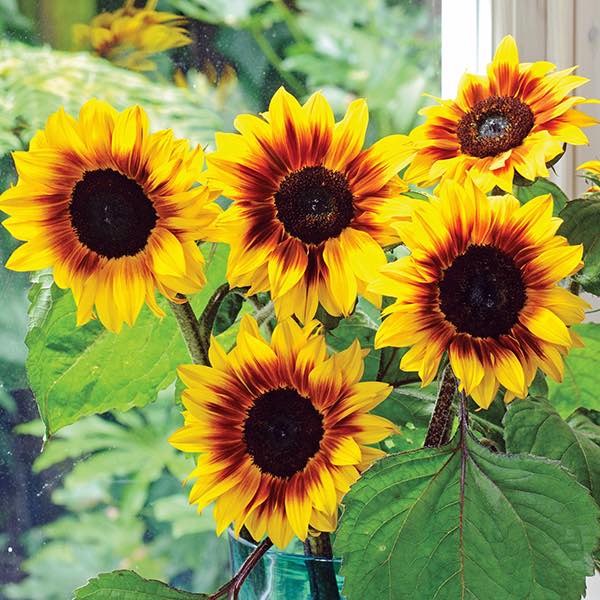 NEW FOR 2017
SNF0017
HELIOS FLAME Sunflower
Description coming soon
---
NEW FOR 2017
SNF0015
HARLEQUIN Sunflower
Description coming soon
---
NEW FOR 2017
SNF0013
DWARF YELLOW SPRAY Sunflower
Description coming soon
---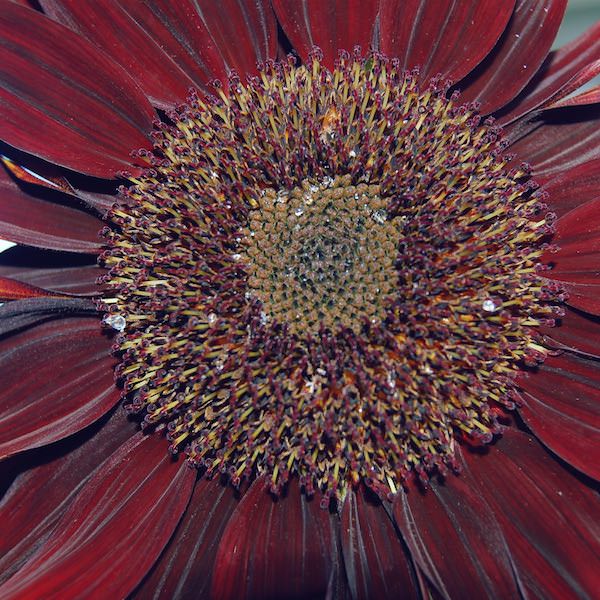 NEW FOR 2017
AN17201
BLACK BEAUTY Sunflower
Loads of darkest-red velvety, pollen-less flowers on uniform and branching 4-6 ft. tall plants.
---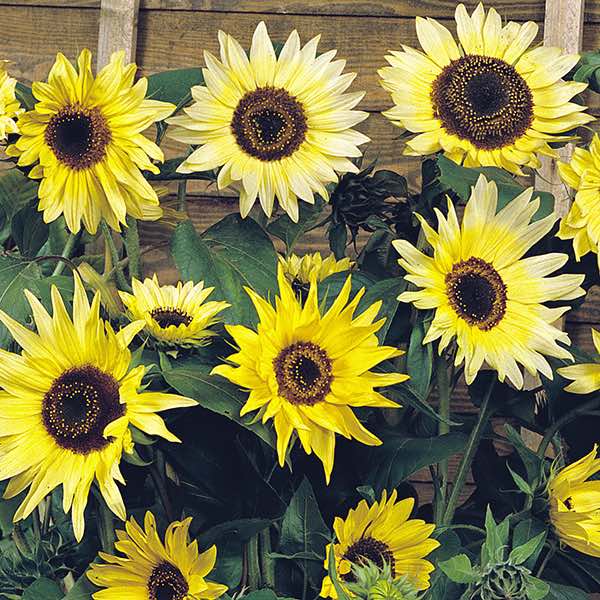 NEW FOR 2017
SNF0005
MOONWALKER Sunflower
Description coming soon
---
AN01295
GOLDEN CHEER Sunflower
Delightful double yellow 4-5 in. chrysanthemum-like flowers with light hearts. Plants produce a larger main head, and typically 3-4 side branches. Pinch when young for bushier, even heavier flowering plants with smaller flowers. Flowers held on long, strong stems and are long-lasting cut. Grows 5-6 ft. tall. A small percentage of seed will produce single flowers, which is necessary for seed production.
---
AN05650
PEACH PASSION Sunflower
Produces masses of gorgeous soft apricot 3-4 in. flowers on bushy, 4 ft. tall plants. They make exceptional cut flowers.
---
AN01280
APRICOT DAISY Sunflower
Apricot Daisy sunflower forms multi-branched, bushy plants to 4 to 6 ft. tall. These plants produce a remarkable quantity of pollen-free, apricot peach daisy-like flowers with light-orange centers. Apricot Daisy, by its color and form introduces unusual twists into world of sunflowers.
---
AN01300
ProCut PEACH Sunflower
Large 3-4 in., single-head flowers with peachy pastel petals and dark centers. In the morning and evening these flowers practically glow. Impressive in gardens, and because plants are day length neutral and flowers are pollen-less, they produce superb cut flowers. Grows 5-6 ft. tall.
---
AN01277
ProCut BRILLIANCE Sunflower
Large single-head, pollen-free sunflowers with dark centers and brilliant, uniquely colored petals. They are yellow at the tips, deepening to orange near the base. The orange and yellow hues combined on the same petal are an impressive sight, whether viewed in the garden, or seen in long-lasting cut flowers for your home. Grows 4-6 ft. tall. 55-60 days.
---
AN01194
ProCut GOLD Sunflower
Brilliant golden-yellow, pollen-free blooms with yellow-green hearts. They are outstanding cut flowers. The single stem, day length neutral plants grow 5-6 ft. tall. Matures in 50-60 days.
---
AN06123
ProCut BICOLOR Sunflower
Procut Bicolor sunflowers are stunning. The large mahogany-colored flowers are tipped in yellow. The hearts are dark. Blooms are carried on long, especially thick and strong, straight stems. They are superb for cutting. Plants grow to 5 ft. tall.
---
AN01279
ProCut RED Sunflower
An exciting breakthrough: ProCut Red is the first single-flowered red sunflower. These pollen-less, burgundy-red beauties have even deeper-red faces, on plants that reach 4 to 6 ft. tall.
---
AN00449
KONG Sunflower
These 12-14 ft. tall giants produce yellow flower heads on short side stems. Plants are well proportioned and not top heavy, and are guaranteed to make a lasting impression on children.
---
AN00455
MAMMOTH RUSSIAN Sunflower
Huge bright-yellow, 12 in. flowers and seed heads on heavy, 10 ft. tall stalks. A dramatic ornamental edible that is good for screening and/or edible seed production.
---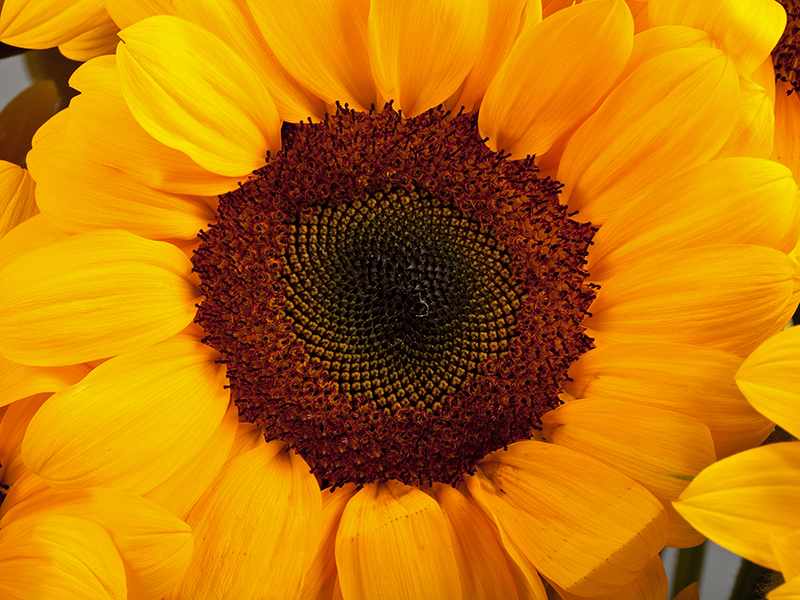 AN02573
VINCENT CHOICE Sunflower
Golden orange, rounded petals overlap fully around a pollen-less, chocolate brown heart. These 5 in. upward facing flowers are held on long, strong stems and make stunning bouquets. Flowers are single stemmed when plants are close together. When given more room plants will branch.
---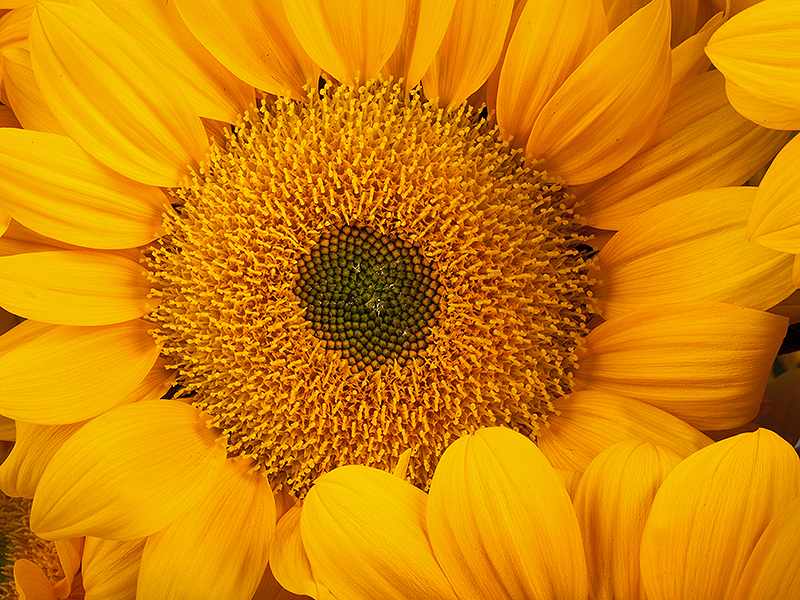 AN02574
VINCENT FRESH Sunflower
Bright-yellow, rounded petals overlap fully around a pollen-less, chartreuse green heart. These 5 in. upward facing flowers are held on long, strong stems and make stunning bouquets. Flowers are single stemmed when plants are close together; spaced farther apart, plants will branch.
---
AN09073
SUNNY SMILE Sunflower
Giant 5 in. flowers top dwarf plants which can be grown in 4-6 in. pots. In small pots Sunny Smile puts all its energy into producing a single jumbo flower. Planted in large containers or in the ground, Sunny Smile has room to branch and then produces 4 or 5 gorgeous, golden-yellow flowers. Plants grow 12-15 in. tall, are day length neutral, pollen-free, and flower in just 55 days.
---
AN01286
ORANGE HOBBIT Sunflower
The bushy, dwarf plants grow 1 to 2 ft. tall. They start early in the season, loading themselves with pollen-free, golden-orange flowers with deep brown faces. Orange Hobbit lends itself beautifully to container gardening, and also makes a stunning knee-high border.
---
AN01214
LITTLE BECKA Sunflower
From the same breeder that brought you the best-selling Firecracker sunflower, this is its kindred spirit, Little Becka. A cut flower powerhouse, plants produce legions of early, large and pollen-less, fiery copper-red sunflowers up to 5 in. across. With a dark heart and yellow halo, Little Becka displays an entirely unique, bewitching personality.
Little Becka sunflowers grow 2-3 ft. tall, while forming full, compact and branching plants. Mass in your garden for a lively knee-high sunflower spectacle or use to add bold color to your mixed borders. Combine with Firecracker sunflower to turn the volume up louder still.
---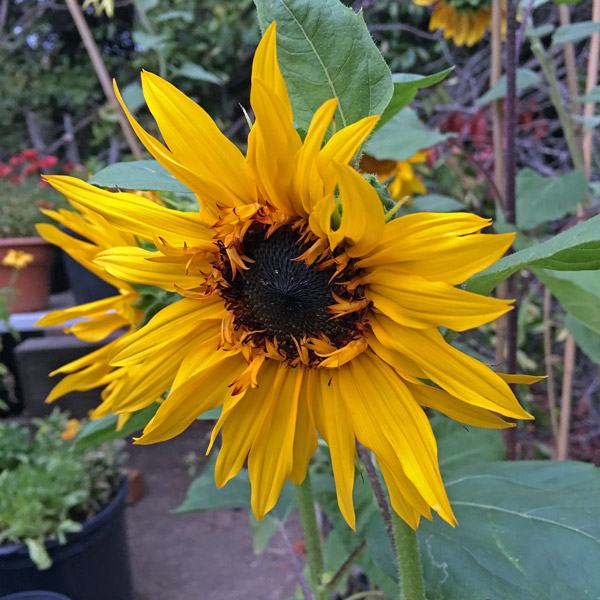 AN02570
ORANGE RUFFLES Sunflower
Sunflowers put on a fancy dress with this spectacular new pollen-free sunflower with an extra row of frilly, ruffled petals between its chocolaty brown center and brilliant orange main petals. The vigorous 4 to 6 ft. plants branch freely to produce many flowers.
---
AN00446
THE JOKER Sunflower
Giant 6-8 in., extremely showy red and yellow bicolor, semi-double to fully double blooms have fascinating curled petals around the disk. Well branched 6-7 ft. plants. An excellent pollen-free cut flower. Combine with ProCut Bicolor to make truly memorable arrangements.
---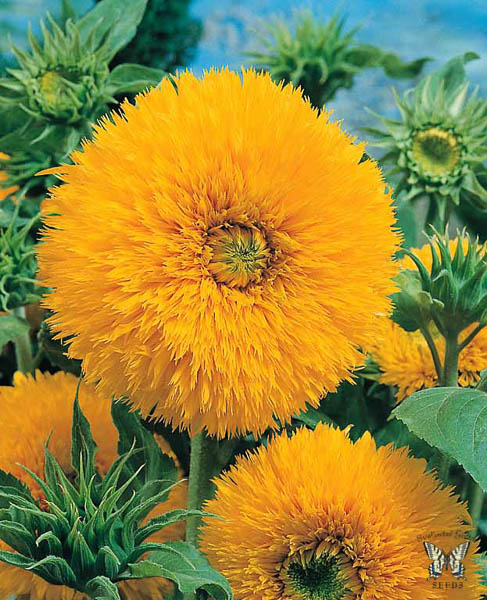 AN00497
SUNGOLD Sunflower
Absolutely beautiful and extremely large, double golden-yellow chrysanthemum-like flowers on sturdy 5 ft. plants. Superb cut flowers.
---
AN01213
STELLA GOLD Sunflower
The pollen-less flowers have long, spider-like yellow petals and dark brown centers. Flowers bloom early, and are of medium size, one flower per stem. Plants are easy to grow, will thrive in a wider range of weather and soil conditions than most. Best results when grown in soil that is less fertile than other sunflowers prefer. Stella Gold is an entirely unique sunflower which lends a light, open texture to bouquets. Plants grow 4-6 ft. tall.
---
AN09074
SUNRICH ORANGE SUMMER Sunflower
Essentially an improved Sunrich Orange, blooming 5-10 days earlier and growing about 6 in. shorter. Day-length neutral, 4½ ft. tall plants sport 5-6 in. blooms which are superb for cut-flower production. Maturity is reached in 50-60 days.
---
AN0951S
ZOHAR Sunflower (OP) 40-50 days
Organically grown. Zohar is an F1 hybrid and is an earlier-flowering, improved version of Jerusalum Gold sunflower. Deep orange-yellow petals surround a dark brown center. Each 3 to 4 ft. stem holds a single 4 to 6 in., pollen-free flower. Zohar is an ideal choice for long-lasting fresh-cut bouquets.
---
AN01278
CUCUMBER-LEAF FORMULA MIX Sunflower Helianthus debilis ssp. Cucumerifolius
Multi-branched 5 to 6 ft. plants produce a huge quantity of 2 to 3 in. flowers in a pleasing array of yellow shades throughout the warm season. Leaves resemble cucumber leaves. Among the best varieties to grow if you want to attract songbirds to your garden.
---
AN02572
MAXIMILIAN Sunflower Helianthus maximiliani
A bold, heat and drought tolerant perennial, winter hardy to zone 4. Dense clusters of sunny yellow 3 to 4 in. single flowers bloom from mid to late summer until the first hard frost on impressive 6 to 8 ft. stems that rise from a basal cluster of shiny green wavy leaves. Maximilian sunflower is named after Prince Maximilian the German botanist and explorer who encountered it in his travels to the U.S. in the 1830s. Spectacular planted in the back of borders and along fences, their seeds provide food for a multitude of birds. Also attracts butterflies and other beneficial insects. Native to the North American prairies.
---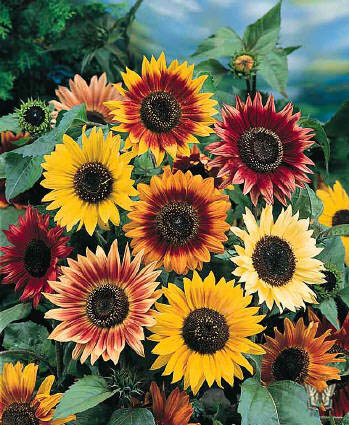 AN00425
AUTUMN BEAUTY Sunflower
An exquisite mix of autumn colors including, gold, yellow, rusty red, burgundy and bicolors. Classic sunflower form on 6-7 ft. plants.
---
AN01276
SOLARA Sunflower
Upward facing, pollen-free flowers with golden-yellow petals, and huge dark hearts reach 6 in. across. They are among the longest-lasting cut sunflowers. Solara grows to 6 ft. tall.
---
AN01232
SORAYA Sunflower
Bushy and sturdy, wind-resistant plants produce amazing amounts of 4-6 in. orange flowers with deep-brown hearts. They appear on long, thick stems and are superb for cutting.
---
AN06120
FIRECRACKER Sunflower
Compact and branching 24-36 in. tall plants produce masses of pollen-free, bright-red and gold bicolor flowers. Firecracker sunflower is an excellent low hedge, or use in borders or containers. Grow with Little Becka dwarf sunflowers.
---
AN00512
VELVET QUEEN Sunflower
Magnificent flowers with velvety crimson petals and black hearts. The well-branched plants grow to 5 ft. tall. Highly recommended.
---
AN01231
AMERICAN GIANT HYBRID Sunflower
The tallest sunflower variety, American Giant can grow to up to 16 ft. tall, with stronger stalks than other tall types, and enormous leaves. Plants are topped by 10 in. golden-yellow sunflowers. American Giant makes an excellent background plant or tall screen. To produce the tallest plants and largest flower heads, plant in fertile soil and provide plenty of sun and water.
---
AN00464
MOULIN ROUGE Sunflower
The dark velvet burgundy, 6-8 in. wide flowers shade to nearly black in the center. Flowers will occasionally sport a few light yellow petals, to nice effect. Moulin Rouge is an exquisite, remarkably vigorous, free-branching sunflower you are going to love. The pollen-free blooms make outstanding cut flowers. Plants grow to 6 ft. tall.
---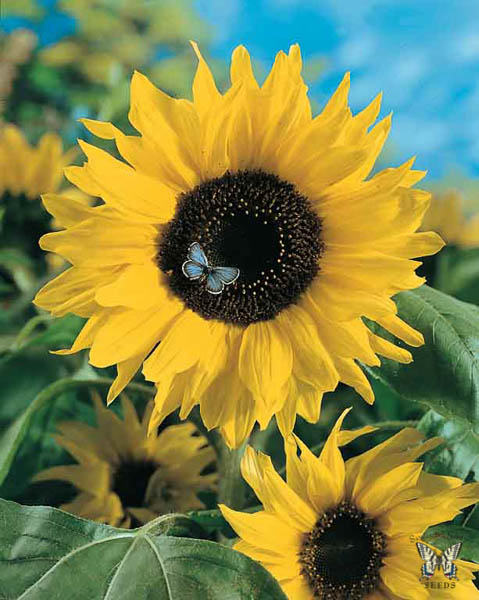 AN00434
GIGANTEUS Sunflower
Organically grown. The sturdy 12-14 ft. stalks (no staking) produce absolutely enormous flowers 1 ft. or more across. Guaranteed to stop traffic, they can be planted below 2nd story windows for a close up show!
---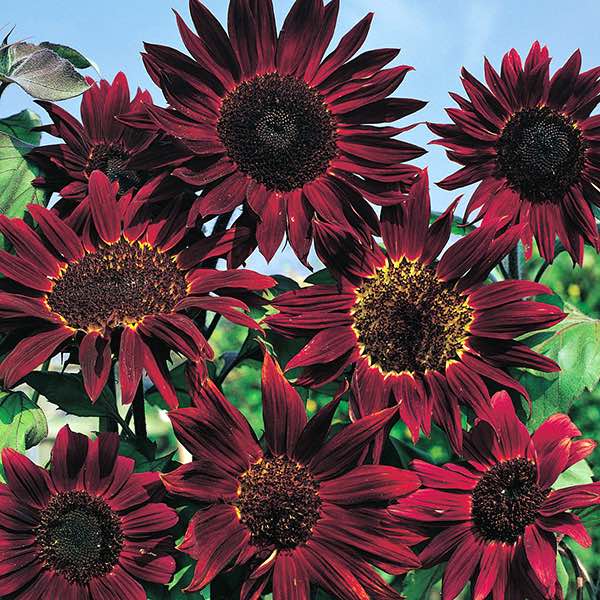 NEW FOR 2017
SNF0001
CLARET Sunflower
Description coming soon
---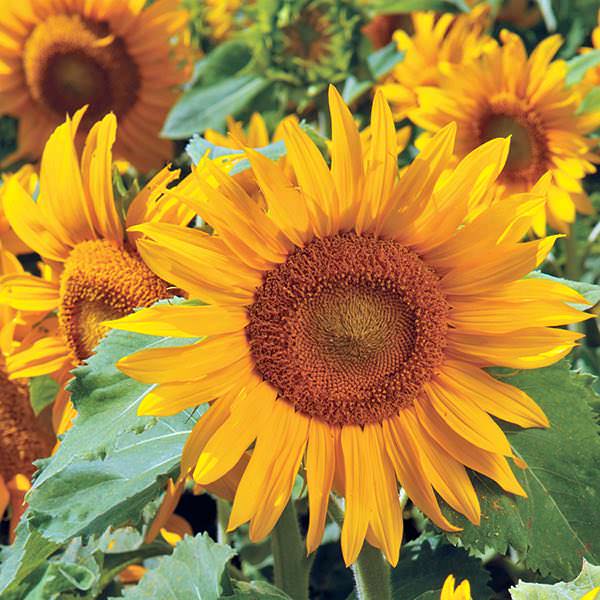 NEW FOR 2017
SNF0003
IRISH EYES Sunflower
---
Back to Top
How to Plant Sunflower seeds
How to Grow Sunflowers: Sunflowers require full sun. Soil which is moist and moderately fertile will produce the best flower heads. Blooms attract bees, birds and butterflies.
Tall Sunflowers
Direct sow into prepared seed beds after all danger of frost. Plant seeds 6 in. apart, ½ in. deep. Thin to 1-1½ ft. apart. Can start plants early indoors in 2 in. pots or cell packs. Transplant into the garden well before seedlings become root bound.
Dwarf Sunflowers
Direct sow into prepared seed beds 3 in. apart, thin to 6-9 in. apart. Easy to start indoors in 2 in. pots or cell packs.