SEDUM SEEDS
Stonecrop
Sedum spurium, S. nevii, S. telephium, S. kamtschaticum ellacombianun, S. fosterianum, S. ussuriense
PR09528
VOODOO Sedum Sedum spurium
Intense bronze-red leaves are covered in neon rose flowers from June to August. Voodoo sedum is a low, dense, branching, evergreen, perennial ground cover that is durable, easy to grow, and drought tolerant. Leaves grow to 3 in. high, plants reach 6 in. tall while in bloom. Will flower the first year when started early. A Fleuroselect Quality Mark winner. Winter hardy to zone 3.
---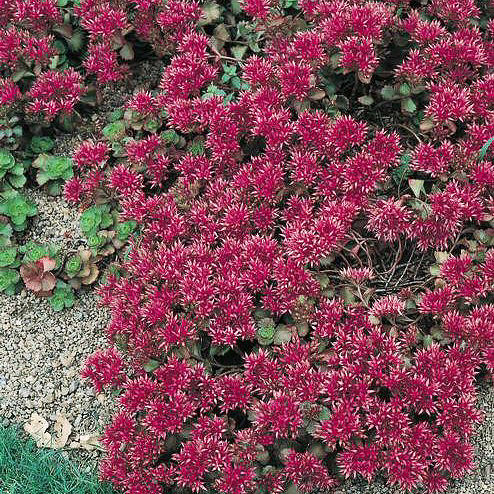 PR02521
RED CARPET Sedum Sedum spurium coccineum
In summer, dense clusters of bright rose, ¾ in. flowers cover the evergreen, 2-6 in. tall, 2 ft. wide plants. Red Carpet sedum is showy and fast growing, and when started early becomes a dense, flowering ground cover the first season. Does not like wet, humid summers, otherwise plants are widely adapted. Winter hardy to zone 3.
---
PR05053
SELSIE RUSSIAN STONECROP Sedum Sedum kamtschaticum ellacombianun
Selsie sedum features scalloped, lime-green foliage, and brilliant yellow, star-shaped flowers from May to August. It is an attractive, low growing, 4-6 in. tall, evergreen perennial. Plants are especially showy when massed, or use them to edge borders and paths, or as accent plants for the rock garden. Selsie Russian Stonecrop is also a terrific small-scale ground cover. Winter hardy to zone 3. Grows beautifully with Table Mountain hardy ice plant.
---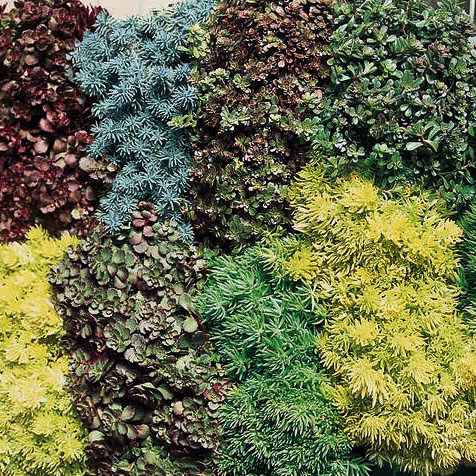 PR02525
ROCK GARDEN BLEND Sedum Sedum species
A formula mix of many attractive, low-growing sedums representing a wide range of leaf types and flower colors. These are tough, easy to grow plants for containers, rock gardens, roof gardens, or as unusual and showy ground covers. All sedums in the mix are winter hardy to at least zone 6. Some are winter hardy to zone 4. Rock Garden Blend includes the following Sedum species: album, forsterianum, hybridum, floriferum, ellacombianum, selskianum, pulchellum, reflexum, montanum, sexangulare, acre, and spurium.
---
PR107083
EMPEROR'S WAVES Sedum Sedum telephium
Emperor's Waves sedum is a vigorous, 16 in. tall perennial with attractive, blue-green, succulent foliage. Showy red-purple flowers are held on strong burgundy stems in August and September. Blooms attract butterflies and are excellent for cutting. A beautiful plant for sunny borders or patio containers. Winter hardy to zone 4. Emperor's Waves sedum grows beautifully with Sterntaler coreopsis, Magnus Superior echinacea, and Munstead lavender.
---
PR02524
ORACLE Sedum Sedum fosterianum
Oracle sedum is a low, dense, branching ground cover with silvery green leaves. Forms carpets of star-shaped yellow flowers in June and July. A great perennial for edging, or use as an accent plant in the rock garden. Oracle sedum is an outstanding evergreen, durable, drought tolerant, small-scale ground cover. Grows 4-8 in. high, and 10-12 in. wide. Winter hardy to zone 3.
---
PR11166
SILVER FROST Sedum Sedum nevii
Creeping rosettes 3-6 in. tall, spread 1-2 ft. across. Silver Frost sedum forms a handsome, clumping carpet of tiny silver-gray leaves. Plants will grow around rocks, and anchor into crevices. Leaves shade to bronze red in summer. June to August plants are covered in clusters of small white, star-shaped flowers. Silver Frost sedum is an easy to grow, reliable, small-scale ground cover or edging plant for landscapes or containers. Plants prefer sunny, hot locations. Evergreen in mild winter areas. Winter hardy to zone 5.
---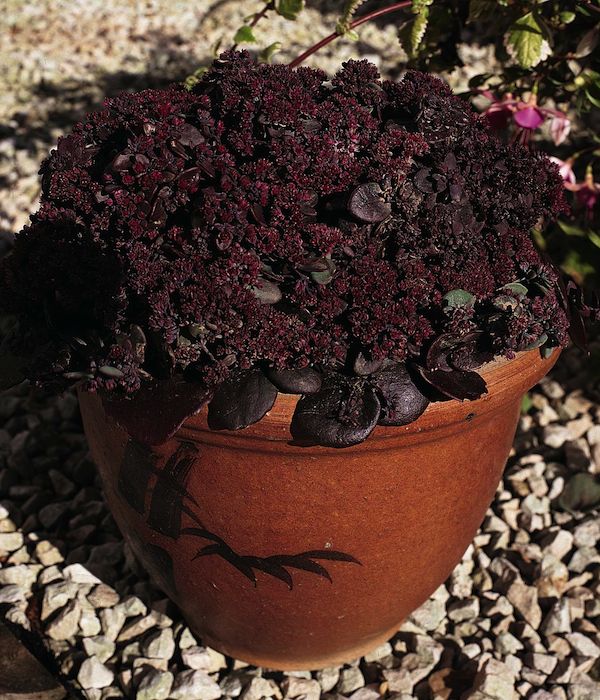 PR15155
TURKISH DELIGHT Sedum Sedum ussuriense
Sedum 'Turkish Delight' produces clusters of bright burgundy, star-shaped flowers from late summer through fall. Thick, rounded leaves are deep chocolatey purple. Leaf color is most intense in full sun. An impressive perennial for rock gardens, and containers. Turkish Delight sedum is also a terrific small-scale ground cover. Dwarf 8 to 12 in. tall plants spread to 12 to 16 in. across.
40 pelleted seeds - $3.49
Qty:
---
Back to Top
How to Plant Sedum Seeds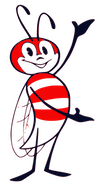 Sow Sedum: Sow sedum seeds in cell packs or flats, press into soil but do not cover. Needs light to germinate. Kept at 75-80° F., germination is in 10-30 days. Transplant sedum seedlings into the garden 10-14 in. apart, after all danger of frost.
Grow Sedum: Full or part sun. Plants tolerate heat and are drought tolerant once established. Will accept moderate water in well-drained soils, with average to low fertility. Sedum requires little or no maintenance and resists rabbits. Flowers attract butterflies.