VERBENA SEEDS
Purpletop Vervain, Slender Vervain
Verbena bonariensis, V. rigida
Verbena flowers attract butterflies. Verbena plants tolerate heat and drought, and are deer resistant. Winter hardy to zone 7, Verbenas can be grown as self-sowing annuals everywhere.
PR08237
POLARIS Verbena Verbena rigida
Silver-blue flowers late spring until frost. Butterflies love them. Plants are spreading, growing to 10-20 in. tall. 'Polaris' is a must for low maintenance gardens; plants are extremely heat and drought tolerant, need little to no care. Spread slowly by underground roots in dry soils, more quickly in moist soils. Winter hardy to zone 7. Can be grown as an annual everywhere. Flowers in as little as 4 months from seed.
---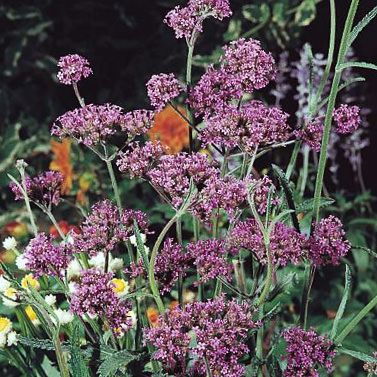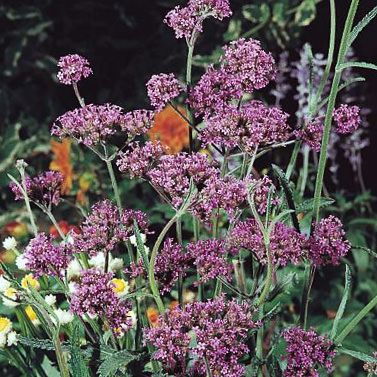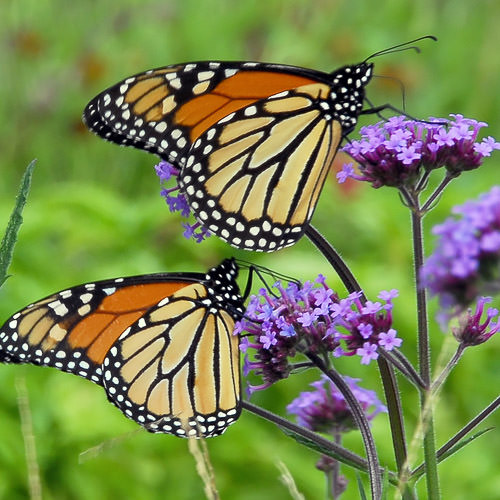 PR01040
PURPLE TOP Verbena Verbena bonariensis
One of the best plants for attracting butterflies. It does indeed attract a wide range of butterfly species, but it seems to have found a particularly strong admirer in our namesake the Tiger Swallowtail.
Purple Top Verbena is a long-blooming, tough, drought tolerant plant that is among the easiest perennials to grow. The rosy-lavender flowers are tiny and extremely profuse, held on long and strong 4-5 ft. stems that are great for cutting. Re-seeds readily but is not invasive. A winter hardy perennial to zone 7, it can be grown as an annual everywhere when started early.
Sorry, out of stock
---
How to Plant and Grow Verbena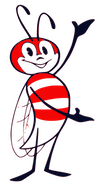 Plant Verbena Seeds: Sow verbena seeds in 2 in. pots or cell packs, press into soil and barely cover. Needs darkness to germinate. Kept at 70° F., germination occurs within 4 weeks. Transplant seedlings into the garden 24 in. apart. Pinch back Verbena bonariensis seedlings at planting time to encourage bushiness.
Grow Verbena: Full sun. Plants tolerate heat and drought and are deer and rabbit resistant. Flowers attract hummingbird moths and hummingbirds. They rival Butterfly Bush flowers with their ability to attract butterflies, and the Verbenas will flower much longer, with lower maintenance.