Sweet Pepper Seeds
Capsicum annuum
How to plant Sweet Pepper seeds
Sweet peppers have an incredibly sweet flavor that lends itself to frying, roasting, or adding to your favorite pasta dish. Eat sweet peppers raw in salads; many varieties are outstanding pickled. Handsome plants are at home in your vegetable garden, and in sun-soaked patio containers.
How to Plant and Grow Sweet Pepper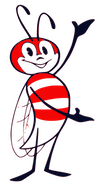 Sow sweet pepper seeds indoors in cell packs or flats, 8 weeks before the last anticipated frost. At 70-90°F., germination is in 8-25 days. When the soil has warmed to at least 60°F., transplant into the garden 18-24 in. apart.