How to Plant and Grow Sage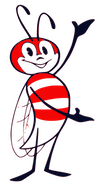 Plant Sage Seeds: Sow seed in cell packs or flats, press into soil and barely cover. Needs light to germinate. Kept at 60-70° F., germination is in 14-21 days. Transplant into the garden 12-18 in. apart. Can direct sow after all danger of frost ¼ in. deep, 1 seed every 2 in., in rows 18 in. apart. Thin to 12 in. apart.
Grow Sage: Needs full sun and good drainage. Sage is an excellent container or herb garden plant.