Dwarf Garden Geraniums
Pelargonium hortorum
Tough, 10-18 in. tall plants with colorful, 4-6 in. flower-heads. Round velvety leaves with darker zone inside the scalloped leaf margin. Perfect for window boxes, hanging baskets or sunny garden beds.
Maverick Series
Maverick geraniums are prolific producers of huge, shatter free 5-6 in. flower heads above lush, well-branched foliage. An outstanding performer in the garden, many experts believe this is the best series for 4-6 in. containers. The Maverick varieties we offer have all demonstrated tremendous heat tolerance, even in the Deep South. Plants grow 15-18 in. tall.
BullsEye Series
Compact, 14-16 in. plants with scalloped, chocolate-purple leaves edged in light green which retain their color even in extreme heat. Plants produce large clusters of stunning blossoms continuously from summer until frost. The BullsEye series are more vigorous than most other dark-leaved varieties and are an easy to grow, showy choice for beds, borders, containers or hanging baskets. Perennial in mild winter areas, and can be grown as annual everywhere.
More Outstanding Dwarf Garden Geraniums
Pelargonium hortorum
Ivy Geraniums
Pelargonium peltatum
Heavy flowering geraniums with cascading, ivy-shaped foliage. Well-branched plants grow 8-10 in. tall, spread to 24 in. across. Ivy Geraniums are great to in hanging baskets for a stunning cascade of color.
Tornado Series
Tornado is an improved series with better branching and increased heat tolerance compared to other seed grown Ivy Geraniums. Seeds need warm conditions to germinate and bottom-heat is recommended. Perennial in climates with little or no winter frost.
How to Plant and Grow Geranium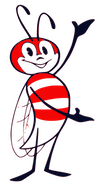 Plant Geranium Seeds: Sow seeds in 2 in. pots or cell packs, press into soil and barely cover. Kept at 70-75°F., germination is within 7-14 days. Bottom-heat can help maintain the ideal germination temperature. Soil moisture should be kept high until seeds germinate, then reduced to a moderate level after germination. Seedlings grow best with daytime temperatures in the 70s and nighttime temperatures in the 60s. Transplant into the garden 1 ft. apart, after all danger of frost has passed.
Grow Geranium: Full or part sun. Regular water. Flowers attract hummingbirds, plants are heat tolerant and resist rabbits and deer.