Common Yarrow
Achillea millefolium
Yarrows form mat-like plants. Foliage is dark green, and deeply cut. In early summer flower stalks rise to 24 in. tall. Yarrow's showy blooms attract butterflies, are excellent cut for fresh or dried arrangements. Plants flower from June to September. Easy to grow, common yarrow is widely adapted, tolerates both heat and poor soil. Winter hardy to zone 3.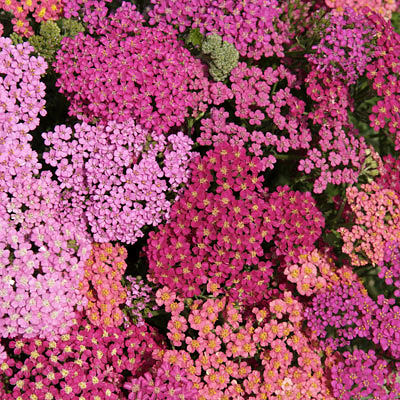 Best Seller
Flower­burst Red Shades
Yarrow Seeds
A magnificent blend of 3 rich color shades. Blooms all summer.
50 seeds - $2.99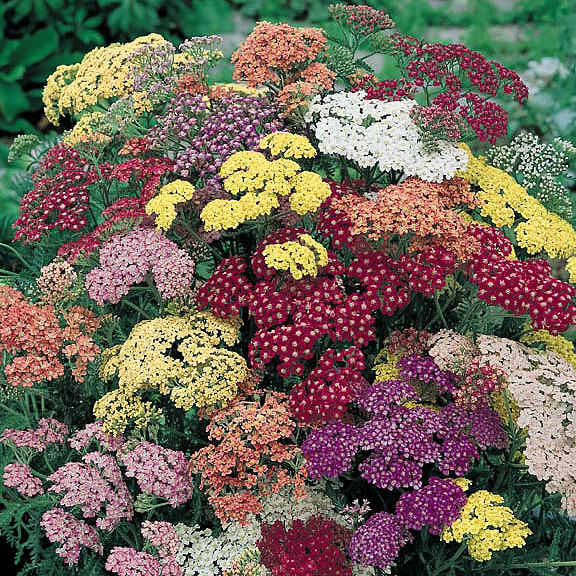 Summer Pas­tels
Yarrow Seeds
A 9 color yarrow mix with pastel shades in the majority. Great cut flowers.
50 seeds - $2.99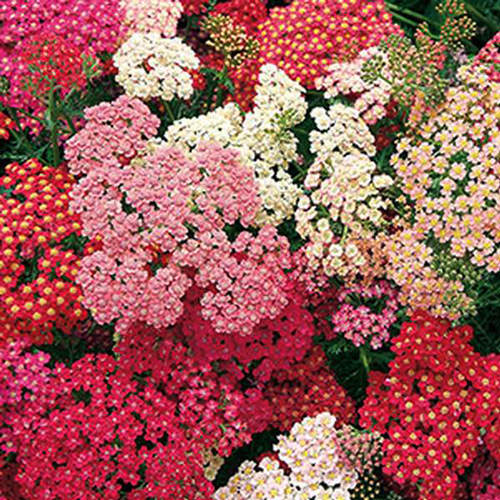 Summer Ber­ries
Yarrow Seeds
Impressive flower heads in bright berry colors above ferny foliage.
50 seeds - $2.99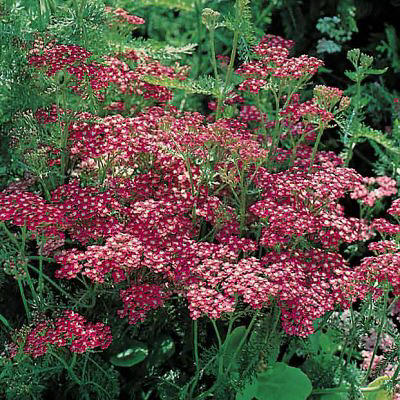 Cerise Queen
Yarrow Seeds
Multiple cherry shades cover 2 ft. ferny, mat-forming plants.
1,000 seeds - $2.49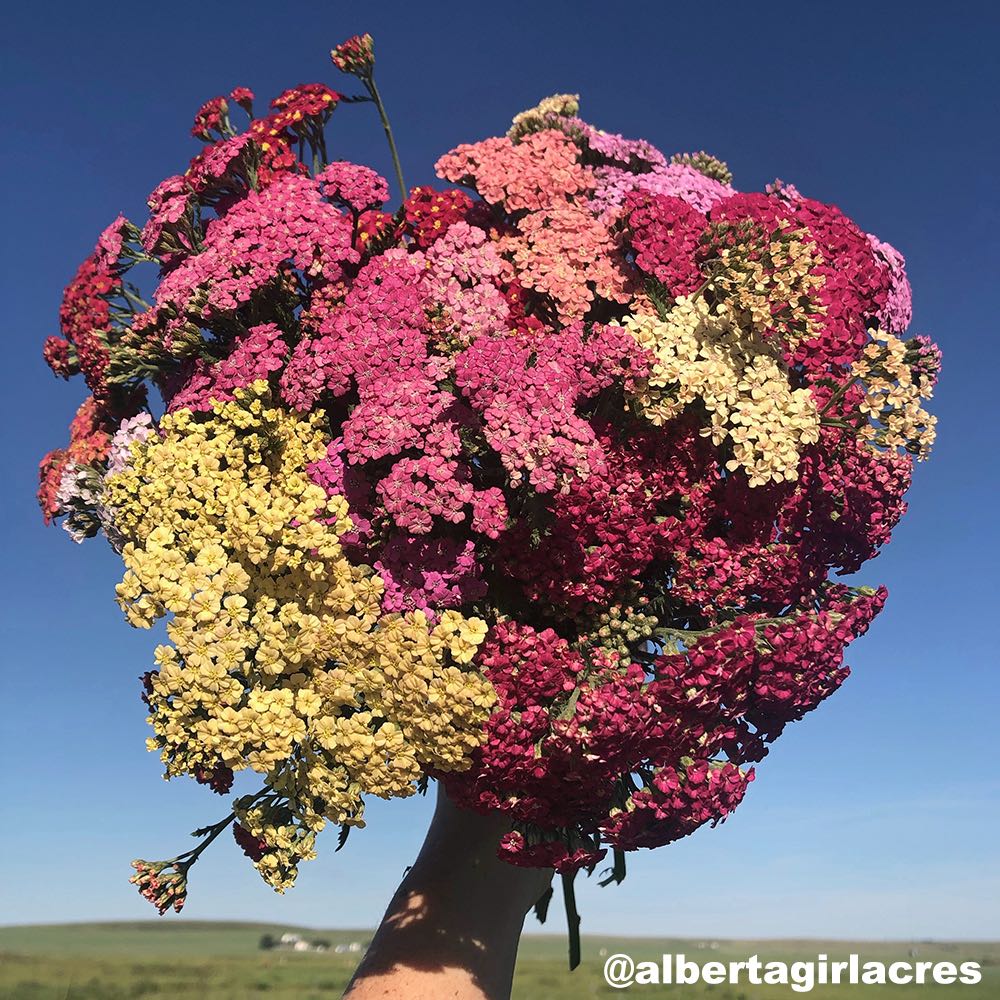 Colo­rado Mix
Yarrow Seeds
Huge flower heads in a varied mix of 6 colors. Excellent cut, fresh or dried.
1,000 seeds - $2.49
---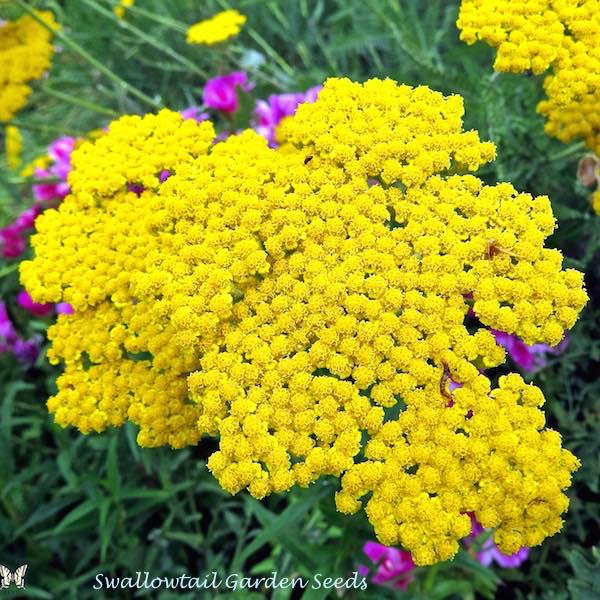 Cloth of Gold
Yarrow Seeds
Taller than most yarrows, with 3-4 in. wide flat flower heads in bright yellow.
4,000 seeds - $2.49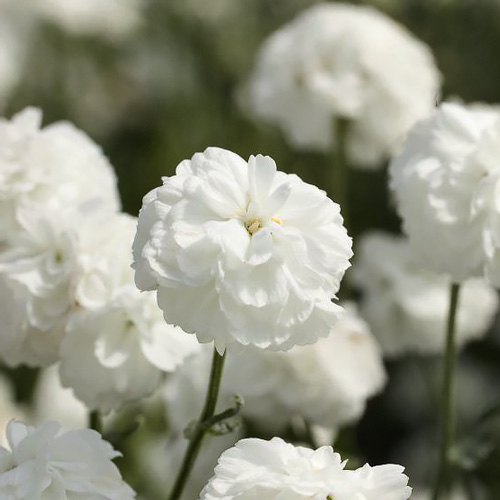 Nob­lessa
Yarrow Seeds
Dwarf, double-flowered white yarrow grows to 12 in. tall. A first year flowering perennial.
50 seeds - $2.49
How to Plant and Grow Yarrow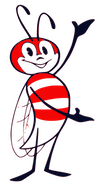 Plant Yarrow Seeds: Sow yarrow seed in cell packs or flats, press into soil, do not cover. Light aids germination. Kept at 70° F., germination in 14-28 days. Can direct sow yarrow seeds into prepared seed beds thinly, in rows spaced 24 in. apart. Thin seedlings to 2-3 ft. apart.
Grow Yarrow: Full sun. Drought tolerant once established, best appearance with some summer water. Average to poor soil, good drainage. Plants tolerate salt, ideal perennial for coastal landscapes. Excellent cut flowers, fresh or dried. Cut plants back by half when flowers fade to stimulate repeat bloom. Divide when plants become crowded. Yarrow is deer and rabbit resistant. Flowers attract butterflies and beneficial insects. Easy to grow.