ECHINACEA SEEDS
Purple Coneflower
Echinacea purpurea, E. hybrida, E. paradoxa
Echinacea, also known as purple coneflower are tough, heat tolerant, drought and deer resistant perennials. Their large flowers attract a variety of butterflies, and are a particular favorite of the Monarch.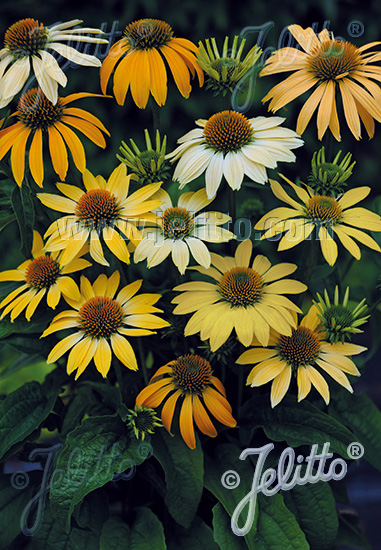 New for 2018
PR18145
MELLOW YELLOWS Echinacea Seeds
Mellow Yellows echinacea is a new 2½ to 3 ft. tall, first year flowering perennial with spectacular coneflowers in warm shades of cream, lemon, and dark yellow.
Mellow Yellows blooms freely over a long June to October season and produces a profusion of long-lasting cut flowers. Plants are winter hardy to zone 4.
---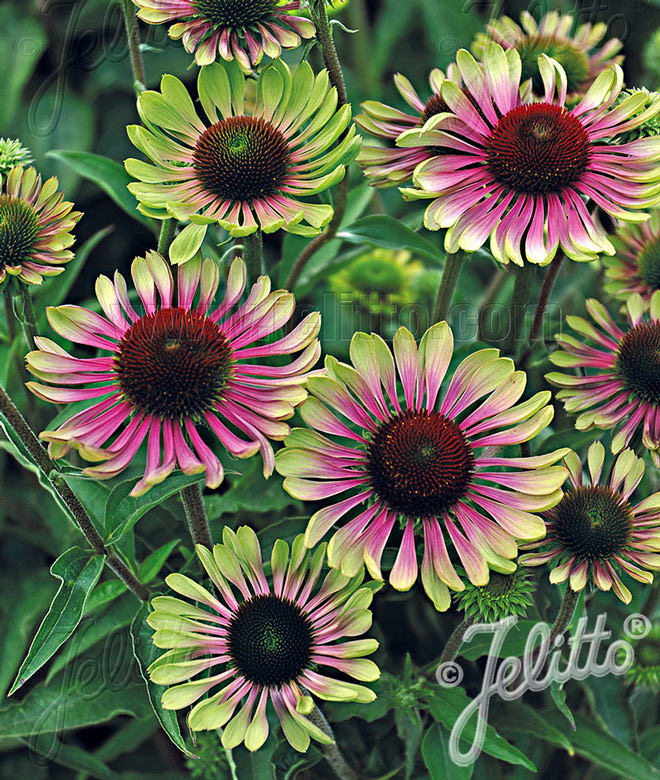 New for 2017/18
CHN0001
GREEN TWISTER Echinacea Seeds
A striking new bicolor echinacea discovered as a natural mutation of Magnus. Green Twister blooms abundantly with horizontally arranged lemon-green petals which transition to light pink and carmine red near the central cone. Flower stems lengthen and thicken after the first year.
Gardeners and florists alike will appreciate Green Twister for the easy to blend colors, long, strong stems, and extended vase life.
Green Twister echinacea will flower the first year when started early. Growth is robust and uniform, plants grow up to 40 in. tall while blooming from July through September. Green Twister is winter hardy to zone 3, and will overwinter more reliably than vegetatively produced echinacea hybrids.
---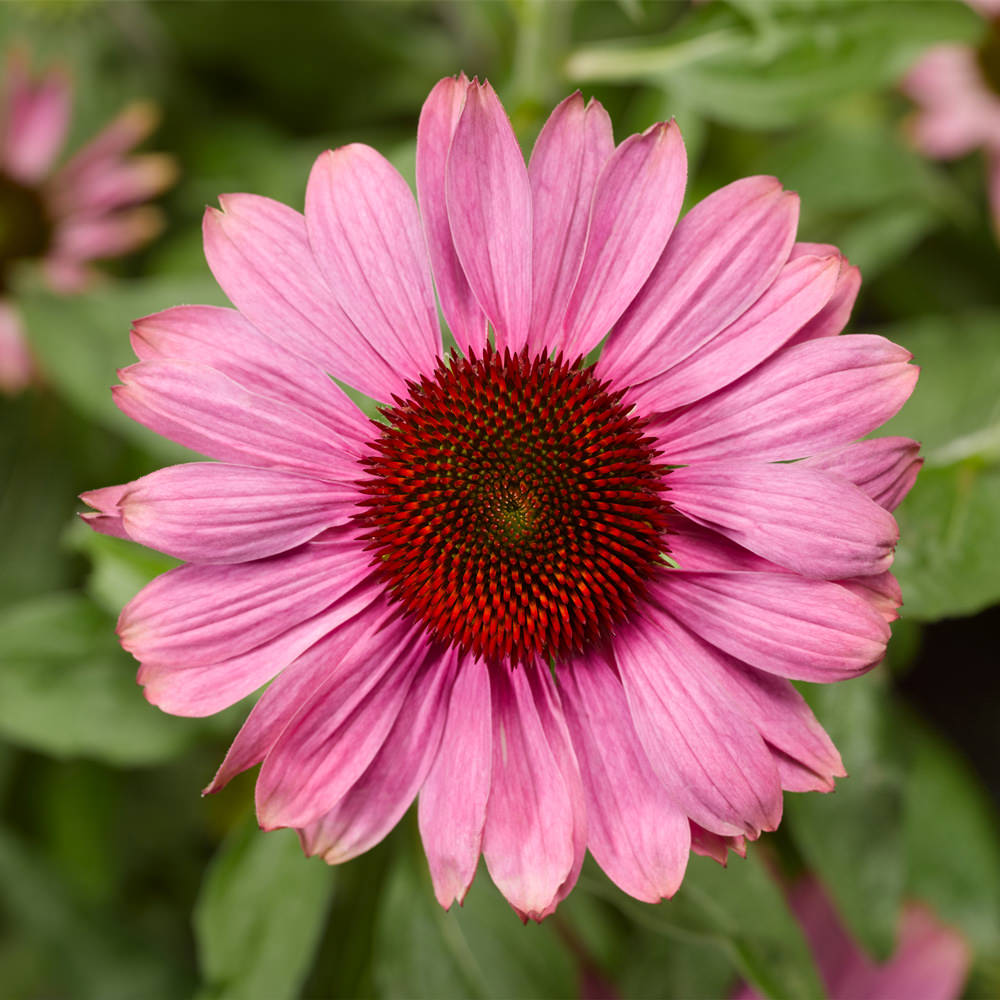 New for 2018
PR18133
ROSE COMPACT PRAIRIE SPLEN­DOR Echinacea Seeds
Rose Compact Prairie Splendor echinacea is a dwarf 14-16 in. tall version of Prairie Splendor Deep Rose echinacea. Plants bloom 2-3 weeks before other echinaceas, flower the first year 100% of the time, and carry huge 4-6 in. flowers.
Rose Compact Prairie Splendor echinacea thrives in containers, beds, and mixed borders.
---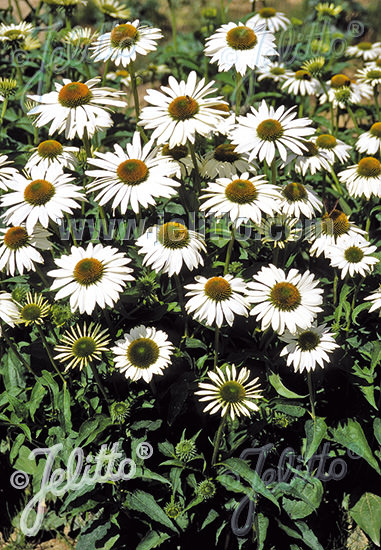 New for 2018
PR18151
HAPPY STAR Echinacea Seeds
Happy Star echinacea holds its pure white flower petals in a horizontal position around large orange-yellow cones. Flowers are long-lasting when cut. Plants grow 3 to 3½ ft. tall, are sturdy and long lived, will bloom from July to October and are winter hardy to zone 3.
---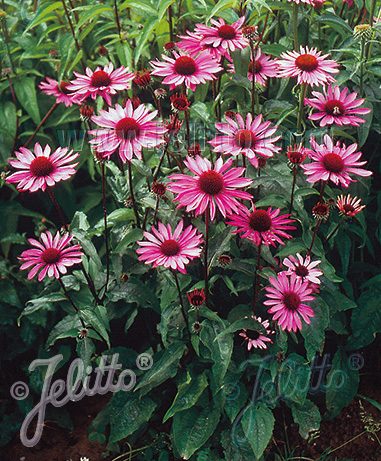 New for 2018
PR18153
RUBY STAR Echinacea Seeds
Ruby Star echinacea produces large, long lasting, intense rose-purple blooms with horizontal flower petals and deep bronze cones. Flowers are held on long, strong stems perfect for cutting.
The 3 to 3½ ft. tall plants are vigorous, sturdy, and long-blooming — flowers begin in midsummer and continue well into the fall. Winter hardy to zone 3. Ruby Star echinacea is a winner of the Award of Garden Merit (A.G.M.) from the Royal Horticultural Society.
---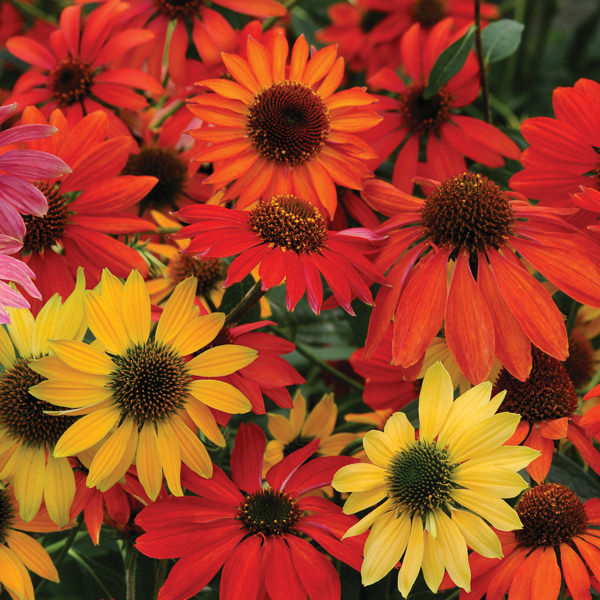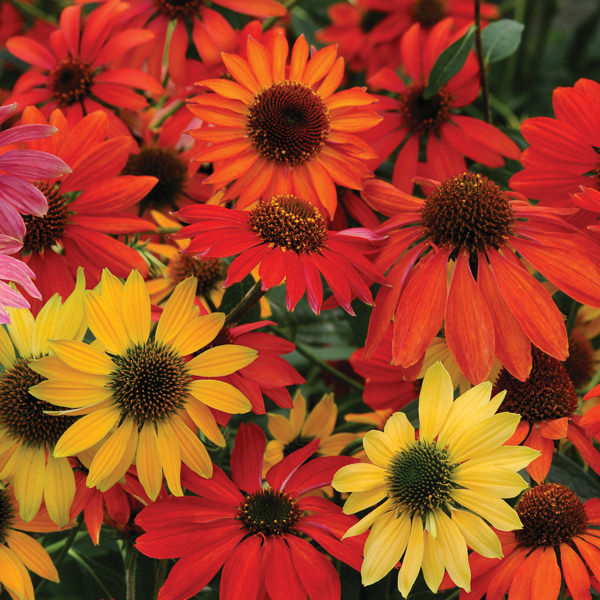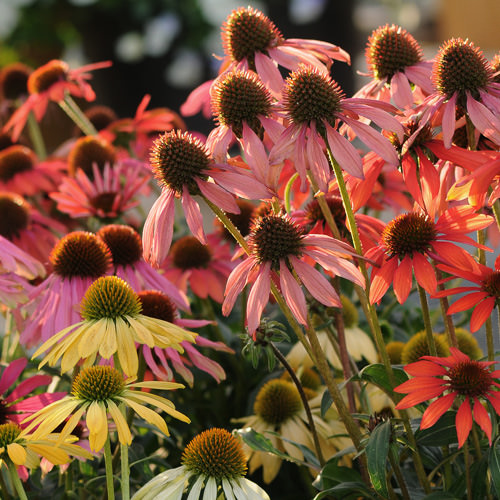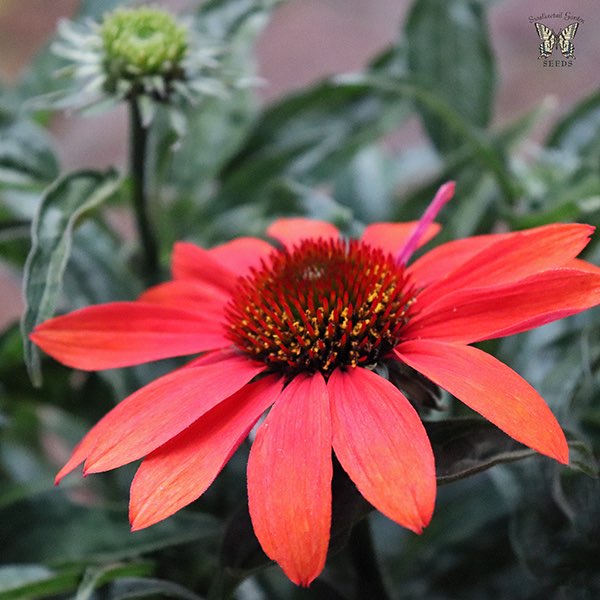 PR11888
CHEY­ENNE SPIRIT Echinacea Seeds Echinacea hybrida
An All America Selections Winner. Exceptional and innovative, first-year flowering, well-formed vivid flowers in shades of gold, scarlet, orange, red, purple, yellow, and cream. The 27-32 in. tall and uniform, extremely well-branched plants are heavy blooming. They produce flowers in gorgeous shades previously seen only in expensive tissue culture produced plants.
Certified by the Dallas Arboretum as a 'Flameproof' plant for exceptional performance during hot Texas summers. Cheyenne Spirit echinacea is a high impact, long-lived perennial for containers or the landscape. Winter hardy to zone 4.
---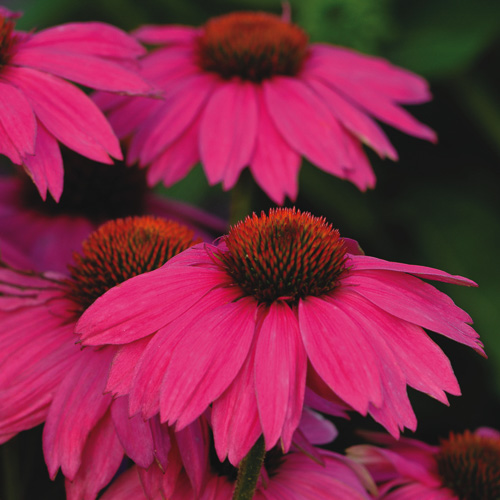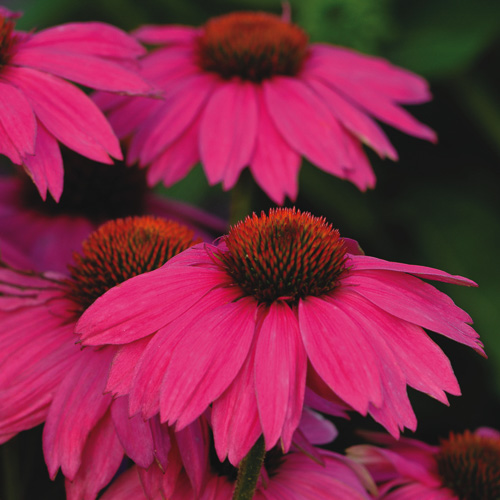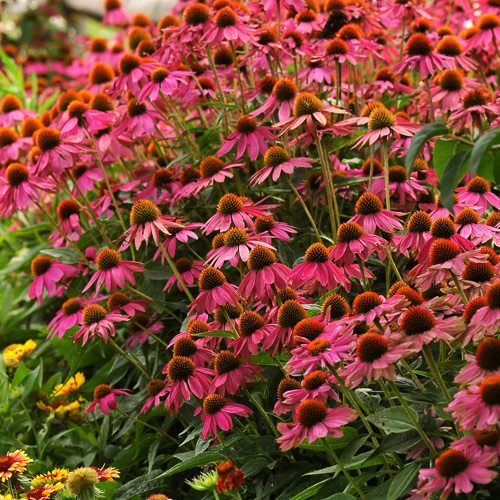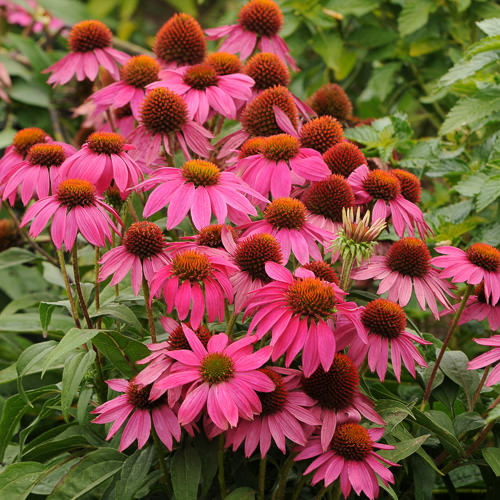 PR11870
POW­WOW WILD BERRY Echinacea Seeds
A milestone in echinacea breeding, PowWow Wild Berry features the most richly colored rosy-purple, non-fade flowers on the best-branching plants. The 3-4 in. blooms do not require deadheading, appear without interruption from early summer until frost and make superb cut flowers.
Powwow Wild Berry is the heaviest flowering echinacea grown from seed. Plants flower the first year when started early. Grows 20-24 in. tall and is winter hardy to zone 3. A 2010 All-America Selections Winner.
---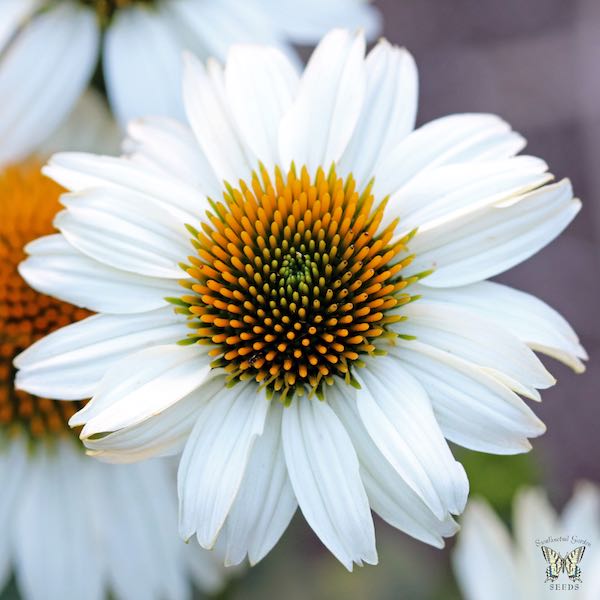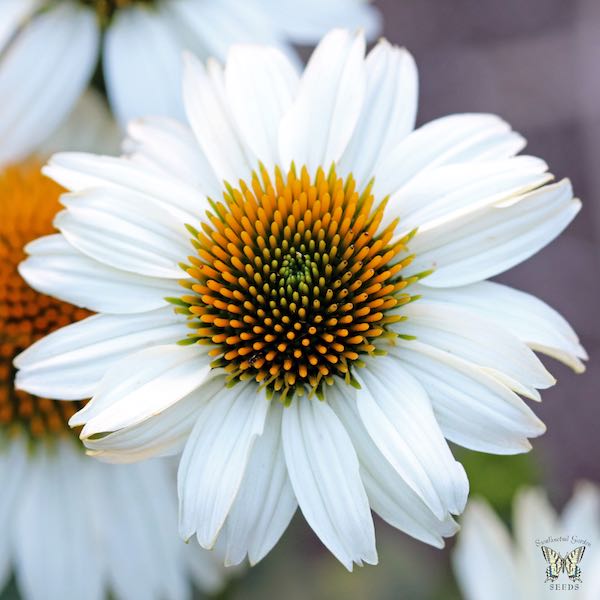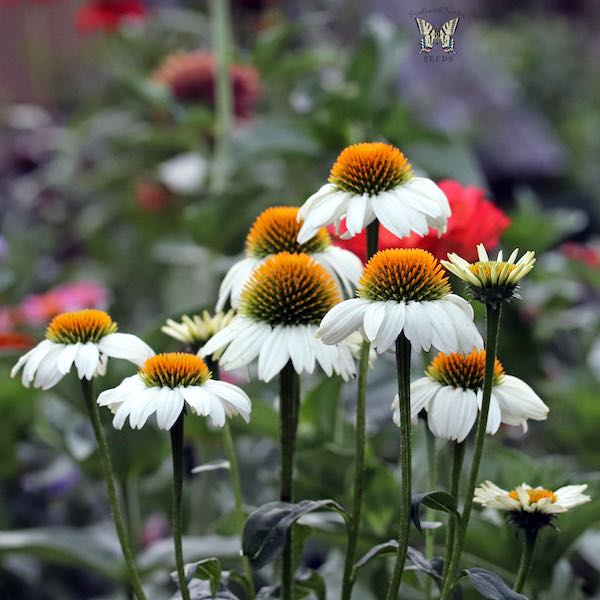 NEW FOR 2018
PR18999
POW­WOW WHITE Echinacea Seeds
PowWow White holds pure white, 3-4 in. flowers on free-branching, 18-24 in. tall plants. Blooms appear heavily and continuously from early summer until frost. Deadheading is not required.
PowWow White echinacea flowers the first year when started early and is winter hardy to zone 3.
---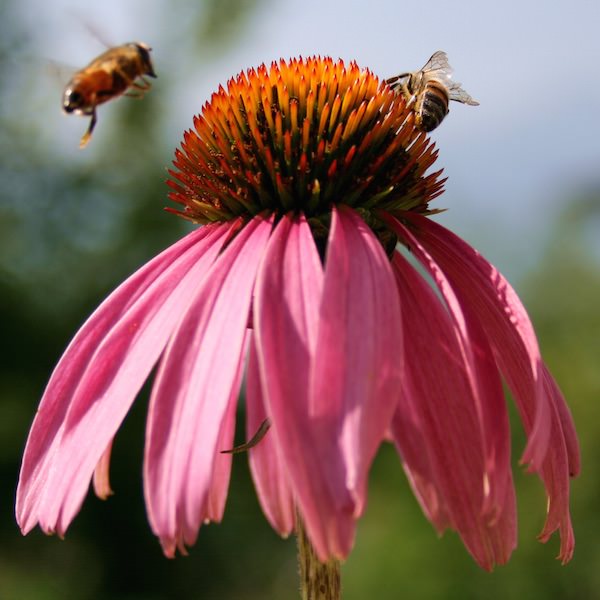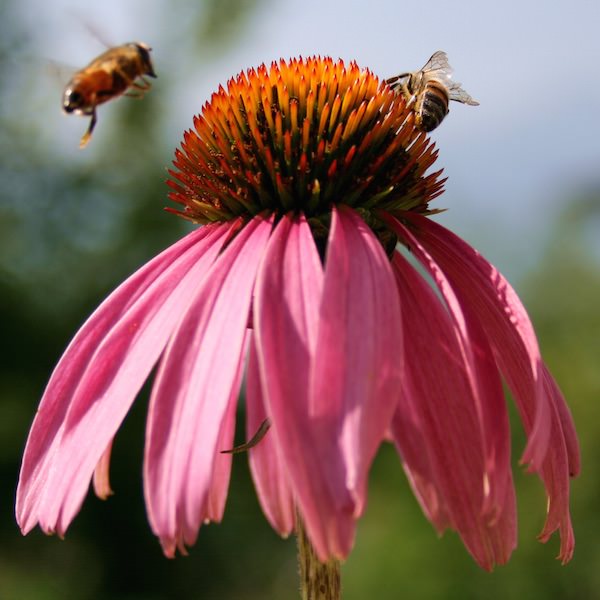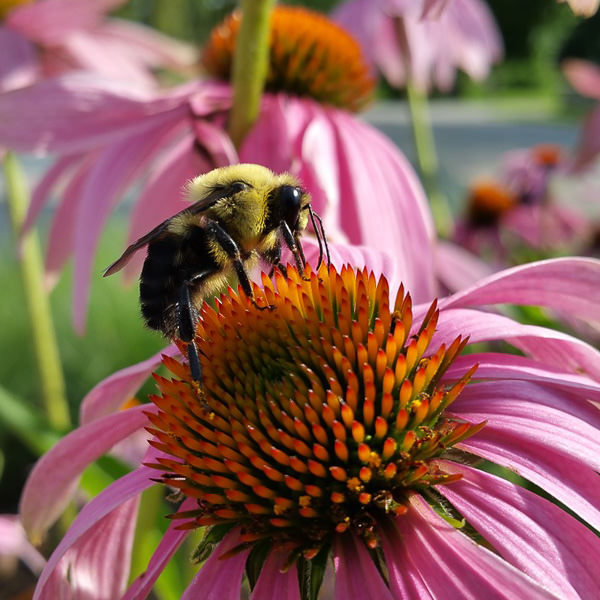 PR00823
ECHI­NACEA PUR­PUREA Purple Coneflower Seeds
This prairie native holds 4 in. rose-purple flowers with prominent orange-tipped cones, and downward pointing petals. Plants flower July-September, produce long-lasting cut flowers.
Echinacea purpurea is well known for its valuable medicinal qualities. Winter hardy to zone 3. Packet is 2 grams, about 450 seeds.
---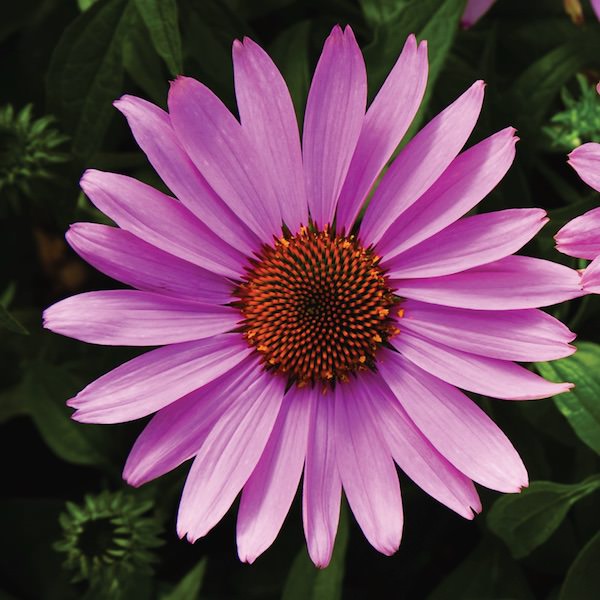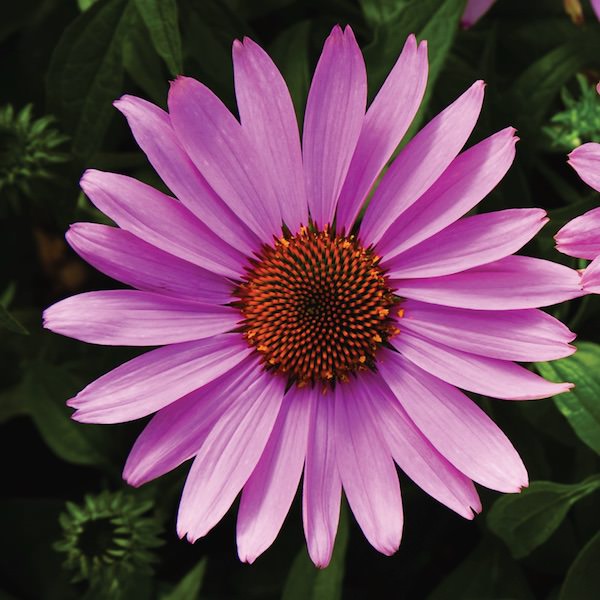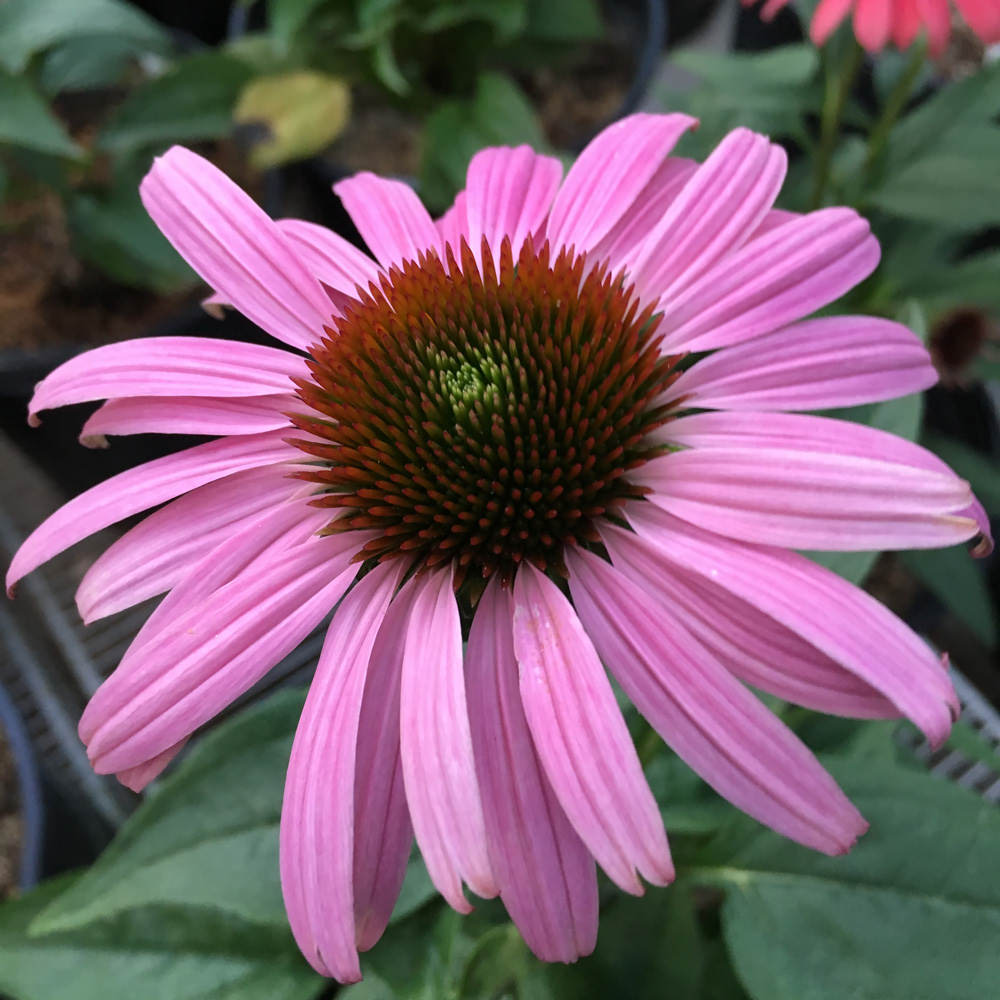 PR09516
PRAIRIE SPLEN­DOR DEEP ROSE Echinacea Seeds
Prairie Splendor Deep Rose is the longest-blooming echinacea, and the first to flower from seed the first year, 100% of the time. Huge 4-6 in. rose-pink flowers appear in June and continue to bloom until frost, a first for echinaceas.
Compact, well branched 2 ft. tall plants are perfect for borders, and performance is unmatched in pots. Winter hardy to zone 3. A 2007 Fleuroselect Gold Medal winner (Europe's top prize).
---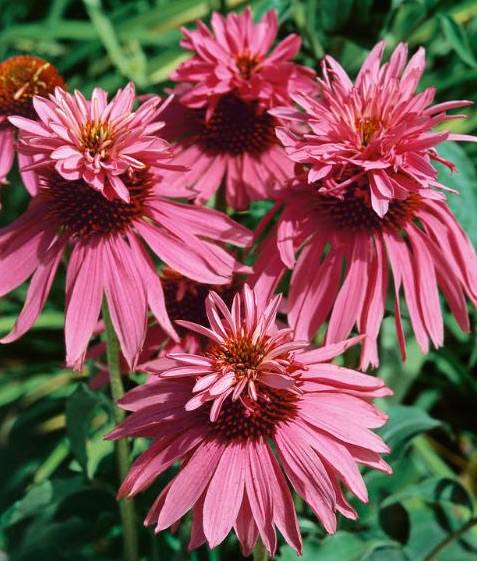 PR07136
DOUBLE DECKER Echinacea Seeds
Single coneflowers appear the first year. The big pay-off is in year 2 and beyond. A high percentage of flowers will appear as 'twins.' These blooms put on an impressive summertime show. Monarch butterflies perching on these flowers, create a memorable sight.
Sturdy, long stems make Double Decker echinacea an excellent source of cut-flowers. Plants are winter hardy to zone 3.
Grow Double Decker echinacea with Snow Thimble foxglove, or Snow Cloud Jupiter's beard to produce a high impact planting.
---
PR00826
MAGNUS SUPE­RIOR Echinacea Seeds
Intense lavender-pink flowers with near horizontal petals. The blooms of Magnus Superior are deeper in color with larger cones when compared to Magnus echinacea. The growth habit of Magnus Superior is also more uniform. Plants are winter hardy to zone 3.
Grow Magnus Superior echinacea with Globetrotter agastache, Milkmaid butterfly weed, Giant Yellow Herold foxglove, Sunshine hollyhock, Sunburst Colours penstemon, Fama Deep Blue scabiosa, and Emperor's Waves sedum.
---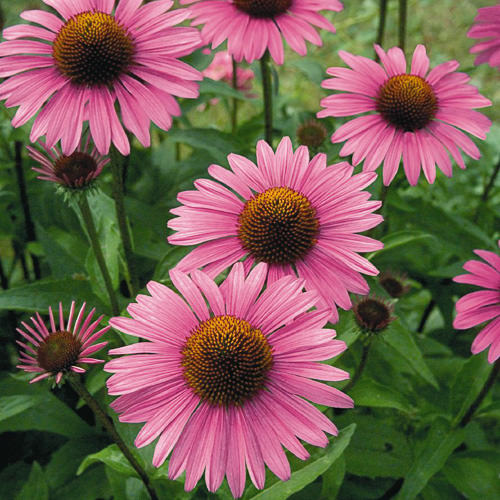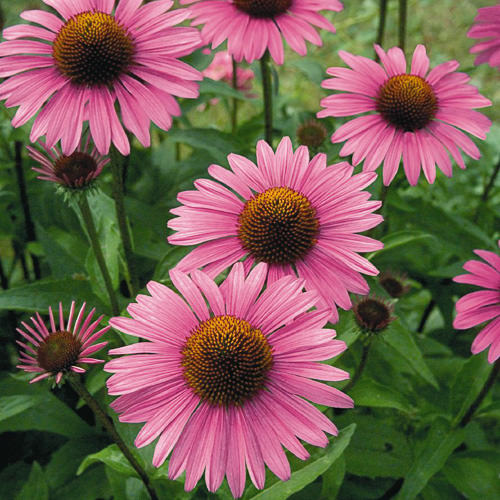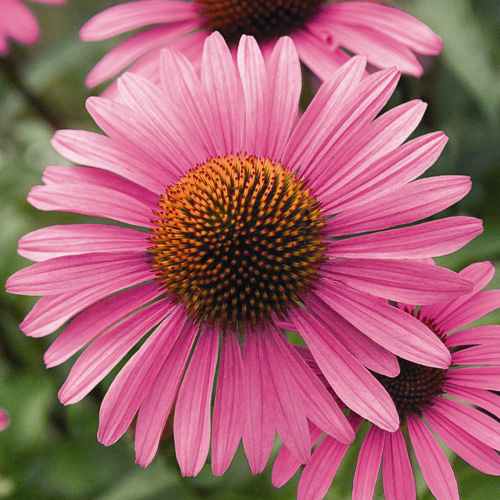 PR09517
PRIMA­DONNA DEEP ROSE Echinacea Seeds
Huge 4-6 in. wide, deep rosy-pink flowers with dark bronze cones. Petals are held straight out. Plants reach 30-34 in. tall and are winter hardy to zone 3.
Many professional growers consider Primadonna Deep Rose to be the best echinacea to grow for cut flowers.
---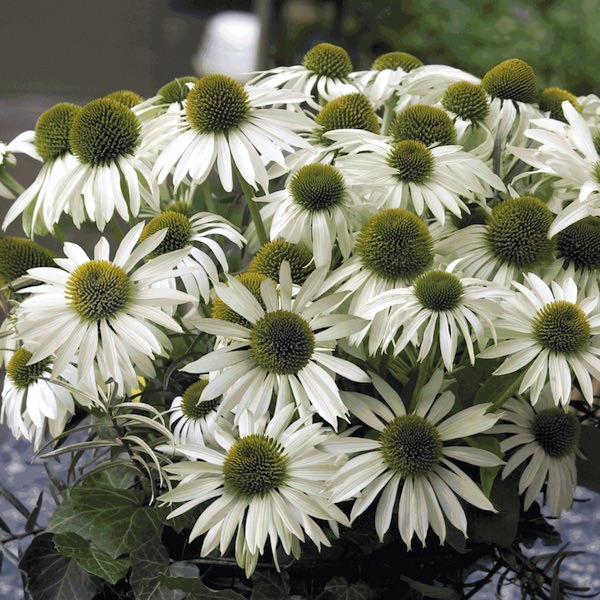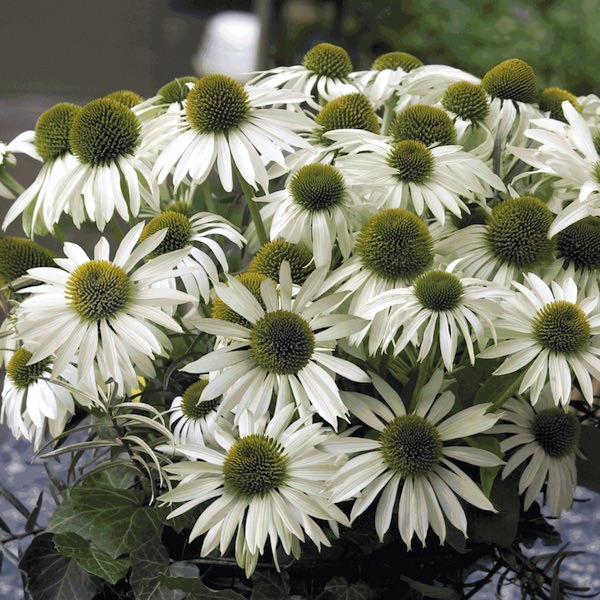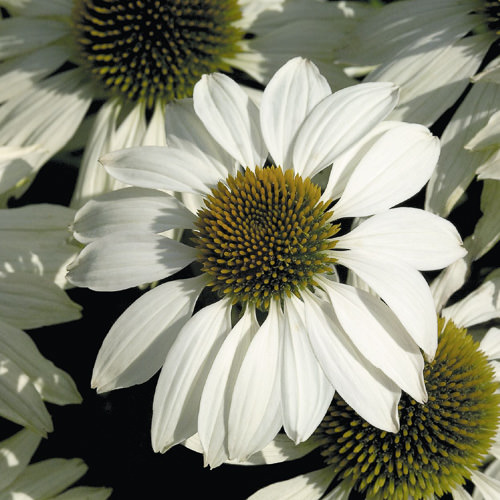 PR09518
PRIMA­DONNA WHITE Echinacea Seeds
Impressive 4-5 in. white flowers with near horizontal petals. Flowers are held on thick and strong stems, are superb for cutting. Plants grow 30-34 in. tall. Winter hardy to zone 3.
Grow Primadonna White echinacea with Blue Cap sea holly.
---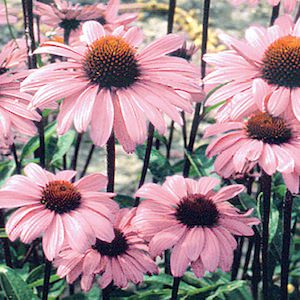 PR09519
BRAVADO Echinacea Seeds
Purple-rose 4-5 in. flowers. Petals are wide and briefly held in a horizontal position, then fold back into classic coneflower shape. Flower cones are an attractive golden orange. Blooms show a range of tones, from soft to deep. Plants grow 3-4 ft. tall. Winter hardy to zone 3.
---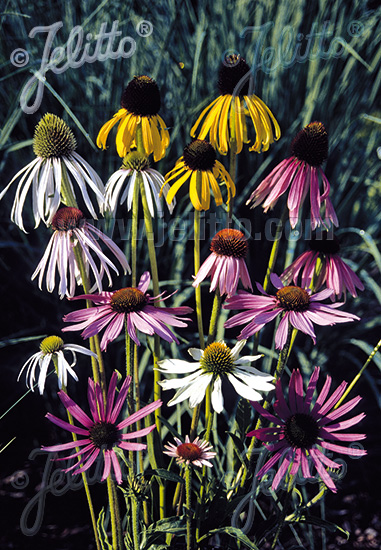 CHN0002
CONE­FLOWER MIX Echinacea Seeds Echinacea species and hybrids: purpurea x paradoxa x pallida x angustifolia x tennesseensis
A unique echinacea mix of five species and their hybrids. A vibrant bouquet of white, yellow, light pink, and red-purple flowers all in one mix. Coneflower Mix echinaceas are excellent cut flowers.
Plants flower the first season — grow to 30 to 48 in. tall and produce a rainbow of coneflower color from June through October.
Coneflower Mix echinacea seed is quick to germinate with no fuss and plants are vigorous and easy to grow. In our garden Coneflower Mix echinaceas bloomed earlier in the first season than nearly all the other echinaceas we tested. Only Prairie Splendor Deep Rose was able to bloom as quickly as Coneflower Mix.
---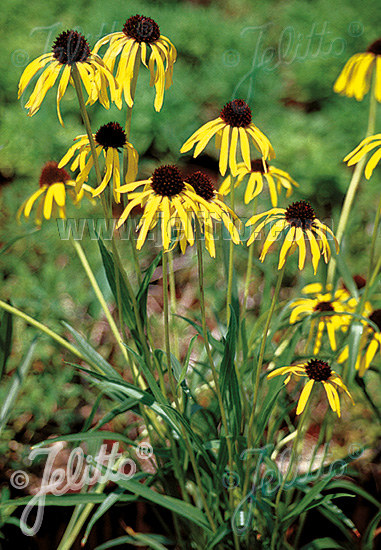 PR11910
YELLOW CONE­FLOWER Echinacea Seeds Echinacea paradoxa var. paradoxa
Yellow coneflower produces 4 in. flowers with prominent coppery-brown tipped cones, and drooping yellow petals. Blooms are long-lasting cut. Plants flower from June to September.
Yellow coneflower is a tough, heat tolerant, easy to grow 2-3 ft. tall perennial. Seeds will occasionally require chilling, instructions included. Winter hardy to zone 4.
---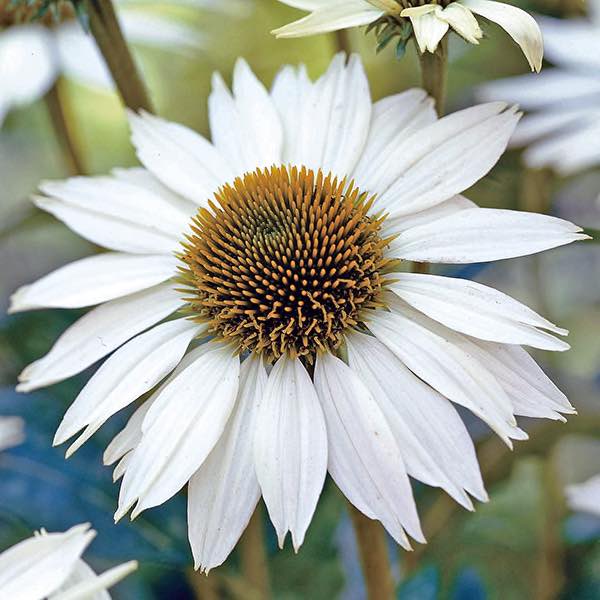 PR00827
WHITE SWAN Echinacea Seeds
Creamy white, honey-scented flowers bloom within 4 months from seed. White Swan echinacea is lower growing than most coneflowers. In our experience, 24 in. tall is the average plant height. White Swan is an especially good echinacea to grow in containers. Winter hardy to zone 3.
White Swan echinacea combines beautifully with alyssum and lobelia.
Sold out
---
How to Plant and Grow Echinacea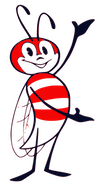 Plant Echinacea Seeds: Sow echinacea seed in cell packs or flats, press into soil and cover lightly. Kept at 70°F., germination averages 10-21 days. Can direct sow echinacea seeds into prepared seed beds, ⅛ in. deep in groups of 3-4 seeds, spaced 18-24 in. apart. Thin to the strongest seedling.
Tips for producing beefy echinacea plants under fluorescent lights: To maximize vegetative growth after germination provide 18-24 hours of artificial light per day. Move your echinacea plants outdoors when natural day length has reached 13+ hours (early to mid April).
Grow Echinacea: Full sun. Echinacea will tolerate some drought once established; performance is better with regular water. Purple coneflowers attract bees, butterflies, and beneficial insects. Blooms are long lasting when cut. Plants are deer resistant. Our favorite echinaceas to grow in containers are Cheyenne Spirit, the Powwows—Wild Berry and White, and the Prairie Splendors—Deep Rose and Rose Compact.