How to Plant and Grow Goldenrod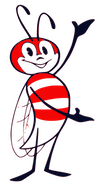 Plant Goldenrod Seeds: Sow goldenrod seeds in cell packs or flats, press into soil and barely cover. Needs light to germinate. Kept at 70°F., germination is in 14-21 days. Transplant goldenrod seedlings into the garden 12-18 in. apart. See starting your seeds indoors under lights for a great method of starting goldenrod seeds.
Grow goldenrod: Full sun, part shade in hottest climates. Non-invasive, a perfect addition to your mixed borders. Plants tolerate some drought, perform better with moderate water. Golden Baby goldenrod is low maintenance, highly resistant to mildew, virtually immune to rust, and rarely bothered by insects. Plants tolerate heat and humidity, and are disease, rabbit, and deer resistant. Pollen is too heavy to become wind borne, it will not induce an allergic reaction. Goldenrod flowers attract bees, butterflies and birds.
Goldenrod cold tolerance: Golden Baby goldenrod is a winter hardy perennial to USDA zone 4, -30 to -25°F.