CUCUMBER SEEDS
Cucumis sativus, C. melo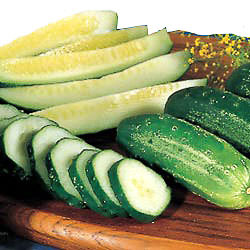 VG00075
HOMEMADE PICKLES Cucumber Seeds (OP) 60 days
Organically grown. Vigorous, disease resistant plants produce pickle-shaped fruits with solid, crisp interiors. Pick small for sweet pickles, or at 5-6 in. for dills.
---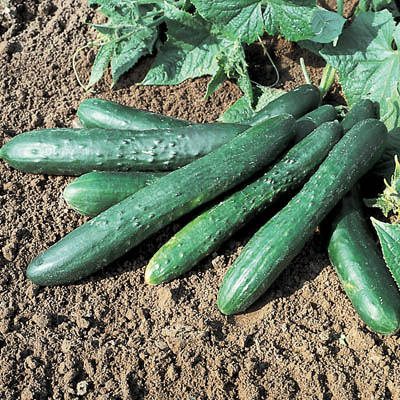 VG00074
SWEET SUCCESS Cucumber Seeds 58 days
The Cadillac of cucumbers, it is the sweetest, tastiest cuke we know. Vigorous, disease resistant plants set fruit without pollination, fruits will produce a few small seeds if another variety is planted nearby. Cucumbers average 12-14 in. long.
---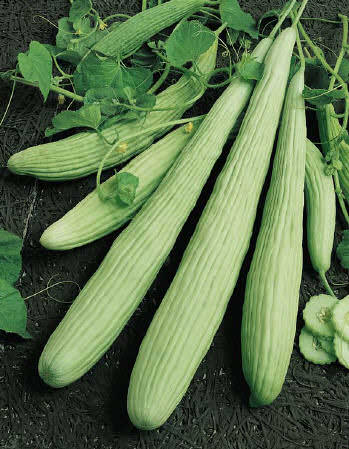 VG10073
AR­MENIAN Cucumber Seeds Cucumis melo (OP) 64 days
Organically grown. aka the "Yard Long Cucumber." Long, pale, ribbed fruits are crisp, juicy, sweet, and never need peeling. They are at their very best picked at about 1 ft. long. Train on trellis to keep fruit straighter, harvesting easier.
---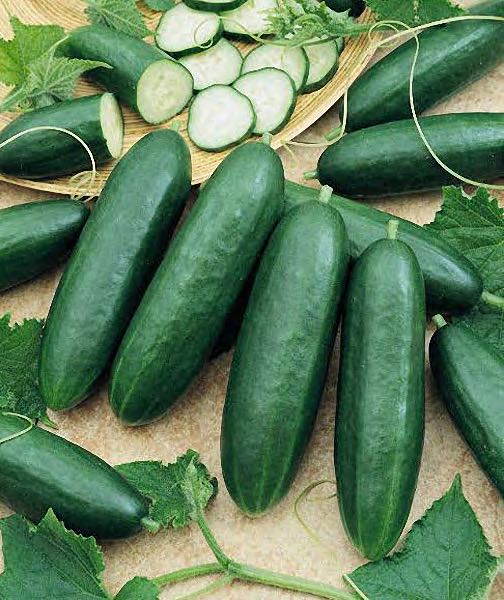 VG07208
DIVA Cucumber Seeds 58 days
This 2002 All-America Selections Winner is a heavy producer of some of the finest burpless cucumbers to be found. Skin is thin and tender, flavor is sweet, disease resistance is outstanding. Fruits grow 6-8 in. long, for very finest flavor pick at about 4 in.. 'Diva' produces all female flowers, does not require pollination to set fruit.
---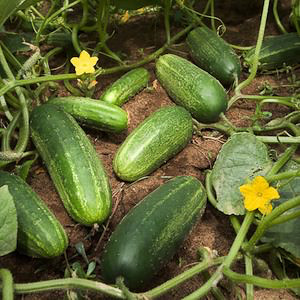 VG09635
H-19 LITTLE LEAF Cucumber Seeds (OP) 57 days
Organically grown. Unusually small leaves make the cucumbers easy to find at harvest time. Compact, highly disease-resistant, multi-branching vines produce a huge bounty of emerald green, medium-sized, blocky cucumbers that are equally useful for pickles or eating fresh. Plants set fruit without pollination, so they can be grown under row covers or in greenhouses with great success.
---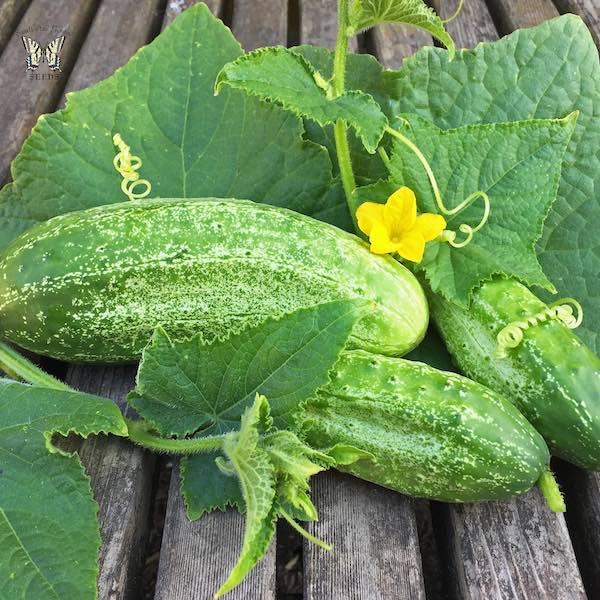 CU00001
BOSTON PICKLING IMPROVED Cucumber Seeds (OP) 57 days
First offered in the 1880s, these cukes are still among the best to grow for making pickles due to their unrivaled crispness, uniform shape and smooth, bright green skin. Expect huge yields; pick when fruit is 2 to 6 inches long. Packet is 40 seeds.
---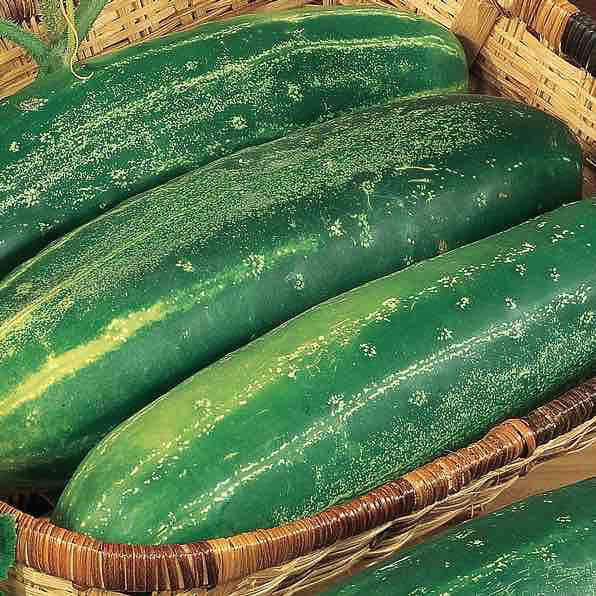 VG00347
STR­AIGHT EIGHT Cucumber Seeds (OP) 63 days
Organically grown. An All-America Selections Winner from 1935, and still a top variety today! Straight Eight never disappoints, consistently producing heavy yields of straight- as-an-arrow 8 in. tasty cukes with a uniform deep green color and very few seeds.
Sold out
---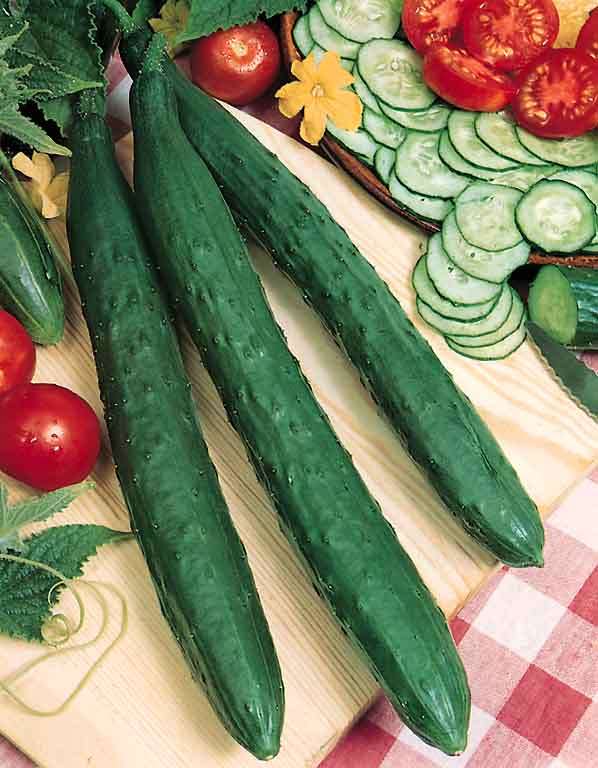 VG00076
TASTY JADE Cucumber Seeds 54 days
This 12 in. long, thin skinned cuke is completely bitter-free, with wonderful, crispy, fresh flavor. Plants are vigorous, high-yielding and disease resistant. Will produce fruit without pollination; it can be grown in a greenhouse or outdoors.
Sold out
---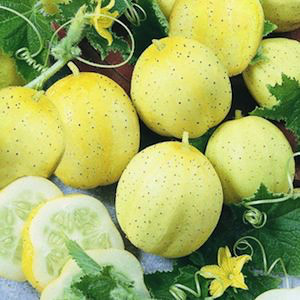 VG00077
LEMON Cucumber Seeds (OP) 60 days
Organically grown. Light green to yellow, rounded American heirloom heavily produces crisp, sweet, easily digested fruits. Lemon Cucumbers are outstanding in salads, or as pickles; chances are (just like us), you will eat most of these delectable nuggets out-of-hand like an apple. Best picked at 2 in. in diameter, when they are light green, showing a light yellow blush.
Sold out
---
Back to Top
How to Plant and Grow Cucumber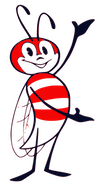 Plant Cucumber Seeds: Sow cucumbers seeds indoors in cell packs or 2 in. pots 2-4 weeks before the last spring frost. Use 3 seeds per pot and do not thin. Kept at 70-90°F., germination is in 5-10 days. Transplant into the garden 2 ft. apart in rows 5-6 ft. apart. Can direct sow 5 seeds per foot, 1/2 to 1 in. deep in rows 5-6 ft. apart. Thin to 1 ft. apart.
Grow Cucumber: Plant cucumbers in rows, hills or on trellises. Good performers in large containers. Harvest frequently to keep the plants producing.