DELPHINIUM SEEDS
Candle Larkspur
Delphinium elatum, D. grandiflorum
Delphiniums are classic cottage-garden perennials. Flowers are superb for cutting. Delphinium plants thrive in moist soil, full sun to part shade.
MAGIC FOUNTAINS SERIES Delphinium Seeds Delphinium elatum
Magic Fountains series delphiniums offer the widest color range of the dwarf Pacific type delphiniums. Light or dark bees highlight nearly every flower. Magic Fountains delphiniums are ideal plants for smaller gardens and containers, especially in windy areas where tall delphiniums would struggle. Magic Fountains delphiniums grow 30-36 in. tall, do not require staking, provide plenty of cut flowers. Plants are winter hardy to zone 3.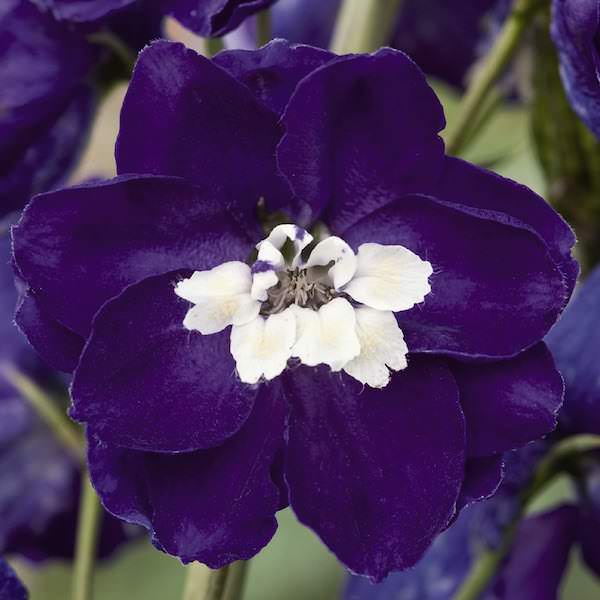 PR09525
MAGIC FOUNTAINS DARK BLUE/WHITE BEE Delphinium
Richly-colored deep blue flowers, with glowing white bees.
---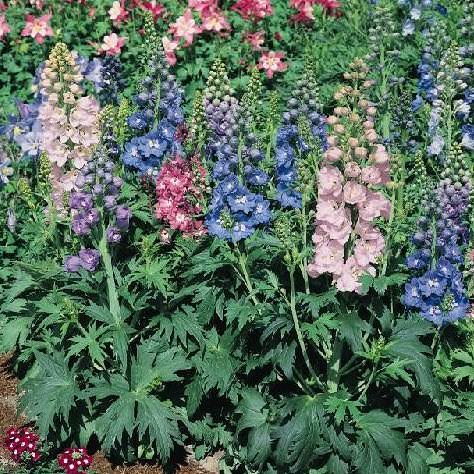 PR14050
MAGIC FOUNTAINS MIX Delphinium
A formula mix of all the delphinium colors in the Magic Fountains series.
---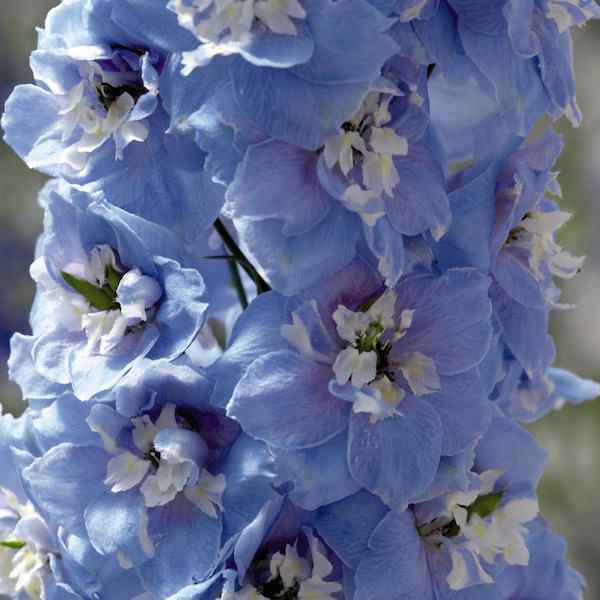 PR01713
MAGIC FOUNTAINS SKY BLUE/WHITE BEE Delphinium
Warm sky-blue flowers, with white bees.
---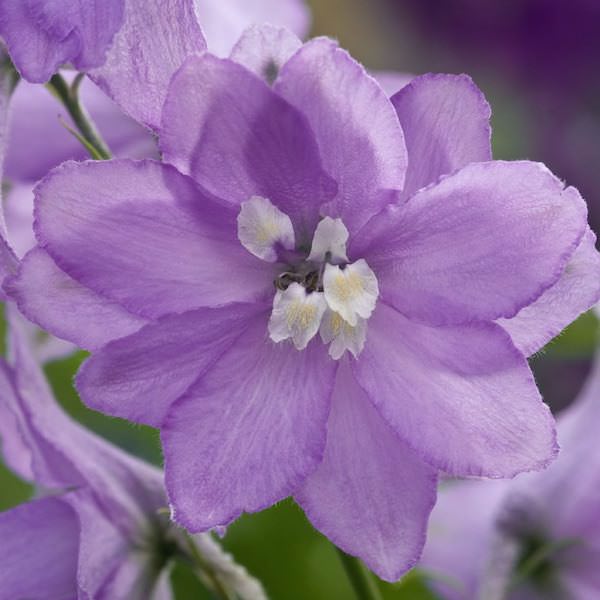 PR03232
MAGIC FOUNTAINS LAVENDER/WHITE BEE Delphinium
Clear lavender-blue flowers, with white bees.
---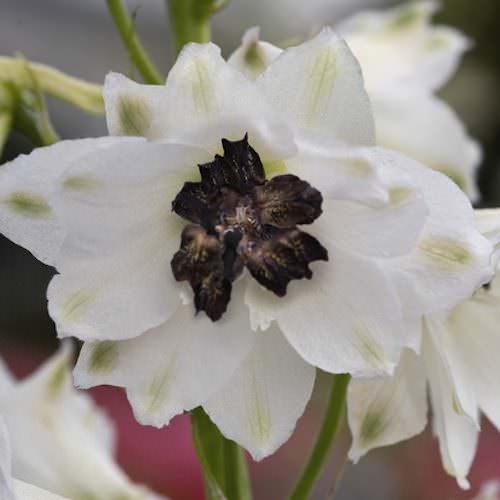 PR01714
MAGIC FOUNTAINS WHITE/DARK BEE Delphinium
White flowers, with striking dark bees.
---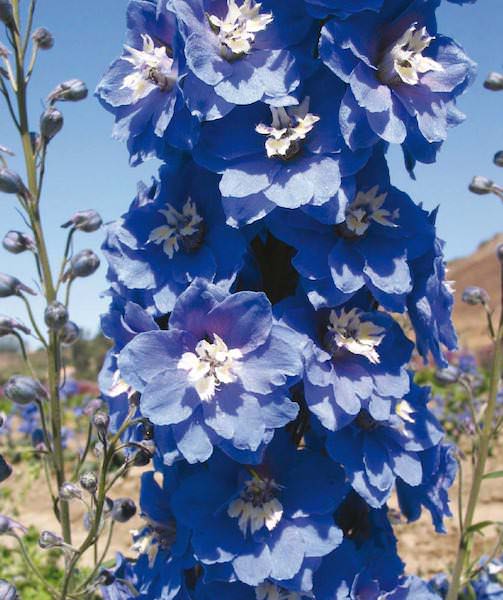 PR14010
MAGIC FOUNTAINS MID BLUE/WHITE BEE Delphinium
Blooms of the clearest-blue, with white bees.
---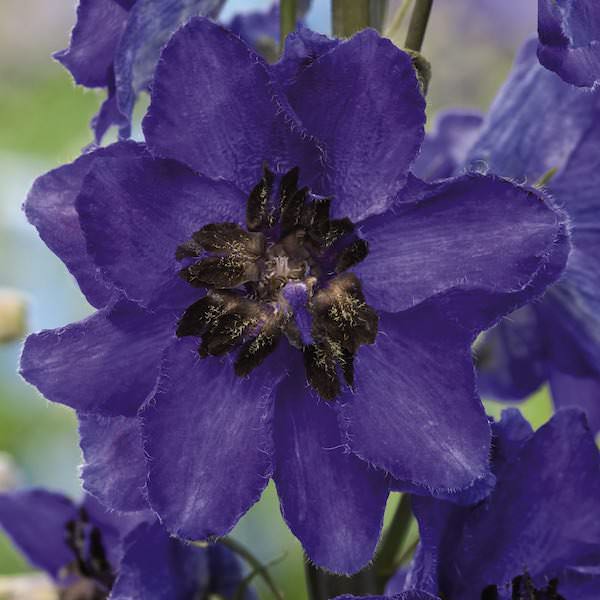 PR09527
MAGIC FOUNTAINS DARK BLUE/DARK BEE Delphinium
Black centers provide sharp contrast for the richly-colored, deep-blue flowers.
---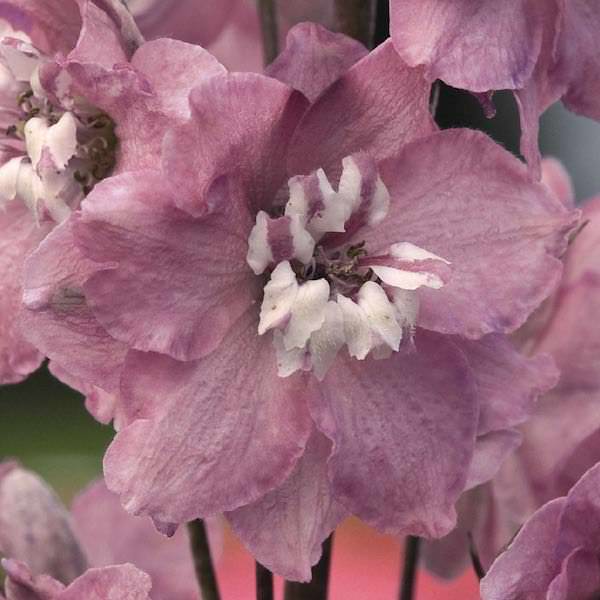 PR09526
MAGIC FOUNTAINS CHERRY BLOSSOM/WHITE BEE Delphinium
Softly-colored cherry-red flowers, with white bees.
---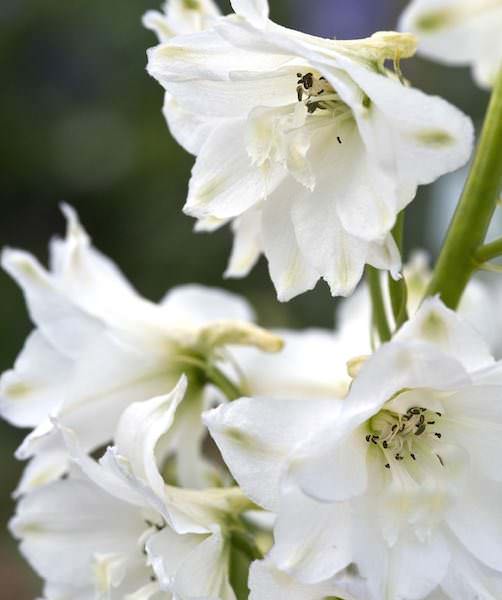 PR09531
MAGIC FOUNTAINS PURE WHITE Delphinium
Pure-white flowers.
---
PACIFIC GIANT SERIES Delphinium Seeds Delphinium elatum
Huge 3 in. double summer flowers are excellent for cutting. When first flower spike is removed immediately after bloom, additional spikes quickly form. Plants grow 4-7 ft. tall, need staking to protect heavy flower spikes from the wind. The palmate-shaped leaves are large. Pacific Giant series delphiniums are dramatic plants for the cottage garden or the back of borders. Winter hardy to zone 3.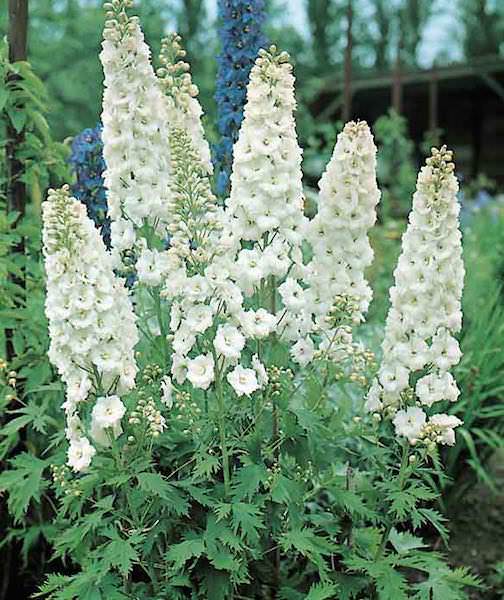 PR00801
PACIFIC GIANT GALAHAD Delphinium
Huge clear-white flowers.
---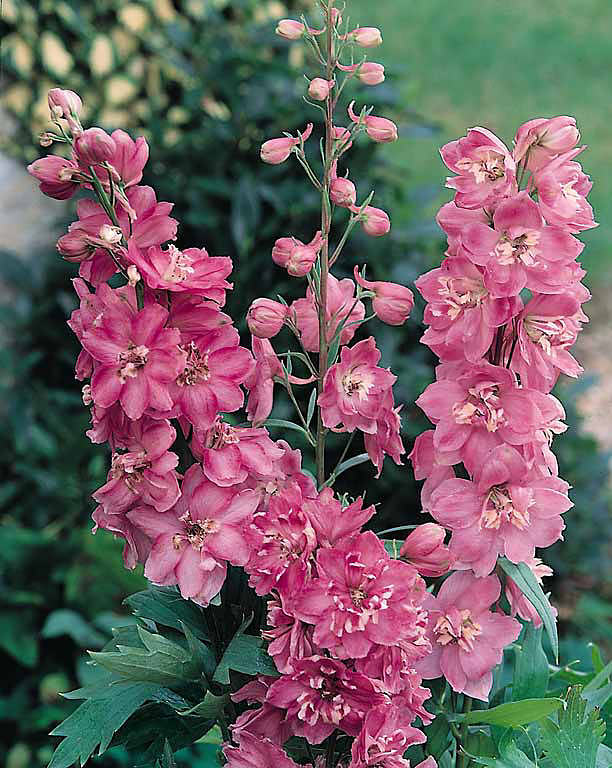 PR00799
PACIFIC GIANT ASTOLAT Delphinium
Flowers are colored rosy-lilac. Bees are raspberry/black.
---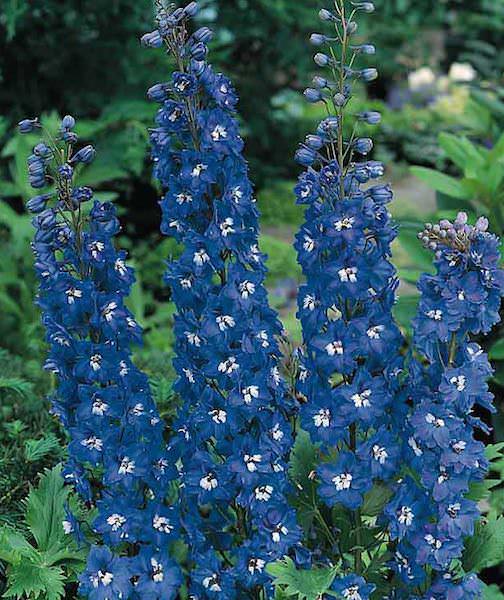 PR00800
PACIFIC GIANT BLUE BIRD Delphinium
Gorgeous medium-blue flowers, with white bees.
---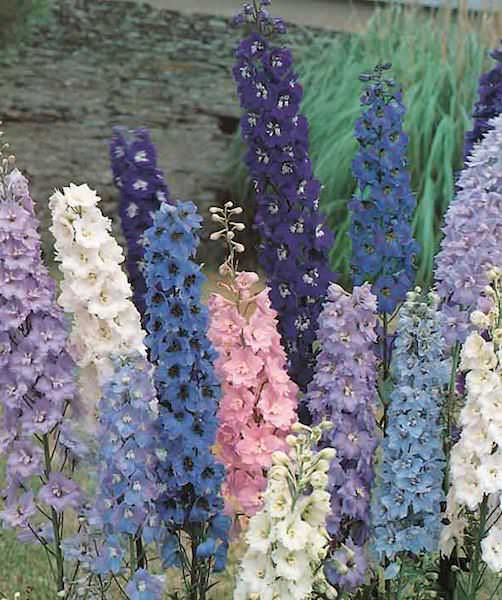 PR07031
PACIFIC GIANT FORMULA MIX Delphinium
Pacific Giant Mix delphiniums include flowers in shades of rosy lilac, light blue, mid blue, lavender blue, lavender pink, royal violet, dark violet and white. All blooms have dark or white bees.
---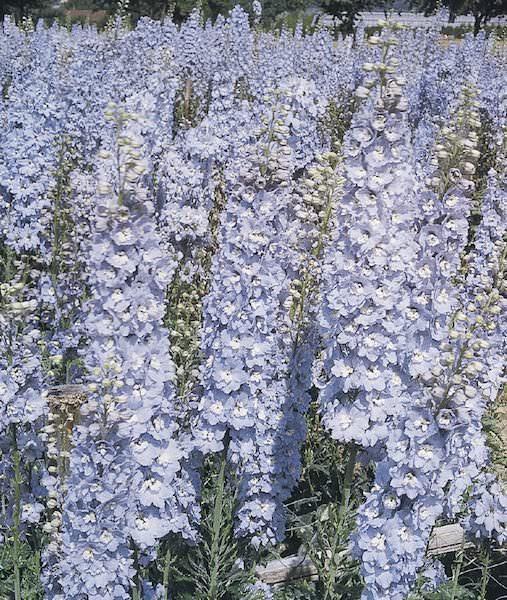 PR00805
PACIFIC GIANT SUMMER SKIES Delphinium
Soothing soft sky-blue flowers with white bees.
---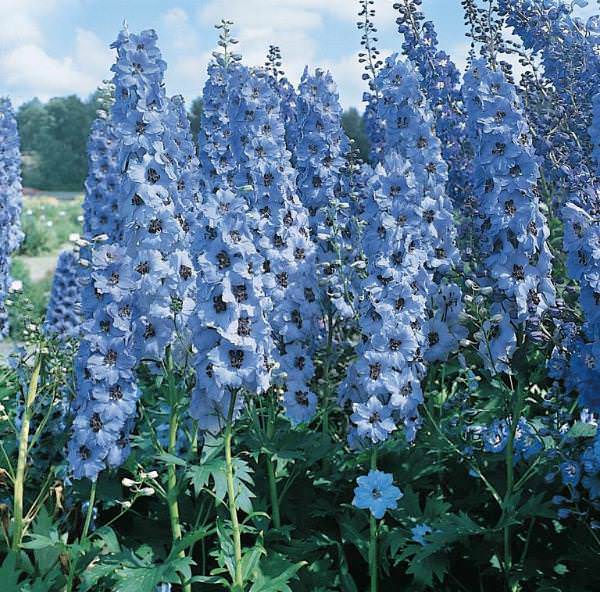 PR08207
PACIFIC GIANT BLUE JAY Delphinium
Clear medium-blue flowers with dark bees.
---
PR08206
PACIFIC GIANT BLACK KNIGHT Delphinium
Gorgeous dark violet-purple flowers. Pacific Giant Black Knight is the darkest-colored delphinium in the Pacific Giant series.
---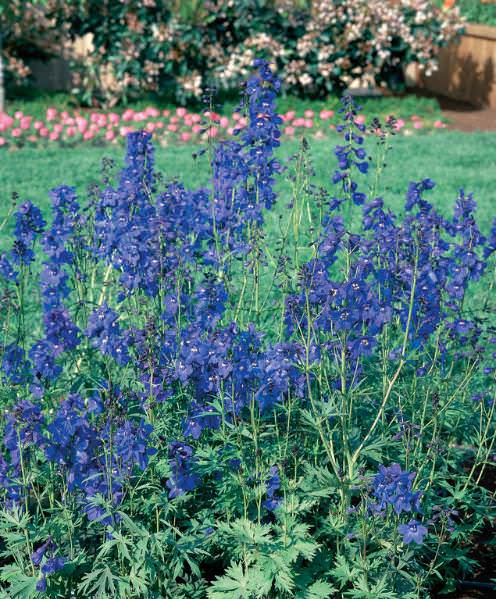 PR08205
BELLAMOSA Delphinium Delphinium x belladonna 'Bellamosa'
A species delphinium with more bushy growth, more flowering stems than most delphiniums. Open and airy clusters of dark gentian-blue flowers are sure to delight midsummer until fall. Plants grow 36-48 in. tall, are winter hardy to zone 4.
---
Back to Top
How to Plant Delphinium Seeds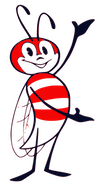 Sow Delphiniums: Sow seeds in cell packs or flats, press into soil, fully cover. Darkness will aid germination. Kept at 55°F., germination is in 14-35 days.
Grow Delphiniums: Germination rate of delphinium seed is improved (if prior to sowing) seeds are placed in a ziplock bag with a small amount of moist growing media (or a moist paper towel), placed in the refrigerator for 2 weeks.