Breadseed Poppy Seeds
Papaver somniferum
How to plant Breadseed Poppy seeds
Also known as Florist Poppies, plants produce incredibly showy, large single poppies. Flowers are followed by highly ornamental seed pods prized for floral arrangements. Pods are chock-full of tiny blue-gray, brown or white seeds which are used in bread making and baking. Easy-to-grow plants reach 2 to 3 ft. tall.
How to Plant and Grow Breadseed Poppy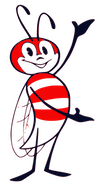 Sow seeds in 2 in. pots or cell packs, press into soil, do not cover. Needs light to germinate. Kept at 65° F., germination is in 14-21 days. Can direct sow, onto ground that has had the top one in. of soil loosened. Rake seed in, press into soil by walking over the area. Thin to 12 in. apart.