Obsession Cascade Series
Verbena x hybrida
The Obsession Cascade series is the first trailing verbena series available as seed. Growth is spreading and rounded, to 8-18 inches high and 18-24 inches across. Plant habit is naturally dense without pinching, and hanging baskets and containers fill in quickly. The disease resistant plants continue to flower and perform long after other annual verbenas have finished.
Obsession Twister Series
Verbena x hybrida
Obsession Twister series verbenas are free flowering, compact and branching, 6-8 in. tall, 10-12 inch wide plants that smother themselves in brilliant blooms over a long summer and fall season. Obsession Twister verbenas are highly resistant to powdery mildew, are gorgeous when massed, and also well adapted for use in containers or window boxes. Butterflies love these colorful, easy to grow plants.
Tuscany Series
Verbena x hybrida
Tuscany is a newer introduction featuring compact, heaving blooming, upright, spreading plants with extra large flower heads. Uniform in germination, habit and flowering, Tuscany colors combine beautifully. Heat loving, and drought tolerant they reach 8-10 in. tall and spread 16-20 in. across. Tuscany is an outstanding performer in the ground, and it is without peer in hanging baskets and containers.
---
How to Plant and Grow Verbena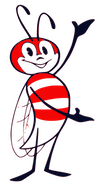 Plant Annual Verbena Seeds: Wrap seeds in a moist paper towel, place the paper towel in a zip-lock bag, then refrigerate for 7 days prior to sowing. Then sow in cell packs or flats, using a sterilized, soil-less packaged mix (available at most larger garden centers). Soil moisture is important when germinating verbena seeds. Soil should be slightly moist to almost dry. Press seeds into soil and lightly cover. Darkness will aid germination. Cover flat with newspaper and keep out of direct sun. Remove newspaper cover and provide direct light as soon as the first seeds begin to sprout. Kept at 75° F., germination is in 21-30 days. Transplant into the garden 12-18 in. apart.
Grow Annual Verbena: Plants like full sun, moderate water, good drainage. Shearing plants back once or twice per season keeps them looking tidy, and stimulates new bloom. Butterflies love verbena. Plants are deer and rabbit resistant.