Coreopsis Seeds
COREOPSIS SEEDS
Tickseed
Coreopsis grandiflora, C. lanceolata, C. roseus
Coreopsis plants are easy to grow, first year flowering perennials. Coreopsis require little care; they flower over an exceptionally long season.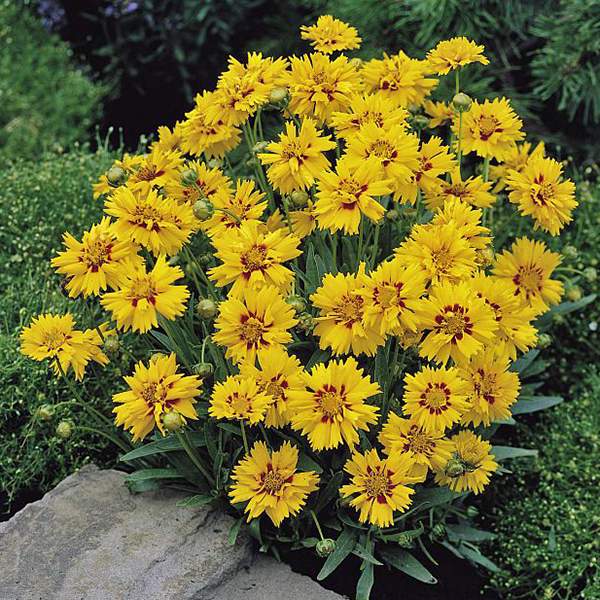 PR05033
RISING SUN Coreopsis Coreopsis grandiflora
A Fleuroselect Gold Medal winner. Earlier to bloom than most coreopsis, 18 inch high by 24 inch wide plants are covered in sunny yellow 2 inch semi-double flowers with deep red petal centers from mid spring to mid fall. Extraordinary heat and drought tolerance. Blooms the first year from seed, winter hardy to Zone 4.
New for 2016
PR05032
SUN UP CoreopsisCoreopsis grandiflora
One of the earliest Coreopsis to bloom, Sun Up forms naturally rounded, tidy plants. They are covered in vibrant yellow, 2 inch, semi-double flowers from mid spring through early fall. Sun Up grows 10 to 12 inches high, and 12-14 inches wide.
Sun Up is an improved, compact version of Early Sunrise Coreopsis. Plants show remarkable resistance to heat and drought. Bloom is the first year. Winter hardy to Zone 4. A Fleuroselect Novelty winner.
PR09520
SUNFIRE CoreopsisCoreopsis grandiflora
Flowers 2 inches across, golden-yellow with burgundy bases. Early blooming, heavy flowering, compact, heat & drought tolerant, it is a rewarding, easy to grow perennial. Flowers first summer from seed, continues to flower until frost. Plants grow 16-20 inches high, 2 feet wide. A Fleuroselect Quality Mark winner. Winter hardy to zone 4.
PR05029
STERNTALER CoreopsisCoreopsis lanceolata
Heavy flowering perennial, 2 ½ inch golden flowers, mahogany-brown highlights. The 15-18 inch tall plants bloom May to October, grow well in borders or pots. Drought tolerant. Grows nicely with: Hakone White balloon flower, big betony, Chinese fountain grass, Baby Swan echinacea, and Stokesia. Winter hardy to zone 4.
PR01296
SUNBURST CoreopsisCoreopsis lanceolata
A summer and fall flowering perennial, with bright, golden-yellow, 2-3 inch, semi-double flowers. Easy to grow, Sunburst can bloom in as little as 11 weeks from seed. Grows to 3 feet tall. Self-sows. Winter hardy to zone 4.
PR00793
AMERICAN DREAM CoreopsisCoreopsis roseus
Unlike other Coreopsis, American Dream performs best in mild climates, with regular water. The spreading 18-24 inch tall plants are blanketed with rosy-pink, yellow centered, 1 inch single daisies all summer long. Coreopsis 'American Dream' flowers the first year when started early. Great in the front of borders or in containers. Winter hardy to zone 4.
How to Plant Coreopsis Seeds
Sow Coreopsis seeds in cell packs or flats, press into soil but do not cover. Needs light to germinate. Kept at 65° F., germination is in 21-30 days. Transplant into the garden 1-1.5 feet apart.
Growing Coreopsis: Full Sun. Sterntaler, Sunfire, and Sunburst Coreopsis are heat and humidity tolerant; thrive with moderate to little water. American Dream likes mild summer temperatures, afternoon shade in warm climates and moist, even wet soil. Coreopsis plants are first year flowering perennials. Low maintenance, shear plants back occasionally to promote continuous flowering. Coreopsis are rabbit and deer resistant plants. Coreopsis flowers attract bees, birds and butterflies.