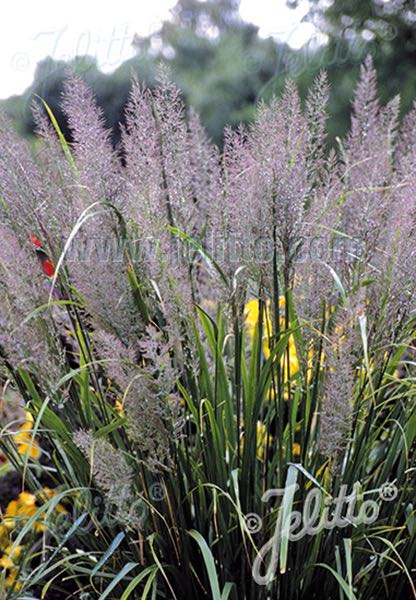 PR19002
Korean Fea­ther Reed Grass
Ornamental Grass Seeds
Calamagrostis arundinacea var. brachytricha
In late summer through fall, Korean Feather Reed Grass produces large, fluffy, silvery tan plumes with pink accents when mature. They are visually striking well into the winter months. Dense, upright, slowly-widening clumps of wide, bright green foliage reach 2 ft. tall, and up to 32 in. when in bloom.
Korean Feather Reed Grass tolerates shade and wet soil, and also thrives in full sun with moderate water. Plant Select, a collaboration between Colorado State University, the Denver Botanic Gardens and professional horticulturists has recognized Korean Feather Reed Grass for outstanding performance under a wide range of garden conditions. Winter hardy to zone 4.
How to Plant and Grow Korean Feather Reed Grass
Plant Korean Feather Reed Grass Seeds: Sow Korean Feather Reed Grass seed in cell packs or flats, press into soil — do not cover. Needs light to germinate. Keep soil evenly moist. Kept at 64-72° F., germination is in 14 to 28 days. Can be direct sown in groups of 3 seeds, spaced 18 to 24 inches apart. Thinning Korean Feather Reed Grass seedlings is not required.
Grow Korean Feather Reed Grass: Full sun or part shade for heaviest bloom and tightest, upright growth. Korean Feather Reed Grass is one of the few ornamental grasses that bloom well in filtered shade, where growth is more relaxed and arching. Prefers afternoon shade in hot climates. Plants thrive in average to ample moisture when grown in sun. Grown under shady conditions best appearance is with regular water, will accept drought once established. Korean Feather Reed Grass is one of the few perennials suited to dry shade.
Dig Deeper: Korean Feather Reed Grass is a long-lived, clumping grass which adapts to most soil types — performs best in fertile, moist soil. Plants tolerate poor drainage and heavy clay soils — even bog-like conditions, as found next to ponds and streams. Stands up well to salt and humidity, will grow near black walnut trees, and is highly resistant to deer and rabbits. Plumes are beautiful additions to fresh or dried flower arrangements. Winter seed heads attract birds.
Use Korean Feather Reed Grass at the back of mixed borders, in containers, or group together among shrubs as striking vertical accents. Mass plantings of Korean Feather Reed Grass are especially showy. In late winter or early spring, cut plants back to within a few inches of the ground to provide room for new growth. Will sometimes self-sow. Korean Feather Reed Grass is a recipient of the Award of Garden Merit given by the Royal Horticultural Society.
Shipping Information
U.S. Shipping Rates
Free shipping on U.S. orders over $60.00.
Free priority shipping on U.S. orders over $150.00.

Standard U.S. shipping is $5.99.
Priority U.S. shipping is $9.99.
International Shipping Rates
Shipping to Canada is $13.99.
International shipping to all other countries is $15.99.
Satisfaction Guarantee
We guarantee all the seeds we sell for one full year from the date of purchase. If you are unsatisfied with any seeds purchased from Swallowtail Garden Seeds, we will issue a refund. For customers in the U.S., we can send one-time replacements or issue a refund.