(Go to Cherry, or Sauce tomato)
HEIRLOOM TOMATO SEEDS
Solanum lycopersicum
We get a kick out of growing tomatoes and it shows. Heirloom tomatoes in shades of red, pink, yellow, orange, green, mahogany and bicolors.
Fruits are lemon-shaped, heart-shaped, flattened, and fluted. Flavors are sweet, tart, fruity, spicy, rich and unforgettable. Giant Belgium can grow to 5 pounds.
We think of the following varieties not so much as a seed list, but as a playground. There is plenty of room to explore and many pleasant surprises along the way.
New
VG16899
HEIRLOOM MARRIAGE BIG BRANDY Heirloom Tomato 75-80 days
Brandywine and Big Dwarf heirloom tomatoes have been crossed to produce large, pleated, juicy, richly flavored, sweet fruits with a touch of true tomato tang. The vigorous, high yielding plants set fruit early, and continue to produce 12-16 ounce fruits over a long season. Indeterminate vines.
New
VG16900
HEIRLOOM MARRIAGE CHEROKEE CARBON Heirloom Tomato 75 days
Cherokee Purple and Carbon, 2 of the best loved heirloom tomatoes have been crossed to produce 10-12 ounce, smooth, gently blushed purple fruit of superb quality.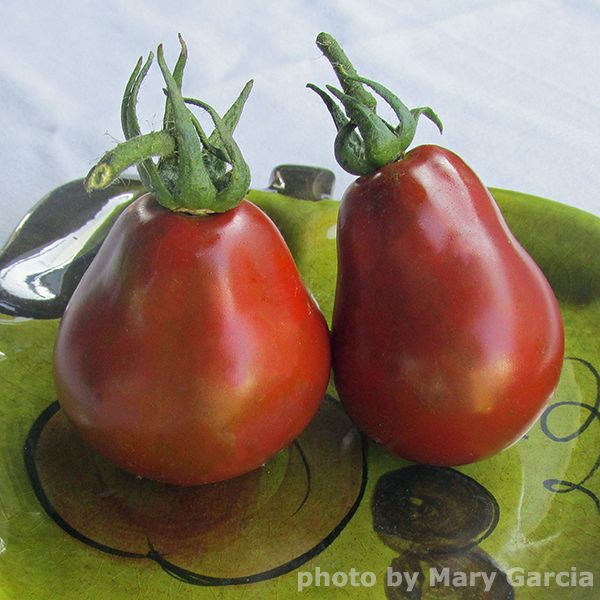 VG15422
JAPANESE BLACK TRIFELE Heirloom Tomato (OP) 75-85 days
Produces many clusters of deep mahogany pear-shaped, crack-resistant 4 - 6 oz fruits on indeterminate, potato-leafed vines. We found that their aromatic, fruity flavor and silky, meaty texture made them the perfect snacking tomato; very few ever made it to the kitchen!
VG09922
ABRAHAM LINCOLN Heirloom Tomato (OP) 87 days
Introduced in 1923 by the W.H. Buckbee seed company, this original strain of Abraham Lincoln is round, solid and firm, dark red in color and loaded with old-fashioned heirloom flavor. Produces clusters of 8 ounce fruits. that can weigh up to 1 lb. if just a couple of fruits are left on each cluster. Highly resistant to disease and cracking., this an ideal large red tomato for areas with rainy summer weather. Sturdy, heavy-bearing indeterminate vines have bronze-green leaves, and produce from mid-season until frost.
VG00247
GIANT BELGIUM Heirloom Tomato (OP) 85 days
Huge dark pink, extremely sweet, meaty and delicious tomatoes average 2-pounds and are capable of growing up to five pounds! One slice is all any sandwich will ever require. Indeterminate. Highly recommended.
VG00221
ARKANSAS TRAVELER Heirloom Tomato (OP) 85 days
Famous for producing well even in hot weather - this Southern heirloom produces an abundance of flavorful 6-8 ounce pink tomatoes. Indeterminate vines.
VG00231
BRANDYWINE PINK Heirloom Tomato (OP) 80 days
An 1890's Amish heirloom that has potato-like foliage and very large 1-1.5 pound fruits of legendary luscious flavor. Its superb mild taste is perfect for slicing, salads or canning. Highly recommended.
VG00233
BRANDYWINE YELLOW Heirloom Tomato (OP) 90 days
Gorgeous golden-yellow creamy textured, 1 to 2 pound, flattened, rough tomatoes of exceptional quality. The indeterminate vines have potato-leaved foliage. Can sometimes be finicky but the rewards are great.
VG00228
HILLBILLY Heirloom Tomato (OP) 85 days
From the hills of West Virginia come very large, sweet orange-yellow fruits that are marbled with red and pink. They average 1-2 pounds each and are beautiful sliced.
VG05510
LYNN'S BEEFSTEAK MIX Heirloom Tomato(OP)
A wonderful mix of huge and tasty beefsteak tomatoes in attractive shades of pink, yellow, orange, green, cream, and black. Indeterminate vines.
VG00232
ORANGE STRAWBERRY Heirloom Tomato (OP) 80 days
Large and beautiful strawberry-shaped, vivid orange fruits have an exceptional rich and sweet flavor. They average 8 ounces to 1 pound. Vines are indeterminate and quite productive.
VG00234
GREEN ZEBRA Heirloom Tomato (OP) 75 days
Organically grown. These sweet, tart, tangy 2-3″ treasures are certainly among our very favorite tomatoes. With amber-gold skin and forest green stripes they are as fun to look at as they are to eat. Vigorous, indeterminate vines. A newer variety, but with a distinguished heirloom tomato pedigree.
VG01726
CARBON Heirloom Tomato (OP) 80 days
Medium to large, 8-12 ounce, purple-brown fruits are among the darkest of black tomatoes. The flesh is deep, brick-red, meaty and creamy, with an exceptional, rich, sweet, smoky flavor. Crack-resistant fruits, on indeterminate vines. Highly recommended.
VG00255
OMAR'S LEBANESE Heirloom Tomato (OP) 80 days
High yielding vines produce huge, one to two pound beefsteaks with an exceptional sweet, rich flavor. Brought to America by a Lebanese college student who received the seeds from farmers living in a Lebanese hill town. The best tasting tomato we have ever grown. Indeterminate.
VG00257
PERSIMMON Heirloom Tomato (OP) 80 days
This is the best yellow tomato we have ever tasted. The 1 pound meaty, creamy golden-orange fruits have and an absolutely exquisite flavor. Vigorous, indeterminate vines. Persimmon receives our highest recommendation.
VG05506
DELICIOUS Heirloom Tomato (OP) 78 days
The huge, meaty fruits are frequently 2 to 3 pounds each and deliver excellent flavor with very little cracking. 'Delicious' holds the world's record (over 7 pounds) for the largest tomato ever grown. Indeterminate vines.
VG00251
MULE TEAM Heirloom Tomato (OP) 80 days
Vigorous indeterminate vines bear great quantities of bright red 8 ounce tomatoes with great flavor and texture. Produces over a very long season and is an excellent choice for your "main crop" tomato.
VG00249
MORTGAGE LIFTER Heirloom Tomato (OP) 85 days
A very popular meaty 1 pound pink tomato full of classic beefsteak flavor. The story goes that M.C. Byles of Logan, West Virginia developed and sold this variety to save his farm. Indeterminate.
VG01719
BLACK ZEBRA Heirloom Tomato (OP) 75 days
Jagged green stripes decorate 4 ounce, deep burgundy fruits. Mahogany-colored flesh is sweet and juicy, with remarkably and complex flavors. Vines are vigorous, and indeterminate. We highly recommend this beautiful and flavorful variety.
VG00223
AUNT GINNY'S PURPLE Heirloom Tomato (OP) 80 days
Here is an excellent deep pink smooth, juicy, 14-ounce beefsteak with flavor some prefer to Brandywine. Vigorous and high yielding, with little cracking. Potato-leaved indeterminate vines.
VG01717
COPIA Heirloom Tomato (OP) 85 days
Gorgeous tomatoes, striped in golden-yellow and red. The sweet, juicy, golden flesh is streaked with red, and delivers a superb flavor. A stabilized cross of Green Zebra and Marble Stripe, from the Napa Valley in California. Wine Country restaurants love it! Fruits grow to 1 pound each, on indeterminate vines.
VG00237
CASPIAN PINK Heirloom Tomato (OP) 80 days
Originally grown in the area between the Caspian and Black Seas this 10-12 ounce Russian heirloom has an absolutely wonderful, very sweet, rich flavor that many prefer to Brandywine. Indeterminate vines with normal leaves.
VG00222
BOX CAR WILLIE Heirloom Tomato (OP) 75 days
Named after the famous country singer, Box Car Willie delivers beautiful and delicious 10-12 ounce smooth red tomatoes. Very prolific over a long season it is well suited for use as a "main crop" tomato. Indeterminate vines.
VG00240
CHEROKEE PURPLE Heirloom Tomato (OP) 75 days
Organically grown. Sweet dark pink-purple fruits on relatively short, productive, indeterminate vines. Has a full, rich flavor, with that real tomato "tang." 10-12 ounces. Highly recommended. Indeterminate vines.
VG05508
DR. WYCHE'S YELLOW BEEFSTEAK Heirloom Tomato (OP) 80 days
The luscious, sweet, smooth and meaty 10 to 16 ounce golden-yellow fruits deliver plenty of that true tomato tang we love so much. One of the very best of all the yellow heirloom tomatoes, we recommend it highly.
VG00227
BLACK PLUM Heirloom Tomato (OP) 70 days
Tall indeterminate vines produce sweet, deep mahogany morsels perfect for backyard grazing. No other tomato quite like it--we are pleased to offer this rare and very special variety.
Back to Top
How to Plant Heirloom Tomato Seeds
Sow seed in cell packs or flats, press into soil and lightly cover. Kept at 75-90°F., germination is in 8-15 days. Transplant into the garden 2-4′ apart after all danger of frost. Cage or stake for best results.