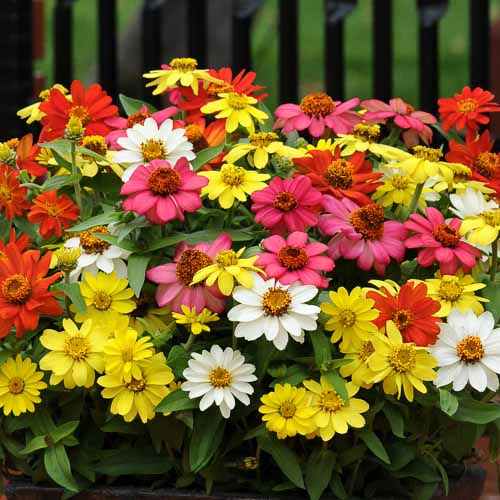 AN11385
Zahara Mix
Zinnia Seeds
A beautiful blend of Zahara Coral Rose, Zahara Fire, Zahara Scarlet, Zahara Starlight Rose, and Zahara Yellow zinnias. Zahara zinnias are easy to grow and are heat, drought, and humidity resistant. The 16-20 in. tall plants are continuously covered in vibrant 2½ in. blooms all season. Zahara Mix zinnias are tough, and are well suited for hot, sunny, dry areas. Zahara Mix zinnias are highly resistant to mildew and leaf spot, and are standout performers in the landscape, or in containers. The Dallas Arboretum includes Zahara zinnias on their 'Flameproof' plants list because they thrive in extreme heat.
Growing Zahara Mix Zinnia Seeds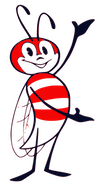 Sow zinnia seeds indoors: 4 to 7 weeks prior to your last spring frost in cell packs or flats, press into soil and lightly cover. Kept at 75°F., seedlings emerge in 3 to 10 days. Stress from transplant shock may cause double-flowering zinnias to temporarily produce single flowers. Transplant zinnia seedlings well before they become root bound, and avoid disturbing zinnia roots.
Sow zinnias seeds outdoors: in spring after all danger of frost into prepared beds in ¼ in. deep furrows, 4 to 6 seeds per foot. Cover and keep soil surface moist. Thin seedlings to 9 to 24 in. apart depending on the type of zinnia grown. Zinnia plants started from seed in midsummer put on an impressive fall display.
Grow Zinnias: Full sun. Best zinnia performance in rich, well-drained soil with regular water. Easy to grow, plants love the heat, will tolerate drought, and are resistant to deer and rabbits. Bloom is continuous over an extended summer and fall season, and the bright flowers attract hummingbirds and butterflies galore!
Zinnias are among the finest of cut flowers, and mix well with other traditional flowers in a homegrown arrangement. Typical vase life is 7 days, which can be extended further with the use of flower preservatives.
Shipping Information
U.S. Shipping Rates
Free shipping on U.S. orders over $60.00.
Free priority shipping on U.S. orders over $150.00.

Standard U.S. shipping is $5.99.
Priority U.S. shipping is $9.99.
International Shipping Rates
Shipping to Canada is $13.99.
International shipping to all other countries is $15.99.
Satisfaction Guarantee
We guarantee all the seeds we sell for one full year from the date of purchase. If you are unsatisfied with any seeds purchased from Swallowtail Garden Seeds, we will issue a refund. For customers in the U.S., we can send one-time replacements or issue a refund.