Foxglove Seeds
FOXGLOVE SEEDS
Lady's Glove
Digitalis purpurea, D. ferruginea, D. grandiflora, D. laevigata, D. lanata,
D. x fulva syn. D. mertonensis, D. obscura, D. parviflora, D. thapsi, D. interspecific hybrids
28 Foxgloves
Foxgloves are easy to grow, vertical accents for part sun, or dappled shade. Flowers attract hummingbirds galore with magnificent spires of tubular flowers. Bloom begins in late spring, or early summer. Once main flower spike is cut, side shoots develop, bloom until September.
POLKADOT HYBRID Foxglove Seeds Digitalis interspecific hybrids
Polkadot Hybrids is a true perennial foxglove series, long lived, and super long flowering! Plants produce extra-large, richly colored flowers, evenly spaced and tightly packed, on 3.5 foot stems. Flowers are subtlety speckled with white dots. Because flowers do not set seed, individual blooms can hold for many weeks and the flowering season is extended.
Plants live for years. Polkadot Foxgloves begin blooming in spring, and continue into fall. In our mild climate, Polkadot Princess and Polkadot Pippa will flower into November or December. The uniform, well-branched plants grow to 40 inches tall. Winter hardy to zone 4.
New for 2016
PR16369
POLKADOT PETRA HYBRID Foxglove
Polkadot Petra was name for its soft-rose flowers. Blooms bring to mind the rose colored sandstone in which was carved the ancient city of Petra in southern Jordan. Each tubular flower opens to reveal a creamy white interior with mahogany speckles. Polkadot Petra Hybrid is long-flowering, and a true perennial foxglove. Winter hardy to zone 4.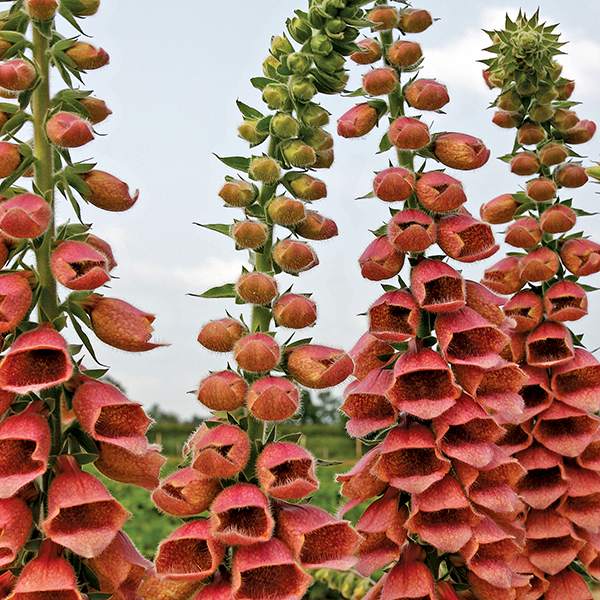 PR01287
POLKADOT POLLY HYBRID Foxglove
Large, deep pink-apricot blooms from late spring into autumn.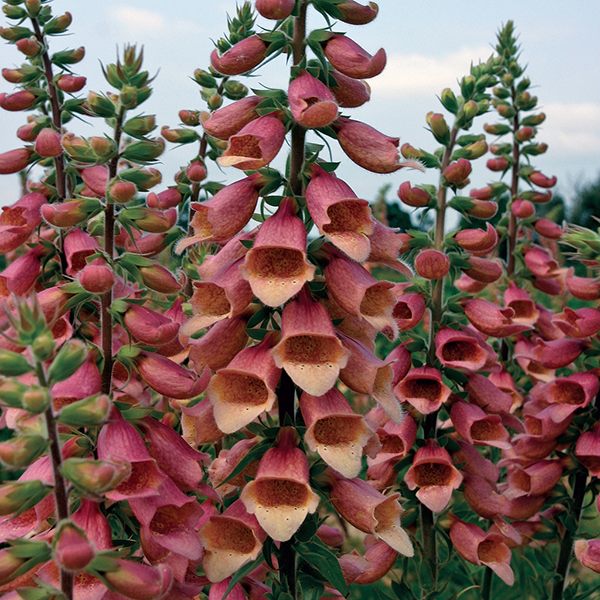 PR01254
POLKADOT PIPPA HYBRID Foxglove
Large, coral flowers with apricot interiors. Blooms from late spring until frost. In mild areas flowering can continue into December.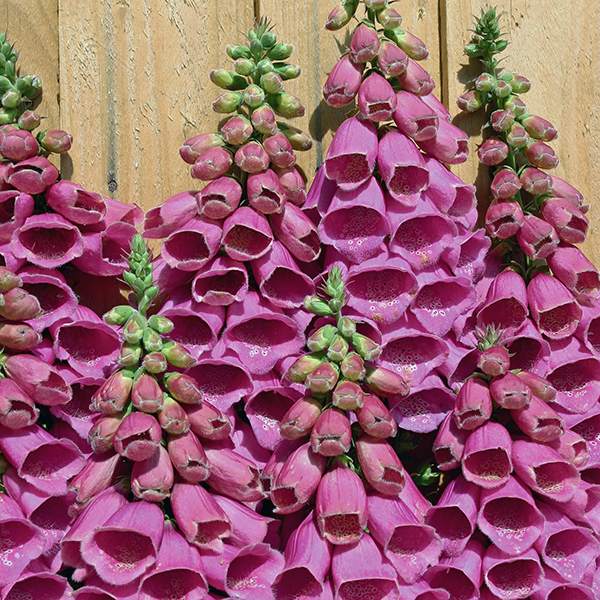 PR01286
POLKADOT PRINCESS HYBRID Foxglove
Extra large rich-rose blooms. Even among the plants of the routinely heavy, long-blooming Polkadot series, Polkadot Princess shows a special ability to pump out the flowers repeatedly from late spring until frost.
DALMATIAN HYBRIDFoxglove SeedsDigitalis purpurea
Fastest foxglove from seed to flowers! These compact, well-branched, 2-3 foot tall plants bloom in under 4 months from seed! 'Dalmatian' foxgloves produce reliable, strong, first year flowers. They completely encircle their stems with evenly spaced, relatively upward facing bells. Remove old flower spikes first season, plants will bloom heavily again the following year. Superb container plants, perform beautifully even in small pots. In the garden use in mixed borders, or mass along paths or fences. Winter hardy to zone 5.
PR01284
DALMATIAN ROSE Foxglove
Freckled, creamy rose pink flowers.
PR01279
DALMATIAN PURPLE HYBRID Foxglove
Deep lavender-purple flowers, attractive maroon and white throats.
PR01291
DALMATIAN CRÈME HYBRID Foxglove
Cream colored bells with purple interior freckles.
PR01285
DALMATIAN WHITE Foxglove
White flowers, interior spotting is intense maroon.
PR01290
DALMATIAN PEACH HYBRID Foxglove
Flowers are gorgeous, creamy peach trumpets.
CAMELOT SERIES Foxglove SeedsDigitalis purpurea
These are the first F1 hybrid foxgloves available to the home gardener, they feature magnificent spikes of huge speckled, rose, cream, lavender or white trumpets the very first year. The vigorous, well-branched plants grow to 42-48 inches tall and 24-30 inches wide. Winter hardy to zone 4. Seed is pelleted for easy and efficient sowing.
PR05001
CAMELOT ROSE Foxglove
PR05143
CAMELOT LAVENDER Foxglove
PR05035
CAMELOT CREAM Foxglove
PR05034
CAMELOT MIX Foxglove
Includes rose, cream, lavender, and white flowers.
PR05144
CAMELOT WHITE Foxglove
Individual Foxglove Varieties
PR01288
PANTALOONS FoxgloveDigitalis purpurea 'Pam's Split'
Completely new flower shape, Pantaloons is the first "split-flower" foxglove. Large white blooms split up the sides, creating 4 even curtains. Petals flutter in the breeze, revealing deep maroon interior spots. Flowers for many weeks in late spring or early summer. Start early, will bloom first year. Compact, well-branched 3-4 foot tall plants produce many more flowering stems than most foxgloves. Winter hardy to zone 4.
PR00849
LARGE YELLOW FoxgloveDigitalis grandiflora
One of the toughest, top performing foxgloves. Large 2 inch, early summer butter-yellow bells on 2-3 foot tall plants. Prefers moist soil, will tolerate some drought when planted in a shady border. Grows nicely with Oriental Poppies. A winter hardy perennial to zone 3.
PR00853
APRICOT BEAUTY FoxgloveDigitalis purpurea
Magnificent pastel apricot-pink flowers. Grows to
4-feet tall and is a biennial or short-lived perennial. Winter hardy to zone 4. Grow nicely with:
Turkish Wild Hollyhock, and  Shasta Daisy. Packet is ¼ gram, about 2,500 seeds.
PR11213
CARILLON FoxgloveDigitalis grandiflora
A long blooming, dwarf, true perennial foxglove which produces upright spires of yellow bells from late spring through summer. They are excellent for cutting. Grows 12-16 inches tall. Winter hardy to zone 4.
PR08217
FOXY FoxgloveDigitalis purpurea
A lovely, heavy blooming dwarf foxglove which produces 3-inch flowers with attractive speckled throats. Started indoors it can be grown as an annual. It flowers in just five months from seed. Sown outdoors late spring through late summer, plants will flower the following season. Winter hardy to zone 4. Grows to 3-feet tall.
PR05036
CAFE CRÈME FoxgloveDigitalis lanata
This rare and beautiful foxglove produces long racemes of orchid-like flowers; white with bronze yellow markings. Performs well in sun or shade. Grows to 3 feet tall. A true perennial. Winter hardy to zone 5.
Cafe Crème foxglove cannot ship to MN.
PR05037
DUSKY MAID SUNSET FoxgloveDigitalis obscura
Pendulous thimble-shaped flowers in beautiful, sunset shades. Colors include amber, beige-brown, burnt orange, and red. The evergreen narrow dark green leaves look very much like a penstemon. True perennial plants grow 16-20 inches tall, bloom from July to September. Winter hardy to zone 5.
PR05038
MILK CHOCOLATE FoxgloveDigitalis parviflora
This true perennial foxglove features deeply veined dark green foliage and elegant spikes of dense brown-red blooms from June to August. Grows to 18-24 inches tall. Winter hardy to zone 5.
PR00857
SNOW THIMBLE FoxgloveDigitalis purpurea
Rare pure white foxglove. Naturalize in woodland gardens, or light up shady borders. Long spikes of 2-3 inch pendulous solid white bells in late spring and summer on 3-4 foot tall plants. Biennial or short-lived perennial. Winter hardy to zone 4. Grows nicely with Astolat delphinium, Magnus Superior echinacea, and Burgundy gaillardia.
PR00855
EXCELSIOR HYBRIDS FoxgloveDigitalis purpurea
The most dramatic of all foxgloves. Flowers completely circle the stems and are held horizontally to show-off beautiful interior spotting. Grows to 5-feet tall. Winter hardy to zone 4.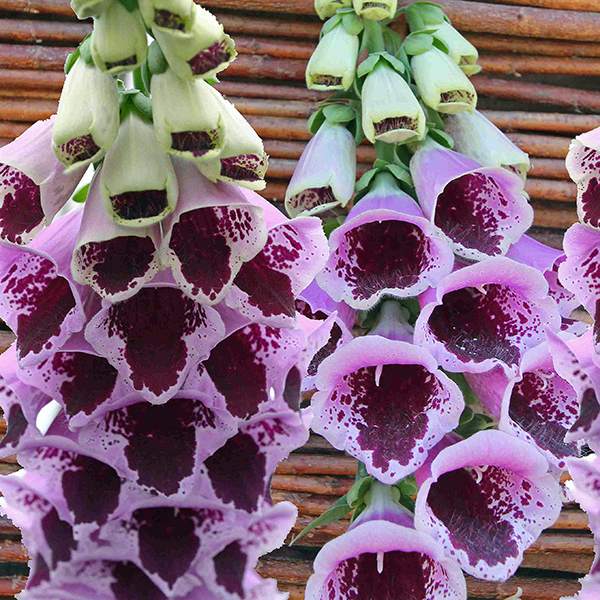 PR15050
SUGAR PLUM FoxgloveDigitalis purpurea
Tall, 30-40 inch spires of bright lavender pink flowers, with throats speckled deep wine red. Begins blooming in early summer. Biennial.
PR05040
SPANISH PEAKS FoxgloveDigitalis thapsi
Elegant, pendulous raspberry-rose flowers on dwarf, easy to grow 18-24 inch plants. Spanish Peaks foxglove will flower in late spring and early summer and then repeat in the fall. A long-lived, true perennial. Winter hardy to zone 5.
PR00851
STRAWBERRY FoxgloveDigitalis x fulva syn. D. x mertonensis
True perennial foxglove produces 2-3 foot spikes of large coppery-rose tubular blooms that hummingbirds find irresistible. One of our favorite vertical accents for the shade garden. A special, long-lived foxglove that has earned our highest recommendation. Winter hardy to zone 3. Grows nicely with 'Red Hobbit' Columbine.
PR00858
GIANT YELLOW HEROLD FoxgloveDigitalis ferruginea
Straight, strong spikes of Dijon mustard-colored flowers on sturdy, 5-6 foot tall plants. Will bloom over a long summer season and the flowers are excellent for cutting. Biennial. Winter hardy to zone 4. Seed is much larger than other Foxgloves.
Giant Yellow Herold foxglove grows nicely with Hakone White balloon flower,  Magnus Superior echinacea,  Blue Cap sea holly, and  Alaska shasta daisy.
Back to Top
How to Plant Foxglove Seeds
Sow seed in cell packs or flats, press into soil but do not cover. Light aids germination. Kept at 65-75° F., germination averages 14-21 days. Transplant into the garden 18-24 inches apart. Can direct sow into prepared seed beds after danger of frost. See starting seeds for more information.
Growing foxglove: Part sun to light shade, rich, moist soil. Spires of tubular flowers attract bees and hummingbirds, are excellent for cutting. Plants are toxic; with excellent deer and rabbit resistance. Easy to grow, frequently self sows.