Hollyhock Seeds
HOLLYHOCK SEEDS
Alcea rosea, A. ficifolia, A. rugosa, A. pallida
46 Hollyhocks
Hollyhocks are sturdy, stately, old fashioned plants that flower over a long summer season. They attract hummingbirds and butterflies. Will usually reseed and return year after year. Winter hardy to zone 3.
DOUBLE FLOWERED Hollyhocks Alcea rosea
Large, double, flattened, peony shaped flowers. Plants are biennials or short-lived perennials. Average garden height is 5-6 feet. With plenty of water and nutrients, growing 10-12 foot tall giants is possible. We are pleased to offer the following excellent, often seldom seen varieties.
CHATER'S DOUBLE Hollyhock Seeds
William Chater (1802-1885) through his Saffron Walden Nursery in England revolutionized the growing of hollyhocks, with the release of his 1847 seed catalog. Offered for the first time, were reliably double hollyhock flowers of uncommon size and substance, in colors not previously seen.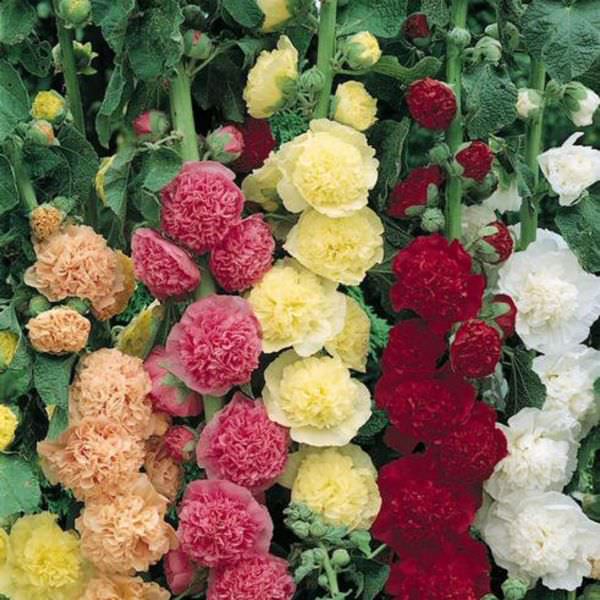 PR02555
CHATER'S DOUBLE MIX Hollyhock
Double, 5-6 inch flowers in an extremely wide range of colors.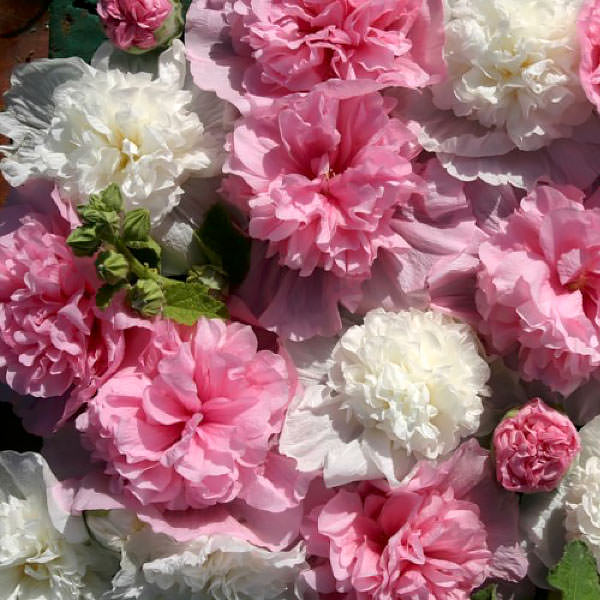 NEW FOR 2016
PR16375
THE BRIDESMAID Hollyhock
A formula mix of Appleblossom (pink) and Icicle (white) double hollyhocks.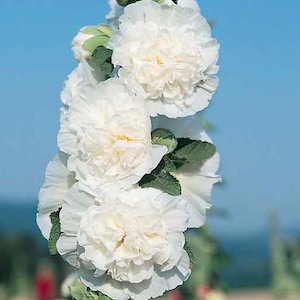 PR00887
ICICLE Hollyhock
Pure white, large, double flowers. Plants grow to 6 feet tall.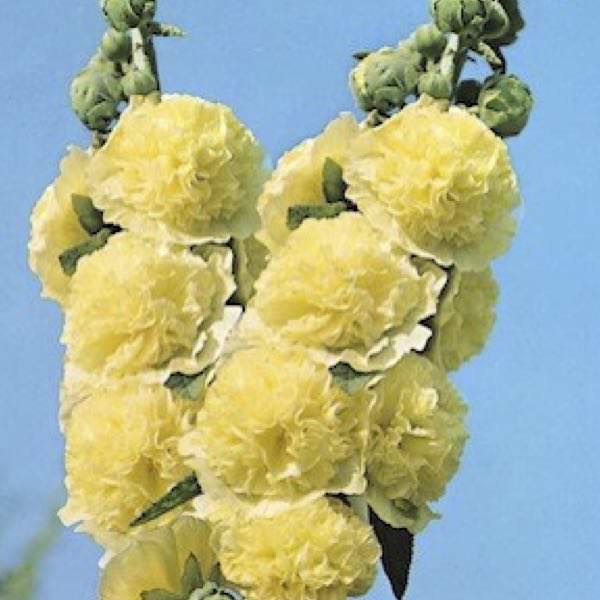 PR00903
GOLDEN YELLOW Hollyhock
Large, fully double yellow flowers.
Grows nicely with: Milkmaid Butterfly Weed.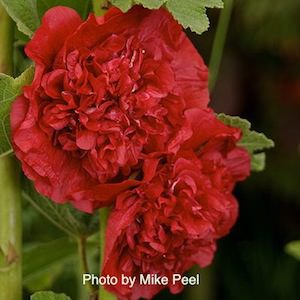 PR00899
SCARLET O'HARA Hollyhock
Five to six inch, fully double, scarlet blooms on 6 foot tall plants. Grows nicely with: Pacific Giant Series Delphinium.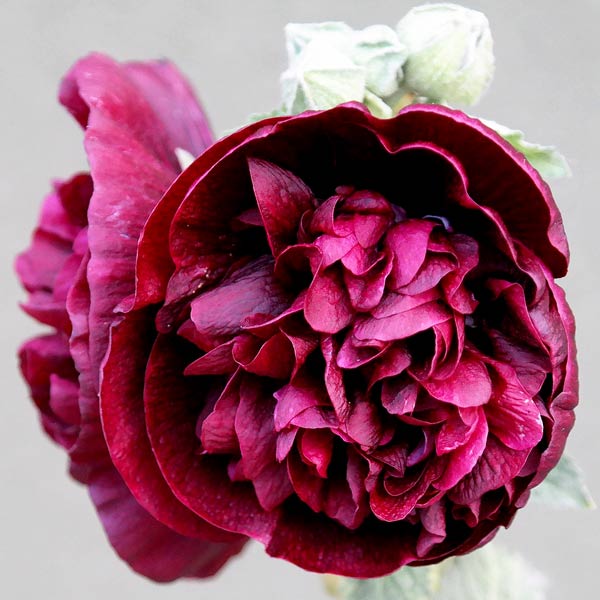 PR00891
MAROON Hollyhock
Fully double, maroon blooms up to 6 inches across, on easy to grow 6 foot tall plants.
PR11235
VIOLET Hollyhock
Reddish-Blue double flowers up to 5-6 inches across on vigorous, 6 foot tall plants. Combines beautifully with Amber Wheels Gaillardia.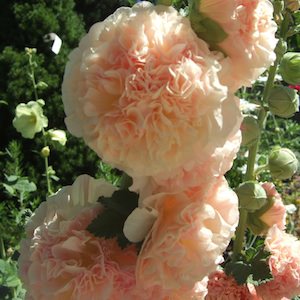 PR09501
SALMON QUEEN Hollyhock
Enormous salmon flowers with apricot-pink highlights. 'Salmon Queen' hollyhock grows nicely with: Pantaloons Foxglove.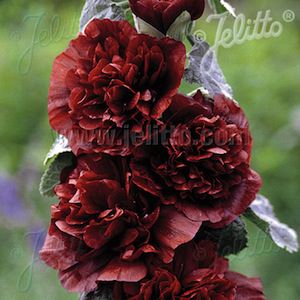 PR07139
CHESTNUT-BROWN Hollyhock
Very large, altogether unique, fully double, reddish-brown flowers. Plants grow to 6 feet tall. Combines beautifully with Amber Wheels Gaillardia, and Joe-Pye Weed.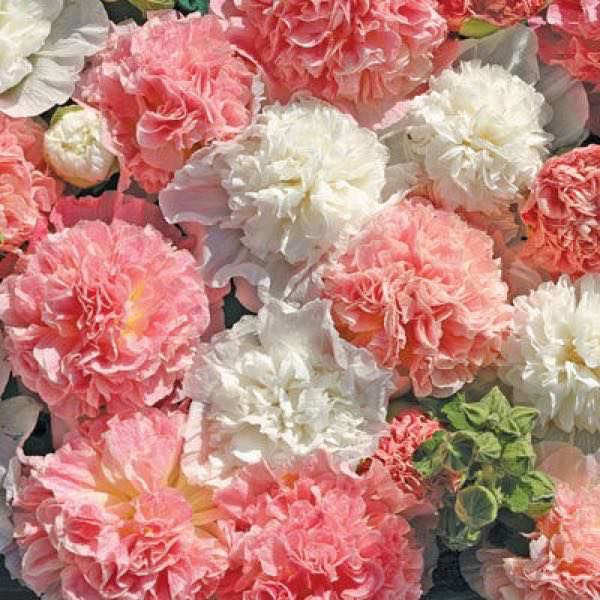 PR01270
BRIDE'S BOUQUET Hollyhock
Large, glowing, double salmon-pink flowers mixed with pure white double flowers.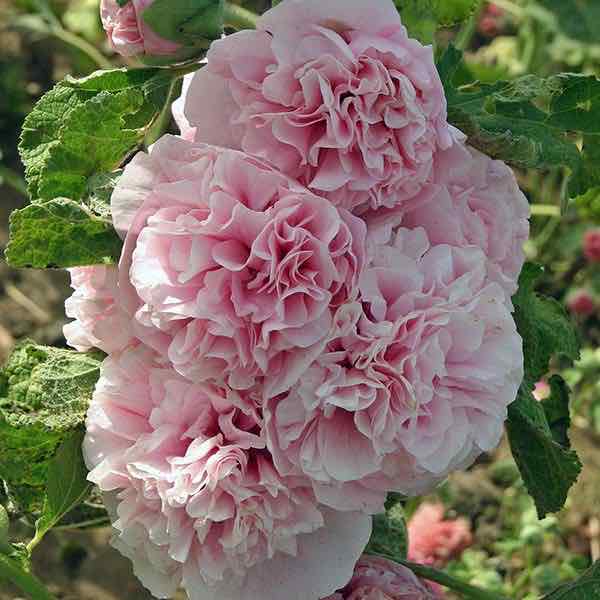 PR01205
APPLEBLOSSOM Hollyhock
Large, ruffled, pastel pink blooms, shading softer at the edges. Blooms over a long summer season. Grows to 5-6 feet tall.
DWARF DOUBLE Hollyhocks Alcea rosea
SPRING CELEBRITIES Hollyhock SeedsAlcea rosea
The dwarf 2.5-3 foot tall plants, show terrific branching from the base, and are bushy, compact, and heavy blooming. They will flower the first season (when planted in winter or early spring), producing 2.5-3 inch semi-double to fully double flowers about 4 months after sowing. Seeds planted in the summer months, flower the following season. Can be grown in containers as small as 8 inches, or grow at the front of mixed borders. Winter hardy to zone 5.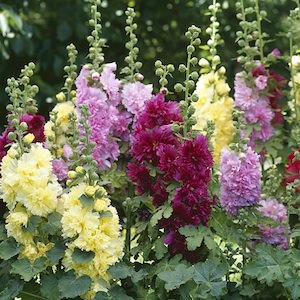 PR01297
SPRING CELEBRITIES MIX Hollyhock
A formulated mix of seven non-fade colors, in shades of carmine-rose, crimson, lemon, lilac, pink, purple, and white.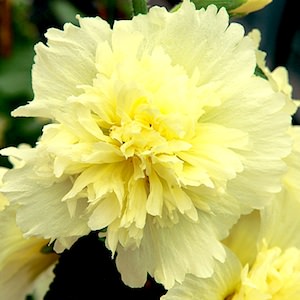 PR01298
SPRING CELEBRITIES LEMON Hollyhock
Beautiful, large, double, lemon-yellow blooms up to 3 inches across. We consider Spring Celebrities Lemon one of the real "stars" of the series, as the flowers are not hidden by foliage, and plants show great resistance to rust and mildew.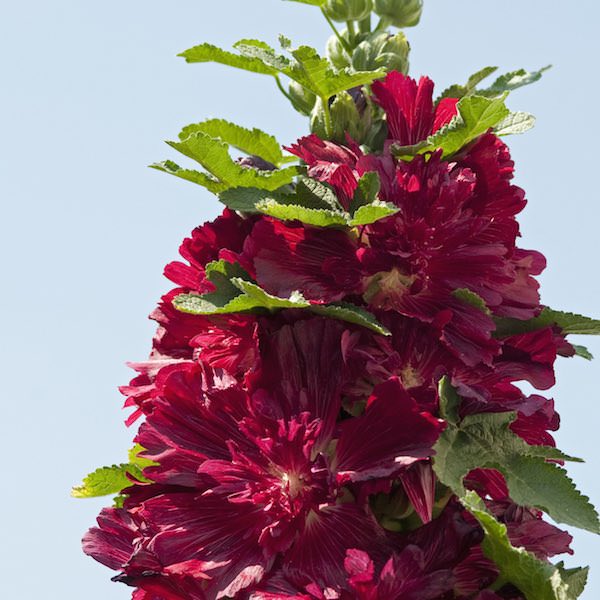 PR00002
SPRING CELEBRITIES CRIMSON Hollyhock
Bold, bright, 2.5-3 inch, ruffled flowers will not fade. Flowers appear outside of the foliage, and plants show tremendous resistance to rust and mildew. A genuine star of the Spring Celebrities series, and a Fleuroselect Gold Medal winner.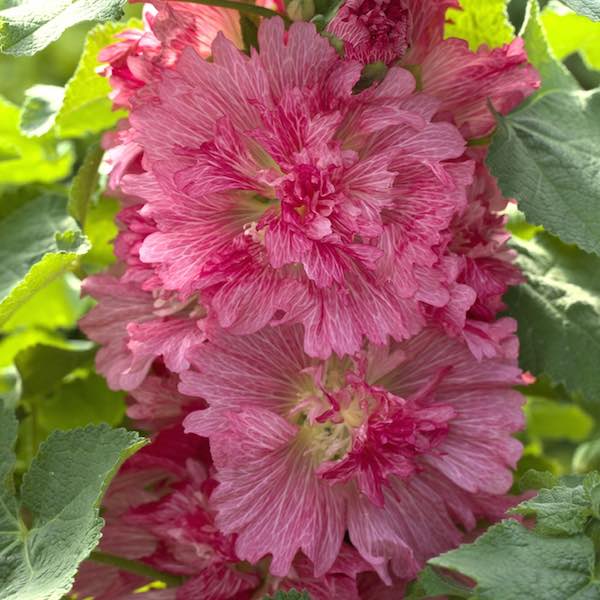 PR15078
SPRING CELEBRITIES ROSE Hollyhock
Large, ruffled, rose colored double flowers.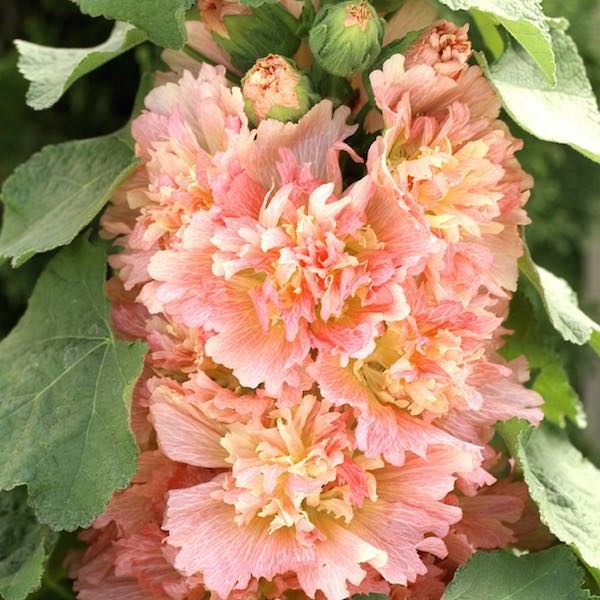 PR14177
SPRING CELEBRITIES APRICOT Hollyhock
Rich apricot flowers are large, frilled, and double.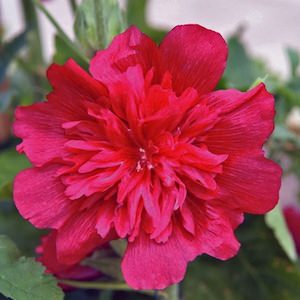 PR14178
SPRING CELEBRITIES CARMINE-ROSE Hollyhock
Large frilled, double crimson rose blooms.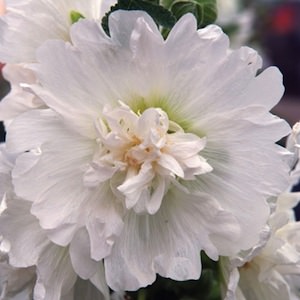 PR14179
SPRING CELEBRITIES WHITE Hollyhock
Large white flowers are frilled and double.
PR31514
SPRING CELEBRITIES PURPLE Hollyhock
Purple pink flowers. are large, frilled, and double.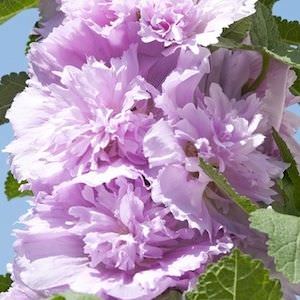 PR14176
SPRING CELEBRITIES LILAC Hollyhock
Large, frilly double flowers in an especially appealing shade of lilac pink.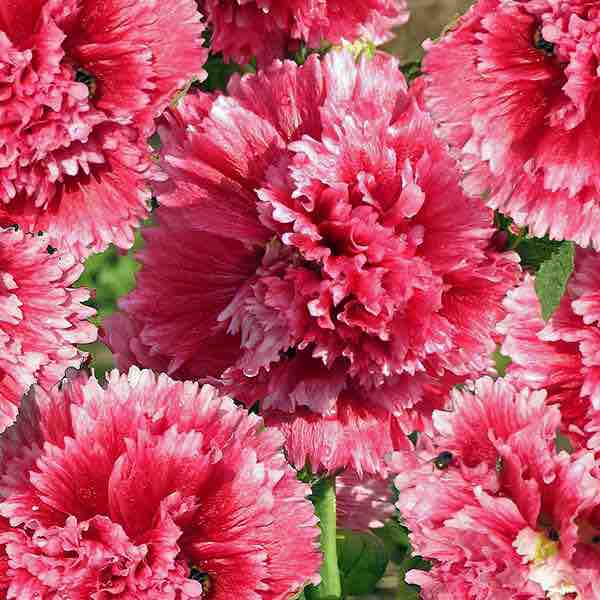 PR15086
FIESTA TIME Hollyhock
Sturdy, dwarf, 3 foot tall plants produce stunning, double, fringed, rose-pink blooms during their first summer from seed. A beautiful choice for containers,mass plantings, or mixed borders.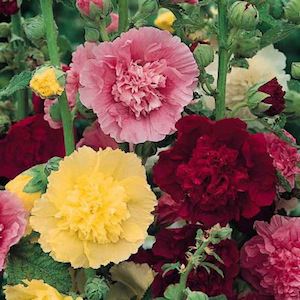 PR00889
MAJORETTE MIX Hollyhock
Large, semi-double and fully double, frilly blooms on dwarf, 2 foot tall plants. Excellent at the front of borders or in containers. Biennial, if started early will bloom the first year. A great garden performer.
QUEENY SERIES Hollyhock SeedsAlcea rosea
Three to four inch double flowers on 2-3 foot tall plants. In as little as 3-4 months from seed, plants can be brought into bloom.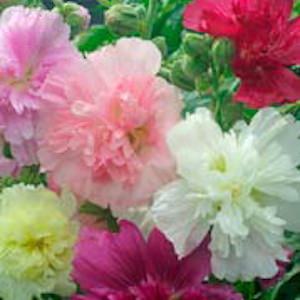 PR01135
QUEENY DWARF MIX Hollyhock
Flowers in shades of lilac rose, red, white, rose, yellow, purple, and salmon.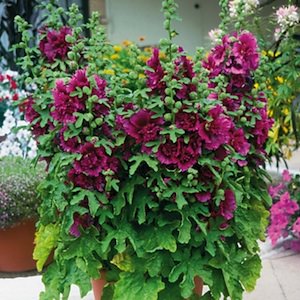 PR02459
QUEENY DWARF PURPLE Hollyhock
Double reddish-purple flowers. An All-America Selections Winner.
INDIVIDUAL DOUBLE Hollyhocks Alcea rosea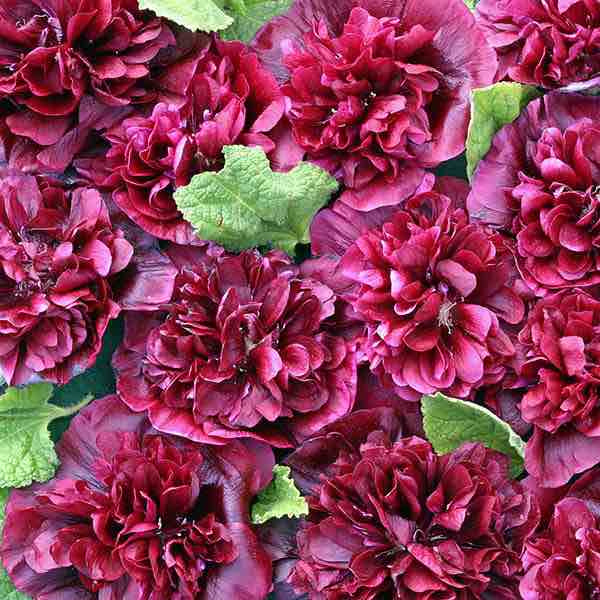 PR01206
BLACKBERRY Hollyhock
An heirloom with semi-double, violet-purple, veined flowers with darker centers. Grows 5-6 feet tall.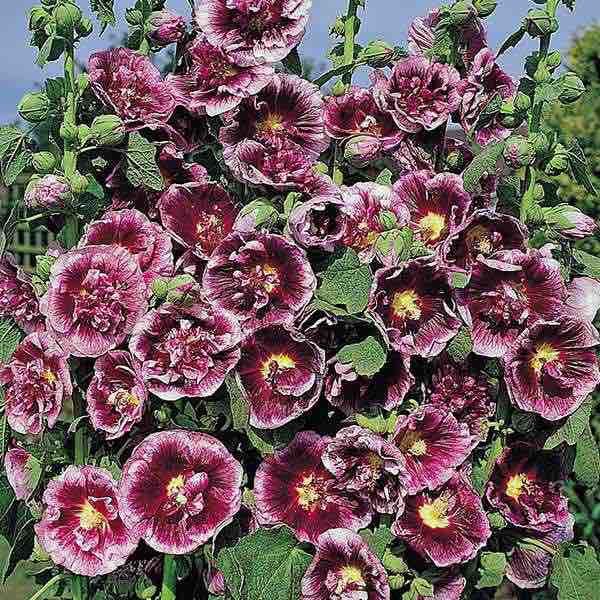 PR10706
CRÉME DE CASSIS Hollyhock
A mixture of 2-4 inch, single, semi-double, and double flowers in rich shades of black currant edged in white. Grows 5-6 feet tall.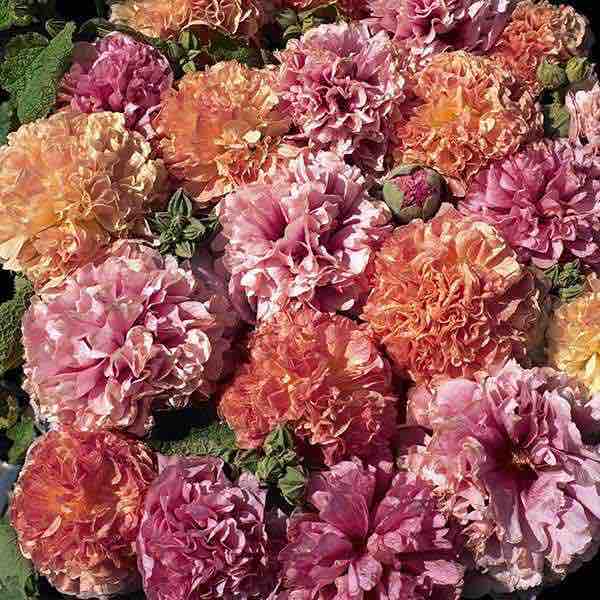 PR09553
FRUITY MIX Hollyhock
Feathery, fully double flowers in shades of peach and apple-blossom on sturdy, 5 foot tall plants. Flowers its first summer.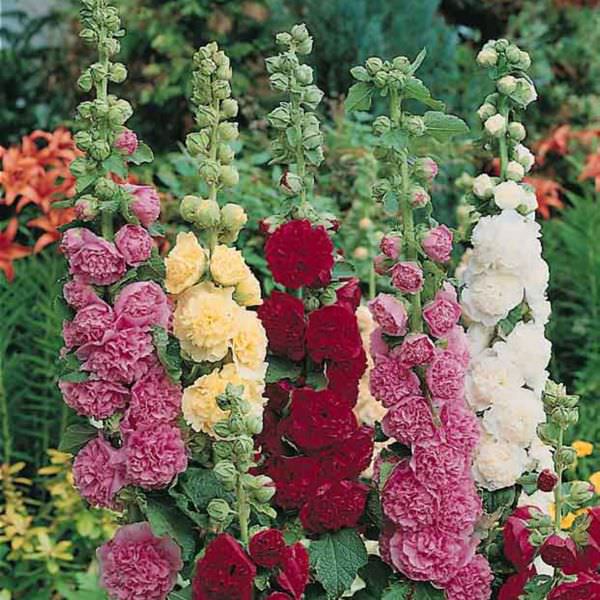 PR00901
SUMMER CARNIVAL Hollyhock
A wonderful mix of fully double peony shaped flowers in crimson, pink, red, yellow, white and rose. Sturdy plants grow to 5 feet tall and bloom over a very long season. Flowers the first year from seed.
SINGLE FLOWERED HollyhocksAlcea rosea, A. ficifolia, A. rugosa, A. pallida
SPOTLIGHT SERIES Hollyhock SeedsAlcea rosea hybrids
Seed stock collected from around the world has been reselected and hybridized in Germany for 18 years. The wait has been long, however the results have recently been released and are extraordinary; the first true perennial single hollyhock series. Plants grow to 6 feet tall and flower from late spring through early fall. Flowers the first year when started early. Winter hardy to zone 3. Combines beautifully with Yellow Coneflower, and Ivory Towers Joe-pye Weed.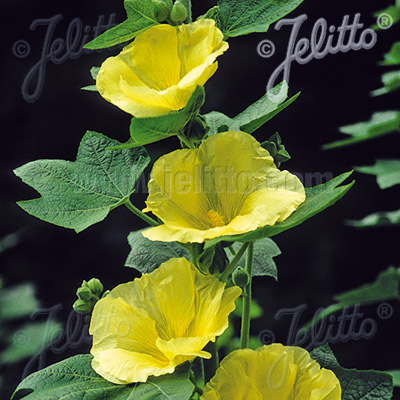 PR00047
SUNSHINE Hollyhock
Brilliant, light-toned, yellow flowers.
Grows nicely with: Magnus Superior echinacea, and The Bride gaura.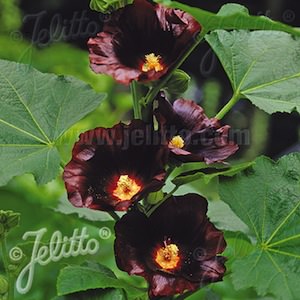 PR00046
BLACKNIGHT Hollyhock
Single flowers of the darkest, purple-black.
Blacknight grows nicely with: Soulmate butterfly weed.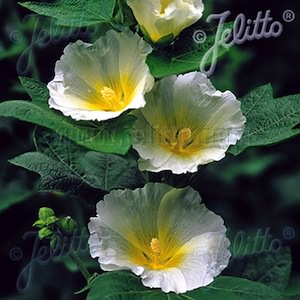 PR00048
POLARSTAR Hollyhock
Large, pure white flowers with yellow eyes.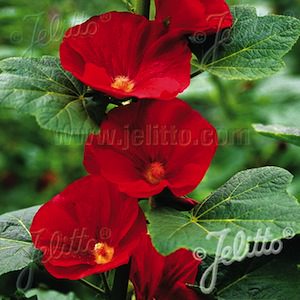 PR00045
MARS MAGIC Hollyhock
Large, brilliant red, single blooms.
NEW FOR 2016
PR16601
RADIANT ROSE Hollyhock
Dazzling, rose colored, single blooms.
HALO SERIES Hollyhock SeedsAlcea rosea
Tall, bushy, 6 foot plants produce beautiful, large, 4-5 inch flowers with brightly colored "halo" centers from July to September. Flowers the first year. Self-sows. Winter hardy to zone 3.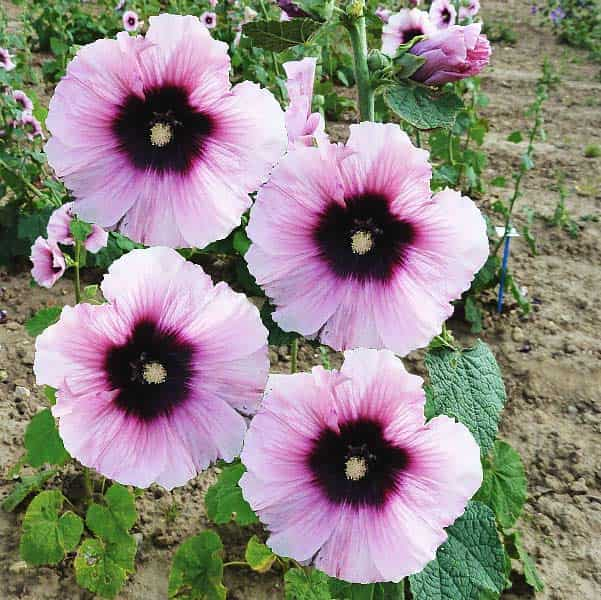 New for 2016
PR16499
HALO CANDY Hollyhock
Petal bases of intense wine red lighten into whimsical, cotton candy shades. Never a wallflower, 'Halo Candy' demands the attention of all who pass.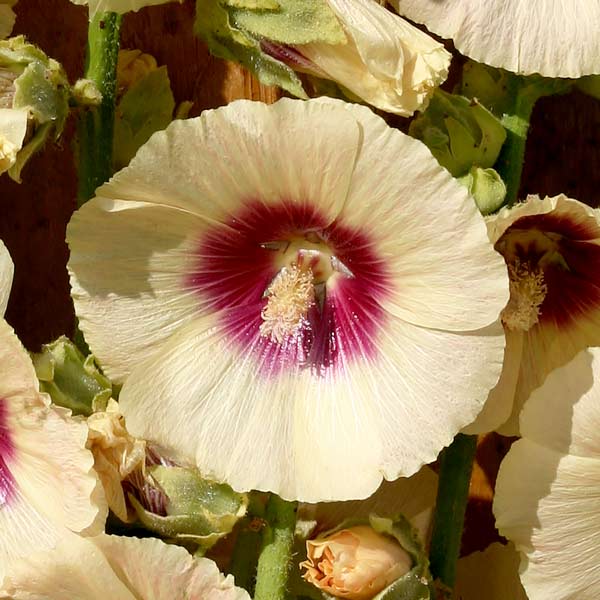 New for 2016
PR16399
HALO CREAM Hollyhock
Deep raspberries slumber upon beds of straw yellow. Sweet creams.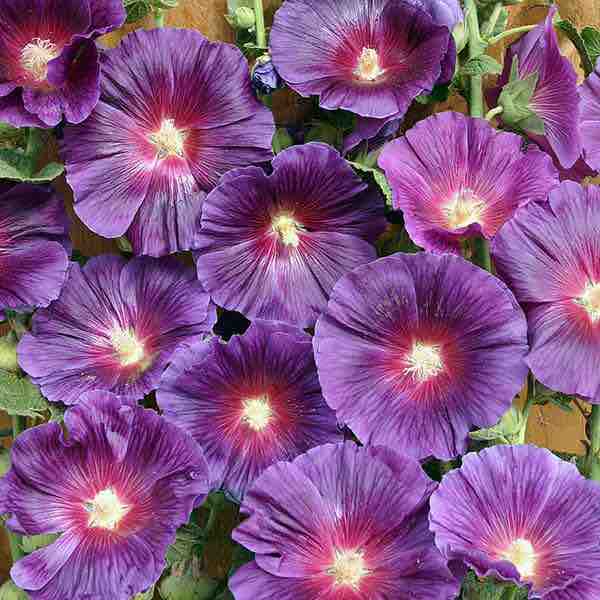 PR150092
HALO LAVENDER Hollyhock
Large, deep lavender-colored flowers with dark red centers.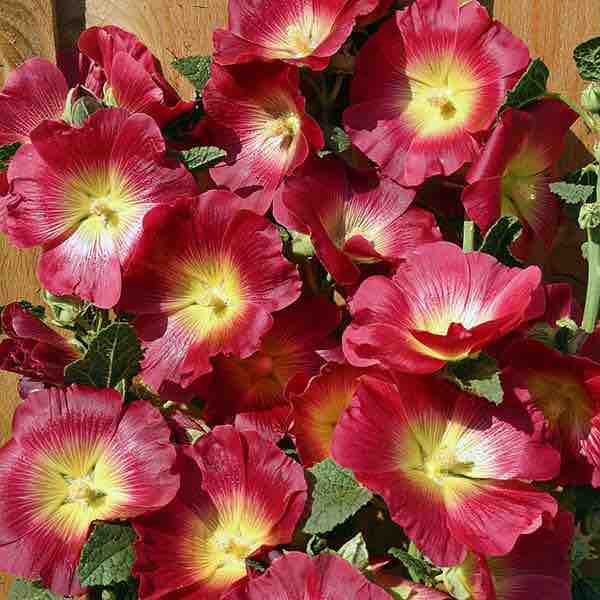 PR01200
HALO RED Hollyhock
Ruby red flowers with bright yellow centers.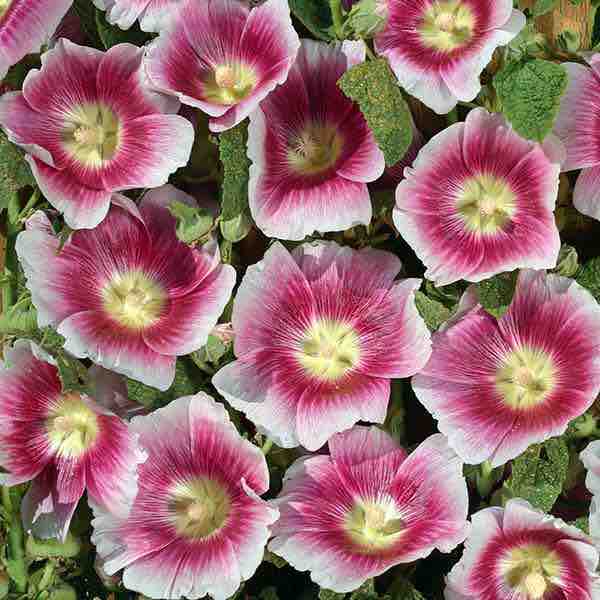 PR01202
HALO BLUSH Hollyhock
Large, vivid crimson flowers shading to white at the edges, with yellow "halo" centers.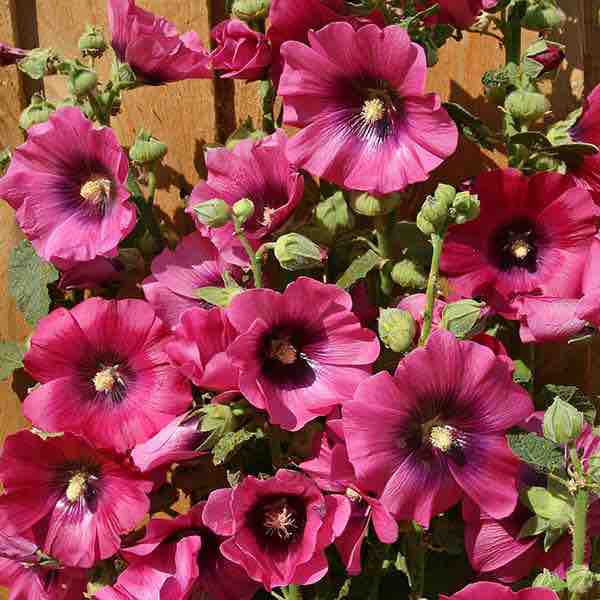 PR01203
HALO CERISE Hollyhock
Vibrant cherry pink petals with rosy purple centers.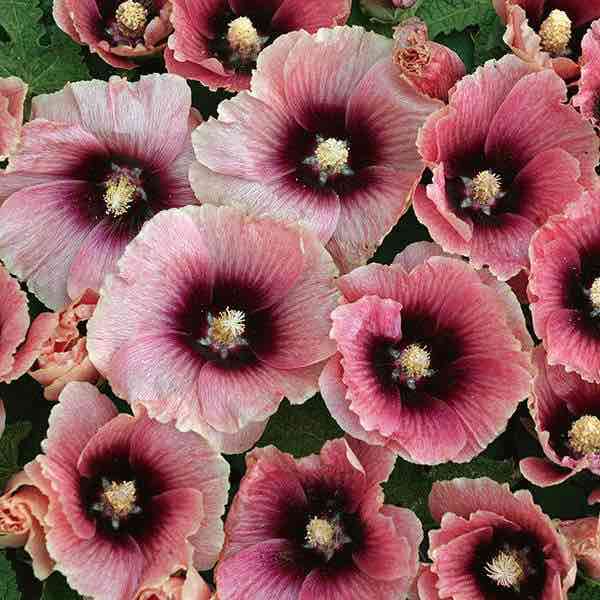 PR01707
HALO APRICOT Hollyhock
Light apricot flowers blushed with deeper pink accents. Wine red centers.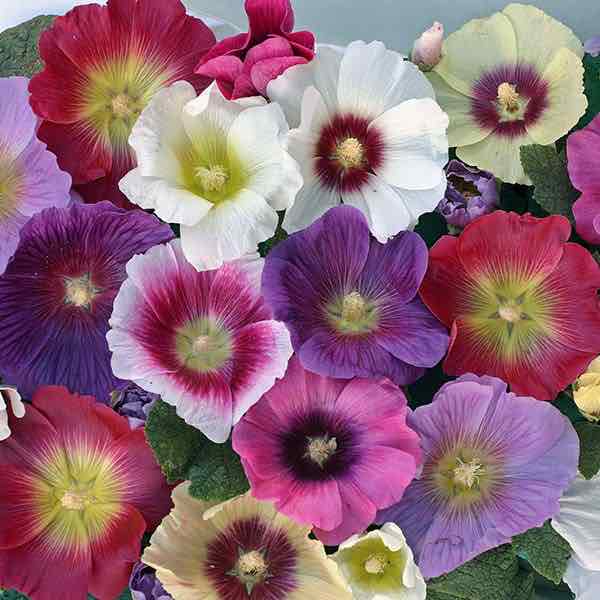 PR01204
HALO MIX Hollyhock
A radiant blend of all Halo colors.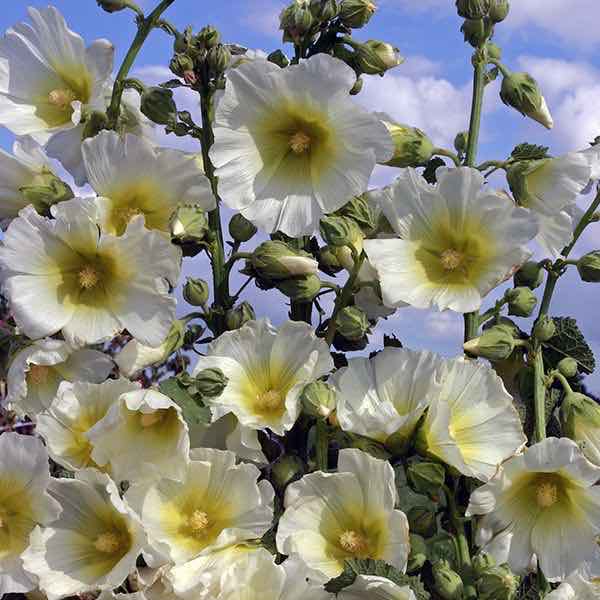 PR01743
HALO WHITE Hollyhock
Large, 5 inch, white blooms with lemon-yellow centers.
INDIVIDUAL SINGLE HollyhocksAlcea spp.
PR11205
INDIAN SPRING MIX HollyhockAlcea rosea
Large, single and semi-double flowers in shades of deep rose, pink, salmon-pink and white on 6-7 foot plants. Once known as "Outhouse Hollyhocks" because they were tall enough to screen what wasn't wished to be seen. Flowers the first year from midsummer through September.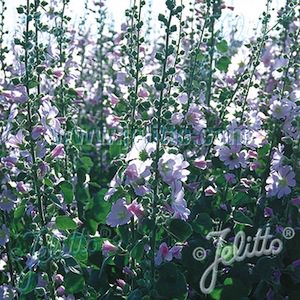 PR00913
TURKISH WILD Hollyhock Alcea pallida
Turkish Wild is a rare hollyhock species from Turkey which carries a profusion of elegant, soft orchid, saucer-shaped flowers from May to September. Grows to 6 feet tall. Biennial. Winter hardy to zone 3. Combines beautifully with Apricot Beauty foxglove.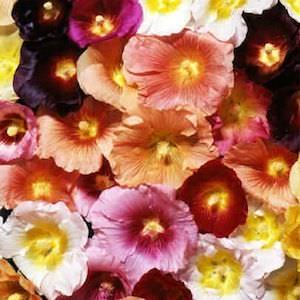 PR00906
ANTWERP FIG LEAF HollyhockAlcea ficifolia hybrids
True perennial hollyhock grows 6-7 feet tall, large 3-5 inch flowers May to October. Contains rich variety of deep flower colors; yellow, copper, pink, red, and white. Flowers first year. Much less susceptible to rust than most hollyhocks, exceptionally cold hardy. Winter hardy to zone 2. Antwerp Fig Leaf hollyhocks grow beautifully with Giant Yellow Herold foxglove.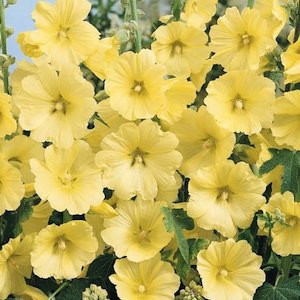 PR00911
RUSSIAN YELLOW HollyhockAlcea rugosa
This sensational, true perennial species produces very large, yellow single flowers from May to September. Grows 6-7 feet tall and is extremely resistant to rust. A healthy, vigorous, heavy flowering hollyhock which deserves a prominent position in the garden. Winter hardy to zone 3.
back to top
How to Plant Hollyhock Seeds
Sow hollyhock seeds in 2 inch pots or cell packs, press into soil and lightly cover. Kept at 70-75° F., germination is in 14-28 days. Can direct sow into prepared seed beds in groups of 3-4 seeds, spaced 2-3 feet apart. Thin to strongest plant. See Starting Your Seeds for more information.
Growing hollyhocks: Full sun; part sun in hottest climates. Hollyhock plants perform best in fertile soil with regular moisture. Irrigate from below and provide good air circulation. True perennial hollyhocks noted in description; most are biennials, or short-lived perennials. Many hollyhocks flower the first season when started early. After flowering, cut back plants hard, to within a few inches of the ground. Continue to water and fertilize; plants repeat bloom in late summer and fall. Single flower hollyhocks attract hummingbirds and butterflies. Hollyhock plants will often self sow.