LUPINE SEEDS
Lupinus polyphyllus
Lupines flower the first year when started early. Prefers moist soil, cool weather, sun or part shade. In hot summer areas lupines are grown as annuals and are planted in October to flower beautifully in March and April
PR00942
MINARETTE DWARF
MIX Lupine Seeds
Wide range of clean colors including blues, reds, yellows, pinks and white. One of the best lupines for small gardens, containers or the front of beds and borders. Grows to 20 inches tall.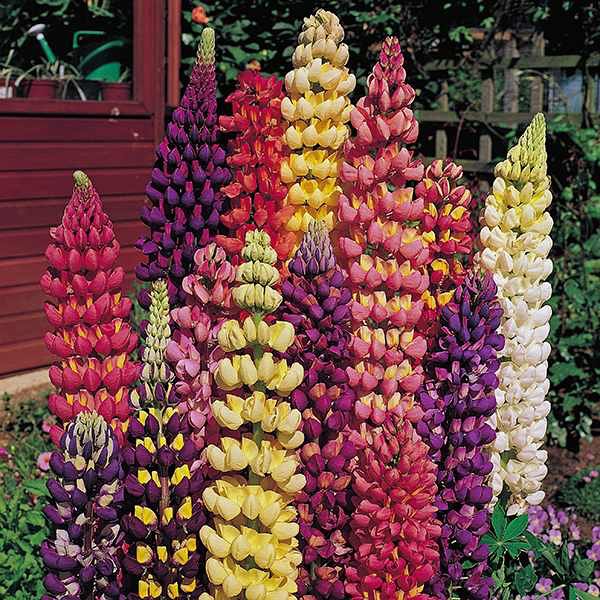 New For 2015
PR15094
TUTTI FRUTTI Lupine Seeds
Bold, bright colors include rose, red, orange, yellow, cream, light green, blue and purple, with many bicolored flowers. Improved breeding has resulted in a superior hybrid lupine with exquisite, top quality flower spikes, previously only produced from cutting-grown selections. Tutti Frutti grows 36 to 40 inches tall, and blooms the first year from seed. Winter hardy to Zone 4.
RUSSELL HYBRIDS SERIES Lupine Seeds
These are the classic lupines, producing spectacular tall flower spikes in late spring and early summer. Winter hardy to zone 4.
PR00943
BAND OF NOBLES MIXED Lupine Seeds
Gorgeous flowers of blue, purple, yellow, intense reds, deep pinks, creamy whites and numerous bicolors. Grows 3-4 feet tall.
How to Plant LUPINE Seeds
Chip seeds with nail clippers or soak in warm water overnight prior to sowing. Sow seeds in peat pots or cell packs and lightly cover. Kept at 65-75° F., germination averages 14-21 days. Can direct sow into the garden in groups of 3 or 4, spaced 24-36 inches apart. Thin to the strongest plant.
Comments: Full to part sun Prefers rich, moist soil and mild temperatures. Resists deer and rabbits. Nectar rich flowers attract butterflies and hummingbirds.