Acanthus Seeds
aka Bear's Breeches
Acanthus mollis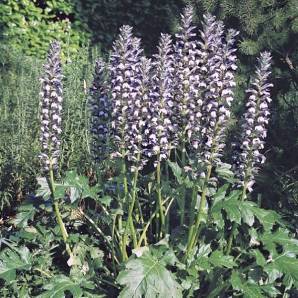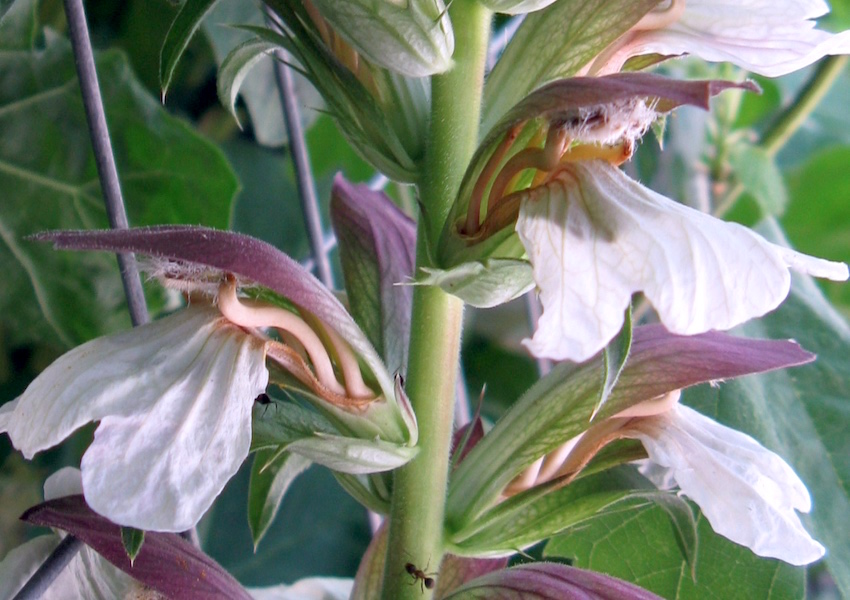 PR00701
BEAR'S BREECHES Acanthus Seeds
Statuesque flowers. Dark green, deeply lobed leaves
Bear's Breeches is a long lived, easy to grow perennial that grows 2.5-4 feet tall. Plants produce impressive, tall spikes of hooded, off-white and mauve-pink flowers in late spring or early summer.
The handsome, glossy leaves look great in the shade with large leaf ferns. These are tough plants, which grow in sun or shade, in moist or dry soil. Winter hardy to zone 7, or to zone 6 with protection. In colder zones, grow in large containers and bring indoors in winter. Packet is 5 large seeds. Jumbo Packet is 20 large seeds.
Acanthus plants provide dramatic
backgrounds for:
How to Plant ACANTHUS Seeds
Nick seed coat with nail clippers, soak in water overnight. Sow in cell packs or flats ¼ inch deep. Kept at 70-75° F., germination is in 21-30 days. Transplant 24-36 inches apart. Can direct sow after all danger of frost, in groups of 2-3 seeds, spaced 2-3 feet apart. Thin to the strongest plant. See Starting Seeds for more information.
Comments: Sun in mild climates, part sun to light shade in hot locations. Prefers moist, well drained soil. Will tolerate drought once established. Fast growing and spreading, especially in light, moist soils. Plant where it can be contained. Grows well in large containers. Excellent cut flowers, fresh or dried. Dried flowers last up to one year without browning. Cut back after flowering. Acanthus creates a tropical appearance in difficult areas of the landscape; it is fire, drought, rabbit and deer resistant.