AGASTACHE SEEDS
Giant Hyssop
Agastache aurantiaca, A. x hybrida, Agastache mexicana, A. Pallida-Hybr.,
A. pallidiflora var. neomexicana, A. rupestris
Agastache plants flower from early summer until frost. Blooms are hummingbird and butterfly favorites. Leaves and flowers are fragrant.
PR01170
APACHE SUNSET AgastacheAgastache rupestris
Heavy blooming, first year flowering, 2´ tall perennial. Spikes of tubular flowers, rich shades of peach, orange, and rose, June to October, superb for cutting. Silver-gray, lacy leaves, provide contrast. Plant emits fab root beer-like fragrance. Longer-lived than most agastaches. Winter hardy to zone 5.
PR01765
BOLERO AgastacheAgastache Cana-Hybr.
First year flowering, 18″ tall, branching plants. Vivid, rose-purple tubular flowers are enclosed in a purple calyx, June to October. Excellent cut flower. Leaves bronze-colored and fragrant. Winter hardy to zone 5.
Exceptional heat tolerance caught the Dallas Arboretum's attention; Bolero is a winner of their "Flameproof" award. Grows nicely with Table Mountain hardy ice plant.
PR05019
FRAGRANT DELIGHT AgastacheAgastache aurantiaca
Tubular raspberry, lilac and orange flowers in summer and fall, attract butterflies & hummingbirds. Lacy, fragrant leaves, on bushy, 2´ tall plants. Started early, plants flower the first year. Tolerates summer water better than most Agastches. Prefers rich soil. A winter hardy perennial to zone 7. Grow as an annual everywhere.
PR01766
TANGO AgastacheAgastache aurantiaca
Spikes of brilliant orange flowers late spring into fall. Bushy 14″ tall plants, scented, gray-green leaves. Flowers first year. Prefers soil that is more fertile, tolerates more summer water, compared to most other Agastaches. Winter hardy to zone 5. Grow with: Hidcote Superior lavender,  red hot poker, and Zebrina zebra hollyhock.
PR01767
GLOBETROTTERAgastacheAgastache Pallida-Hybr.
Dense spikes of lilac-pink flowers with reddish bracts bloom the first year. Flowers June to September, excellent cut. Winter hardy to zone 6.
Winner of the Dallas Arboretum's "Flameproof" award (for thriving in Texas heat). Grows nicely with Magnus Superior echinacea, and  Sunburst Colours penstemon.
PR05020
APRICOT SPRITE AgastacheAgastache aurantiaca
Tubular, peachy-apricot flowers summer and fall, attract butterfly and hummingbirds. Bushy, 1.5´ tall plants, fragrant, lacy-green leaves. Started early, flowers first year. The A. aurantiaca agastaches tolerate more summer water, prefer fertile soil. Winter hardy to zone 7, can grow as an annual everywhere.
PR10705
ROSE MINTAgastacheAgastache pallidiflora ssp. neomexicana
Lavender summer flowers on dark burgundy stems. Blooms attract butterflies and hummingbirds and are superb in fresh or dried arrangements. Leaves are fragrant. Plants are compact growing to 2´ high and 3´ wide. Rose Mint is a winter hardy perennial to zone 7 and can be grown as an annual everywhere.
ARIZONA SERIES Agastache SeedsAgastache x hybrida
This new group of uniformly compact, 10″ tall plants bloom in sunny desert colors that will sizzle in your garden containers and borders. Refreshingly mint-scented tubular flowers bloom in abundance throughout summer and into the fall, attracting hummingbirds and other pollinators. Arizona series agastaches are carefree and and waterwise. Plants flower the first year and are winter hardy perennials to zone 6. Can be grown as annuals everywhere.
PR01253
ARIZONA SUN AgastacheAgastache x hybrida
Compact spikes of bright sunny yellow flowers.
PR01256
ARIZONA SUNSET AgastacheAgastache x hybrida
Peachy pink buds open to lavender pink blooms.
PR01250
ARCADO PINK AgastacheAgastache x hybrida
Arcado Pink Agastache begins blooming early and produces purple-pink flower spikes all summer on 2´ tall plants. Winter hardy to zone 6, Arcado Pink can be grown as an annual in all zones. Blooms the first year when started early. A Fleuroselect Approved Novelty.
PR01251
ASTURO WHITE Agastache Agastache x hybrida
Fleuroselect Novelty Award Winner. A fresh combination of mint-scented, pure white flowers with contrasting bright green calyxes make this dwarf hybrid stand out from other agastaches. Asturo White is an excellent addition to containers and garden beds. Cut flowers can be used fresh or dried.
Grows to 15″ tall by 12″ wide, blooms mid-summer through fall. This tender perennial flowers the first year and is usually grown as an annual.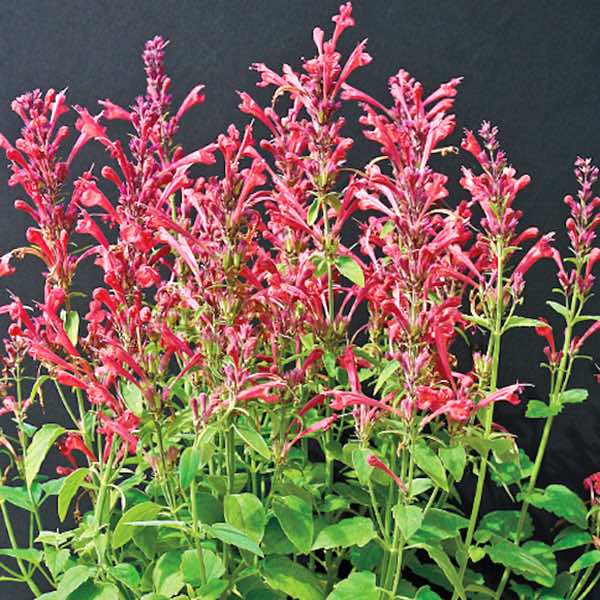 PR01245
RASPBERRY DAIQUIRI Agastache Agastache x hybrida
Fragrant foliage and bright spikes of raspberry-red flowers on compact, well-branched, 10-12″ tall perennial plants. Great in borders or containers.
PR01709
SANGRIAAgastacheAgastache mexicana
Red-purple flowers the first season, July to October. Lemon-scented leaves and flowers on upright, heavy blooming, 4´ tall plants. Makes a soothing tea. A winter hardy perennial to zone 7, can grow as an annual everywhere.
Grows beautifully with Amber Wheels gaillardia and Blue Glitter sea holly.
PR01249
ASTELLO INDIGOAgastacheAgastache x hybrida
Widely adapted, 20″ tall plants thrive in cool or hot weather. Astello Indigo agastache produces long lasting, mint scented, deep blue flower spikes July through October. Flowers attract butterflies, superb for cutting.
Deep green, disease resistant leaves with "root beer" fragrance; plants retain health all season. Can grow as an annual in all zones, it is a winter hardy perennial to zone 6. Fleuroselect Gold Medal Winner.
Back to Top
How to Plant Agastache Seeds
Plant agastche: Sow agastache seed in cell packs or flats, press into soil but do not cover. Seeds need light to germinate. Kept at 70°F., germination is in 14-30 days. Transplant seedlings into the garden 12-18″ apart after all danger of frost.