HIBISCUS SEEDS
Rose mallow
Hibiscus moscheutos
Hibiscus (also known as Rose Mallow) produces huge tropical looking flowers on hardy perennial plants. Each spring plants come back bigger and more vigorous than the year before. Needs constant moisture. Hibiscus is an excellent choice for containers, beds, bog gardens, and can grown as wonderful small hedges. Winter hardy to zone 5.
HONEYMOON SERIES Hibiscus Seeds
New for 2016
PR16010
HONEYMOON DEEP RED Hibiscus
This Honeymoon has just begun, and its a doozy. By far the darkest, richest red available in a hardy hibiscus. Impressive 6 to 8 inch, pleated, papery blossoms with ruffled edges. The naturally branching, 2 to 2 1/2 foot, heat tolerant plants flower mid to late summer. Honeymoon Deep Red blooms the first year from seed, often in just over 3 months.
New for 2016
PR16013
HONEYMOON LIGHT ROSE Hibiscus
Romantic rosy pink petals are kissed with white around a dark crimson eye. Honeymoon Light Rose carries enormous, pleated flowers up to 8 inches across. This Honeymoon will win your heart with its mid to late summer spectacle. Branching, heat tolerant plants grow 25-31 inches tall and bloom reliably the first year, usually within 3-4 months of sowing.
LUNA SERIES Hibiscus Seeds
Huge 6-8 inch flowers appear the first year from midsummer until frost on compact, bushy, branching 2-3 foot plants. The Luna Series earned the Dallas Arboretum's "Flameproof" award for first-rate heat tolerance.
PR08221
LUNA ROSE Hibiscus
Glowing deep rose, giant flowers.
PR09521
LUNA WHITE Hibiscus
Ginormous, (how many ways can we say really big?) cherry-eyed white flowers.
PR08219
LUNA PINK SWIRL Hibiscus
Dazzling jumbo flowers swirling lilac-pink and white, with cranberry-red centers. Available in bulk size packets only.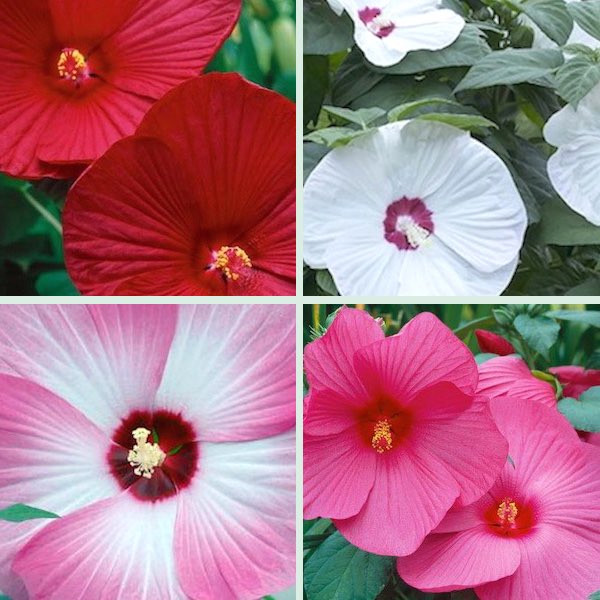 PR11292
LUNA MIX Hibiscus
A formula mix of 'Luna' hibiscus colors with giant flowers, including all 4 flower colors in the 'Luna' series.
PR08220
LUNA RED Hibiscus
Enormous bright burgundy-red flowers.
How to Plant Hibiscus Seeds
Nick seed coat with a knife or nail clippers and soak in hand hot water 1 hour prior to sowing. Then sow in 2 inch pots or cell packs and barely cover. Kept at 70°F., germination averages 14-21 days. Transplant into the garden 2 feet apart.