ORIENTAL POPPY SEEDS
Papaver orientale
Huge Perennial Poppies for cool winter climates. Oriental Poppies grow and flower best in zones 3-8, they prefer a good winter chill.
PR01000
BRILLIANT Oriental Poppy Seeds
Huge, 6 inch, black centered, fiery-red blooms. Grows to 2.5 to 3 feet tall. Winter hardy to zone 3.
PR00998
ROYAL WEDDING Oriental Poppy Seeds
Pure white large silky flowers with coal black centers. Grows to 3 feet tall. Winter hardy to zone 3.
PR00995
PIZZICATO Oriental Poppy Seeds
Amazing semi-dwarf 20 inch plants produce up to 20 huge 6-8 inch poppies on strong wind resistant stems in shades of salmon, orange, red, scarlet, mauve, pink and white. They have contrasting black blotches at the base of their petals. Massed in the garden these make an absolutely stunning show in May and June.
PR00710
HAREMSTRAUM MIX Oriental Poppy Seeds
Dazzling formulated mix of new large-flowered hybrids with flowers in shades of salmon, orange, scarlet, white, pink, salmon, crimson and mahogany. Plants grow to 3 feet tall and are winter hardy to zone 3. 'Haremstraum Mix' Oriental Poppies grow beautifully with Bronze Fennel, 'Primadonna White' Echinacea seeds, and 'Luna Series' Hibiscus.
PR00999
QUEEN ALEXANDRA Oriental Poppy Seeds
Huge salmon-pink flowers with coal black centers on 30-36 inch tall plants. Winter hardy to zone 3.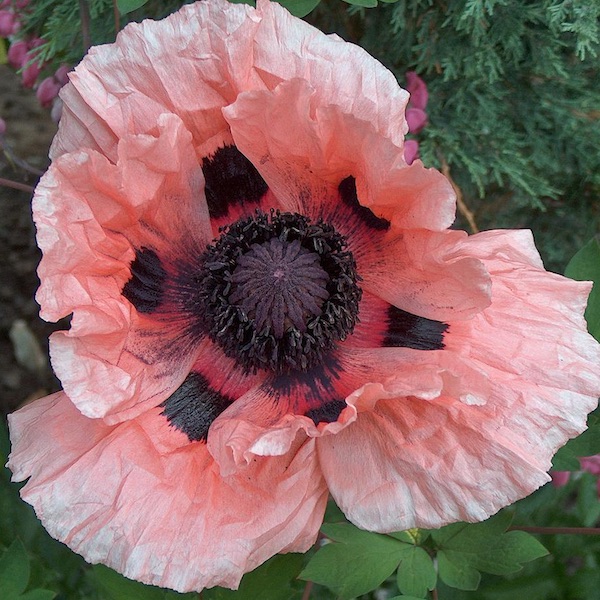 PR00997
PRINCESS VICTORIA LOUISE Oriental Poppy Seeds
Robust 3 foot tall perennial plants produce gorgeous, large bright salmon poppies with contrasting black blotches at the base of the petals. Stunning when massed in the garden. Flowers in May and June. Winter hardy to zone 3.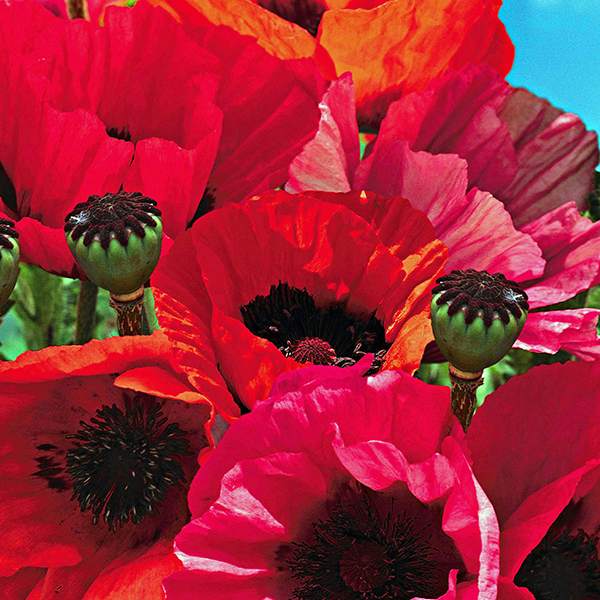 PR00020
FRUIT PUNCH Oriental Poppy Seeds
Stunning, large semi-double poppies in many shades of red, purple and deep pinks. Grows 36 inches tall.
PR00706
DWARF ALLEGRO Oriental Poppy Seeds
6 inch brilliant scarlet poppies on compact 20 inch plants. A great garden performer. Winter hardy to zone 3.
Oriental Poppy grows beautifully with Baby's Breath, Globe Thistle,
Russian Sage, Salvia, and Verbascumin sunny garden borders.
How to Plant ORIENTAL POPPY Seeds
Sow Oriental Poppy seeds in 2 inch pots or cell packs, press into soil but do not cover. Needs light to germinate. Kept at 65° F., germination is in 14-21 days. Can direct sow into prepared seed beds in rows. Thin to 12-18 inches apart.

Comments: Full sun. Oriental Poppies prefer moderately fertile, well-drained soil. Provide regular water first season, less water in following years. Plants are long-lived in cold winter climates, can thrive for decades.

For bouquets: Cut Oriental Poppy stems in morning as flower petals unfold, sear cut end with match. Flowers are followed by large ornamental pods filled with thousands of spicy, nutty-flavored edible seeds.

Oriental Poppy plants go dormant after flowering. Leaves return in fall and remain through winter. Place next to sprawling plants such as Baby's Breath, they fill summer gaps. Divide Oriental Poppy plants infrequently, every 4-5 years in mid- to late summer.

Propagate favorite plants: Lift, then cut roots into 3-4 inch sections.
Plant 1 inch deep.

Oriental Poppies attract: Bees, birds, butterflies, and hummingbirds. Plants are rabbit and deer resistant.