SUMMER CRISP
Lettuce Seeds
(a.k.a. Batavian)
Lactuca sativa
In our opinion, Summer Crisp (aka Batavian) lettuces are the absolute finest group of lettuces to grow. They can be produced under cool conditions (like other lettuces), yet still will be standing, long after other heat resistant lettuces have bolted. Pick leaves at baby size, or allow plants to head. Summer Crisp lettuce can be harvested by removing a few of the outer leaves of the head; the plants will continue to grow and produce. Or alternatively, harvest entire large, gorgeous head at once. Leaves are thick, juicy, and flavorful. Summer Crisp lettuces are extraordinarily heat tolerant.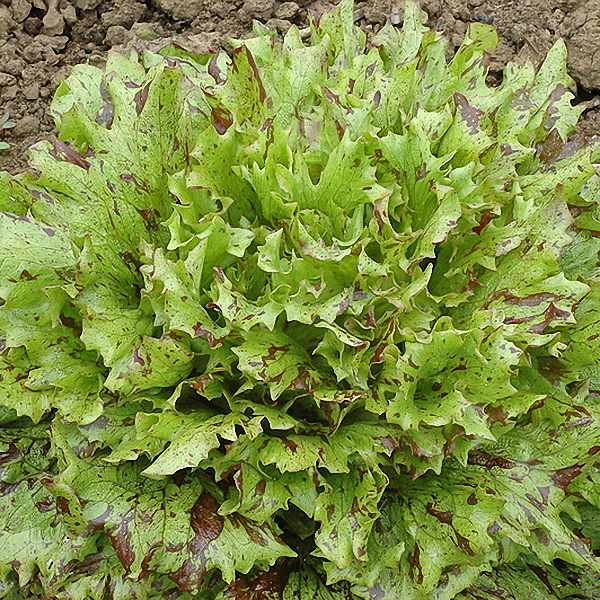 New For 2015
VG00108
JESTER Summer Crisp Lettuce Seeds
(OP)
A versatile, heat-resistant multicolored lettuce is ideal to grow just about any time of the year. Showy, ruffled leaves have an incomparable crisp, juicy texture. Harvest individual leaves or as dense, crunchy heads.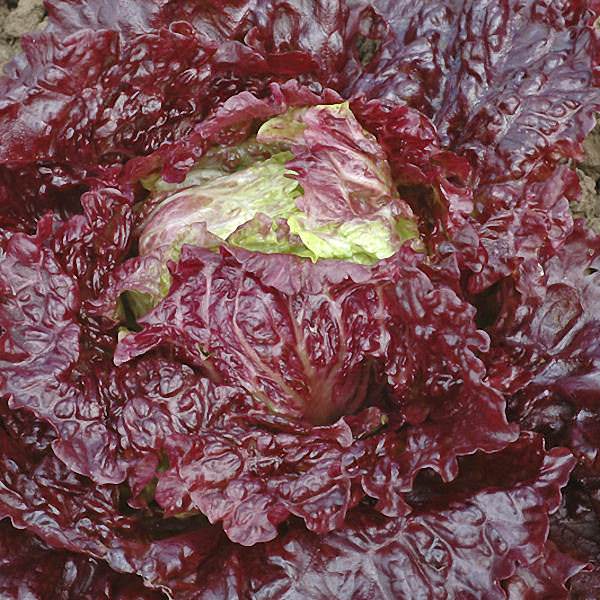 New For 2015
VG00109
RED BALL JETS Summer Crisp Lettuce Seeds
(OP)
Dense, globe-shaped heads are intense red with a light green center. Heat and mildew resistant, the ruffled leaves are mild, tender and crunchy.
New For 2015
VG00110
CRISPINO Summer Crisp Lettuce Seeds
(OP) 56 Days
A reliable, versatile Iceberg type lettuce with dense, medium sized mild, crunchy, juicy, light green heads perfect for salads and sandwiches. Heat tolerant and easy to grow in any climate.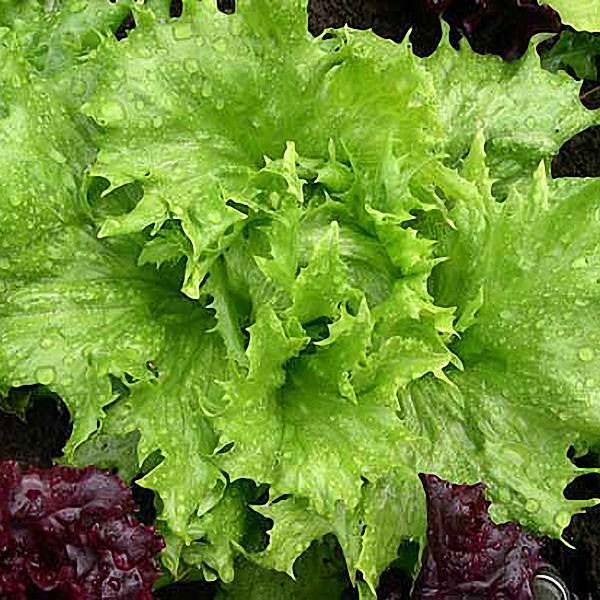 New For 2015
VG00112
REINE D' GLACES Summer Crisp Lettuce Seeds
(OP)
Lacy toothed outer leaves surround tidy medium green heads. A heat tolerant French heirloom from the 1800s.
VG01164
MOTTISTONE
Summer Crisp Lettuce Seeds
(OP) 55 days
An attractive, unique, red speckled summer crisp, with wavy leaves, cream colored hearts, and excellent flavor and disease resistance. Produces upright, medium sized heads.
VG11002
CARDINALE Summer Crisp Lettuce Seeds
(OP) 49 days
Cardinale's crisp, succulent, rich-tasting, red and green leaves are extremely heat resistant; excellent for baby leaf or full size head production. Leaves turn brilliant purple-red if planted in full sun when nights are cool. Master Gardeners of Santa Clara County, CA trialed 13 red lettuce varieties, Cardinale (seed provided by us) placed first.
VG01163
CONCEPT Summer Crisp Lettuce Seeds
(OP) 46 days
Exceptionally sweet, thick, juicy leaves for baby lettuce or full size-heads. Tolerates warm and cool weather, is disease resistant and easy to grow. Concept exhibits the characteristics of both romaine and summer crisp lettuce. As the vase-shaped plants mature, the whorled leaves close into a tight head. Packet is ½ gram, about 400 seeds.
VG00129
CHEROKEE Summer Crisp Lettuce Seeds
(OP) 49 days
Large, upright, brilliant, deep red heads deliver a crunchy, nutty flavor that is among the best of all lettuces. Incredibly heat tolerant and disease resistant, Cherokee will thrive even under difficult conditions.
This item is out of stock.
VG01548
LOMA Summer Crisp Lettuce Seeds
(OP) 46 days
Produces gorgeous, 6-8 inch, dense, heavy heads that are tender, crunchy, juicy and sweet. The sturdy but flexible leaves are apple-green and scalloped on the edge. Disease resistant, heat resistant and easy to grow.
This item is out of stock.
VG00117
NEVADA Summer Crisp Lettuce Seeds
(OP) 48 days
Forms large, handsome, ruffled, heavy, heat tolerant heads with an outstanding, juicy nutty flavor - it is among the best tasting of all lettuces. The crunchy textured, buttery smooth leaves may also be harvested individually.
This item is out of stock.
How to Plant SUMMER CRISP lettuce Seeds
Sow seed in cell packs or flats, press into soil and cover lightly. Kept at 65° F., germination averages 7-14 days. Can direct sow into prepared seed beds 1 inch apart in rows 12-18 inches apart. Thin to 4-12 inches apart.