SWEET PEPPER SEEDS
Capsicum annuum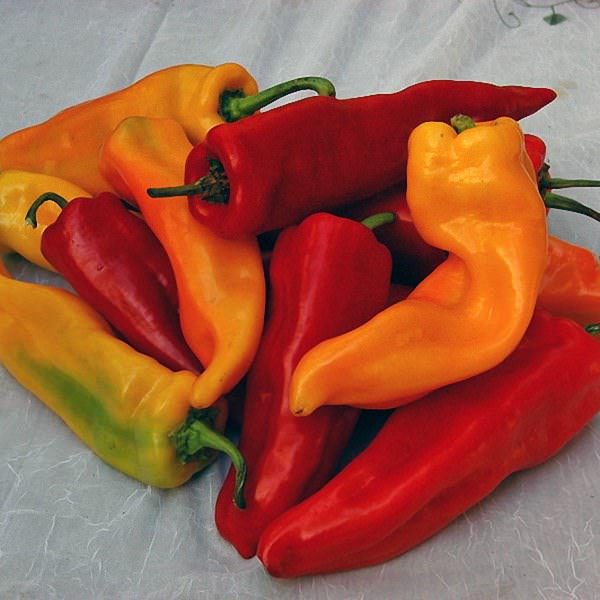 New For 2015
VG01154
SWEET SUNSET ITALIAN MIX Pepper Seeds
A vibrantly colored and richly sweet flavored Italian pepper blend, perfect for slicing up in salads and frying. Vigorous 24 inch plants produce heavily over a long season.
VG00333
HUNGARIAN YELLOW SWEET WAX Pepper Seeds
(OP) 65 days
A 6-inch long, tapered, conical, waxy, light yellow fruit with thick sweet flesh. Most commonly picked in its immature yellow stage when the skin is thin and the heat is minimal. If allowed to mature, the skin will turn orange and red and the sweet flesh will also be hot. Great fresh in salads or pickled.
VG00342
SWEET BANANA Pepper Seeds
(OP) 70 days
Exceptionally sweet, brilliant yellow, banana-shaped fruits are 5 inches long on average, Sweet Banana peppers are popular for pickling, and deliciously crunchy right off the plant. Produces well, even in short climates.
VG01153
GYPSY SWEET HYBRID Pepper Seeds
60 days
Each plant can produce 45 or more deliciously sweet, 3-5 inch long peppers. Fruit matures from light yellow, to orange and red. Widely adapted and easy to grow; the plants are highly disease resistant, and will thrive in hot or cool summer areas. An All America Selections Winner.
VG01175
PURPLE MARCONI Pepper Seeds
(OP) 80-90 days
A new, beautiful, mild, sweet, tapered, purple Italian pepper which grows to 6 or more inches long. Wonderful fresh or fried, Purple Marconi contributes great taste, and color, to summer salads. Heavy yielding.
VG01176
GOLDEN MARCONI Pepper Seeds
(OP) 90 days
Produces sweet, delicious, golden-yellow, Italian peppers which can grow to 10 or more inches long. They are outstanding eaten fresh or fried. Adds wonderful flavor, and color to salads, particularly when combined with Purple Marconi. Extremely productive plants.
VG00166
GIANT MARCONI Pepper Seeds
62 days
The large (to 8 inches long), elongated, tapering peppers mature from green to red. They are quite beautiful, and their flavor is beyond compare. Use in salads, fajitas, or omelets.
VG00172
ITALIA Pepper Seeds
(OP) 55 days
The extra long, 8 inch fruits begin green and mature to dark crimson-red. Their sweet, full flavor is just right in pasta sauces or for frying.
VG00169
LIPSTICK Pepper Seeds
(OP) 73 days
This shiny red, top-shaped fruit is among the very best of sweet peppers. It delivers an intensely sweet flavor many people prefer to bell peppers. Great for salads, baking, roasting or freezing. High yielding and early maturing, even in cool summer areas.
VG01695
PIMENTO Pepper Seeds
(OP) 75 days
Shiny, red, top-shaped fruits are extremely sweet.
VG00174
ROUND OF HUNGARY Sweet Pepper Seeds
(OP) 55 days
Also known as a 'pimento cheese pepper', these ribbed, flattened fruits have very thick flesh and are extremely sweet. We like them in salads, and they also make tasty, striking, stuffed peppers.
Back to Top